While the COVID-19 pandemic has impacted almost every business across sectors, the experiential sector arguably remains the hardest hit. The pandemic has not only affected the live events industry but has also hit the brands reliant on experiential marketing. However, with new emerging technologies, the industry has received a new lease of life in the form of online platforms. In the past few months during the lockdown, the industry has ramped up its digital presence considerably and has pushed the envelope with innovative formats. The new normal has resulted in a shift for the experiential sector that is now increasingly curating hybrid experiences for consumers. The challenge though remains for brands who rely heavily on experiential marketing to build emotional and sensory intimacy with consumers. Across the board therefore, brands and industry leaders are seeking new ways to stay connected with consumers through mixed reality experiences.
"After a year of lockdown and disruption, consumers are yearning to go back to these experiences," observes Sanjeev Goyle, CEO, Rural & OOH, Mediabrands India. "Brands have started taking the route of activations through consumer-driven experiences. Nothing can beat the physical experience of human interface and interaction. Marketers have started engaging with us on various experiential solutions that are more focused on personalisation and strategic innovation," he adds. Marketers and experiential experts had to ramp up their virtual experiences and create events that would dazzle consumers.



"Experiential marketing was a sought-after marketing route during the lockdown too. Just that brands were seeking to give their audience experiences in the virtual world," says Sameer Tobaccowala, Chief Executive Officer of Shobiz Experiential Communications. "Our job then was to use our expertise in creating impactful experiences and channel the same in the virtual medium. For the same, our Virtual Platform NexUS played a key role in curating some spectacular virtual events."



THE ROAD TO RECOVERY
The COVID-19 pandemic made a big dent in the Experiential and Live events business affecting millions of people associated with the industry, be it employees from the top level or workers and labourers working on-ground. The crisis has led many businesses to move towards recovery slowly after a few months by adapting to newer ways to sustain.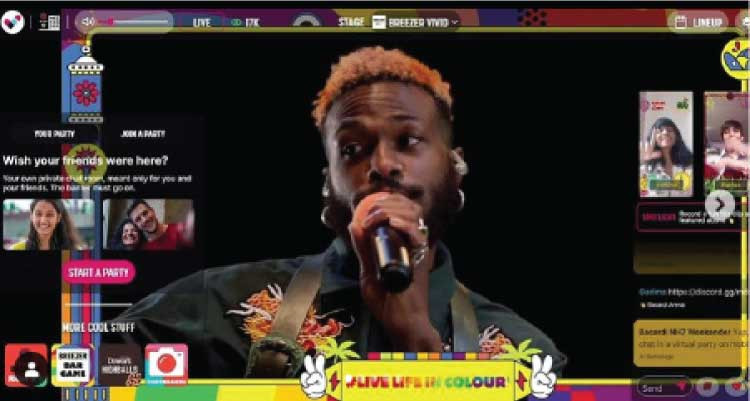 "Our industry size is pegged at Rs 5 lakh crore and we're talking about at least a loss of 3 lakh crore, if not more to this industry. I'm talking about both the organised and unorganised sectors here. So we have seen a loss of 80% or 90% of that figure," notes Siddharth Chaturvedi, CEO, Events Crafter & General Secretary, EEMA. "2020 was a complete wipe-out year for our industry for sure," he states.
Roshan Abbas, Managing Director, VMLY&R Commerce Encompass points out that everybody across the industry has come down to approximately 50% of their numbers from the previous year. "In the case of Encompass, our second quarter was extremely tough, because everything was in lockdown, and therefore we could do nothing. By the third quarter we recovered, we started integrating a lot of content. So, whether it was the launch of Mahindra Thar or whether it was the work that we did with Vogue, or GQ or The Beauty Awards or Lakme Fashion Week, we've been pushing the boundaries and building a great hybrid model where content becomes a very integral part," notes Abbas.
"Due to the pandemic, we cancelled all our March festivals in India and Turkey, we had to cancel India By The Bay in Hong Kong, all of which was about 80% of the revenue. Therefore, we had to rethink our business strategy," says Sanjoy K Roy, Managing Director, Teamwork Arts & former President of EEMA. "Our stakeholders and the entire ecosystem had a balance of payment issues and we had to reduce salaries but everybody understood, and even our landlord reduced the rent. We started Art Matters to support artists. The pandemic changed the way we sustained."
The need for innovation in the industry was closely linked with keeping it alive and relevant. As Ankur Kalra, Founder & MD, Vibgyor Brand Services explains, "We at Vibgyor used this time to revisit our business strategy, to reflect and to experiment with new innovations. Every team member was encouraged to think out of the box and come up with ideas and concepts – it wasn't just an academic exercise but one for our very survival. After 18 years of being in the experiential business we became a start-up once again!"
EMERGENCE OF NEW TECHNOLOGIES
Though the pandemic has caused massive disruption, the industry players have been quick enough to shift to the new emerging technologies and have received positive outcomes. For instance, the popular Jaipur Literature Festival (JLF) has taken on a virtual avatar this year. One of the positives with going virtual is the fact that events can now reach a wider range of audiences across geographies. Highlighting that the JLF saw an increase in traction from 13,000 to 32,000 this year on Digital, Sanjoy K Roy remarks, "One of the trendsetters for festivals around the world was Jaipur Literature Festival. We did mega festivals in London digitally, showcased artists from across India and we were able to convert to the new medium. So Digital is here to stay."



Explaining why the digital approach brings greater ROI to brands, Roshan Abbas says, "For every physical event, there will now be a digital layer. For every 1000 people in the auditorium, there will be 10,000 people online. This will make the budget of every event increase by 30%. But it will also take the ROI to a much better number because instead of 1000, you will engage with 20,000. So, your cost per person will actually dramatically go down, and brands are liking this." Chaturvedi concurs with Abbas, adding that Digital will serve to push the limits of what each event can achieve. "I think digital is here to stay now. It will definitely add an incremental 30% position in our mix," he says.
Demonstrating just how impactful online events can be for all stakeholders, Mirchi too rolled out customised digital offerings including Mirchi Online shopping festivals and Mirchi Spellbee Online, among others. "Through our myriad platforms, we are customising online events to ensure targeted communication for our clients. With the help of our hyperlocal digital reach, we curate events that are city specific, cause-specific, and tactical, pushing content that's timely and more relevant now than ever before." says Pooja Gulati, Executive Vice President & Sr. Director Impact Business, Mirchi. "The expected participation level for our Spell Bee Online is more than usual due to the targeted approach. Our flagship IPs, like Green Marathon and Neon Run are also going hybrid this year with most of the events taking place virtually," she adds further.


RECENT EVENTS THAT HAVE TAKEN THE ONLINE OR HYBRID ROUTE

PHYGITAL LAUNCH OF RENAULT'S KIGER
Renault Kiger recently made its global debut at a phygital event managed by Wizcraft International. There were separate events for the media and the dealer partners in the afternoon and evening. The event was also live-streamed across 40 cities in India, with experience zones created for the regional media at Renault dealerships.
JAIPUR LITERATURE FESTIVAL, 2021
In an entirely virtual avatar, Jaipur Literature Festival (JLF) 2021 is said to attract a possible 10 million viewers this year. Despite the havoc caused by the pandemic, Sanjoy Roy – curator of JLF believes this year has seen a rise in attendance. JLF's virtual line-up includes speakers like Bill Gates, Shashi Tharoor, Priyanka Chopra and more.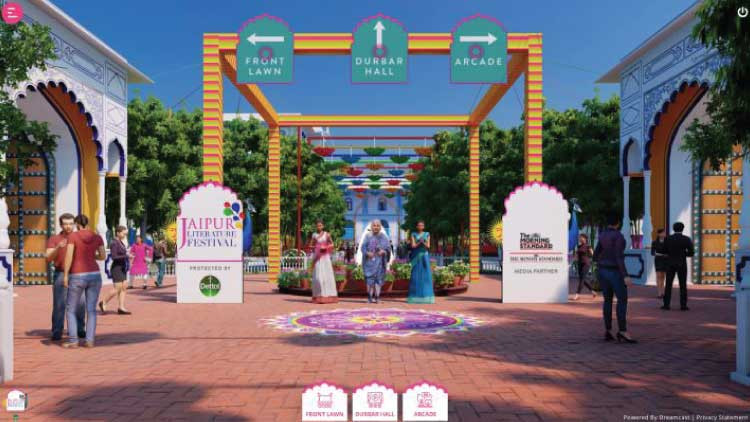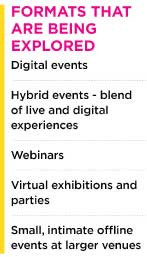 Swaroop Banerjee, COO, Zee Live emphasises the importance of being 'digitally-abled' and says that this fact has been edified like never before. "It's no longer an option – you either adapt to it or you perish. Technology has made it so much easier and faster. Content was never so easily accessible as it has been now. Today a 15-year-old can watch his or her favourite artist perform sitting at home and not worrying about if he/she is in a permissible age to attend the show," he notes.
"This was a natural progression which the industry is going through. So if experiential marketing was shying away from the digital side of things, now everyone is forced to take that leap. The pandemic has really fuelled that journey. So going forward, yes, digital is going to be an important part of experiential," exclaims Dalveer Singh, Head, Experiential Marketing, Dialogue Factory. Talking about the role of data in experiential marketing, Singh further shares, "In the mix, digital will be close to half or more than half of what you would want to do in that space. And data is going to play a key role when it comes to digital because experiential was all about getting a set of people and exposing them to experiences. And data helps to ensure everything is highly targeted. So today, if the data is not mined properly, and it is not sharp enough, then you will lose that focus."
BACARDI NH7 WEEKENDER
The line-up for the 11th edition of Bacardi NH7 Weekender featured a host of contemporary artists, with genres spanning from Indian classical to rap. The platform, which was built by Paytm Insider, was a state of the art virtual experience replete with cutting edge features designed to make the at-home experience as immersive as possible.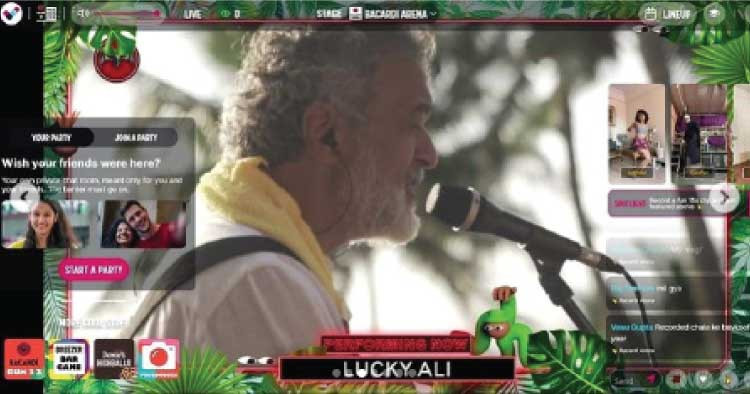 SETTING UP THE VIRTUAL STAGE
In a live event, the roars of millions and the energy of the crowd are what make the experience memorable. Thus, pulling off a completely virtual event has been a challenge for everyone. Explaining how Mirchi is working towards creating memorable experiences, Gulati explains, "Mirchi's events are now made more personalised, engaging, measurable and targeted to a niche in a category or to a specific group. We have evolved and adapted to know the exact audience and then ensure the right promotions such that the ROI is justified and there is no spillage/wastage."
Another popular annual event that took the virtual stage last year was Bacardí NH7 Weekender. The event featured innovative and diverse programming, designed to replicate the on-ground experience and connect the community. "We created engagement avenues similar to the on-ground experience, to let nothing hamper the 'Weekender State of Mind,' and provided fun options to hang out with friends virtually. For instance, there was a Private Virtual Party option on the digital interface for people to view the gigs together, as well as a global chat option to react and speak to everyone at the festival. In fact, artists also joined some of the conversations," shares Sameeksha Uniyal, Brand Lead, Bacardí Rums - India and Southeast Asia.
Similarly, Sunburn, one of the most popular music events was pulled off virtually at Vagator in Goa last year. The concert which was previously attended by 300,000 fans took place with only 20% of the venue capacity in 2020. Percept Live which organises Sunburn every year, also launched various innovative music IPs including 'Sunburn @Home', 'Bollyboom @Home', 'Sunburn Home Festival', 'Sunburn Select' and 'Sunburn Campus'. "While Percept did incur a tangible loss of business in our on ground MICE, activations, experiential and live music events domains, we also sensed a massive opportunity to scale up and offer events in the digital space," states Karan Singh, COO, Percept Live while adding that the company's live stream variants received an overwhelming response from both the fans and sponsors. "We also launched Percept digitICE – a full-service digital, virtual and hybrid experiential marketing and events unit, which has already done hundreds of virtual engagements and digital events, mixed reality and hybrid events for many clients since the lockdown with great feedback and reviews," he adds.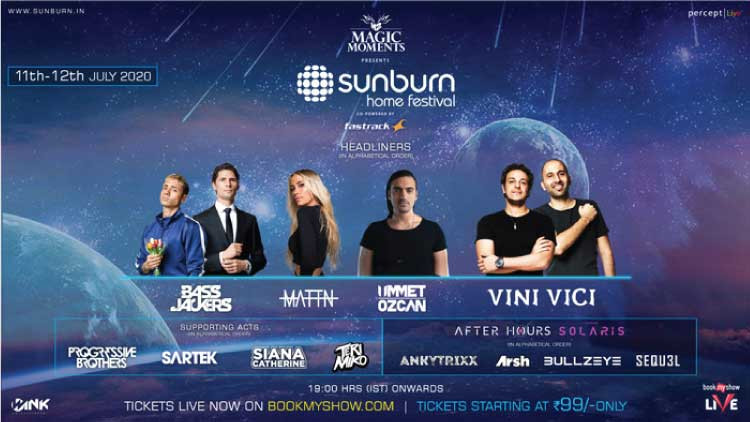 PERCEPT LIVE'S SUNBURN HOME FESTIVAL
Percept Live, creators of Sunburn, the EDM festival, unveiled 'Sunburn Home Festival', a virtual two day mega music festival with a host of virtual entertainment experiences. The virtual show was presented by Magic Moments and co-powered by Fastrack, in association with event partner Bookmyshow Live.
ŠKODA SUPERMOON DRIVE-IN WITH ZEE LIVE
Enhancing the movie-viewing experience for audiences in the new normal, Zee Live in partnership with Zee Studios held a 'Supermoon Drive In', a first of its kind drive-in theatre experience in Gurugram and Bengaluru. The viewing experience was presented by Škoda.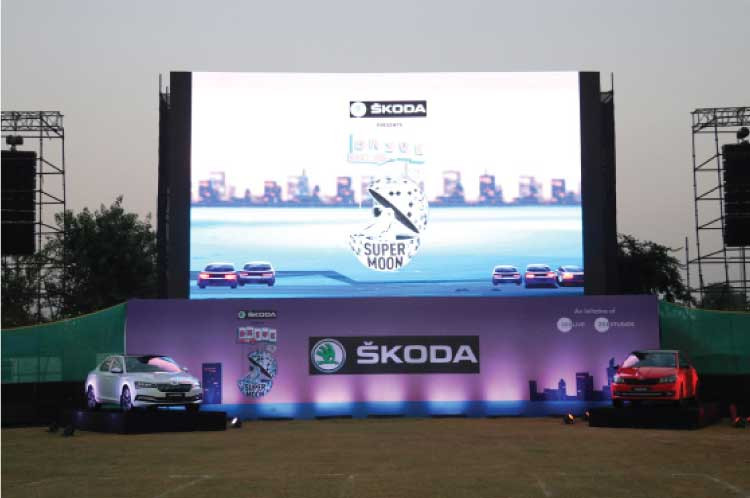 THE FUTURE IS HYBRID
"We are definitely on the path to recovery. But having said that, I think it's going to be slow and steady. It won't be suddenly like 15,000 people attending a concert. I think staying safe and keeping people safe is more important. As the vaccine gets rolled out, we will see smaller events starting to take place with smaller numbers of people. Digital will continue and this hybrid between the virtual and real will play a very big part in helping keep these events as contactless as possible at least for the beginning." says Ranjit Raina, CEO, VMLY&R Commerce Encompass who adds that it is best to wait and watch as the vaccination drive takes place.
Zee Live's Banerjee too strongly believes that since the vaccines are out, the on-ground shows will come back with a vengeance. "From open venues to sports arenas, 2021-22 will see a shift in capacities. If all goes well, these venues will be operating from 30% to 100% capacity and the same gusto and spirit. Technology is the platform that will shape the present and future of live entertainment," he states. While experiential is about capturing the five senses, 2021 is going to be the year of personalised marketing and that can be done through experiential route. Not only consumers are quite adept at tuning out generic ads, but 80% are more likely to do business or engage with brands if it offers a personalised experience. "The way we see brands strategizing their BTL campaigns is by experimenting through pilot campaigns. We are hopeful by April experiential BTL activities will start picking up and reach its peak by September or October," projects Sanjeev Goyle of Mediabrands.
Speaking about the future of the experiential industry, Mohit Joshi, CEO - Havas Media Group India expects that it will still take a quarter for events to get back to normal "Experiential is a domain that has been hit the hardest during the pandemic. It will still take a quarter before we start seeing events getting back in the marketing calendars. However virtual events have seen a huge growth and thanks to technology, the UI/ UX is remarkable. Going forward, I see a mix of virtual and real events," predicts Joshi.
ONEPLUS LAUNCHES ITS LARGEST STORE IN THE WORLD VIRTUALLY
In the midst of the pandemic, OnePlus virtually launched its largest store in the world at Hyderabad's Nizam Palace in collaboration with Twitter Next. The campaign, which used technology to cut through a cluttered media landscape, delivered 21.2 million overall impressions and viewership of 1.2 million for the live stream of the launch on the service.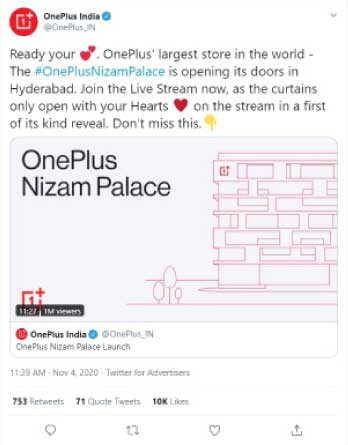 It is clear that a whole new order of doing business will emerge. This vacuum has forced everyone to push the boundaries and think afresh, says Gitikka Ganju Dhar, Anchor & Founder, Ministry of Talk. She also believes that once live events catch pace, the numbers of virtual events will dwindle. She adds, "The gloriousness of live events cannot be replaced, they will come back stronger and snazzier for sure. We are in the midst of reworking the entire pie chart of experiential, and what is going to emerge is a mesh of online and offline. The virtual event format is not an experience that can be pushed beyond the boundaries of the screen and unfortunately we will only sparingly, have budgets to create 'amazeballs' experiences virtually!"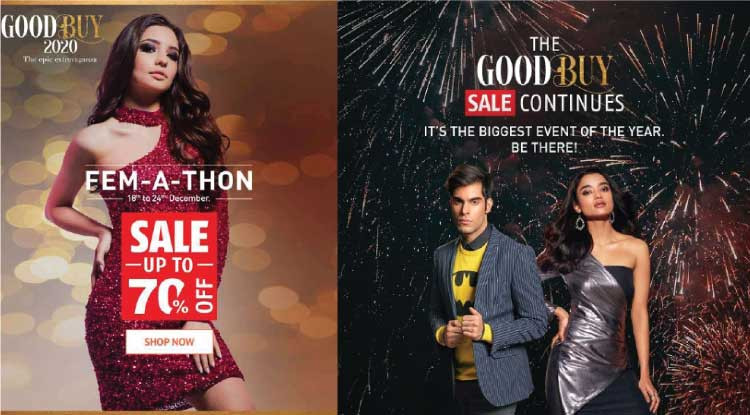 "The virus has shown us that no matter how well-planned and organized we may be, we are not in control. There is only one way to remain relevant in a post-coronavirus reality: commit to a lifetime of learning, improvising and adapting. So much learning has taken place in these last seven months, be it technology, or an entirely new line of business, which many have adopted to stay relevant and survive," observes Nanni Singh, CEO, ShowCase Events. The company has launched a slew of virtual conferencing and exhibition solutions recently to meet the new requirements post pandemic.


WHAT ARE BRANDS DOING
At the end of last year, Shoppers Stop launched an extravaganza - 'Goodbuy 2020' that saw unique brand activations and promotions across categories. Speaking about the insight behind that, Uma Talreja, Chief Marketing and Customer Officer at Shoppers Stop Ltd says, "We give a lot of emphasis on creating experiences for our customers and through Goodbuy 2020 we have been able to engage with our customers in the best possible way with a plethora of experiential events. Through our associations with brands, customers can watch various tutorials in different categories, be it fashion or home trends.
The key to the future lies in a phygital approach where customers can enjoy experiences or events virtually as well as at a store."
Driving home the importance of deploying an omnichannel strategy, Taranjeet Singh, Managing Director, Southeast Asia and India, Criteo says, "With more channels available, brands and retailers need to deploy an 'omnichannel marketing strategy' to ensure that consumers get both the online and offline experiences they desire. Brands are moving towards leveraging technologies like AI, AR, VR and immersive media to build smarter conversational campaigns that are personalised to build a strong reputation amongst its end customers."
Paytm Insider too has launched a slew of digital initiatives with over 700 digital events online every week on Paytm Insider, 20-30 events in the top metros. The brand has also launched 'Front & Centre to deliver theatre experiences digitally. "We'd been quick to move and update our event publishing and ticketing solution, helping organisers take their events online in three simple steps. This move, along with our early efforts to develop digital events starting last year, has helped us scale up digital events swiftly," says Shreyas Srinavasan, CEO, Paytm Insider. "With a simpler and quicker way for organisers to publish their pre-recorded content, along with the addition of interactive elements like questions and polls, as well as theatre mode, our platform has been witnessing an increase in the listing of online events."
In January this year, Renault launched its new B-SUV, the Renault Kiger in a global unveiling event that was managed by Wizcraft International and held in New Delhi. Speaking about the event that was also live-streamed across 40 cities in India, Sabbas Joseph, Co-founder and Director, Wizcraft International says, "The Renault Kiger global unveil event was a phenomenal phygital experience, with scale and expanse. Months of planning went into ensuring every member of the audience got the best experience, be it at the ground event, on the virtual microsite or at any of the 40 connected-events at dealerships spread across India. The work opportunity provided to over 200 vendor-partner across Mumbai, Delhi, Ahmedabad, Bangalore during these challenging times was a welcome bonus, which made the event all the more meaningful for all of us. Our success represents a partnership between our clients and team Wizcraft, a deep commitment and our team's understanding of global brands."
Brands across the board today are experimenting and leveraging the power of hybrid events to curate memorable experiences for consumers. Take for instance Oppo's Flaunt Your Nights with OPPO F19 Pro Series or Amazon's Great Indian Festival that saw a unique first-of-its-kind interactive virtual press conference created by Wizcraft once again. One thing is clear – the experiential sector may have found its biggest challenge in the pandemic, but the past year has seen it push the boundaries of what is possible and create new industry benchmarks for the sector at large.