As we step into a new decade, we are also stepping towards an era driven by technology. As digital media is getting expensive due to competition, premium brands are looking to derive greater ad spends returns, transparency and connected views with the help of marketing technologies. A Grand View Research report estimates that the global marketing automation software market is expected to reach $7.63 billion by 2025. As per industry estimates, over 60% of marketing leaders the world over are now using at least one marketing automation platform. MarTech, which has been adopted in a big way in India, is expected to grow at a CAGR of 44% for the next five years. With a projected $250-300 million opportunity in India, the country is certainly riding a MarTech wave.
Adoption of MarTech in India
Unlike traditional technologies, where Indian companies adopted technologies late, Marketing Technology is one area where the interest in Indian organisations is at par with global organisations. Organisations who have adopted or are actively contemplating a MarTech solution are mostly sector leaders with a very strong focus on customer-centricity. "So while they are the early adopters, you have the followers which comprise of both large and mid-corporates. Early adopters are beginning to realise quick wins and are committed to MarTech, both from bringing about a cultural change with respect to employee mindsets and financial resources. As for the followers, I don't see them too far behind and will catch up soon. It is the small and medium-sized business segments that would need convincing as they face quite a lot challenges and not many of them recognize the benefits of MarTech," explains Redickaa Subrammanian, Co-founder and CEO, Resulticks. Resulticks is a data-driven, AI (Artificial Intelligence) powered, omnichannel marketing automation platform. Companies like Microsoft, SAP, Adobe, Salesforce, Acoustic, HCL, to name a few, are some of the suite vendors for Customer Data Platfroms (CDPs). There are many companies that provide specialised services across different verticals of MarTech.
KEY MARTECH CATEGORIES
Web Content & Experience Management
Digital Asset Management
Customer Data Platforms
Omnichannel Content Platforms
Journey Orchestration Engines
Marketing Automation & Campaign Execution
Customer Relationship Management
Omnichannel Operations Hub
Analytics
KEY CHALLENGES IN ADOPTING MARTECH
Evaluation and identification of beneficial MarTech platforms
Building cross-functional KPIs
Lack of technological expertise
Difficulty in making a business case internally and getting budget for implementation
Fragmented data in silos, lack of mechanisms to accelerate smart decision making
Managing a flood of data
Trust and data security
Getting the right talent and team to run analytical engines and build AI models
Challenges related to data governance and privacy
In 2019, hyper-personalisation was the buzz word. Marketers were looking for a personalised, seamless omnichannel experience. "The absolute necessity of delivering this experience has turned the CMOs towards technology. The increasing use of technology as a tool to get that 20 seconds of elusive customer attention and to deliver exceptional and personal experience to the customers has been the highlight of the past year. Digital assistants, chat bots, and the more pervasive use of AI and machine learning have been the highlights of the past year," explains Rakesh Jaitley, Senior Sales Director, Customer Experience (CX) Solutions, Oracle.
However, Swaminathan S, Co-founder & CEO, Hansa Customer Equity feels that the adoption of MarTech in India has been double-edged. "At one end there is a lot of interest, momentum and investments are being done by many companies. At the other end, the ones who have invested are trying to see how to improve adoption and ROI on their investments." He further elaborates, "While there is global data around the fact that MarTech is a USD 20 billion opportunity, our belief is that it's at least a $250-300 million opportunity in India but growing rapidly. The challenges that we see affecting this growth is maturity of data availability in companies and marketing process maturity in companies in India."
"Customer Data Platforms (CDPs) and analytics are some areas where we see a lot of traction. In addition, CRM and marketing automation are other areas where there's lot of interest," explains Dr Apoorv Durga, Research Director, Real Story Group, an independent analyst firm that evaluates technology vendors and delivers research and advice.
The key challenge however is to figure out what technologies they should adopt. "MarTech is a complex and rapidly evolving marketplace, with thousands of vendors and products. Each vendor claims their product can do everything, and therefore, it is a big challenge to figure out what you exactly need to meet your Marketing Goals. In addition there are several other challenges related to MarTech skills, as well as challenges related to governance (such as data governance and privacy) and so forth," Durga further notes.
Why Omnichannel Stack?
As connected customer experiences become standard in customers' minds, marketers are expanding beyond their traditional purviews, tactics, and toolkits to meet expectations. According to the 5th Edition of State of Marketing Report by Salesforce Research, 93% of marketers say marketing and advertising have integrated technology stacks. With the use of Artificial Intelligence, they are striving for personalisation and real-time engagement across channels. The problem with traditional MarTech or the Digital Experience Stack is that it is still within silos, posing a challenge in the Omnnichannel/ Customer Experience Era.
"We're breaking out of 'channel-silos' and building insights by stitching data from all channels and partner ecosystems. I see this happening all across industries, but especially in automotive, FMCG and BFSI," says Santosh Gannavarapu, Chief Growth Officer, SKR, Merkle Sokrati. "Essentially, it's all about being able to manage your data better, which you have spent monies to acquire. There's a big time focus on enriching and leveraging this "first party data", which is data that you own and does not reside within media ecosystems like Google, Facebook and others. What I find most exciting is by using these custom built MarTech solutions, you can move to people-based marketing - connecting offline and online channels, top to bottom funnel. While the last decade was spent in activating as many data points as possible, the next decade will focus on unifying all of it - and we're calling it identity resolution and audience management maturity," he explains. Merkle launched in India with the acquisition of Sokrati, India's data driven performance marketing and analytics agency.
State of Marketing Report- India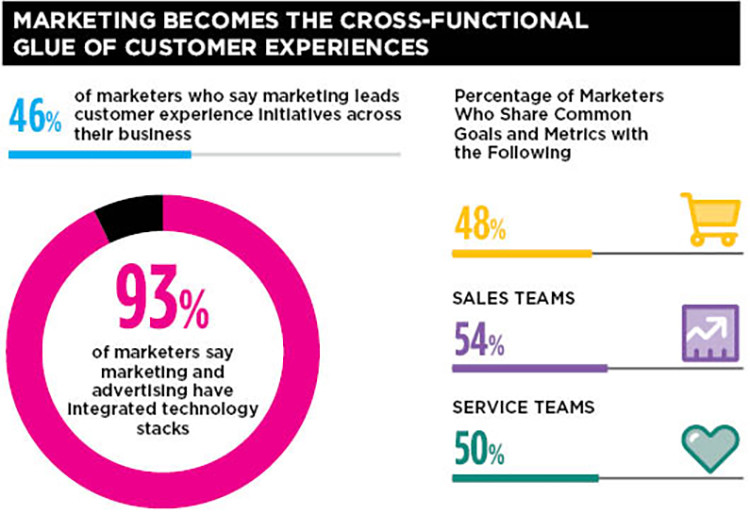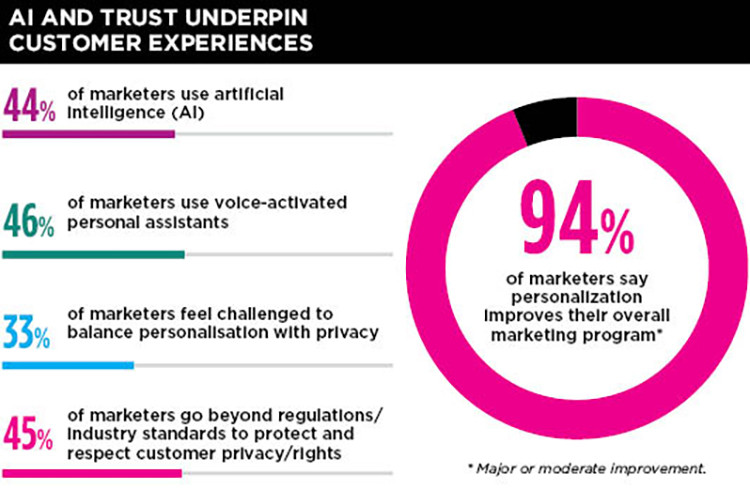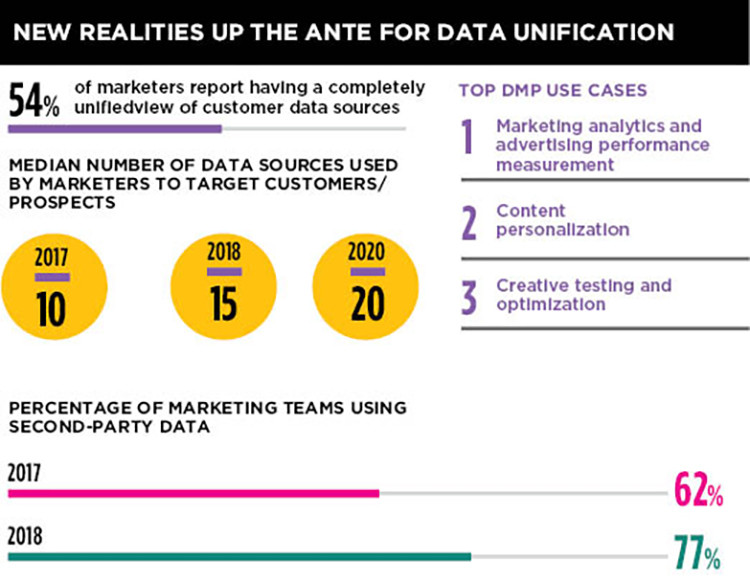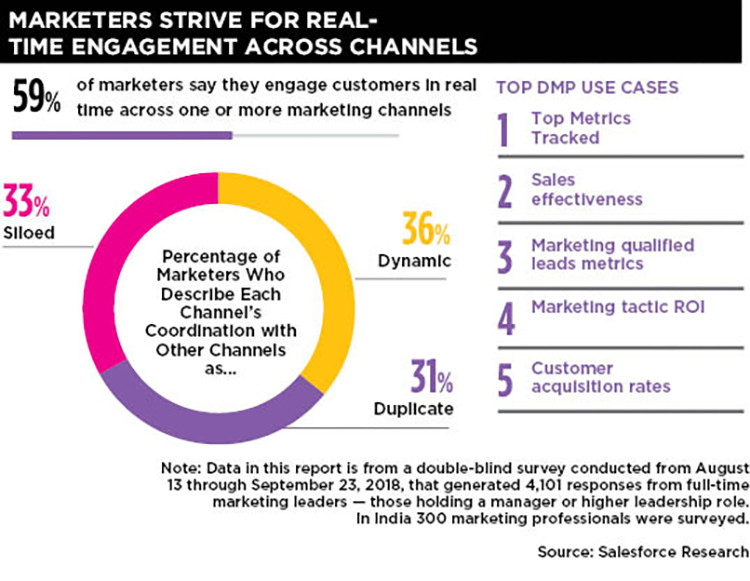 The Mobile-First Approach
A mobile-first approach is the key to closely engage with customers. Brands are required to identify innovative ways to communicate with users through mobile applications. "Online media time is growing while traditional means like Television and Radio will gradually fade out - this coupled with the rapid proliferation of Social Media is creating newer opportunities for brands to create 'broadcasting enthusiasts' – that will in-turn require companies to invest in channels that provide personalised content to its users. The primary purpose for companies is to let customers feel more connected," says Ankit Prasad, Founder & CEO, Bobble AI. Bobble AI, which began in 2015 as an app that enabled users to turn their selfies into caricature stickers added the Indic keyboard to its offering. The company today is a camera, content, and keyboard app that predicts users' action with the help of AI, deep learning, natural language processing and data analytics, in real time.
However, Vasuta Agarwal, Managing Director, Asia Pacific at InMobi points out that mobile data and analytics is underutilised because of fragmented data sets. "Marketers are still struggling to derive actionable insights from data – be it first-party, second-party or third-party data. Marrying these signals to build a single view of the customer is a priority for marketers," she says.
According to Agarwal, content marketing and in-app programmatic advertising will be a priority for marketers in the coming year. "Brands are looking to invest in short-form content that engages consumers during several micro-moments in a day. Short-form content platforms such as Glance, being a non-intrusive experience is crucial for building brand awareness and recall. As marketers get more and more exposed, acclimatised and hands-on with automated media buying, they will start to understand the value and benefit derived from in-app programmatic advertising," Vasuta explains further. InMobi is an Indian global provider of enterprise platforms for marketers. A marketing cloud company, InMobi recently extended its partnership with Microsoft by adding the Microsoft Advertising business to its current portfolio of offerings. "By 2020, 75 million devices are to be connected to the Internet of Things (IoT) - which means boundless amounts of consumer data to predict users' real-time behaviours," says Prasad of Bobble AI.
AI-Enabled MarTech: A Reality for Brands
AI-enabled MarTech is now a reality for many brands, to be able to get actionable insights on their customers, to better personalise or automate the right content in the right channel.
AI also helps marketers get quicker at reacting to changes in consumer behaviour and responding real-time. Talking about this trend in India, Antonia Edmunds, IBM: Head of APJ in support of Acoustic, says, "There has been a shift away from blast promotional messaging in single channels and greater focus on delivering personalisation and automation across channels, according to the customer profile or behaviour which has resulted in local language reach in India. I've seen a rise in brands personalising for local language to reach a growing market in India, and therefore in tools that help personalise these multiple versions and centralising content in a content hub to make it faster and easier for marketing teams to manage while delivering more consistent, seamless experiences across touch points for consumers."
Artificial intelligence has also led to a convergence of MarTech and Adtech points out Almitra Karnik, Head of Marketing, CleverTap. "Artificial Intelligence can offer a wide range of data-intensive responsibilities, thus allowing marketers to focus on strategy. High-level analytics help marketers optimise the enormous volumes of data now at their disposal. This kind of data report and the focus on consumer experience have led to a convergence in MarTech and AdTech," she explains.
TECHNOLOGIES USED BY MARKETERS
OYO HOTELS

OYO uses a unified marketing framework, which spans across the acquisition, retention and subsequent usage and experience management of consumers across platforms of app, web and call centre. OYO uses Google 360 and in-house systems for tracking consumer journeys, MoEngage for the customer communication tech, where the delivery is powered by further specialized providers like Sendgrid for Email and SMS providers are country-specific. The company further uses Tableau for business visualisations. Apart from that, they use specific tracking and fraud analytics techniques powered by Singular and Mfilter.
Example:
As OYO has scaled its user acquisition, it felt a strong need for tougher anomaly detection to get more efficiencies from paid channels. It used a combination of in-house data science techniques, coupled with technologies provided by Singular, MFilter etc. to improve detection. Some techniques used were Time to Install, App Version, User Behaviour post Install etc. The project in around three months improved detection by over 3X and is today saving millions of dollars in key geographies annually.
(Inputs from Burhanuddin Pithawala, Vice President and Global Head of Conversion, Oyo Hotels)
Godrej Consumer Products Ltd

Godrej Consumer Products Ltd (GCPL) created The Black Box, its Digital Command Centre in Mumbai, a dedicated facility to evaluate real-time brand performance. The company is leveraging it to monitor and engage in social conversations with consumers and also create more customised content. Another interesting initiative built with advanced technology is Light Box, an in-house creative studio. This is used by various brand teams to dynamically create effective visual content that resonates well with consumers. GCPL has also developed direct product platforms dedicated to its brands like Cinthol and Godrej Aer to stay connected with consumers and engage deeply with them. It has invested heavily in technology encompassing design, navigation, ease of usage, payment gateways and data generation.
(Inputs from Meghna Apparao, CMO, GCPL)
Angel Broking
• The brand uses core data management – CRM – GCM, leadsquared, Oracle service cloud, and analytics tools like GA360, iAnalyze.
• Engagement management - luckyorange, Webengage, programmatic advertising and DV360.
(Inputs from Prabhakar Tiwari, Chief Marketing Officer, Angel Broking Ltd.)
ZEE5
ZEE5 uses product, technology and data analytics monetisation with investments in AI & MI along with innovative features attracting users and enhancing experience.
It uses the following tools & technologies:
For app/ web Experience: applicaster, valtech
For data enrichment: Lotame, Data Lake, optimove
For content discovery: Talamoos, adoric, minutely
For media engineering: Kaltura
For new use cases – music, Gamification, News, Live
Zee5 has the following tools as part of its Ad Suite:
AdVault for video, display, masthead, native, companion, cost per click, cost per lead, cost per installs.
WishBox for video commerce
Play5 for customized gamification for the brand, branded polls, quiz, tailored segments within ongoing reality show gamification
Ampli5 for influencer marketing, Social Media, hosted content, in-show brand integration, content marketing sponsorships, Live, SMS, notification and e-mailers.
Leveraging Ad-Tech
With many formats like banners, emails, videos, apps, native, social, etc., advertising technology has evolved rapidly to help brands to establish better communication with target customers. Ad-tech has been adopted in a big way among clients and agencies alike. Today even creative agencies are adopting various technologies to better understand the target audience, get a right brief and deliver creative specific to particular audiences. Talking about key trends of Ad-tech, Rick Tsing, Founder and CEO OneOneDay says, "We believe that conversion rate, transparency and data awareness are the key factors that incentivise Indian companies to implement AdTech,"
According to Tsing, ad platforms like Oodies enables advertisers to launch customised digital ad campaigns, with guaranteed audience engagements and social impact elements. These ad campaigns use data analytics for segmentations like consumer preferences, purchase habits, social connections, demographics and even psychographic traits. More AdTech companies like Vavia and Proformics provide performance-based marketing solutions. These platforms support both incentivised and non-incentivised campaigns, and offer targeted campaigns in multiple ad formats, with real-time reporting.
'Programmatic' has been a buzzword for ad veterans for quite some time. With its ability to deliver highly niche targeting, to deliver the right brand message to the right audience at the right time and techniques that add a personalised touch to the ad campaigns, this technology too is here to stay. "Its greatest strength lies in its ability to leverage tons of data and enable advertisers to make informed marketing decisions by analysing actionable consumer insights. For this, it employs smart and cutting-edge technologies like AI and Machine Learning that help to process the data while also adding on the benefits of automation. It is better to get onto the programmatic band wagon sooner rather than later," says Ashish Shah, Founder and CEO, Vertoz Advertising Limited.
Apart from other trends of Voice Search and AR/VR, investment in data analytics tools and technology, particularly around 'sentiment analysis' is going to be the key.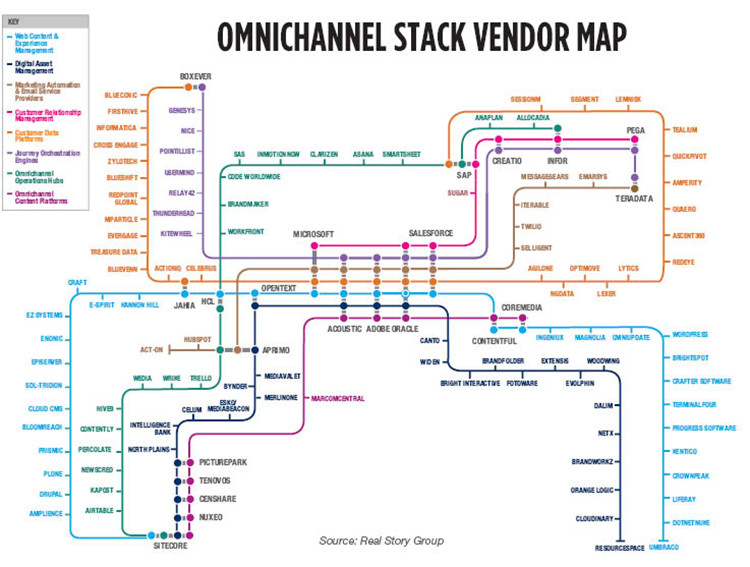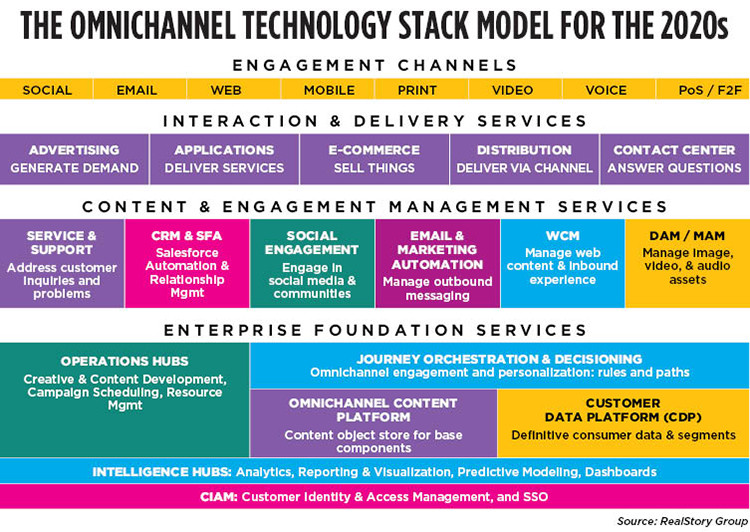 Challenges of adopting MarTech
The key challenge in MarTech is to actually figure out what technologies a company should adopt in order to meet their marketing goals. Almost every day new technologies emerge, each claiming their product can do everything. "Knowing which technologies to invest in, and which to ignore, can be the difference between success and failure," says Rakesh Jaitley, Senior Sales Director, Customer Experience (CX) Solutions, Oracle.

Cross-functional nature of MarTech
MarTech gets commissioned by multiple business units within the same organization. Hence many hours are spent to understand what procurements have already happened and then to propose a tech solution that works in the best interest of the company while not letting them incur any further expenses. "And here-in lies the challenge. Brands are coming in to acquire a new product technology that requires a certain budget and gives defined value. But this is evolutionary tech, and grows and gives better returns as you build more and more integrated parts. This is where our experience has helped build a solid approach," comments Santosh Gannavarapu, Chief Growth Officer, SKR, Merkle Sokrati.

Implementation of MarTech solutions is a big challenge as it requires an attitudinal shift in the mindset of teams who will eventually use the platform. "Most organizations work in silos and the need to build collaborative, cross-functional KPIs (Key Performance Indicators) is critical to see the success of these investments. This needs to be priority as they plan their Martech investments," says Swaminathan S, Co-founder & CEO, Hansa Customer Equity.
"A large number of Indian companies are sales-focused and marketing technology is truly understood by only a few people within the organisation. This makes it further difficult to make a compelling pitch within the company," says Shashwat Mahaseth, Marketing Manager, Visionet.

Partner-driven approach
MarTech solution providers will need to work as partners of the organisation in order to effectively implement change. Pratyush Kukreja, Head, Enterprise Sales and Marketing at Haptik thinks that most of the brands don't think about working with partners till they have done it in-house and wasted important time and resources. "Technology is moving very fast and it gets difficult for brands to stay up-to-date with the latest practices and interventions, which is again where a partner-driven approach works best. Brands take decisions based on upfront investment and short term returns, while AI has to be a core strategy and returns yield in over an 18-24 year period," he adds.

Using Data Effectively
These days, companies get flooded with a lot of data from various sources. And with sheer abundance and confusing variety of data analytics tools and technologies in the market, companies need to have a clearly defined vision and business objectives and leverage tools and technologies that align with their business growth. "I believe one of the biggest challenges is to combine data across all channels to create a reliable baseline where it can be used fruitfully to achieve brand goals. Accessing data across channels and recognizing a customer on different channels or devices is essential for marketing success," says Prabhakar Tiwari, Chief Marketing Officer, Angel Broking Ltd.

In fact, not all technologies are open to accessing data from various sources. Antonia Edmunds, IBM's Head of APJ in support of Acoustic points out that many platforms are walled gardens; hard or expensive to integrate with other solutions and data sources. "Choosing a platform that is open and able to access data wherever it sits, with AI to help with the heavy lifting of data, recommending the content and also on which channel should that content be shared with the end user is important to help deal with new channels and rising consumer expectations," says Edmunds.
More data also leads to the issue of its maintaining trust and security. CXOs, thus, must also embrace the challenge and colossal task of safeguarding important information from corruption or loss. "Most firms admit that they have tons of data at their disposal that they do not know how to organise effectively or safeguard. One should find efficient tools that can protect that data from getting leaked," adds Tiwari.
Lack of Technological Expertise
Given the quantum of the requirement, CXOs must have a repertoire of modern-day communication technologies, including cross-platform data integration, 360 degree customer views, and AI-based automation that drives engaging content and offers. While experienced professionals understand markets and traditional channels pretty well, there is still some distance to travel to embrace and fully use the digital tools and technologies at their disposal. According to a recent report, shortage of tech talent is likely to go up to 2,00,000 in 2020. This acute shortage includes employees skilled in technologies like artificial intelligence, machine learning, blockchain, Internet of Things, cyber security and data analytics.
Therefore, while MarTech promises a lot, it should eventually help marketers solve practical problems of customer acquisition and retention. The industry should be working towards it as a way forward.