If you are hungry, just say the word and Alexa will oblige by placing an order at the nearest outlet of the restaurant of your choice. If you want to buy the new Wagon R, you can hear about the car's specs straight from the CEO's mouth by watching the car's launch streaming live on YouTube while scrolling through multiple publisher platforms. If you want to go shopping, get a chatbot to become your personal salesperson or assistant.
Digital platforms have very cleverly integrated marketing into the everyday routine of consumers, but with more than a thousand brands vying for the consumer's attention every second, the need for innovation kicks in for the marketer who has to stand out on these platforms. Therefore, we set out to explore the novel digital formats that are making waves and the innovations 2019 is all set to witness, going beyond content marketing, videos and influencer marketing that got brands much needed attention in 2018.
Talking about a recent innovation, Gurjot Shah Singh, SVP & National Media Head, Dentsu Webchutney says, "This was a digital campaign sponsored by Flipkart for a Lenovo product. Lenovo was coming up with a phone with long battery life. Using technology, we targeted communication for it in such a way that if a user has charged his phone for the second time in a day, and yet his battery touched the 20% mark, he would get a pop-up a banner reading '20% battery second time in a day? Why don't you switch to this phone?' We won some awards for it. The campaign was called 'Never go low, with Lenovo'."
Sandeep Pandey, Chief Product Officer, Wavemaker India, whose agency has clients like Vodafone, Mondelez, L'Oreal, Eureka Forbes, Nokia, etc., says, "Nowadays, clients are focusing on the performance side of the Digital medium in a big way, as opposed to purely brand-driven, visibility-oriented work. They are looking at Digital to give them a tangible result. As for numbers, Digital has gained three percentage points in the overall Adex from 2017 to 2018, especially with FMCG brands going all-out on Digital. But there are some brands that are spending more than 30% of their marketing budget on the online medium."
It is a known fact that when advertisers need to do some sharp-shooting, Digital is the go-to medium, because they can micro-target audiences there, while TV and Print are used for mass targeting because of wider reach. But Digital has emerged as a formidable opponent over the past two years in terms of reach as well. The fastest growth in the digital economy was noticed after demonetization when digital payments forced millions of feature phone users to move to smartphones, opening up new avenues for digital marketers. From 291.6 million smartphone users in India by the end of 2017, research agency e-marketer estimates the number has gone up to 337 million people in 2018 and it will be 491 million by the end of 2022.
Vishal Chinchankar, Chief Digital Officer, Madison World, says, "We at Madison have seen a 200% growth in Digital spends from clients in the past one year, especially clients like Asian Paints, India Bulls, Godrej, etc. Also, with the TRAI regulation, viewership patterns are definitely going to change and real TV dollars are likely to shift to OTT." Talking about Digital eating into Television's share, a lot of it is already happening. For example, Motorola which in 2017 released six Television campaigns, steered clear of Television ads completely in 2018.
Rachna Lather, Head of Marketing, Motorola Mobility, India explains, "The power of Digital is very misunderstood. Of course, TV is still considered as the biggest reach medium. But I would rather be in a very personalized, direct conversation with my consumers than broadcasting my communication to all and sundry. Thus, Digital and social becomes that much more important and we spend 90% of our ad budget on Digital alone."
Similarly, Yatra.com which calls itself a Digital-first brand, has shied away from doing any Television campaigns all of last year. Mudit Shekhawat, CMO, Yatra.com says, "Today, 70% of our marketing budget is devoted to Digital. Yatra.com is one of the biggest clients for Google and Facebook. We work directly with them. We have tried coming up with innovative formats for advertising our itinerary, like having a 360-degree video itinerary of a holiday package as opposed to having a text description or a static ad."
There are even brands that started out by spending 100% of their marketing budget on Digital for the first three years of their brand journey, but in the past few years, moved to a 50:50 ratio between traditional and Digital advertising. Kashyap Vadapalli, CMO Pepperfry.com, explains it thus: "We spend Rs 150 crore on marketing today and for us, Digital does not exist in isolation from traditional. What we noticed is that our performance metrics on Digital actually go up in sync with what we spend on traditional. So, hypothetically, if I were to try to increase my budget on performance from X to 2X, and I don't support it with traditional media, then the efficiencies would fall significantly. To make a brand stronger in the consumer's mind, traditional channels are important."
Says a Facebook spokesperson, "We are constantly working with third parties to develop a system to scientifically measure the actual business lift from video ads through test and control methods. For instance, Millward Brown's Cross Media studies prove that when Facebook and TV are combined, they deliver higher reach at 38% lower cost. In addition to this, when Facebook & TV are combined in a media plan, Facebook delivers +25% incremental brand impact at only 3% of spends. This impact was seen as a combination of key brand metrics like Association, Salience & Motivation."
As Digital growth moves beyond the top 20 cities, the sweeping changes it has led to include Digital marketing formats moving to vernacular and also the emergence of platforms such as 'Daily Hunt', a news aggregator with around 130 publications within one app. Milind Pingle, Director-Sales & Marketing, Cargill's oil business in India, says, "Researches have shown that 95% of the new Internet users in India are consuming vernacular content. Keeping this in mind, we as a brand will be innovating with vernacular content, advertisements and landing pages with continued focus on video content, given that it is the largest consumed media format on Digital."
Similarly, more and more Google searches are in vernacular languages today, as text searches are increasingly moving to voice search, overriding the need to be literate to use search. A cabbie opening Google map and saying 'Gurgaon' in voice rather than typing it out, is a common sight today. In fact in 2018, brands like Jio have incorporated voice search in the hardware of their phones. A Jio feature phone costing around Rs 2500 is voiceenabled, so you can operate your phone with voice commands like 'Photo gallery kholo'.
Talking about voice commands, Dilip RS, Country Manager, India, Alexa Skills (ASK) at Amazon, says "We have brands like Zomato and Ola wherein customers can access their services using a simple voice command. In the BFSI segment, we have IndusInd Bank which has built a full-fledged banking experience on Alexa and as a customer, you can check your balance, do fund transfer, pay your bills, etc. So, even high security sectors have adopted Alexa to create great customer experiences. However, we have stayed away from playing commercial ads on the Alexa platform. The explanation is simple- in a mobile screen world, you can skip the ad or close the window, but on Alexa, the ad will play disrupting conversation. We don't want anything to come in the way of customer experience."
Rajiv Dingra, Founder & CEO, WATConsult, who has worked with Tata Motors, Domino's, Panasonic, etc., says, "Digital, in my view, will grow by about 30%-32% this year. The year 2019 will see two or three technologies used in advertising (which have been visible globally in a big way but not as much in India) like Artificial Intelligence, chatbot ads, etc. Also, use of blockchain for advertising delivery is being used internationally, but not in India."
On one end, Google's smart reply option which uses artificial intelligence, has made the tedious task of responding to mails on Gmail a less cumbersome task, yet on the other hand, advertisers say a functional AI model is a distant reality for India. Elaborating on that, Sushil Matey, Director-Marketing, Livpure, says, "AI is the new buzz that comes up every time we talk about evolution on the technological front. Yet, existence of a fully functional AI model is far from reality. We would rather categorise the current phase as machine learning (ML). We are using the data values assimilated by ML for personalisation of content and advertisements are being done as per the end user/customer profile. At Livpure, we have started translating the process in beta mode."
Arvind Nair, Head-North, Mirum has a similar view on Virtual Reality. He says, "A lot of people tried to do VR, but I don't think it's a sustainable or a scalable model in India right now. It needs a lot more investment into people having VR devices, because you can't expect people to be standing in a line and going for an experience." Talking about what will work, he says, "We are focusing on marketing automation, like for KFC we have audience data sets that tell me how often you order a KFC burger or any other product, and on the basis of your user pattern, I will show you an ad about a new product offering, at a time when you would be most likely to be receptive of that message. Hyperlocal targeting also works well. Then there is pin code level mapping, where we identified clusters and showed ads only in the radius of 5-10 km of that, as it would be most relevant for the consumers there."
Talking about the Digital transformation in the year ahead, Sam Thomas, Associate Vice President of Performance Media, Omnicom Media Group, says, "With Telecom companies taking gigantic steps towards 5G; 2019 is likely to be the year where some long-hyped tech finally sees the light of day, whether it is in Artificial Intelligence, Augmented Reality, Blockchain, Contactless Shopping, Facial Recognition, etc. We will finally start looking at Digital as more than just Bumper, Scroller, TrueView ads. There is Google's Duplex AI or Microsoft Cortana and how Amazon wowed us with Alexa. Apple, Google and Amazon all have worked to improve their products to require less direction of their virtual assistants and to better anticipate our needs. This is all going to give us the rise of touchless interfaces. Thus, the intelligent Digital mesh is going to include inter-connected humans, robots, devices, content and services, all driven by Digital transformation."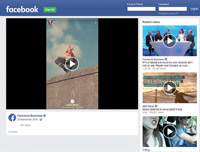 FACEBOOK INNOVATIONSBrought ads in Facebook stories to advertisers globally:
People now share more than 1 billion stories every day across Facebook, Instagram and Whatsapp. The Asia Pacific region accounts for the highest number of story producers with over 40% of stories being created in this region. The social media giant has now expanded ads to Facebook stories as well.
Expanded shopping on Instagram to more countries around the world and to Instagram Stories:
Instagram is a great place for people to discover and share their passions. With shopping on Instagram, this sense of discovery goes even further by giving people a visual shop front to explore new products from businesses they follow. With easy access to pricing and product details, shoppers can tap on a tagged post within the feed or through the 'shop' button on a business's profile to take the next steps to learn more.
Launched WhatsApp Business app and API:
This makes it easier for companies to connect with customers and quicker and easier to chat with a business than making a call or sending an e-mail.
In-Stream Reserve and ThruPlay:
Introduced new ways to buy and deliver video ad campaigns on Facebook with In-Stream Reserve and ThruPlay.
THE DASHING NEW DIGITAL FORMATS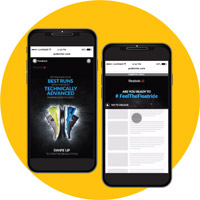 Scroller (expandable ad)
If you are reading a news story, these ads dynamically get inserted in between the paragraphs on the page. The ad reveals itself from the back of the page from a window created between two paragraphs. When users engage with the ad, it expands to a full screen banner. Inside the full screen banner the user is completely guided on how to engage with the banner. Vishal Rupani explains, "For a food brand, the user would be asked to tap on the microphone icon inside the ad creative and say 'I am hungry' on which it may present a bowl of soup in the creative."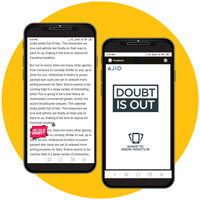 Sticker ad
While you are reading content for e.g. on Scoopwhoop you will suddenly see a tiny pop up on the left hand side bottom of the screen with a close button on it. It is called the Initiator which essentially is a small ad which can intrigue the reader. If it doesn't you can click on close button and it will go away without disturbing your experience. If you click on it, it will take over the entire screen. In this case the Ajio ad, where the sensors in your phone can be used to change the page by shaking it with a call to action at the end. You can micro target here, depending on content being read.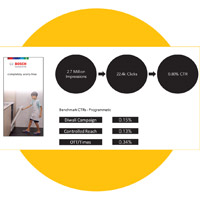 Dynamic creative ads
In this the text can be changed basis the audience you target. Santosh Mishra of iProspect says, "In the case of Bosch, here the ad was targeted at a homemaker audience where the image, etc. was the same, however the text on top kept changing. Essentially it's personalization basis their behavior. You end up saving a lot of effort that goes in development and it is also personalised, for e.g. If one has to target 10 segments instead of creating 10 different individual creatives to target those 10 segments, one template can be used and just the text on top can keep changing."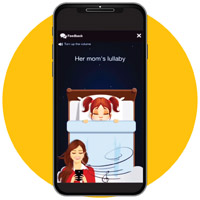 Voice banner ads
Brands who were looking to differentiate from standard display ads got more to look forward to with Voice banner ads, like how Isobar India executed for the first time on a mobile device for Godrej Security Solutions. They leveraged a mother's lullaby in the form of a 'Voice Driven Banner' ad. It was planted as an interactive banner on relevant parenting and youth-centric mobile apps and mobile websites. Via the banner, users were asked to say 'Mummy' into their devices, to make her mom appear and sing a lullaby to console a little girl and put her to bed.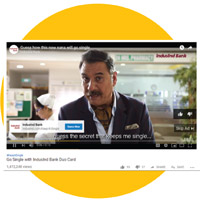 YouTube's Trueview for action
It is the evolution of videos from being used for just garnering a view or for creating awareness to being used to get an action triggered from users. TrueView for action campaigns help drive leads and conversions by adding prominent CTAs (calls-to-action) and headline text overlays to your video ads. You can encourage customers to explore your product or service, share their contact information, and take other actions valuable to the business. For e.g. in this IndusInd example, Dentsu Webchutney asked people to guess something related to the card. These are videos which are at least 20-30 seconds long.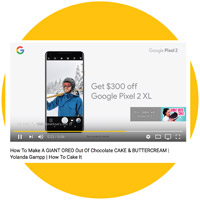 6 second Bumper ad for performance
YouTube has added a short-form video ad option to its lineup. Called Bumper ads, the six-second videos are available through AdWords and sold on a CPM basis. Google is presenting Bumper ads as an add-on to traditional TrueView or Google Preferred campaigns. Gurjot Shah Singh explains, "You may have seen a Youtube ad that just highlighted the features of the new product and then suddenly there would be a 6 second video ad which will be shown to the same person the second day saying, 'Hey, you watched the entire 30 second ad yesterday, looks like you might be interested in the product. Click here and go to the website right away'."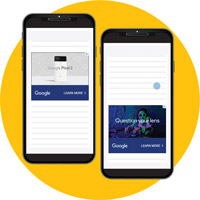 Flipbook
Flipbook is a 300x250 outstream video format for mobile web. Flipbook creatives provide an enticing, interactive, silent highlight clip of your video as viewers scroll through content. Viewers scroll up or down to control the playback speed and direction of the highlight clip, creating a playful DJ scrub interaction. Viewers can then click to play the full video with sound. The entire context is given with 'call to action' button at the bottom. It is a recent addition by Google and is in the beta stage as of now.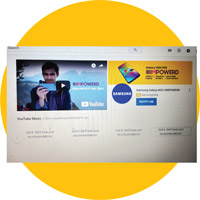 YouTube CPM Masthead
In 2019, Google will be launching CPM (cost per mille) Masthead (beta) – It was Google's answer to the front page ad in TOI with the cost of blocking it for 24 hours going up to 1.5 crore, thereby restricting it to only players with deep pockets. Through the CPM format now advertisers can book the slot for less than 24 hours. This is a new way to buy the YouTube Masthead. Using the same creative canvas and placement as their flagship CPD reserve format, Google will now offer advertisers the ability to showcase their videos at the top of the YouTube home experience for short durations.
UPCOMING FORMATS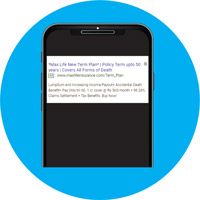 Responsive search ads
Responsive search ads let you create an ad that adapts to show more text—and more relevant messages—to your customers. Enter multiple headlines and descriptions when creating a responsive search ad, and over time, Google Ads will automatically test different combinations and learn which combinations perform best. It gives you three headlines and bigger inventory to pay with, along with a bigger description. This is in the beta stage.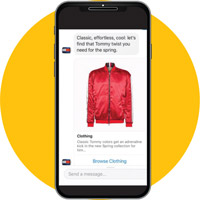 Chatbot ads
We hear a lot about chatbots being used for customer service, but the next level is using bots within an ad i.e. using a chatbot to create a banner unit where users chat with it. Ad tech company Teads was the first to integrate an AI chatbot within outstream video ads, and Tommy Hilfiger was the first to use the technology. In India brands are expected to use this type of chatbots in a big way in the coming year especially fashion labels where the bot will allow customers to explore the latest collection by asking questions on individual tastes and sizes.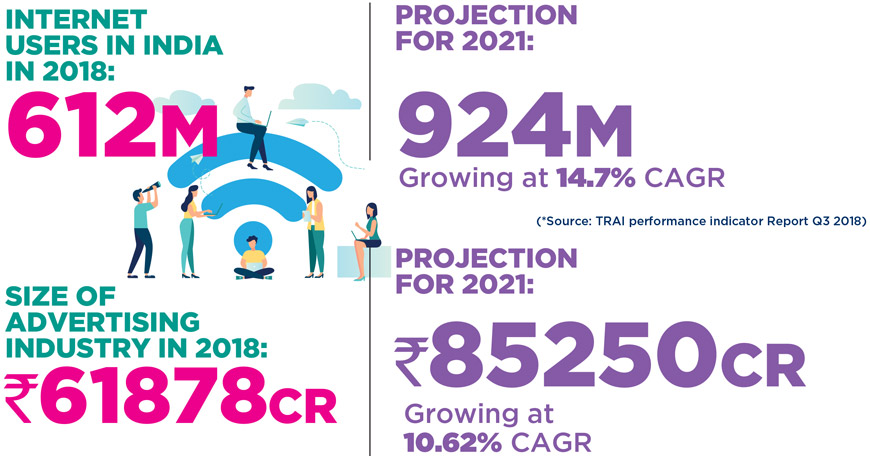 INNOVATIVE DIGITAL BRANDAND EFFORTS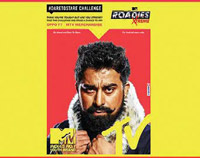 MTV Roadies
The 'Dare To Stare Challenge', India's first virtual 'Xtreme' task where Rannvijay Singh invited the MTV Roadies participants to test their power to stare on social media platforms. Here Madison leveraged Artificial Intelligence's potential by incorporating optical flow detection and face tracking technology to deliver the stare challenge over the mobile platform.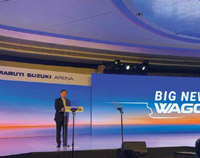 Wagon R
The whole world and not just media persons were able to see Maruti Suzuki's MD and CEO, Kenichi Ayukawa launching the third generation WagonR through a YouTube video that was streamed live, a feat which was only possible via television earlier. While YouTube live streaming was launched years ago, brands are catching on to it only now.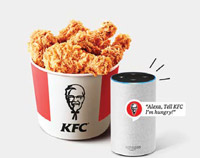 KFC
Amazon and KFC partnered up to launch the KFC skill on Alexa which allows users to order food from their nearest KFC restaurant using voice commands on any Echo or Alexa-enabled smart speaker. Those who use any Alexa-powered smart speaker just need to install and enable the skill from the Alexa app, and say "Alexa, start KFC"; "Alexa Launch KFC"; "Alexa tell KFC I am hungry".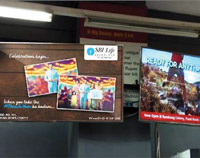 SBI Life
Google's marketing platform, in partnership with Lemma Technologies, has helped the brand serve this Digital inventory for SBI Life's 'Main Se Hum' campaign across OOH touch points and re-target audiences on mobile through the beacons installed at each location. Planned by WATConsult, the brand aimed to reach out to newer audiences and build a programmatic connect thereafter.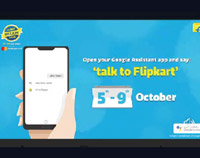 Flipkart
Users could open up the Google Assistant app on their phones and say, 'talk to Flipkart'. Then, they could choose a product of the day and try to convince Assistant to give them the lowest possible price by engaging in a fun haggle. If the customer could set the lowest price on a product, then that was the price India paid for the same during the Big Billion Days, while the winner could get the product for free. Dentsu Webchutney said this took the average length of engagement of a user with a voice assistant on Google to 3 minutes from 30 seconds.
FACTORS THAT WILL SHAPE DIGITAL MARKETING IN 2019

BY GURJOT SHAH SINGH
Media Head, Dentsu Webchutney
Hotstar enters the race
Unlike a YouTube or Facebook, Hotstar doesn't have the kind of data to give sharp targeting opportunities. For example, it allows you to target people in the age group of 25 to 35 years who own a car and a credit card, who have recently moved into a city etc. Hotstar today happens to be the third largest video content distributor in India. In order to enter the race, they joined hands with Flipkart. Therefore, now if a person's behaviour has been mapped on Flipkart, Hotstar can now target the same person not by showing the same ad on both platforms but by going to the next level, calling for action.
Jio and Airtel may open apps for ads
Telco players like Jio and Airtel only had in-house ads on their apps so far, but in 2019, they are expected to open their apps for other advertisers to come in. Out of 300 million smartphone users in India, at least 150-180 million will be on Airtel and Jio, which becomes a huge base for an advertiser. It can happen in two ways – either advertisers will be allowed to put their ads on these apps directly, or they may open themselves for data sharing with a SonyLIV or Voot, which means the advertiser is coming to Airtel but is targeting customers on other platforms.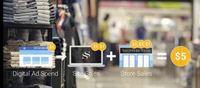 Online to offline mapping
While it is easy to find out how many customers have landed up on an e-commerce website after watching a brand communication online, it wasn't earlier possible to measure how many people saw an online ad which compelled them to walk into a physical store and purchase goods. This has now become possible because of Google Store Sales Direct. It enables online to offline mapping of Digital spends, or Digital effectiveness. For example, Shoppers Stop found out that for every one dollar spent on Digital they got a return of $2 through their website and $3 through brick and mortar store which paints a favourable picture for Digital investments.
WEEDING OUT BAD ADS
There are a lot of problems associated with mobile advertising formats today. Way back in 2013 a study by Infolinks showed that 86% of consumers suffer from banner blindness, which means most people know where banner ads would show up, and they tend to ignore them. Another one is poor visibility i.e. only 27% of brand ads are visible, in all other cases the ads could be in the second fold or below the scroll, and users don't even get there. Yet brands end up paying for them. Another problem is accidental clicks. So, 60% of your ad clicks on mobile are accidental. You can blame it on fat fingers, or the fact that the screen is so small that users accidentally touch the ad while scrolling through. So it is hardly a genuine click.
Vishal Rupani, Co-founder & CEO, Mcanvas thus is reinventing digital formats and building new tools which advertisers can use to reach out to consumers. Rupani says, "Mobile is a powerful device wrapped up with features such as gyroscope, accelerometer, compass, camera etc. Creatives can be made that can utilize and integrate these sensors effectively." Giving an example he says, "When Reebok wanted to launch a shoe, we created a format wherein people had to take physical steps to reveal the shoe. If you have chosen to engage with the banner ad, it would say something like, 'Hey, do you want to see Reebok's new line of shoes? Why don't you take some steps to reveal the shoe?' And when you physically take those 10 steps forward is when the shoe gets revealed to you. So it uses location, and the sensors that the phone has to monitor the user's steps, like Fitbit does. So we could enable that through the phone's movement." MCanvas' customized ads run on 70+ publisher platforms like Moneycontrol, RepublicWorld, The Hindu, ScoopWhoop, and SportsKeeda etc and the company works closely with media networks like GroupM, Dentsu, Omnicom, Madison etc.
Santosh Mishra, Associate Vice President, North, iProspect says, "People face a lot of inconvenience owing to the ads which are a result of direct buying on the publisher side. Ad blocking software is on the rise owing to the attention drawing ads shown by these publishers like pop up ads, videos which have auto-play button in it wherein it starts playing out of the blue loudly, embarrassing people in public places. Anything which interferes with the consumer experience has to stop and that is what the Coalition for Better Ads is trying to do."
More than 50 companies and trade associations, as well as 80+ affiliate trade associations in more than 58 countries have come together to give strength to the Coalition for Better ads which includes the Indian Society of Advertisers, Unilever, Google, Facebook, P&G, Publicis Groupe, OMG, Microsoft, GroupM etc. Brendan McCormick, Director of Communications for the Coalition for Better Ads says, "Last fall, six leading programmatic ad exchanges committed to serving only ads compliant with the Better Ads Standards. Google Chrome has promoted adoption of the Standards by assessing use of ads that violate the Standards and removing all ads for sites that do not meet its criteria for more than 30 days. Google Chrome has announced that it will extend this approach globally and stop showing all ads on sites in any country that repeatedly display these disruptive ads, beginning on July 9, 2019. There has been widespread publisher adoption of the Standards in regions where the Standards have already been in place."
Talking about some of the innovative digital formats which have worked well globally in 2018 Joe Barone, Managing Partner, Brand Safety of GroupM says, "Video ads were one of the interesting formats in 2018. An interesting trend of running video creatives on platforms such as Facebook, that helps brands to engage with customers, gained momentum in 2018. Advertisers are experimenting further with videos as short as three seconds, giving a boost to this trend."
THE PUBLISHER'S CHALLENGE
From a publisher's point of view, the challenges with respect to digital formats and innovations are very different from that of an advertiser. Publishers want ad experiences that are pretty, modestly sized, and not intruding on the user experience. Advertisers want larger formats, richer media, and in some cases want to intrude on user experience to get noticed. Achieving that balance is tough for most platforms.
Rameet Arora, Chief Operating Officer and Head of Digital Brands, HT Digital Streams says, "Branded content and native advertising solve that problem beautifully because it leverages the richness of the internet without creating any intrusion into user experience. That is going to get more sophisticated and more interactive. Similarly, native ad units are becoming bigger, and are catching up in India. Since native ads we are not constrained by size, a publisher can deliver the size they want to, and you don't have gaudy ads sticking out in the middle of pretty user experiences. So, overall on our website you will see side scrolls, vertical scrolls and largely stuff that does not disrupt user experience. You would also see some native ads, a combination of programmatic ads and direct ads in addition to a lot of branded content, which is labelled, sponsored or promoted."
Another publisher, Angad Bhatia - COO - Indiatimes & Lifestyle Brands at Times Internet says, "Apart from programmatic and the ability to be able to target at a cookie level, at a logged-in user level, we have been able to merge two schools of thought which is -- top of the funnel advertising and the bottom of the funnel advertising. You may know a lot of publishers who send out affiliate traffic to big market places. Our approach has been very different. Two of our businesses are launching their commerce verticals, MensXP and iDIVA. We have been basically creating content that converts our own product lines, and the sale happens on our own verticals, so the entire consumer journey from discovery to shopping happens on our site. Other than that on a daily basis, we do roadblocks for some of the biggest advertisers that have videos in the ad unit, some sort of a digital payment connect to advertising, an interface which uses the camera to open up into an ad, etc. So, there is a lot of interactivity which happens within an ad unit."
mCanvas reinvents Digital formats for publishers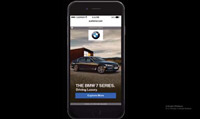 Spotlight (non-expandable ad):
Spotlight captures user attention without botching the experience of consuming content. Spotlight mobile ad formats are one-of-akind banners, available only on premium sites.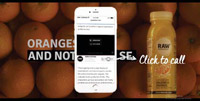 Streambox (outstream video ad):
Streambox is a polite Outstream video ad format reaching over 60 million Indian millennials across brand safe content partners. Streambox drives 82% higher brand lift as compared to pre-roll videos.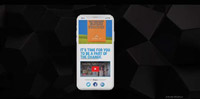 Smarticle (native ad+content):
Smarticle is a measurable sponsored content marketing solution that uses phone sensors and features to tell a brand's story effectively.