2020 will go down as a watershed year for the media and advertising industry. Not only was there a tectonic shift in the consumption and adoption of digital platforms and services but there was also a huge bump up in the ad monies that was spent on Digital by brands. The digital medium has already overtaken Print to become the second biggest AdEx medium in India and is fast catching up with TV AdEx numbers. The COVID-19 pandemic has only accelerated the adoption of Digital as a key advertising vehicle.
As per the fifth edition of the annual report on digital advertising from the exchange4media Group and Dentsu titled 'Digital Advertising in India 2021', digital advertising had grown in India by 15.3% last year to reach Rs 15,782 crore. The industry was at Rs 13,683 crore at the end of 2019. The report further adds that the digital juggernaut will continue and will grow at an impressive 20% to reach a market size of Rs 18,938 crore by 2021 and with a CAGR of 22.47% to touch Rs 23,673 crore by 2022.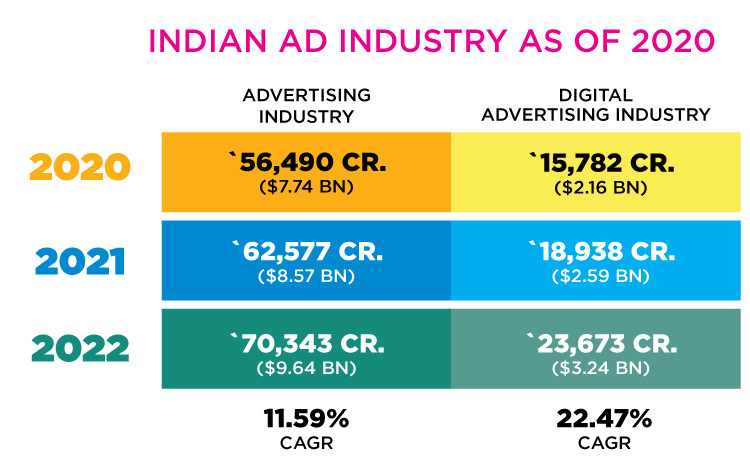 THE PANDEMIC PUSH FOR DIGITAL
The double-digital ad growth registered by Digital is due to the widespread digital transformation during the pandemic, and changing consumer habits and behaviour. This also means that traditional media saw a decline with a negative growth rate of 25.7% over 2019. Digital AdEx grew even as the overall AdEx witnessed a 17.5% drop at Rs 56,490 crore over 2019 due to the pandemic. As per the report, the advertising industry is expected to make a comeback and will grow by 10.8% to reach Rs 62,577 crore by the end of 2021. Furthermore, it is expected to grow with a CAGR of 11.59% to reach Rs 70,343 crore by 2022.
Traditional media will have a growth rate of 7.2% by the end of 2021. The growth of digital media can be attributed to factors like internet penetration, availability of affordable phones with internet connectivity, and change in consumer behaviour on the back of last year's COVID-19 outbreak. The internet user base has been increasing rapidly and has contributed to the growth of Digital.
TELEVISION – STILL LEADING IN MEDIA SPENDS
The report reveals that Television still contributes the largest share (41%, Rs 23,201 crore) to the Indian advertising market. This is followed by Digital (28%, Rs 15,782 crore) and Print (25%, Rs 13,970 crore). Television accounts for a majority share of advertising spends in India, and it has been a leader in terms of media spends thanks to strong audience loyalty, the report points out.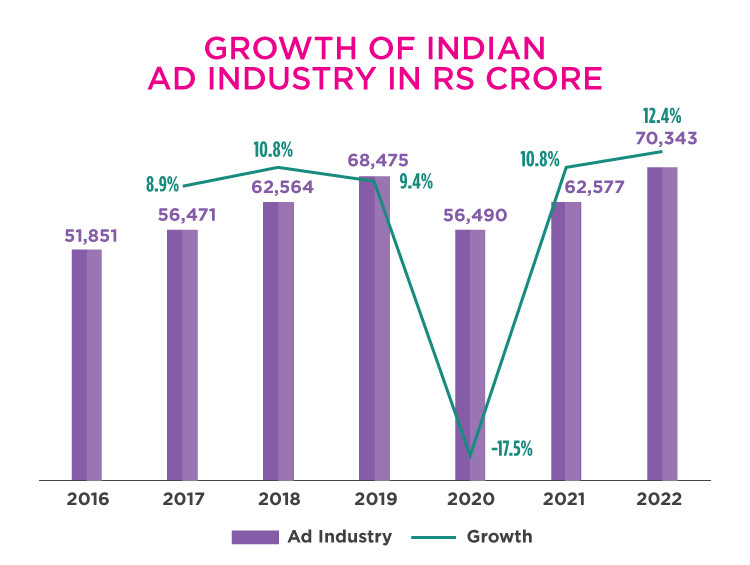 The report also adds that OOH, Radio, and Cinema have witnessed a decline in media ad spends compared to 2019. The festive season combined with IPL and business activities in the economy post lockdown allowed brands to liquidate their OOH inventory and reasonable proportions of spends came into this medium. The lockdown has had a severe impact on the businesses and it certainly affected the reach of Print, OOH, and Cinema. Measures were taken to contain the pandemic and people were confined to their homes due to which there were no footfalls in the cinema halls in the initial lockdown phase. Online audio-streaming services have begun to give stiff competition to Radio.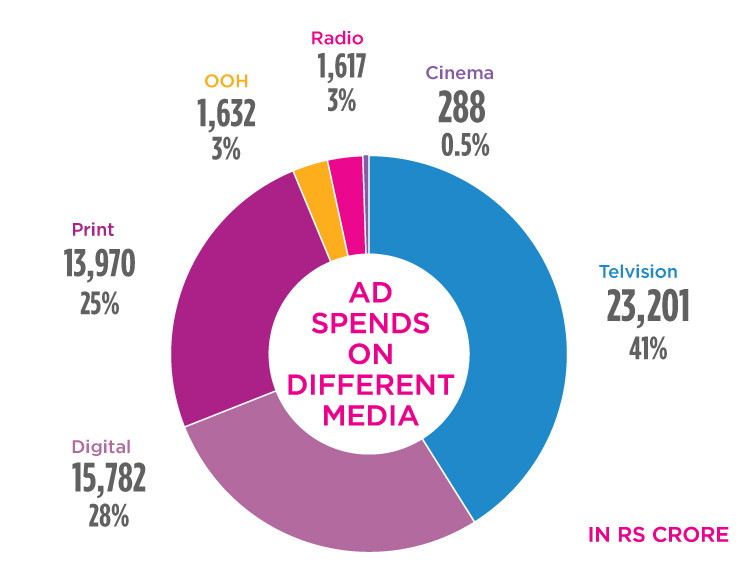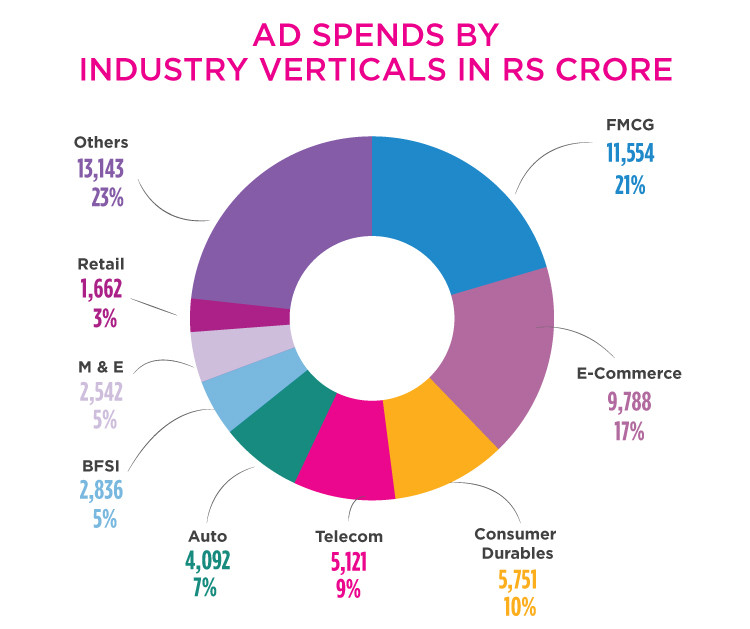 Commenting on the report, Anand Bhadkamkar, Dentsu India CEO says, "We, at Dentsu, expect 2021 to witness a colossal rise in digital advertising. We also recognise the need for a business intelligence report that can give directions towards which this industry is moving with ever-changing client demands and market scenarios. The lack of detailed and accurate digital advertising spends is surprising for a medium that lends itself to measurement. It is to fulfil this gap that the digital agencies at Dentsu have collaborated with e4m once again to launch the fifth edition of our Digital Report that extensively covers digital trends, spends and insights across all sectors."
Nawal Ahuja, Co-founder, exchange4media Group, notes that the digital industry has much work to do in terms of providing reliable data, better measurement and more ROI to sustain this growth. "Scale brings with it a demand for greater accountability and with digital ad spends looking set to equal those on TV, a larger number of CMOs will seek increased transparency and ROI. Thus far, the medium has been used largely as a lead generation platform, heavily funded by big national advertisers. Social media platforms have been under immense scrutiny for content and with major brands across western markets taking a stand against toxic content, these companies will in all likelihood no longer have a free run without taking the onus for the content on their platforms," he remarks.
SPENDS ON DIGITAL AD FORMATS
According to the report, the highest proportion of spends on digital is contributed by social media (29%, Rs 4,596 crore). This is followed very closely by online video (28%, Rs 4,366 crore), and paid search (24%, Rs 3,725 crore). Spends on display banners stand at 16% (Rs 2,528 crore).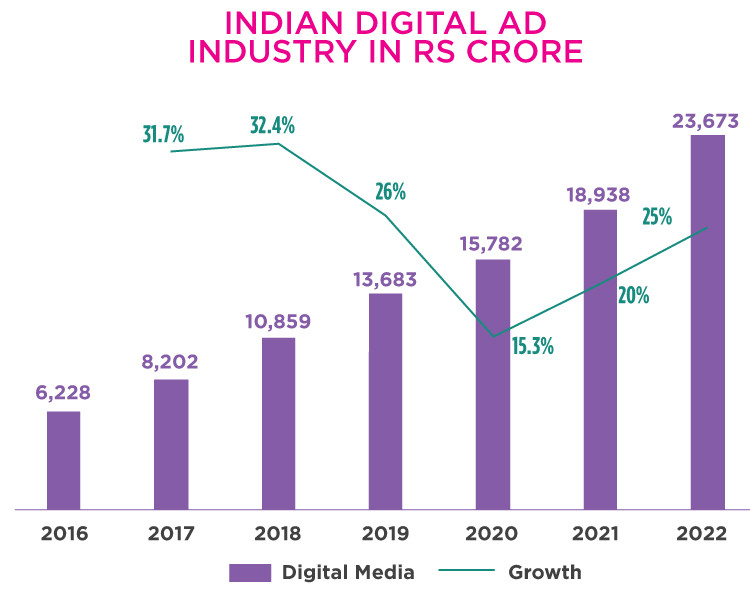 Social media remains the strongest digital ad platform and has constantly grown by leaps and bounds. Indian consumers spend around 2-3 hours on social media a day, thereby resulting in higher spends on social media platforms. Online video spends have seen the highest growth rate of 46% in 2020 compared to the previous year. This is followed by the growth of spends on social media at 20% over 2019.
Spends on online video increased from 22% in 2019 to 28% in 2020 and will continue to grow steadily. Digital media saw the quickest recovery and digital advertising spends returned to pre-lockdown levels by the end of 2020.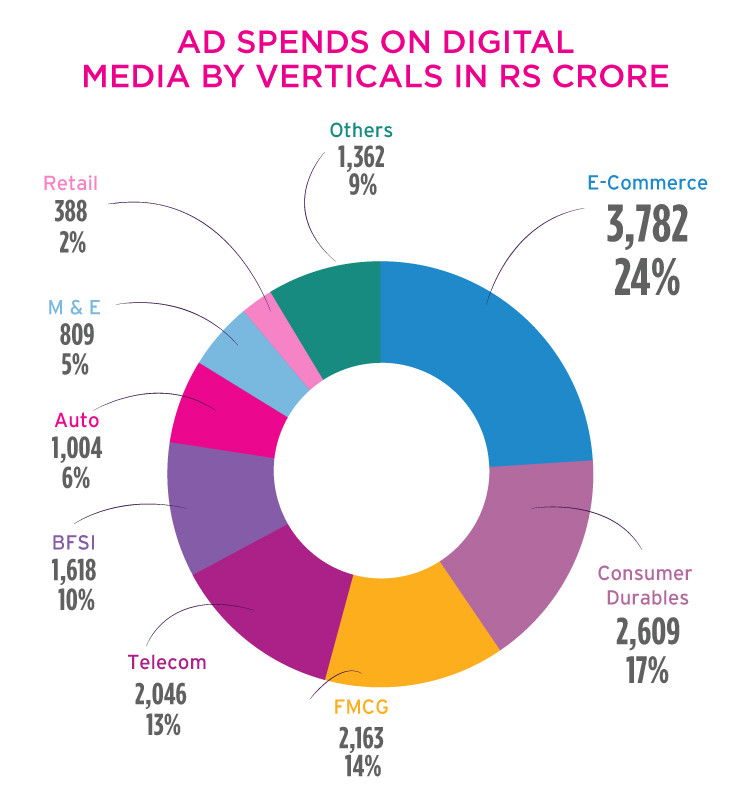 FILLIP FOR E-COMMERCE IN 2020
The report highlights that 2020 witnessed accelerated growth of e-commerce usage and people belonging to different age groups now shop online more frequently than before. The adoption of the digital-first approach was one of the significant drivers of this change.
There is also a growing trend of online shoppers coming from the Tier II and Tier III cities and beyond, thus truly widening the reach of this platform. E-commerce giants have been focusing on these consumers with initiatives like the use of local language and localised content and offers. By the end of 2020, the advertising spends on e-commerce platforms were Rs 4,700 crore. Based on the current trajectory, the advertising spends on these platforms is expected to grow at a CAGR of 40%.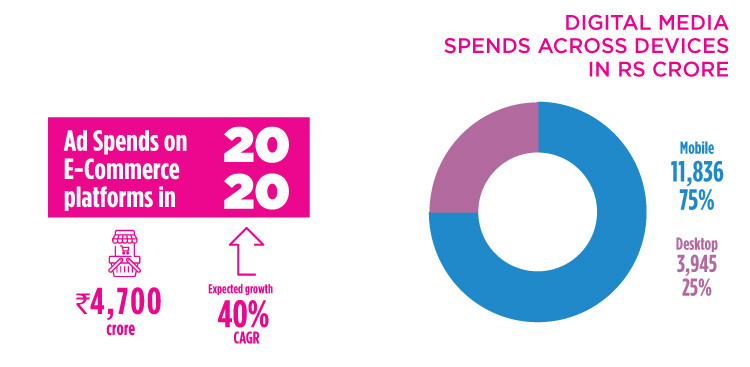 DIGITAL MEDIA SPENDS ACROSS INDUSTRY VERTICALS
The report notes that e-commerce makes the highest contribution of 24% (Rs 3,782 crore) to the digital media industry. This is followed by consumer durables (17%, Rs 2,609 crore), FMCG (14%, Rs 2,163 crore) and Telecom (13%, Rs 2,046 crore). Compared to the previous year, the share of the e-commerce segment has increased from 19% to 24% to be the highest contributor to the digital media spends pie.
The key drivers in these sectors are
• Young demographic profile
• Improving internet penetration
•Government initiatives
• Improving economic performance
FMCG spends the highest share of its digital media budget on online video (49%) followed by social media (32%) and display banners (14%). The automotive segment spends the largest share of its digital media budget on online video (32%) followed by social media (23%), paid search (21%), and display banners (15%).
E-commerce segments spend the most with 42% of their digital media budget allocated for paid search. It is followed by social media with 26% and online video at 21%. The e-commerce segment spent their digital media budgets on online videos more this year compared to the previous year. The retail segment majorly spends its digital media budget on social media (45%) followed by paid search (19%) and display banners (18%). The telecommunications sector spends 34% of its digital media budget on social media and online video respectively. BFSI sector spends a maximum of their digital media budgets on paid search (31%), then on display banners (25%), and social media (24%).
The media and entertainment segment spends the largest share of the digital media budget on online video (41%) followed by social media (31%) and display banners (15%). The consumer durables segment spends 27% of its digital media budgets on social media followed by 24% on paid search and 19% on online video.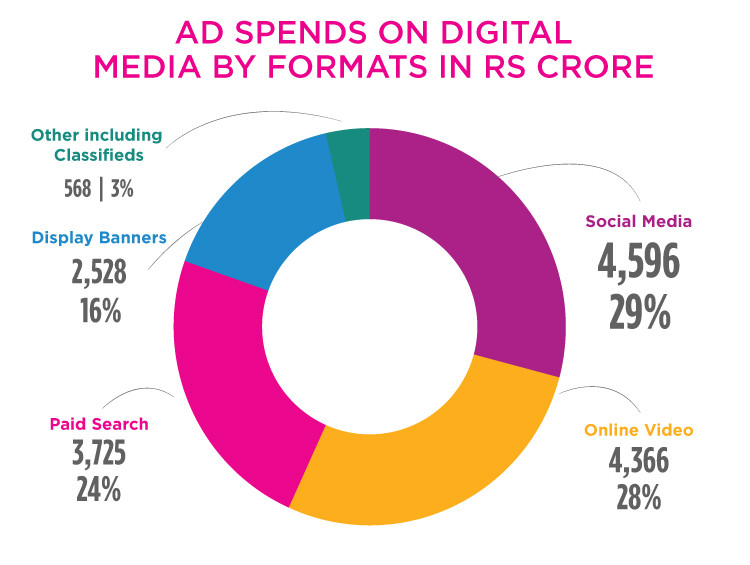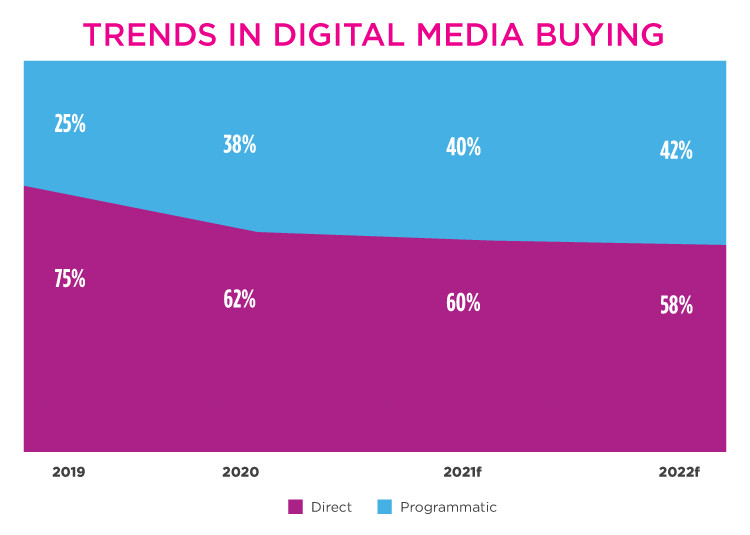 LOOKING AHEAD: PROGRAMMATIC TO LEAD THE WAY
Spends on programmatic buying contributed to 38% in 2020 of the digital media pie. The adoption of programmatic buying has evolved and spends increased from 25% in 2019 to 38% in 2020. It is expected that programmatic media buying will grow with more marketers investing and its share will increase to 40% during this year. The use of programmatic while executing campaigns is to organise, streamline and measure results effectively. The direct buying stood at 75% in 2019 and declined to 62% in 2020. By 2021, direct buying will cover 60% with a larger proportion compared to the programmatic method. Furthermore, it is expected that the share of spends on programmatic buying will increase to 42% by the end of 2022.
(The dentsu-e4m Digital Advertising Report and Conference was presented by Verizon Media and co-powered by sponsors ABP Live, Microsoft, VOOT and Co-Gold sponsor Trell.)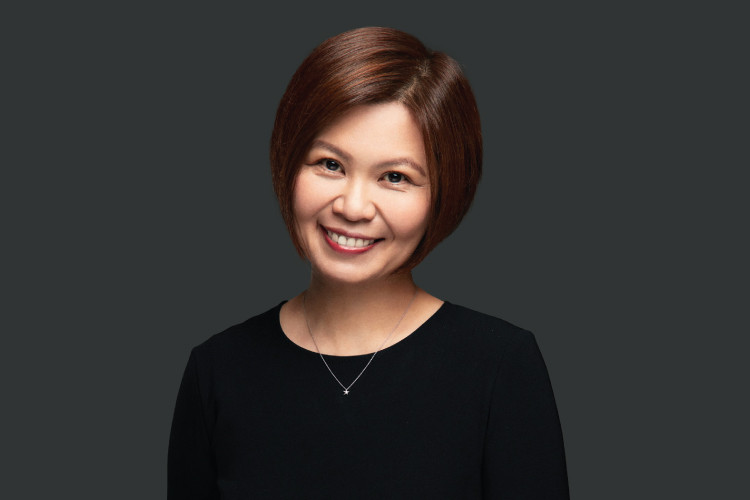 GEARING UP FOR A MIXED REALITY WORLD
Jean Lin, Global CEO Creative, Dentsu International, expounded on the concept of the virtual experience economy and observed that brands need to prepare for the next generational personalisation
The pandemic will pass but consumer behaviour will not change. It has moved into a virtual experience economy," said creative maven Jean Lin, Global CEO Creative at Dentsu International, as she took to the virtual screen to deliver her Keynote at the Dentsu e4m Digital Advertising Report 2021 Unveiling and Conference. Lin explained that as people spend more and more time online, they want online spaces where they can find real humanity of belonging, and that's where there is a huge opportunity for marketers to create a mixed reality world and an experience that consumers will remember.
Lin emphasised that experienced technology is a critical new creative toolkit that everybody needs to try and embrace. She also observed that brands need to prepare for the next generational personalisation. "The mass personalisation, programmatic and simpler way of distribution actually means more personalisation and more creative nuances, because consumers' expectations have risen," she said. She also spoke of the need for embracing live events better. "The event itself needs to have a component to enhance the creativity because the sensory experience that any consumer is wishing to embrace and its standard now is really high. The virtual experience economy is a phenomenon that will go on for a long time, as we move into a more mixed reality world," Lin stated. She concluded that we are moving towards a virtual experience economy, and by that understanding, the most critical element is embracing digital as a key pivotal element for the business.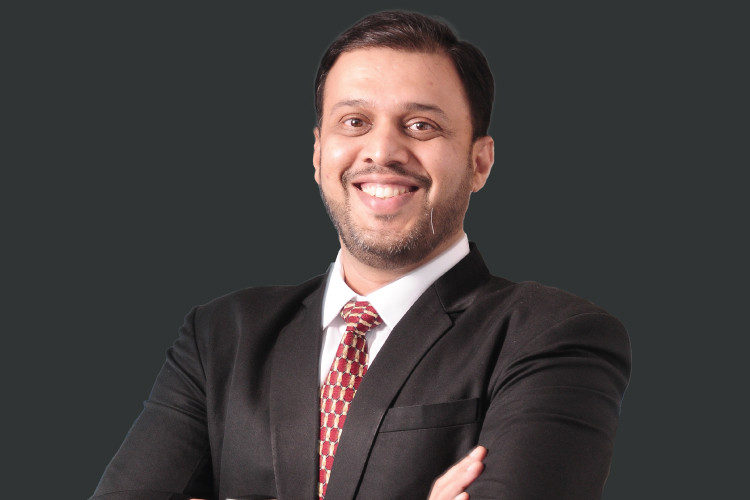 'CONSUMER BEHAVIOUR HAS CHANGED FOR GENERATIONS TO COME'
Speaking at the unveiling of dentsu-e4m Digital Report 2021, Anand Bhadkamkar, CEO of Dentsu International India stated that voice, video and vernacular continue to be drivers of digital growth
The COVID-19 pandemic has impacted consumer behaviour to such an extent that it has changed for generations to come," said Anand Bhadkamkar, Dentsu International India CEO at the unveiling of the Dentsu-e4m Digital Report 2021 last week. Bhadkamkar was clear that the pandemic proved to be a socio-economic catastrophe that impacted all facets of life.
He also said that pandemic has led to faster adoption of digital in tier-ii and iii cities. These markets have largely contributed to the digital advertising growth as well in 2020 and 2021. According to him, the larger impact for businesses was their transition to e-commerce. "The physical connect moved away because of the pandemic due to which digital became one of the gainers where the transition has happened," he observed. He also said that brands are moving towards being more socially relevant and purpose-driven while engaging with consumers. "Digital transformation is going to be the driving force as we get on to our subsequent journeys in 2021 and beyond."
Voice, video and vernacular continue to be the driver of digital growth, Bhadkamkar said, while adding that regional is getting more and more prominence on digital video platforms. "Digital has become the second-largest medium while TV remains the largest. Digital has overtaken Print, which we had anticipated to 2-3 years down the line." The Dentsu India CEO also noted that social commerce and digital adoption were key highlights of 2020. "Using social media for commerce saw growth big time. The focus now is on creating customer experiences," Bhadkamkar stated.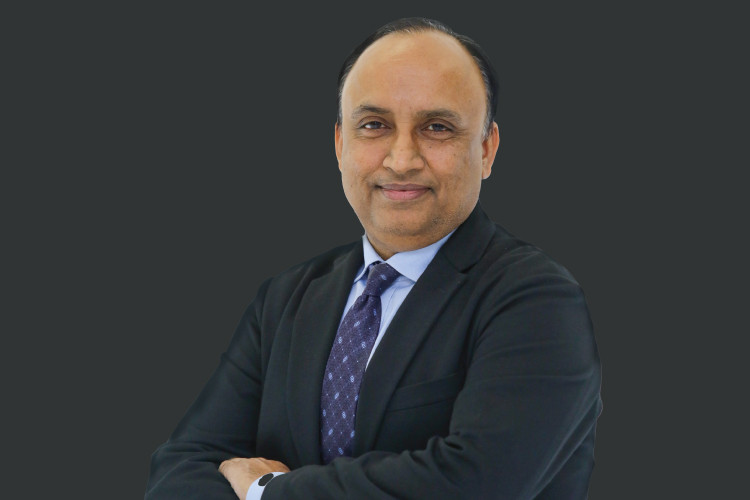 'RETHINKING AND REIMAGINING WERE THE BASIS OF OUR DIGITAL TRANSFORMATION'
At the unveiling of the dentsu-e4m digital advertising report, Shashank Srivastava, Executive Director, Maruti Suzuki shared insights on building a future-ready business through digital transformation
At the virtual unveiling of the fifth edition of Dentsu-e4m Report and Conference, Shashank Srivastava, Executive Director - Marketing & Sales, Maruti Suzuki gave his keynote address on the topic - 'Driving Business Outcomes in a Digital-First World'.
Srivastava dived deep into Maruti Suzuki's digital journey and how the auto industry operates. "Rethinking and reimagining were the basis of our digital transformation - Rethinking the way we work, reimagining the way we will connect with consumers and what the business would be. In the auto industry, while the core product is automobile, there are a lot of other things involved like design, manufacturing, marketing, logistics, supply chain, finance, etc. So the important thing is to have an error-free production to maintain quality. And also remember that the go to market time, which for any new model that used to be about 7-8 years has to be cut down because of the fast changing consumer preferences," he observed.
Talking about the digital push in consumer behaviour and the increased relevance of digital in people's lives, he remarked, "The modern auto consumer not only wants a car to move from point A to point B but the car has become an extension of his personality. He has become more aspirational, experimental and tech savvy, which means that we have to follow through not only in the media consumption choices that he makes, but also the nature of devices he uses in order to communicate the type of social media interactions." Srivastava also stated that 1/4th of the brand's advertising spends today are on Digital.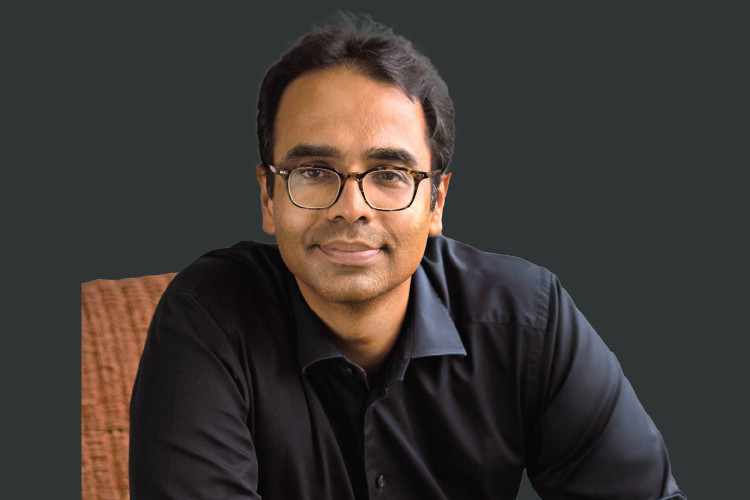 'WE SCALED UP FROM 300 TO 5000 PLUS PEOPLE IN EIGHT MONTHS LAST YEAR'
Karan Bajaj, CEO & Founder of WhiteHat Jr, explained how the brand scaled up its offerings last year on the back of growing demand during the pandemic
Karan Bajaj, CEO & Founder, WhiteHat Jr. spoke at length about the company's journey through the pandemic, scaling up and the next step for the brand in a fireside chat with Nawal Ahuja, Co-founder, exchange4media Group.
Impressed by how entrepreneurs adapted to the pandemic he spoke of his experiences of handling a brand that flourished in the wake of the pandemic. "As soon as the pandemic hit in March last year, some sectors like ed-tech benefited. We knew this is the first time that a lot of people can sample ed-tech and almost everybody from BYJU's to us to Unacademy and the others, was trying to figure out how in that exceptional period, we could get more users to sample our very high-quality product and people did various things to do that," he said.
When asked if his job to lead the brand had any elements added which wouldn't have been there pre-2020, Bajaj said, "The number one change is we've all been forced to think much more deeply about culture, articulating culture, articulating values especially in a young company like ours. In the pandemic, all of us learned and we scaled from 300 to 5000 plus people in eight months. We were scaling very rapidly from 1000 to almost 11,000 teachers." Bajaj added that there is still a long way ahead with a lot more to be accomplished. "I have always thought of work as a bit of a tool for self-transformation. I feel that there is a whole new mountain to climb and in this mountain, I'm transforming myself to take this very powerful mission around the world," he signed off.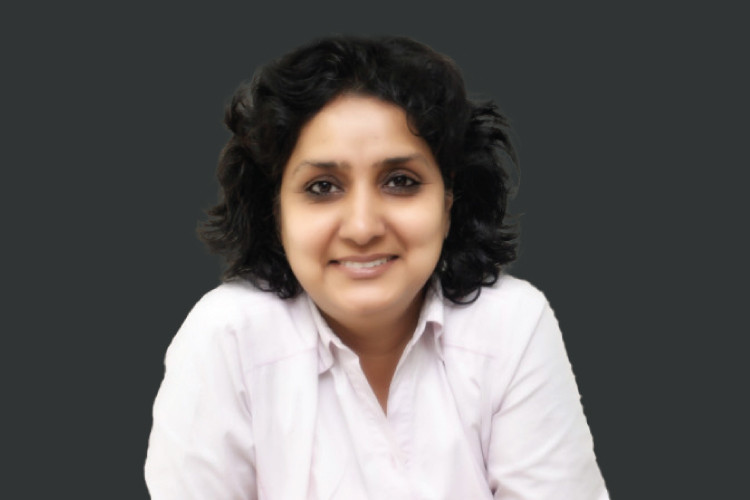 'CONSUMERS ARE MORE IN CONTROL OF HOW MUCH CONTENT THEY WANT TO CONSUME'

Mona Jain, Chief Revenue Officer, ABP Network while speaking on 'how media planning can become screen agnostic,' also discussed key, distinct trends that have emerged
Speaking on the topic 'How Media Planning Can Become Screen Agnostic,' Mona Jain, Chief Revenue Officer, ABP Network observed that now the audiences have more options as they can watch their favourite content at their preferred time and on the platform of their choice. "We have come a long way and I'm sure media planning techniques, and quantitative assessments would also have changed accordingly," said Jain.
Speaking on key consumption trends, Jain noted, "The consumer is more in control of how much content they want to consume and where they want to consume." In addition, they are time-shifting, downloading and borrowing content, and watching it at their preferred time. Moreover, they are place-shifting and multitasking. She also mentioned that the media consumption and interaction are more screen-based. "On an average, we spend about 4.4 hours watching screens or consuming content, 90% of all media interactions are screen-based and only 10% of it is consumed on others like Radio or Print."
She pointed out that ABP Network has completely kept pace and adapted to change, thereby becoming a complete holistic proposition for media planners. "We recently re-launched our look and feel with the change in environment. For better connect with the audience, we have built a formidable proposition with content adaptable to multiple screens. The total viewing minutes per month, from linear TV, website and ABP app, gives a huge incremental delivery for the campaign active on all three mediums," she concluded.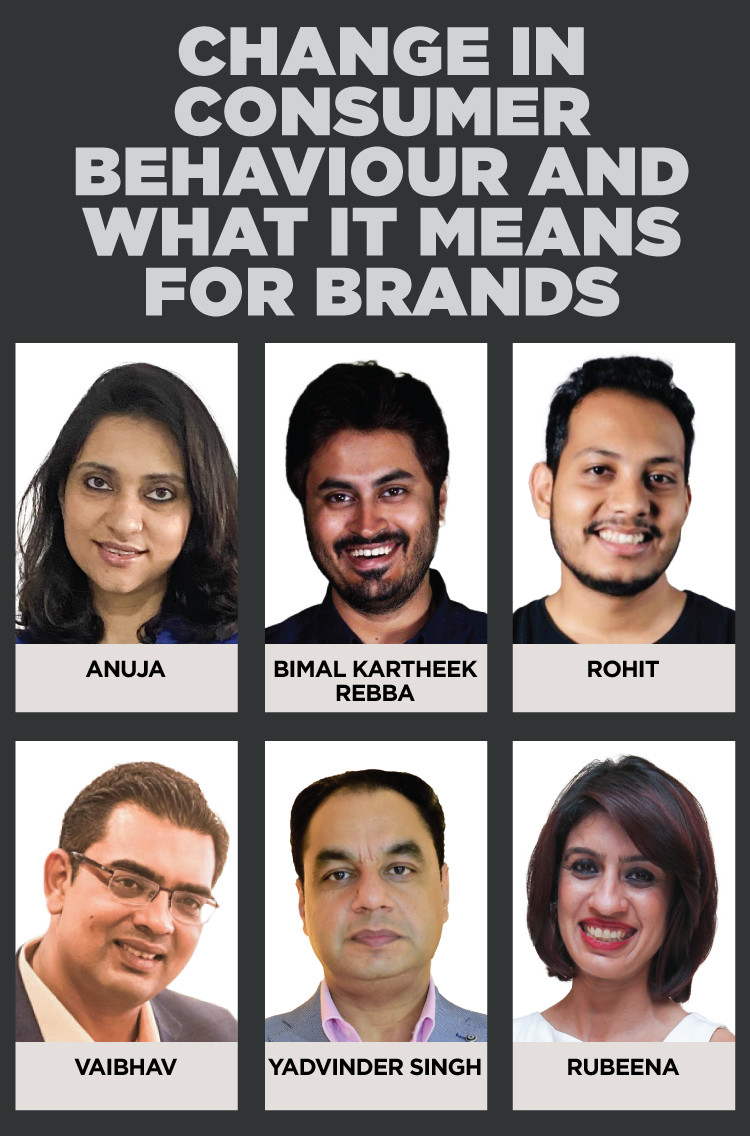 At the unveiling of the Dentsu-e4m Digital Advertising Report 2021, a panel discussion was held on the topic of change in consumer behaviour and its implications for brands. The panellists were Anuja Mishra, Vice President & Head of Marketing-(Personal Care & Hygiene), Godrej Consumer Products Ltd; Bimal Kartik Rebba, Co-Founder & COO, Trell; Rohit Dosi, Director, Microsoft Advertising at InMobi; Vaibhav Kumar, Vice President & Head, eCommerce & Digital Marketing at Max Life Insurance Company Limited; and Yadvinder Singh Guleria, Director, Sales & Marketing, Honda Motorcycle & Scooter India Pvt. Ltd.(HMSI) and the discussion was headed by the session chair, Rubeena Singh, CEO, iProspect.
Here's a look at some of the key takeaways from the discussion:

• A mobile-first universe is on the rise and India is leading in that area. The device shift itself is a big change that has taken place from a consumer behaviour perspective.
• There has been a large acceleration and adoption from consumers who were very reluctant to shop on e-commerce for touch and feel products.
• Hyperlocal services and e-commerce are the trends that have been boosted.
• Cash is no more the preferred mode of currency. Therefore the whole digitisation of payments and also placing orders on apps like WhatsApp will become an opportunity for brands to consider.
• Influencer marketing is also a booming marketing strategy as it does result in a great impact on the consumer
• Personalisation should be aligned with the user experience to create a better digital experience