Talk to Toby Jenner, Global Chief Executive Officer of Wavemaker, and the one word that sticks with you is 'growth'. MediaCom veteran Jenner, mandated to head Wavemaker globally in July, peppers almost every statement with the G-word, and is determined to accelerate growth across the agency's offices in 90 countries that he leads. His brief for Kartik Sharma, CEO - South Asia of Wavemaker, too is to ensure growth so that the agency, currently at No. 2 position in India, jumps to No.1. On Jenner's agenda is complementing Wavemaker's strong local markets with a global portfolio of clients and setting up a growth-friendly structure across all regions.
Meanwhile, as focused as he is on business as a global leader, what sets Jenner apart is his disarmingly cheerful attitude, and that he has his personal priorities clear. After taking charge in September, it's been a non-stop travel schedule across the agency's far-flung markets for the Londoner, but he always, but always, is home for the weekends.
SETTING UP THE NEW
REGIONAL STRUCTURE
Wavemaker had started out with no regional structure – each office reported directly unto the global office. But that is changing now with a regional structure coming into play. "One of the areas I will be looking at is how the agency is structured around the world, making sure that we support all our markets. We will put a regional structure in place," says Jenner. "As much as possible, the global leadership across the local markets will support our clients."
Apart from leadership in the US and the Asia Pacific region, which had been brought in earlier, Wavemaker announced the appointment of Ruth Stubbs from iProspect to the role of EMEA CEO on November 7. Europe, Middle East and Africa (EMEA) accounts for 50% of the agency's business. Stubbs will take up the role in early 2020. "Our global leadership team will be made up of regional leaders, client leaders and competency leaders. That leadership team will deliver what Kartik and many other CEOs such as him want us to drive," Jenner says.
Among others in his team at Wavemaker, Ajit Varghese, former CEO of Maxus in India, functions as Global President, Market Development.
BUSINESS AS USUAL:
THE CLIENT ROSTER
Wavemaker, launched with the merger of WPP's agencies MEC and Maxus in 2017, claims to have won 300 new clients since its inception. Most recently, the agency won insurance major AXA's $161 million global media account, which it will handle in all markets except France, where it will be with GroupM. Earlier, in July, rail service Eurostar handed its global media planning and buying account to Wavemaker. Among other recent business wins by the agency are Huawei (across multiple markets, including China), China Mobile, Australia Post, William Hill in the UK and the global retention of Chevron.
On the flip side, Wavemaker lost British telecom major Vodafone's global media business, estimated to be worth £400 million, to Carat of the Dentsu Aegis Network. Before this development, Vodafone's decision to take its digital biddable media buying in-house since June 2018 was a blow to Wavemaker. According to reports, Wavemaker continues to handle Vodafone's media in some markets where it operates joint ventures, such as India and the Netherlands. The India business is believed to be under review at the moment.
Meanwhile, the secret sauce of Wavemaker continues to be its Purchase Journey data, which is used to spot opportunities and problems at different stages of the customer cycle and turn both into growth. "We have a study, Momentum, that allows us to understand the psychology of how a consumer buys. It's proving really beneficial to clients who see it. Eurostar for example – it was a key component of the Eurostar pitch we did globally and won," says Jenner.
A CLEAR DIRECTIVE:
'GET TO NO.1 IN INDIA'
In the global scheme of things at Wavemaker, UK, India, France and Italy are the four best-ranked markets. While Italy is No. 1, the other three are at No. 2 position, says Jenner. Overall ranking of the agency's business is at No. 5 globally, and in India, it is ranked at No. 2, with 11.9% market-share in the media agency domain, according to the latest RECMA report. "Our global average market-share is about 5%, so India has double the global number as market-share. India is a hugely important business for us," declares Jenner, adding, "Also, India is a market where clients will need networks externally. Clients that are Indian businesses but growing and looking to expand beyond India… I would like to take that as an opportunity for us in the next few years."
On his brief to Kartik Sharma, Jenner says, "Keep growing! Keep growing our staff, our talent. Keep growing our clients. We have got a fantastic business here. I would say keep growing Wavemaker, and get to No.1 in India."
'Wavemaker talks the name, and we need to own it'
When we meet Toby Jenner, Global Chief Executive Officer of Wavemaker, he is just six weeks into his new role and busy picking up the nuances of the agency by travelling to each market to learn about the strengths and opportunities inherent in each to formulate the strategy that will help him lead it in future. A WPP veteran of 23 years and former COO of Group M's MediaCom, Jenner is on his maiden visit to India, and talks to Srabana Lahiri about growing the agency, making the most of capabilities across markets and creating a compelling proposition for Wavemaker
Q] Two years after the merger of MEC and Maxus, how has the new agency Wavemaker fared? What is your assessment of its performance?
I have spent time with Kartik (Sharma) here in India. I met with the Asia Pacific team in Bangkok. I met the CEOs of UK, Germany, France, Italy, Spain, Poland, the US… and I am really impressed with the quality of leadership that we have in our organization. I am also impressed with the scale of the business. We are one of only six WPP businesses that are in excess of a billion dollars in net sales or revenue. I have been very impressed with the local nature and entrepreneurial spirit within the organization. It's important for me to learn and understand the strengths and opportunities. Then, I will look at how we globally align the network, share and re-apply the great work that Kartik and his team do in India across multiple markets and vice versa around the world.
Q] Now that Wavemaker's launch and transition phases are over, what are your top priorities in leading Wavemaker globally and charting
its growth strategy in the next couple of years?
At Wavemaker, we have merged two businesses, one that was very strong in Asia, and one that was really dominant in Europe; today it's a powerhouse, and among the top five global networks. When you merge any two businesses, a lot of the time it's quite inward-looking because you have to get the processes and procedures in place, set up the people. Now we have a real opportunity to look forward to what we want Wavemaker to stand for, what is the DNA that makes Wavemaker the business it is. And then what is the product, what is the work that we want to produce on behalf of our clients that underpins the proposition that we create and vice versa - the proposition needs to reflect the work that we produce for our clients. More broadly, I want us to keep growing our clients' business, I want to keep growing our people, and I want us to keep growing Wavemaker as an organization. If we have a really compelling proposition, that Wavemaker stands for, and a really compelling product that supports that, then we will have a great opportunity moving forward.
Q] Which are the most promising markets for Wavemaker and
where do you see the next leap of growth happening?
All our markets are hugely important. Our markets in South East Asia, India and China, are full-fledged powerhouses within our network. There are import markets and there are export markets. India is an export market. We need to take the very best of the work that we are producing in India and cascade it across the rest of the world. The opportunity is to share and reapply brilliant work wherever it happens in the world. For example, we have an amazing content business in the Philippines, an amazing e-commerce business in Shanghai, China. The size of a market is much more about the capabilities within that market. Even if there are 20 people, who are brilliant at what they do, then it's our job to make sure that everyone has access to that capability. That is a huge opportunity; winning global clients is a huge opportunity. We have been built on lots of very strong local market businesses, and we need to complement that with lots of global businesses around the world.
Q] What is the feedback from
clients that you have met on this visit to India? What have you heard from them?
There is a nervousness about the economy for different reasons here in India, which is fascinating. The impact of GST is visible on many small to medium-sized businesses; it would appear that after seeing a growth rate of 13%-14%, it's now 7%. That's obviously a huge impact, and people are going to react to that. But they need to make investments, work harder, and media is just one of many investments that will be called upon as a growth lever. Where a market is growing disproportionately, it's easier to drive growth. But, where a market is slowing, it's more challenging to drive growth and therefore we have to be smarter in how we invest funds to fuel that growth. In Google's list of top 30 advertisers globally, only two categories are growing - tech and luxury. That says everything. If you look at the results of some of the luxury brands, businesses are just trying to grow topline without worrying about shareholder return necessarily. Going into 2020, that's going to impact investment levels.
Q] What is the synergy that Wavemaker has with other agencies within GroupM?
As a group, we have four incredibly strong global networks. We can build team solutions within those businesses and beyond at WPP, where it makes sense to have a common infrastructure. So, we have one back office for IT, one back office for finance, one back office for services, one back office for platforms… shared capability that everyone can plug into. So, we are into tech and data. There is no point doing that four times over; have one central platform for tech and data that all agencies can connect to, and then translate into their proposition. However, all the businesses can be quite distinctive. What we are working on at Wavemaker is how we evolve and become more distinctive not only for our sister companies but more broadly for the industry as a whole, so that clients see a 'Wavemaker person' or way of doing things is very distinctive from the competition. It will be around an attitude and way of execution. Wavemaker talks the name; Wavemaker in the purest sense talks about disruption, transformation, provocation, and we need to own our name.
Q] Marketers are increasingly looking to pay less; outcomes of the frequent pitches they drive are mostly based on pricing. What is your view of that?
One reason why clients pitch more and more is because their tenure is less and less. Relationships take time. The more time you spend with someone, the better the relationship, more trusted that partnership becomes. The average tenure of a CMO - 18 months - is not long enough to build deep trustworthy relationships. That's one reason why there are a lot of pitches. If you look at our relationships here in India, actually the best relationships are the ones that have evolved over time. There is always economic pressure. Sometimes procurement teams are out to drive efficiencies, not effectiveness. That needs to be balanced. While everyone needs to shore up their bottomline, they need to drive topline as well. Real value is in the topline. That's where the big money is, to drive the client's business forward.
Q] With the advent of digital and social media and with brands having in-house advertising units, coupled with the entry of consultancies in the media agency business, do you think the marketer's need for the media agency service itself is in question?
Every client has a model that suits how they are going to grow, but we have a role to play there. All of those models - be it with the consultant, be it doing work in-house or with us doing everything or a fully integrated WPP and Wavemaker model - we are very comfortable and ready to work with any of those models. As an industry, we have a few unique benefits. One is talent. Retaining people, inspiring people and stimulating people in an area of specialisation that is in the core competency of the business is an issue. Having the ability to build tech platforms and enjoy the economies of scale that you have through multiple shared learnings is also another area to watch out for. As for consultants, I don't think they have their boots on the ground. It's very easy to create strategy. That's why we saw lots of strategic consultancies spring up in the late 90s and early 2000s, because they didn't need to execute. Our consultancy practice has teams that execute the strategy on the ground in every market around the world and in multiple offices here in India too.
Q] What would the media agency of the future look like? What will be its shape, size and how will it need to be different from what it is today?
Agile, more agile. We need to be faster. We need to be more able to react. I can see a model where certain roles and areas are technology-driven, and those people have been pivoted into different roles and capabilities. I can see a business that's more of an hourglass structure than a pyramid structure. So, more senior, more consolidated leadership, and then teams of people adept at technology who can deliver on execution. A business that increasingly is more collaborative, and looks beyond its own walls and has confidence to pull in capabilities and talent to aid and abet what they are doing on the client's behalf to grow the client's business.
Q] How often do you plan to visit India? Would you want to be deeply involved on a one-on-one level with your key clients?
I have a deep belief that I am there to support Kartik… So, it is however Kartik wants to use me while I am in town. We met with two CEOs here, and we have 160 clients in India. So it will take a bit of time to get around to everyone! But I am more than happy to do so in time.
I do intend to keep coming back to India. This is my first time, and I am loving it. I am really enjoying the energy. It's just alive, the city. I hope to bring my family on holiday here.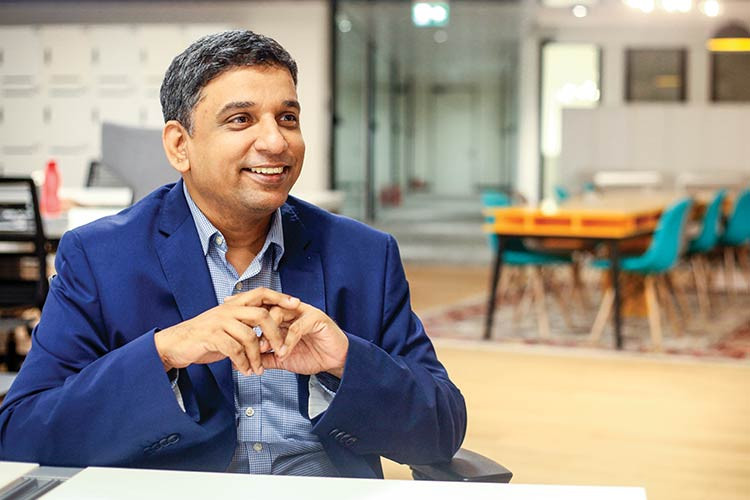 A core focus area for us would be developing our own people: Kartik Sharma
Talking about the two-year journey of Wavemaker in India, Sharma, CEO - South Asia, Wavemaker says it is a 'master powerhouse' stronger than any of its constituent entities, set to negotiate the digital landscape and growing expectations of advertisers
Q] How has the Maxus-MEC merger and the launch of Wavemaker played out in the India market so far?
The amalgamation of two renowned entities has created one master powerhouse that is much stronger than before. I'd say that although we begin a third glorious year post the merger, the journey of learning to leverage our strengths and capabilities internally, is an ongoing one. The credit goes to the team for seamlessly executing the merger across offices.
Q] Tell us about realigning the cultures of Maxus and MEC in the Wavemaker system - what did it entail? How did you deal with the challenges?
The emergence of Wavemaker as a blend of Maxus and MEC has proven to be quite a success. Being a part of WPP, both agencies have multiple commonalities in the workplace culture that resonate with one common vision – to ensure that our clients receive nothing less than the best. In the world of Wavemaker, we call this culture PACED (Passionate, Agile, Collaborative, Entrepreneurship, Diverse). In an industry that is so dynamic, the merger has further cemented a stronger pool of best practices for internal stakeholders and set up more focused modes of operation across our diverse clientele. During the realignment, we were clear that irrespective of the change in management or organizational structure, our transparent work culture should not be impacted. Hats off to our people who have upheld this to showcase the true 'One Wavemaker Spirit', working collaboratively to help clients grow, adding to the overall organizational growth.
Q] How have your clients taken to Wavemaker in India? What is at the centre of your conversation with them today?
Clients have shown immense support and understanding, which has led to Wavemaker's core strength evolving into media, content and technology. Further adapting the framework of rapid growth planning, accompanied with customized analytics, we adopted a data-driven approach that helped us design unique brand reputes. Today, our conversations with clients majorly revolve around thinking for the digital and mobile platform, on how to grow their business through deeper understanding of the consumer journey and various ROI delivering tools and techniques. Many of our clients see us as business partners, as media budgets form a big component of the marketing budget. Our long-standing relationship with several of our clients helps us to give relevant recommendations not only regarding media investments, but also to help them optimize their non-media investments. We are currently using best in class tools to address this need as today, the conversations are more upstream including heavy focus on marketing and business ROI and not just media plans and deliveries.
Q] How big is your focus on new business wins versus organic growth from existing clients' business?
New business wins are critical for any agency as they drive the team to think out of the box. Having said this, our focus on new business has been lately on new categories and also on diversified services in areas like digital, content, sports, etc. While new business is important for growth, it is imperative that we continue to deliver on our current clients as well. We strive to create an equilibrium and ensure that each compliments the other, ultimately yielding a favourable business revenue. This thinking can be encapsulated in two simple yet powerful words – 'Keep growing.'
Q] What challenges do you see going ahead? What will be your focus areas?
More than a challenge, I believe the growing digital landscape has fuelled client expectations that we as agencies must surpass. This brings us to building a synergy in the triangle of media, content and technology; offering our clients the right and accurate solutions that enhance customer journey.
Besides, our industry is going through massive transformation and to manage this transformation, talent is key. A core focus area for us would be developing our own people – retaining the existing good talent and hiring new diverse talent, adding to our overall expertise. Additionally, we will also continue to focus on areas like automation, data science, e-commerce, and content.