The internet has come to mimic the society we inhabit in a lot of ways ever since it became ubiquitous in the early 90s. It has changed the way we interact with each other and given birth to countless services upon which the axis of modern life spins. In many ways, it has come to represent the miracle of modern life. Advertising, too, has evolved from sellers shouting at the top of their voices in ancient markets to papyrus to cookies in the digital age.
With the advent of internet, marketing has evolved to follow its audience. The shift was gradual until the pandemic hit when the world became constricted to digital walls. Digital marketing is primed to become the lynchpin of marketing as it offers a targeted approach thanks to cookies generating a treasure trove of information for advertisers.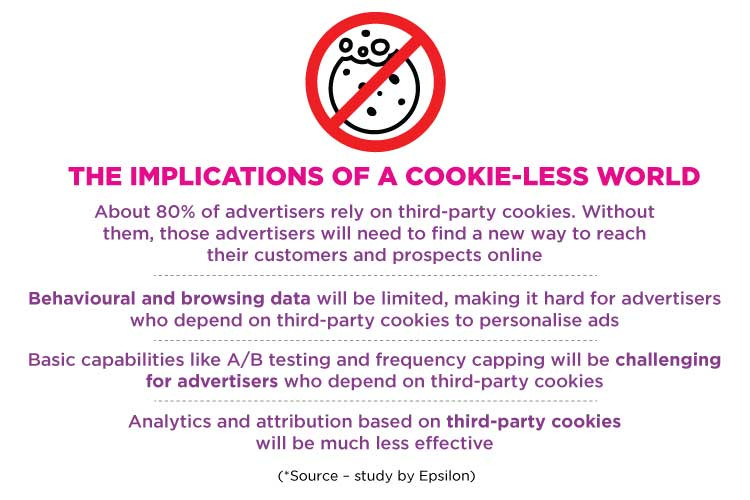 According to Kaspersky, cookies are text files with small pieces of data — like a username and password — that are used to identify your computer as you use a computer network. Some of the purposes of cookies include session management, personalisation, and tracking. Cookies are integral in gathering data about consumer behaviour which is why Google's announcement in January 2020, of blocking third-party cookies by 2022 has cast a pall of uncertainty upon the entire ecosystem. Third-party cookies are generated by websites that are different from the web pages users are surfing, usually because they're linked to ads on that page. Third-party cookies let advertisers or analytics companies track an individual's browsing history across the web on any sites that contain their ads.
The announcement attracted intense scrutiny from regulators, privacy advocates, advertisers, publishers, and anyone with a stake in the web. However, Google recently announced that it is facing a delay in phasing out third-party cookies in the Chrome browser. The revised timeline pushes the ban to 2023.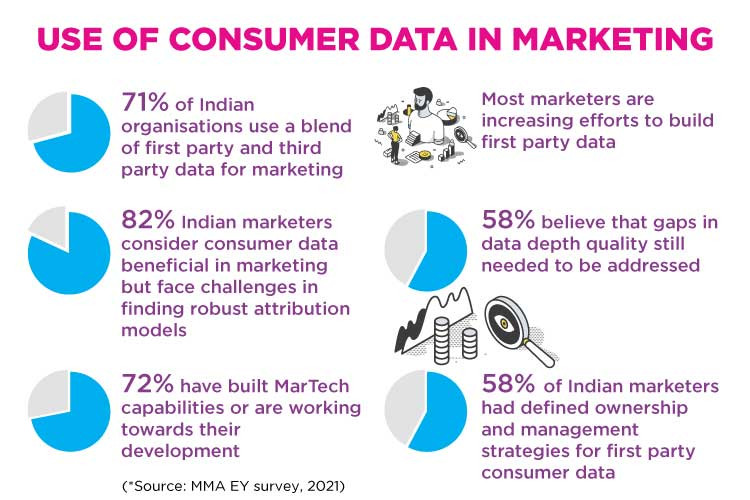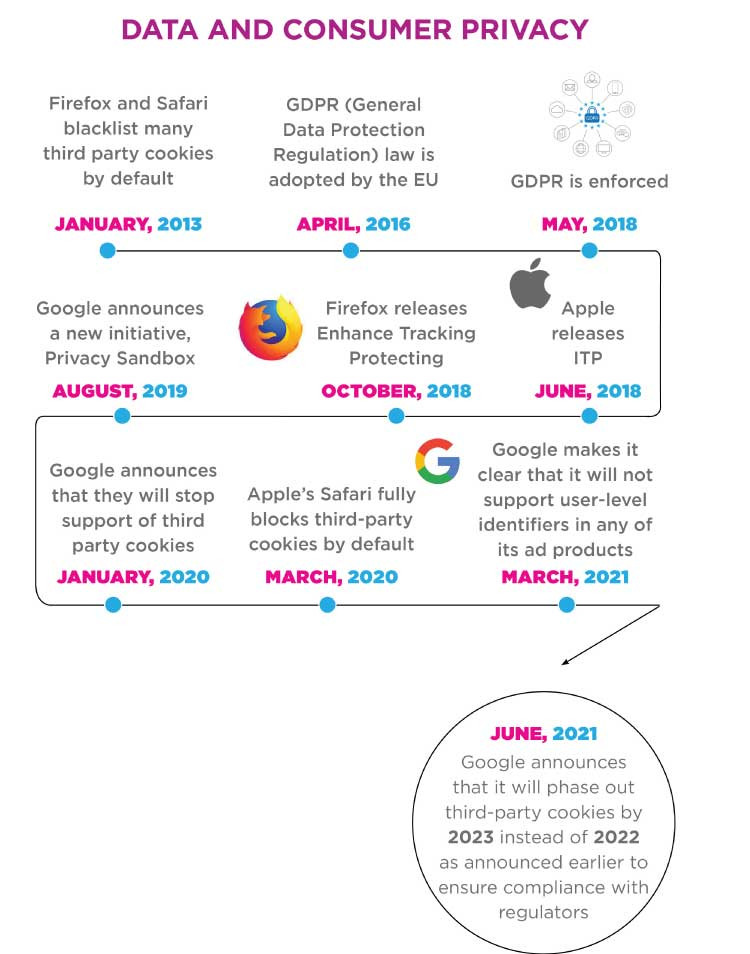 Effect on ad analytics
The convenience of measuring metrics in the digital landscape has fuelled the rise of an ecosystem unto itself which aids the way brands devise and earmark for their campaigns. Sushil Goel, Co-founder and CEO, LayerFive in a LinkedIn post writes that a high percentage of the small, mid-size and large brands measure the performance of their advertising spends incorrectly and therefore gets misled by the data. He writes, "Measuring the performance of your Google ad spend or Facebook ad spend within those publishers' platforms is not going to produce neutral results. These walled gardens show a very narrow view of the performance, discarding the fact that individuals use multiple channels including direct visits to come to your website/app. Moreover, they provide no visibility into how they attributed a conversion to a specific campaign let alone a specific individual. The performance you see in these platforms is sometimes 2X to 10X inflated than what you actually get for your ad dollars."
He is of the opinion that in a privacy-first world, the future-proof approach to doing the right performance measurement is to have your own solutions. "There are many web analytics solutions in the market, but many of these products, such as Adobe Analytics, could be expensive and are more geared for providing overall web traffic analytics. Get a solution that works exclusively within the privacy compliant first-party context with your brand having the data ownership, and that gives you omnichannel attribution and neutral advertising performance measurement out of the box." He concludes that such a tool would pay for itself by helping brands save wasted ad dollars and get smarter about where to allocate these savings.
According to a report by Dentsu titled 'Who Ate my Cookie?' this move by Google will decrease the ROI marketers currently see with their digital ad spends. "Furthermore, advertisers will be in the dark with respect to the marketing activities within the Google and Apple ecosystems as they get lesser details about their campaigns. The accuracy of the reporting provided by their adv products will be another major area of concern," reads the report.
'Cookiepocalypse' and the shift in digital marketing
Cookies have been the fundamental backbone of the realm of AdTech and MarTech. The impending phasing out of third-party cookies has been termed as the 'cookiepocalypse' because of its sweeping implications for the digital ad industry. Many brands have rushed to mitigate the impact of this announcement.
Anand Subbiah, Director, Marketing and Communication, Qualcomm India, when asked about how the brand is gearing up for a cookieless world, reveals, "We are creating a fan community. We launched a programme called Snapdragon Insiders (You can actually Google it). People love the brand, we have very strong brand recognition in India for Snapdragon and people actually understand the brand very well. Now many of them want to engage with us, give us ideas, and give us feedback."
Subbiah said that the brand is building a community, so that over a period of time Qualcomm India has its own village to address. The brand is also betting on e-sports. "We've built up a huge base of gamers who came and played the Snapdragon tournament. We finished it about a month back. They're waiting for us to launch the next tournament. We need to actually build our own fans and consumers who we stay in touch with. It's a two-way dialogue and it's not just about me saying, 'Oh, we are great, and we bring you the best experience.' We also want to understand and learn from them, and incorporate that into our next range of products."
Like Qualcomm India, several other brands are also focussed on creating their own universe and gathering their own consumer insights. Prajakta Deshpande, Senior Manager – Digital Marketing, Lifestyle Business, Raymond Ltd, explains further, "We haven't been dependent on third-party cookie data for a while now. We have shifted our focus inwards and this is not something that we are doing now as a corrective measure. Raymond has its own loyalty database that itself is a huge universe, allowing us great insights in terms of customer preferences, purchase habits, etc. This helps us in creating sharper user cohorts and better targeted advertising campaigns, especially on social media." She adds that the brand has been one of the early adapters of the Google Contextual targeting tools which proved to be fruitful. "This is now offered by almost all other digital publishers too. We believe it is the need of the day anyway! The digital space is ever-cluttered with multiple advertisers fighting for mindspace of the same group of users. In this chaos, if one wants to be 'more relevant' than the other/s, being 'contextually relevant right now' matters more than any cookie-pool generated information," Deshpande remarks.
Personalisation, one of the key benefits provided by cookies, is now set to be defanged once third-party cookies are phased out. But for Raymond, personalisation is possible with your owned database/s like loyalty programme members. "For new users, we prefer to design cohorts that we further target basis context – interests and relevance. Users exhibit limited attention span towards advertising – they have so much more that is already demanding attention. Over and above that if we want them to pay specific attention and build recall, we have to be extra-relevant to them, in their 'today's context or interest'."
Satish Kannan, Co-founder & CEO, MediBuddy, asserts that the loss of cookies wouldn't affect the brand directly. "We at MediBuddy will focus on older strategies, like contextual advertising. While third-party data allowed us to place ads directly in front of people who matched certain user profiles, contextual advertising allows to circulate PPC ads on websites that rank for similar keywords in the ad." He observes that personalisation and one-to-one marketing tactics have proven beneficial for several companies. "We will take control over our primary data, and work to create a unified view of each customer, as well as making that data readily accessible to cross-functional teams when and where they need it so they can personalise experiences and drive business growth." He also points out that companies and start-ups are moving to an app-first approach, hence it wouldn't impact the industry at large either.
The implications for agencies
Experts believe that marketers and digital advertisers will no longer be able to use third-party data to target ads through Google technology such as the company's automated ad-buying system Display & Video 360, often called DV360. They will need to rely on Google's new FLoC approach. (FLoC stands for Federated Learning of Cohorts, and will enable targeting ads to groups of people with similar characteristics.) Shveta Singh, National Digital Head, Motivator, GroupM, sums up the repercussions, "The implication for our clients will be 'walled gardens becoming stronger, while retargeting, attribution, and single journey view getting limited. On the face of it, these are significant shifts. However, GroupM has been at the forefront, developing and testing compliant alternatives alongside other ecosystem stakeholders, to ensure minimal disruption for our clients. For clients with heavy reliance on cookie-based retargeting and look-alike kind of approaches, we are already testing alternatives with the likes of Google to ensure continuity, leveraging first-party data. We have also been working with our clients to strengthen their first party data and owned asset strategies." Singh notes that there will be an impact on the level of personalisation and behavioural targetting, but it is a small price to pay for privacy compliance and winning consumer trust.
Chintan Soni, Vice President– Digital, Madison World, remarks that it is still early but the agency has already started complying with new norms and following all best practices to make sure data/user privacy is given utmost importance. "Re-targeting, specifically dynamic remarking, would not work the same way since it was built to drive personalisation at scale. This will mainly impact verticals like e-commerce, QSR, travel, etc. In addition to shifting from third-party cookie approach to 1P Integrated cookie approach, we are constantly encouraging clients to construct a pool of 1P Customer data and establish CDPs to include collection of PII Data." Soni believes that third-party cookies were aiding insights in tracking the consumer journey from seeing an ad to conversion and with new norms getting implemented, it will impact the tracking/measurement mechanism to a large extent specifically in web/mobile-web ecosystem.
Nikhil Rungta, VP & Country Manager, Verizon Media, puts the situation in perspective when he notes that advertisers are working to reach the right audience effectively, while also respecting consumer privacy. "Our recently launched unified ID solution, Verizon Media ConnectID, addresses these concerns, from a foundation of strong 'consumer-first' values. It helps advertisers and publishers manage, monetise, and navigate audiences as well as buy, measure, and optimise ads, without the need for third-party cookies. In the new cookie-less landscape, brands are looking for trusted partners that will be able to help match their databases with privacy-centric identity solutions," Rungta observes. He also speaks about alternative targeting approaches with next-gen 'contextual audience targeting' that are key in developing privacy-centric solutions. "When there are no matched users, where identity cannot be resolved, we are developing other advanced cookie-less targeting and measurement solutions independent of identity. Relying on contextual, real-time signals and publicly available data, such solutions can enable core audience targeting capabilities such as demo, interest, income, lookalike, and predictive in a way that is privacy-safe," he adds.
The industry already seems to be readying itself for a cookie-less future as is evident from Havas Media Group India's recent launch Converged. The new launch is an identity-based planning and buying platform that keeps the audience and consumer behaviour at the centre of the media process. The platform will enable stronger insights, tighter targeting and a more consistent customer journey through the Group's new operating system – Mx.

FLOC: A viable alternative?
According to an article in the Wall Street Journal, the idea behind FLoC is to allow advertisers to request and use pools of online identities with common characteristics, rather than individuals. The underlying data will come from browsers that use machine learning to develop cohorts based in the part on the sites that individuals visit. Advertisers will receive an identifier for a cohort rather than for the individuals within it.
Preetham Venkky, President, 22feet Tribal Worldwide and Chief Digital Officer, DDB Mudra Group, comments, "Seasoned marketers have harnessed the power of cohort (group) level targeting over the target-of-one approach. AI/ML algorithms (used by both Google and Facebook) can ensure that the cohorts are created based on context behind the user behaviour as opposed to targeting based just on recency. We've always proposed cohort targeting to the clients we work with, which is more scalable, effective and efficient." Venkky cautions that it's too early to say how FLoC (or other approaches) will perform at the bottom of the funnel as compared the ROI delivered currently using third-party cookies. "Over time, thanks to AI and ML, cohort targeting will become more effective and efficient (better RoI) than the current approaches without alienating users. While that process strengthens itself, our recommendation to brands we work with, over the last few years, has always been to strengthen first-party data collection. This approach builds a direct relationship with both prospects and existing customers," he asserts.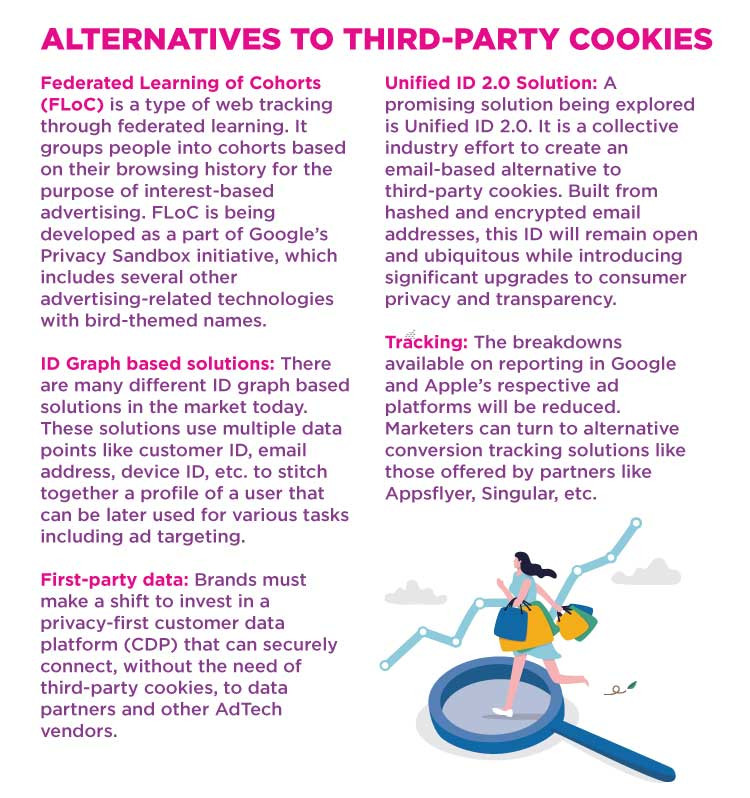 Sijo Kuruvilla George, Executive Director - ADIF (Alliance of Digital India Foundation), avers: "It's heartening to see explorations around finding better alternatives to third-party cookies, ones that respect both user's need for privacy and personalisation. FLoC could be one of the solutions in that direction – the litmus test would be whether or not such solutions pass the GDPR test." He went on to further state that if FLoC gets implemented unilaterally by Google as a system, it would pose its own set of challenges. "The choice of third-party cookies or FLoC should thus be left to marketplaces and not exclusively to Google."
Rungta is confident that new solutions will emerge that don't just deliver results for advertisers and publishers but do so in a way that respects consumer choice and privacy -- this was one of the main failings of third-party cookies. "In the post-cookie realm, first-party data will be core to identity. Players that have built an identity graph using a diversity of owned, consent-based, cross-channel, first-party data will be well-placed to enable marketers to lean into new and alternative identity, targeting, and measurement solutions."
He notes that the evolution of a post-cookie ecosystem is evolving, and not moving towards a one-size-fits-all solution. "Open source and proprietary approaches will exist side by side. Sustainable, 'open' solutions are already emerging that offer effective alternatives to the 'closed' systems of the walled gardens. Emerging solutions will need to strike the right balance between privacy, relevance, and enabling monetisation. At stake is the 'free internet' we are used to as consumers, which will be affected if publishers aren't able to maintain monetisation. At the end of the day, ads are essential to the life and survival of the internet."
Kannan of Medibuddy believes that cookies are a 25-year-old technology and the industry will find a way to move on. "It will take a combination of tactics, but moving forward, the marketing and advertising industry must not only provide more value to consumers from advertising, but they must also strike a balance between profit and privacy."