Life as we knew it has changed. During this time of the post COVID-19 lockdown, chances are you're spending more time on your smartphone than you ever did. Chances are you're scouting for that next quarantine recipe, or a simple home workout routine or a new TV show to watch. With added time on their hands during the lockdown, most people are turning to social media, OTT platforms and news channels to make sense of their new normal and find productive ways to use their free time. This is particularly evident from the latest data released by the Broadcast Audience Research Council of India (BARC) and Nielsen. The report shows that content consumption on smartphones has increased by 12% with users spending an average of 4.3 hours a day on their devices in the week that ended on April 10. A good 15% of the time spent on smartphones has in fact been on social media platforms, a fact that brands have been quick to recognize. Given that the average consumer spends more than 25% of his/her time on social media platforms, the role of the influencer in the online space has never been more critical. Sometime back, there had been a question mark over the role of influencers, fake followers, reliability, et al, but all that seems to be a thing of the past.
WHAT INFLUENCERS SEE AHEAD
Over 95% influencers foresee a dip in earnings due to the COVID-19 impact on the overall industry.
64% of the influencers are currently open to trying out a new genre to keep themselves relevant in the 'social universe'
72% of the influencers expressed their confidence about revival of influencer marketing by leading brands of the country
92% of influencers are either already innovating or plan to innovate their content creation strategy in the wake of public gathering restrictions
Close to 80% of influencers plan to continue creating content to spread more awareness around the pandemic.
(Source: India Influence Report by Zefmo Media)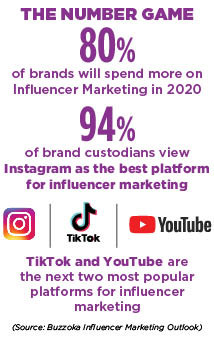 KEEPING THE CONSUMER CONNECT ALIVE
While some brands have always been strong on influencer marketing over the years, there are several categories that are recognizing its potential to drive consumer engagement during this time of distress. While typically the end objective of influencer marketing was focused on driving sales or product awareness, today brands are adopting a more empathetic approach in their messaging or are looking at putting out a larger social message. Take for instance the ice-cream brand Havmor, for which the summer is a key season. Shekhar Agarwal, Head of Marketing, Havmor Ice-creams explains that the brand is staying away from any kind of pushy, sales-driven content. "Havmor is a consumer-driven brand and we pay major attention towards keeping our consumers happy. Considering the current situation, we are looking to create more exciting, engaging and interactive communication around the brand Havmor with the help of influencers. These associations will help the brand in reaching out to consumers in a more effective way," Agarwal explains.
The ongoing situation, being unprecedented, means that brands have to re-align their marketing strategies and communication approach. Both brands and influencer platforms are clear that sensitive messaging is the way to go – this includes messaging that is largely positive, entertaining or even educational. Ashutosh Harbola, CEO & Co-founder, Buzzoka notes that it is important to recognize that consumers across the country are frustrated, angry and anxious now that the lockdown has been extended until May 3. "Brands must be mindful of the consumer's mood. In fact, campaigns have become more personal and subtle in nature. Not many brands are associating with products that they offer but they are instead focusing on the experience the product can bring during such difficult times." For instance, alcohol brands in the country are creating entertaining experiences that revolve around music for their consumers. Kingfisher has rolled out a campaign that promises to bring the 'good times' to their consumers – the brand has introduced the AR filter on Instagram- Build your own Beat, as well as live acts from Sunburn and Kingfisher Storm Bollyboom. Sunburn@home provides the audience a chance to view artistes such as Paul Vandyk, MADDC and Lost Frequencies perform live every day on Facebook, Instagram, Twitch and YouTube. Likewise, Diageo India has partnered with stand-up comic Vir Das to entertain and invite consumers to #SavourThePause brought on by the shutdown. The brand is also working with influencers to create their own Diageo summer cocktail recipes that can be enjoyed in the safety of your home.

Drawing attention to the need for brands to be especially vigilant and empathetic, Mike Melli, CRO, MissMalini Entertainment, points out, "Sensitivity is something that brands need to be especially careful about. There have been some negative reactions across the world to marketing campaigns that have seemed opportunistic or tone-deaf to the global crisis. Aside from that, brands need to remind themselves that everyone is under stress - from the influencers, to the agencies, to the video editors, and everyone in between." Some brands are helping parents and kids bond during this time with innovative influencer-led campaigns. Cereal brand Kellogg's has rolled out a '21 day, 21 recipes' campaign with consulting chef Ranveer Brar. The campaign was launched digitally by the celebrity chef himself and his son through a live session titled #KidsKitchenWithRanveerBrar on user-generated content platform Momspresso Hindi's Facebook page. Sumit Mathur, Director Marketing, Kellogg South Asia states, "Given that our business falls under the category of essential services, our supply chain is working diligently on that front. As a brand, it's our simultaneous responsibility to keep solving a consumer problem in the current context. For example, the '21 day 21 recipe' campaign offers one such solution. Moreover, with these 21 interesting recipes using Kellogg's cereals, I encourage consumers to either follow the recipes if they have the right ingredients at their disposal or get more creative because you can create magic through a simple cornflakes pack." Mathur adds that Kellogg's has earmarked close to half of its digital spends to influencer marketing as the brand is clear that this is the need of the hour.
BRANDS: FOCUS ON CONSUMER WELL-BEING
From finance and bed linen to apparel, brands across the spectrum are keeping consumer morale high with messaging that is focused largely on their well-being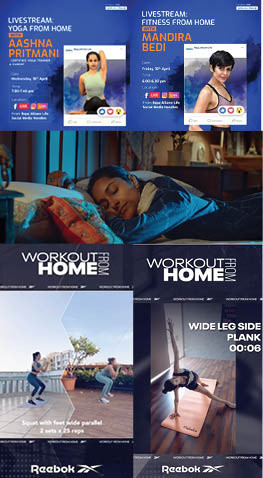 Specific industries like Healthcare, OTT, Gaming, Ed-tech and BFSI are seeing a higher spike in influencer marketing than other categories like fashion, luxury, automobiles and tourism. The fact that outdoor shoots and production houses are temporarily shut means that brands now have to innovate and create differentiated content to remain connected with consumers. Abhishek Gupta, Chief Marketing Officer, Edelweiss Tokio Life Insurance explains why influencer marketing is a key part of the brand's strategy and says the company has adapted to the current situation. "Currently, we are conducting webinars every week through Facebook Live to tackle subjects like impact of COVID-19 on the economy, financial planning to match your current risk appetite, light-hearted takes on managing your household and more."
Companies are also enlisting celebrities and influencers to enlighten consumers on matters that may be out of their area of expertise. One focus area for many brands currently is wellness and fitness. Bajaj Allianz, for example, has roped in actor Mandira Bedi and yoga coach Aashna Pritmani to conduct virtual fitness sessions on the company's Facebook and Instagram pages. "One of our key initiatives during these times, 'Fitness from Home' has live-streaming of yoga, meditation and wellness sessions on social media platforms. Anchoring the initiative on relevant influencers widens it reach, draws higher engagement and scores high on initiative's credibility," remarks Chandramohan Mehra, Chief Marketing Officer, Bajaj Allianz Life Insurance.
Home linen brand Spaces from Welspun India Limited has also launched a campaign called #SafeSPACES to make people feel comfortable and at peace in their homes, in the backdrop of the current COVID-19 situation. The brand has collaborated with clinical psychologist Dr Prerna Kohli and Mandira Bedi to help individuals deal with stress and anxiety. Moderated by Bedi, these sessions will encourage individuals to seek solutions from experts and share experiences on a real-time basis.
Another brand with messaging focussed on wellness is Duroflex. Smita Murarka, Vice President-Marketing, Duroflex Mattress tells us that the brand is working with influencers to keep consumers motivated while they are at home. "Thrice a week, we have various influencers go live from our Instagram handle and do sessions like full body work out, bed yoga, running drills etc.," she says.
Fitness apparel brand Reebok India too has announced collaboration with 22feet Tribal Worldwide, to launch a series of home workouts. It will have a series of videos showcasing virtual workouts by Reebok India brand ambassadors, Katrina Kaif and Malaika Arora, and the brand's certified trainers.
In agreement with Mathur is Mansoor Ali, Chief Sales and Marketing Officer, Hamdard India. "With our objective of building bridges with the youth, the plan is to reach out to a wider spectrum of consumers through them and not only motivate them to engage with our products but also use the platform to share true insights. The current situation demands the brand to be active on social media forums and through influencer marketing."
Mondelez India too is leveraging its tagline for Cadbury 5Star – telling consumers to 'Do Nothing Outside'. The brand has tied-up with stand-up comics such as Abish Mathew, Rohan Joshi and Sapan Verma for the 5Star 'Do Nothing Outside Challenge'.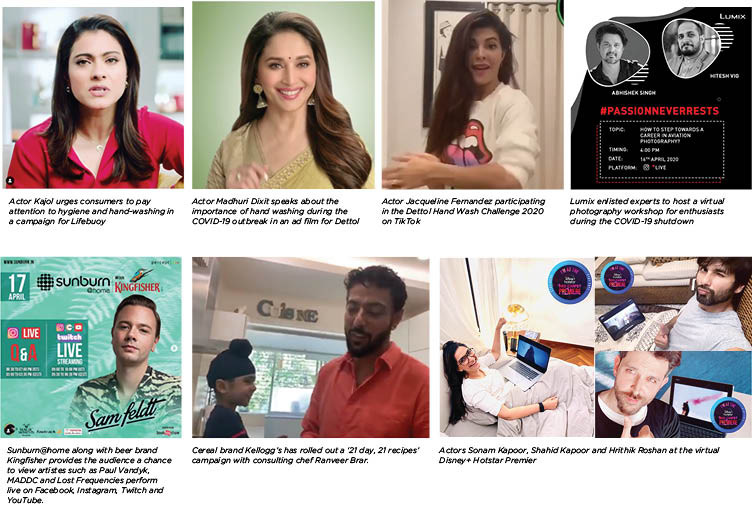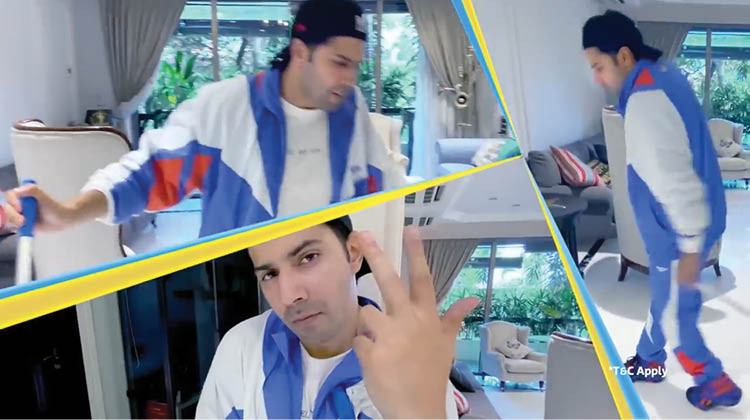 E-commerce brand, Flipkart and actor Varun Dhawan recently announced the launch of Entertainer No. 1 - a stay-at-home reality show under the Flipkart Originals umbrella. Filmed on a smartphone by the actor at his home, the concept and execution of the film drives home the show's message of innovating when entertaining from home, while practising social distancing.
EDUTAINMENT TAKES CENTRE-STAGE
Brands are not just investing in influencer marketing but are also reaching out to influencers for content creation. One of the ways they are doing this is through the edutainment route. Consumers are looking for light content that is both entertaining and educational, especially in the light of the pandemic. To meet that demand, electronics brand Panasonic has recently rolled out a virtual photography workshop series titled #PassionNeverRests with photography experts. In addition, considering it is the Indian summer, the brand has developed a DIY video for their digital platforms to help people clean their ACs and service them. "Currently, brands need to drive conversations that facilitate a sense of community and social support to people, while staying true to their brand promise and philosophy. Digital advertising plays a very important role in our overall marketing mix attributing to 35-40% of our marketing spends. Influencer marketing gets a big chunk of it considering the power of this medium to connect with consumers," says Shirish Agarwal, Head- Marketing Communications & Brand, Panasonic India.
The case for influencer marketing in the COVID-19 era
Brands are veering towards influencers at a time when outdoor ad shoots, print and outdoor advertising are not possible
Influencers are rapidly becoming content creators for brands, putting out messages of awareness, positivity and empathy
Brands in categories like OTT, ed-tech, and essential supplies have more than doubled their spends on influencer marketing
Some brands in the essential FMCG goods space and in hygiene categories are dedicating 50% of digital advertising budgets to influencer marketing
Brands are roping in influencers that have expertise in the area of wellness, fitness, beauty and mental health to support consumers during these difficult times
Content consumption on smartphones has increased by 12% as of April 10, 2020
15% of the time spent on smartphones is on social media apps
The average Indian user is spending 4.3 hours a day on his/her devices.
(Source: Industry experts and BARC+Nielsen report, April 16, 2020)
Even for retail brand Shoppers Stop, the approach during the lockdown has been focused on edutainment. The brand has associated with Penguin Randomhouse, India as watch party partners for #OnceUponaBookWithPenguin, an online story-telling and reading initiative by the publisher. It has also collaborated with fitness and skincare experts to put out videos and helpful tips on wellness and grooming. "We were quick off the bat to promote online when our stores were shut, but that quickly changed. Since then, we have been focused on content that supports social distancing and engaging customers at home with edutainment for our brands Shoppers Stop and Crossword," explains Uma Talreja, CCA and CMCO, Shoppers Stop Ltd.
OTT platforms too are responding to the growing consumer demand for new content and entertainment during this crisis. Global content platform Lionsgate has been working with influencers to build local connect, to create content with local influencers and stars and promote its movies in English and regional languages. The company has worked with Zoya Akhtar, Taapsee Pannu, Ananya Pandey, and TikTok stars like Jannat Zubair to promote its content and make staying at home fun for all. "Influencers help us widen our audience by speaking to the fans in their language. Currently we look at deploying about 15%-20% of our budgets towards influencers to produce local content and promote our offerings. We will end up working with a host of people across genres like comedy, Bollywood, etc., and especially work with micro-influencers to constantly build a connect with our community on social media," Rohit Jain, Managing Director, Lionsgate South Asia says.
Additionally, ed-tech brands like upGrad and Disney+ have also adopted the influencer marketing approach during this time, particularly since consumers are looking for up-skilling programmes. Disney+ Hotstar also hosted a virtual red carpet for its premier in India, featuring stars like Sonam Kapoor, Parineeti Chopra, Hrithik Roshan and Shahid Kapoor. The brand is also taking the opportunity to bring back childhood classics during the lockdown. Several brands in the OTT, ed-tech, essential consumer products and social networking categories have more than doubled their spends on influencer marketing in the current situation.
Pointing out how the influencer route has been particularly successful in these past few weeks, Julie Kriegshaber, COO, Chtrbox.com says, "Due to captive audiences at home, there have been massively successful influencer engagements, especially with social media challenges which are really popular these days. The Dettol handwash challenge on TikTok got billions of views and went viral quickly because of the timeliness and importance of its message, right when lockdown was just happening in India. We've also seen a number of cooking challenges using specific food brands that have taken off." Pranay Swarup, Founder & CEO, Chtrbox.com, adds, "From a different angle, another influencer marketing approach we have seen was to launch a new OTT product via influencers. The product was rolled out to top macro influencers as well as nano influencers in a creative way talking about specific content pieces that are relevant for quarantined viewers, as well as a promotion to download the product."
AKSHAY KUMAR TOPS 'CELEBRITY HEARTFULNESS INDEX'
Indian Institute of Human Brands (IIHB) report takes into account amount donated to charity vis a vis stature of celebrity and transparency around the giving in the time of COVID-19 to come up with index
The Indian Institute of Human Brands (IIHB) which specializes in the study of celebrities, last week released a report on the 'heartfulness' of famous faces, taking into account PR announcements made by them in recent days. The IIHB's Celebrity Heartfulness Index (CHI) takes into account the amount donated to charity, the stature of the celebrity and commensurate size of the donation, transparency around the giving, and whether cash has been given or promises have been made about giving in kind.
Akshay Kumar scores a Perfect 10, with a Celebrity Heartfulness Index (CHI) of 10.0. His contribution of Rs 25 crore to the PM-CARES Fund is an 'unbelievable individual contribution', feels the IIHB. There is clarity not only on the quantum, but also where the monies are headed.
"There has been a veritable PR blizzard with celebs outdoing each other in saying they are supportive of relief efforts. So we decided to dispassionately examine the reality and the quality of the giving," explains Dr Sandeep Goyal, Chief Mentor, Indian Institute of Human Brands.
T-Series czar Bhushan Kumar who has contributed Rs 11 crore to the PM-CARES Fund, and Rs 1 crore to the Maharashtra CM's Fund gets a CHI of 9.0.
Emerging Bollywood star Kartik Aryan who has donated Rs 1 crore earns an impressive CHI of 8.0. He earned praise from the panel also for being amongst the first celebrities to have cut a nice public service video, and then written a really large cheque. Designer Sabyasachi Mukherjee also score a CHI of 8.0 for his large-heartedness. Vicky Kaushal earns a CHI of 7.5 for his Rs 1 crore contribution to fight COVID-19.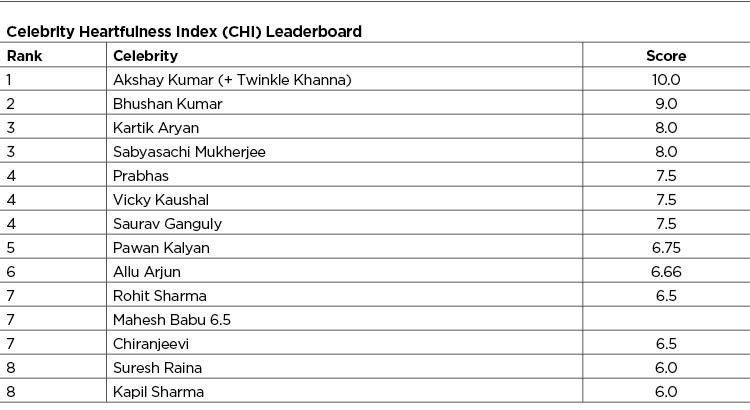 MS Dhoni who donated Rs 1 lakh and PV Sindhu who wrote a Rs 10 lakh cheque scored zeroes, or near zeroes, for donations that seem pitiful in comparison to their stature and personal fortunes. The likes of Virushka and Deepveer too were awarded low CHIs because their announcements said nothing on the sums given to charity.
Southern stars Prabhas, Pawan Kalyan, Allu Arjun, Chiranjeevi and Mahesh Babu are all high on the Honours list for large donations. Cricketers Rohit Sharma, Saurav Ganguly and Suresh Raina also got good CHIs, along with TV comedian Kapil Sharma.
DEMOCRATISATION OF THE INFLUENCER ECOSYSTEM
Referring to the third edition of the India Influence Report conducted by Zefmo Media Private Limited, Shudeep Majumdar, CEO, Zefmo notes that the current situation substantiates influencer marketing as a potential vocational avenue for millions of digitally connected and socially active Indians to make an earning while creating meaningful content. Well-thought-out, and co-created content by influencers can boost the quality of content for brands during uncertain times. "With the lockdown in force and lack of other marketing channels, influencers are confident that the brands will lean on them to deliver contextual content to keep audiences engaged amid the COVID-19 crisis. While the influencer earnings in 2020 will be impacted, more millennials will find their calling in influencer marketing than anywhere else in the world. This is truly democratisation of independent content creation which can be commercially remunerative as well," Majumdar observes. The growing popularity of TikTok stars, especially in Tier II and Tier III markets, has also widened the scope within which influencers work.
However, while influencer marketing is quickly becoming the preferred method to reach consumers, the economic repercussions of the lockdown mean that there has not yet been a noteworthy rise in spends as a medium. Viraj Sheth, Co-Founder and CEO, Monk Entertainment explains, "Overall, the budgets have been tightened by brands - hence we have conducted sessions with our influencers internally to help them re-shape their pricing model until things resume normalcy. Many influencers have slashed their pricing by 10%-30%. The increase in spends, however, can be identified from a brand category perspective. Brands that operate in categories like online education, gaming, OTT platforms, music labels, dating apps and online organizational tools have shown an increase in spends whereas brands that are dependent on manufacturing capabilities have cut back on their overall marketing budgets. Some of our clients have increased their influencer marketing spends by 25-30%, whereas some have completely paused all activities until further notice."
The influencer community, therefore, is also seeing the impact from the ongoing pandemic, just like any other sector. The demand for content from brands has definitely given influencers a boost, but that doesn't mean they are raking in big money. Apaksh Gupta, Founder & CEO, One Impression, concurs with Sheth in his opinion on what the current situation means for influencers. "If I were to sum it up, the overall marketing dollars have reduced, while the focus on influencers has increased drastically. So, as an industry I feel we've sort of moved forward by like a year or two because senior decision-makers who didn't really give attention to influencers as a channel are doing that now. It's great in the sense that people are giving it more attention and more experimentation is happening there. But, overall marketing dollars have reduced." Gupta also points out that the ecosystem may see a turnaround if the logistics restrictions are relaxed and if e-commerce chains become fully functional. "We will see overall spends really increase if that happens because offline will not be coming back anytime soon," he observes. The Zefmo report shows an encouraging 72% of India's influencers expressing confidence in influencer marketing; things look encouraging for the community despite the overall economic gloom.
Influencer-
speak
It's an unusual time for everyone – brands, influencers and consumers. In these unprecedented circumstances, we ask a few influencers exactly how they are adapting to the challenges that the COVID-19 lockdown has brought with it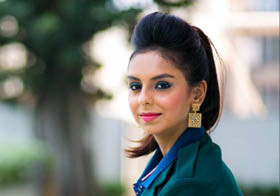 Aanam Chashmawala
Founder & Creative Director: What When Wear
Fashion, beauty and lifestyle blogger who describes herself as someone who loves to read, write, bathroom sing and enjoy everything with a pinch of Karan Johar style drama.
Instagram followers: 284,000
YouTube subscribers: 192,000
Facebook followers: 128,000
"For both influencers and for brands, it is important to recognise that these are not normal circumstances. In such a scenario, I don't want to be telling people to go purchase a lipstick or a certain beauty product, not that there's anything wrong in purchasing make-up. My objective rather is to see how I can help consumers and readers who follow me. In fact, I recently posted a video on 'beauty and make-up tools that you definitely do not need'. At this time, I am not looking at associations with brands that are trying to sell their products, but that doesn't mean that I am not doing any associations at all. For example, I recently did something with Bumble to provide insights on making work from home more productive. The association with Bumble was to demonstrate to users that the platform is also a great tool for networking, especially for those who are in the media, PR and marketing domains."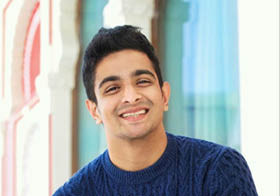 Ranveer Allahbadia aka BeerBiceps
Co-Founder, Monk Entertainment
Digital media entrepreneur, YouTuber for all things fashion, fitness, meditation and business
Instagram followers: 757,000
YouTube subscribers: 2.54 mn
Twitter followers: 46,500
Facebook followers: 216,730
"As an infotainment creator, my goal has been to ensure my audience gets quality fitness, educational and motivation content during these times. I have started a 16-episode work from home series on my Instagram, also focusing on women's fitness. With my English YouTube channel, I've lined up podcast episodes that I've shot remotely with the guests. On the Hindi YouTube channel, we've recorded a few recommendation listicle videos that can benefit people while staying at home. With regard to sponsored content, I'm only taking up projects that are either dedicated to the cause of creating awareness or driving inspiration during these tough times or products whose usage will benefit the consumers during the lockdown."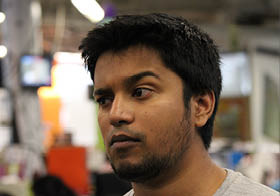 Jose Covaco
(HoeZaay)
His twitter bio describes him as: That guy… makes those videos…I joke...Mostly...Game Collector (prefers not to be called an influencer)
Instagram followers: 305,000
Twitter followers: 1.1 million
YouTube subscribers: 118,000
Facebook followers: 350,702
"I don't really have a hard and fast rule about what kind of content I should put out or what I shouldn't. Honestly there shouldn't be any of those kinds of restrictions based on what may or may not offend people. But currently, the only thing on people's mind is, how do I get my daily essentials? Is this virus gone? Am I going to be infected? So with all of this going on, it's hard to really post random stuff that people may not even relate to at this time. To be honest, I haven't been having too many brand conversations since the lockdown started, but the work I have done so far has largely been with OTTs, the most recent being the Disney+ association."
(As told to Christina Moniz)