BY SRABANA LAHIRI

In July 2017, the Dainik Bhaskar Group embarked on an ambitious expansion plan in Bihar – from 11 districts around Patna in which it was present, to go to 38 districts, i.e., the whole of Bihar. "We started this exercise sometime in August-September last year, and actually began implementing it in November," says Girish Agarwal, Director, Dainik Bhaskar Group, talking about the journey of building a strong readership base in the State. "We went to almost 20 lakh homes to meet people and understand what kind of newspaper they need, and we designed the paper based on their feedback. I am very excited to share that 7 lakh homes finally decided to join the Dainik Bhaskar family. So, it has been a great result in Bihar." That Dainik Bhaskar was already present in some cities worked against it to a certain extent, Agarwal says, as the competition knew the team and the possible moves it would make, but in the end, all turned out well for the newspaper.
According to him, Dainik Bhaskar's circulation in Bihar has reached around 7 lakh copies, but the team has set itself a higher bar. "We are not stopping at our current number and are working on getting closer to 8 lakh copies," he declares.
Here are excerpts from a conversation we had with Girish Agarwal:
Q] What are some of the challenges that came up as you moved to expand in Bihar?
The biggest challenge in Bihar was to approach those 20 lakh households in a limited timeframe. Last year, we experienced heavy rains in a few districts. We were not able to enter those districts because they were flooded and connectivity became a challenge. We also faced a technical challenge this time. Our entire booking, survey was happening via an app. We could reach out to customers through the app. However, there was a problem of mobile connectivity in Bihar. We weren't getting good 4G connections. Our surveyor had to actually climb on rooftops in a few houses to get the network and complete the booking process. Moreover, when we described our offerings to readers, since they hadn't seen a product like this before, it became difficult for them to understand. We had to explain the offering to them in minute detail. But it was a fantastic experience.
Q] What are the advantages that you have over other Print players in the Bihar market?
The biggest advantage we had in the Bihar market was that we knew our competition, and could anticipate how they would react. Another advantage we had was our editorial strategy – which was a little aggressive, taking the readers along and not being on the right side of the Government all the time. We knew our competitors could not really copy that because currently almost 35% of the revenue of the current newspapers in Bihar comes from the Government. They can't afford to take the Government head on, while we can.
Out of the 38 districts in Bihar, we have introduced districtspecific newspapers in 34 districts, which means that the newspaper will carry the main edition as well as a districtspecial edition with blogs and key village news. That was our breakthrough.
Having a district edition isn't really a new idea, though. Dainik Bhaskar did it in 2000. Somebody should have copied it in Bihar too. But they didn't because you need extra manpower, extra offices and extra printing set-ups. Today, Bhaskar has almost 900 people working in Bihar as full time employees, giving us an edge over others.
Q] Will the Bihar circulation numbers be part of the next ABC report?
Certainly. We have already applied for ABC certification, but ABC has certain processes, so once we go through all those processes, we hope that we will be part of ABC numbers. And IRS should cover us in the next round for Bihar too.
Q] Are the 7 lakh copies you talk of paid copies?
Yes. We don't do free copies. These copies cost around Rs 1000 annually which comes to Rs 3 for a daily copy. Moreover, all our copies are address-verified by GPS and customer-verified by OTP. Now, GPS and OTPs are accepted technologies. We have used these technologies to ensure that there is authenticity in circulation.
Q] Going forward, what are your expectations from Bihar?
Bihar as a market should continue growing in double digits. For Bhaskar, we are looking at almost 300-400% growth this year because our base is too small. We are looking at four times the growth, and going forward we expect a strong double digit number.
Q] What next on your list of priorities for Dainik Bhaskar overall?
Last year, we started this whole drive, and we have achieved 51 lakh copies. In April, we achieved 60 lakh copies and Bihar became the biggest contributor in that. This year, we are targeting the addition of another 8-10 lakh copies. We are very bullish about this as we have seen unprecedented growth in the last nine months.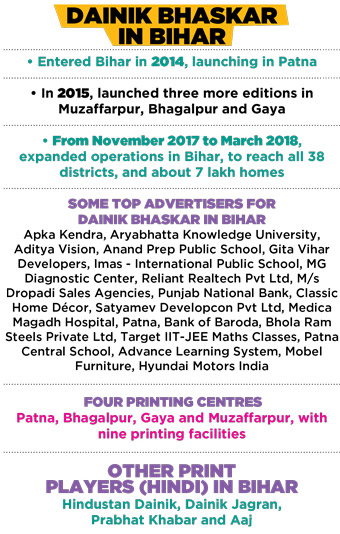 'PLEASE CONCEIVE IDEAS FOR PRINT ADS'
"I want to tell all the creative agencies and even media marketers, for that matter, that Bihar is an important market. But, when we think of Bihar sitting in Mumbai or Delhi or South India, a different picture comes to our mind, thanks to a certain stereotype projected by Bollywood movies, but having said that, it is a huge, growing, potential market. We need to drop our inhibitions about Bihar, re-look at it from the potential perspective. To the creative agencies, my humble message is that, Print is growing. The latest Indian Readership Survey (IRS) says Print is growing. The Audit Bureau of Circulation (ABC) says Print is growing. Your clients are investing huge monies with us in Print. So Print creativity has to go up. My request is, please see how better creatives can be produced for Print, because right now, most campaigns are conceived for the audiovisual medium, and then adapted for Print. Instead, please conceive ideas for Print," says
Girish Agarwal.
'Almost 35% of the revenue of the current newspapers in Bihar comes from the Government. They can't afford to take the Government head on, while we can.'
- GIRISH AGARWAL
WHAT IS THE ADVERTISING POTENTIAL OF THE BIHAR MARKET?
If you look at Bihar in isolation, it is one of the fastest growing markets in India right now. And also a huge potential market for a lot of categories, such as Education, Automobiles, FMCG and so on. So, at a rough estimation, Bihar would be a Rs 400 crore market in terms of Print advertising value, which is a big market. We believe that this year, with the entry of Bhaskar, this market will grow by 25%, as we will bring in a large chunk of growth. Going forward too, Bihar should grow at a strong double digit rate," says Girish Agarwal.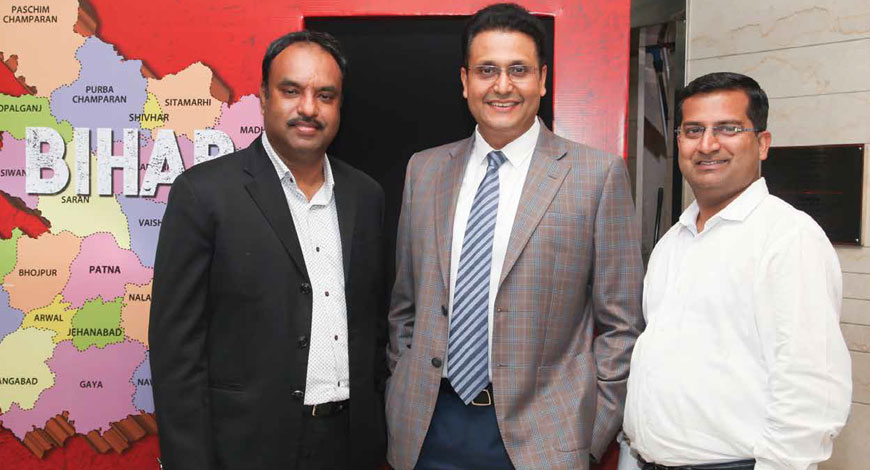 Satyajit Sengupta, Chief Chief Corporate Sales and Marketing Officer, DB Corp, says Bihar presents an extremely big opportunity for Dainik Bhaskar this year. "We look at Madhya Pradesh and Chattisgarh as one big chunk of business for us. Rajasthan is the second followed by Gujarat, Chandigarh, Punjab and Haryana. This has become the fifth largest State for us as far as revenue is concerned, and the market is growing very fast. Secondly, for many large categories of advertisers like Automobiles, Two-wheelers, FMCGs, and even financial institutions, it's an extremely important market. The moment we add Bihar to the 4-5 big chunks that we have, we have a panIndia presence which the advertiser recognizes. So, Bihar in a way has been a game-changer for us," Sengupta adds.
According to Sourandra Chatterjee, Business Head for Bihar for the Dainik Bhaskar Group, there has been a concerted effort over the last few months to tell advertisers about the Group's expansion in Bihar, and also to assess their potential and how they were looking at Bihar. "In most of our top categories, we see that the Bihar market is pretty large and growing for all advertisers. Therefore, advertising potential is quite big. For example, for two-wheelers it's probably the largest market in the country, after some parts of UP. The largest dealer of Hero MotoCorp is actually based out of Muzaffarpur. FMCG companies draw a very large portion of their revenues from that market, which is why they are giving a big push to advertising in that market. The kind of potential and growth we are looking at, is probably one of the best we have seen in a long time," Chatterjee says. As for local advertisers that have come on board, Chatterjee says in Patna, advertisers from the jewellery category include players such as Chunnilal, Mega Mart and Hira Panna jewellers. There are also big real estate players like Vastu Vihar and Smart City, besides advertisers from the lifestyle category such as Jalan shop. "These are some of the trusted players from Patna. If you see their market-share, these players are with us completely. They say that our readers are niche, which means when they advertise in our newspaper, they will get optimum response. They are happy being repeat advertisers for us, as they are satisfied with our product."
@ FEEDBACK
srabana@exchange4media.com