Q] What was the key objective behind the launch of Mastercard's 'Priceless' programme?
Mastercard's brand promise has always been to deliver priceless experiences that count beyond material things. In that context, Mastercard's Priceless Cities programme that is available exclusively to Mastercard cardholders aims to unlock several unforgettable experiences in the cities where one lives and travels. Inspired from over 40 destinations and accessible from 90+ countries, Mastercard cardholders can find dynamically curated experiences; both physical and digital across culinary, sports, arts, culture, music, as well as custom editorial content enabling them to start something priceless. The initiative is aimed at enabling domestic as well as global travellers, who are Mastercard cardholders, to attain unique insights and exclusive access to several unparalleled experiences in the country.
Q] Mastercard is also set to launch 12 short films under the first phase of the campaign. Tell us a bit about that and the overall initiative.
The Priceless programme will roll-out in two phases. In the first phase, Mastercard will launch 16 short films, specially created for Mastercard cardholders. The films cover several unique aspects of India's most iconic tourist cities and destinations. Be it the history waiting to be unlocked at the Amer Fort in Jaipur or Mumbai's favourite plate of wonders that takes the viewers on a priceless gastronomical journey, the films cater to the aspirations of nuanced domestic and global travellers, who want much more from their trips. Overall, these 7-8 minute films cater to different interests such as learning about the history of various cities, exploring palaces, forts and museums, interacting with famous Indian personalities, learning arts and crafts from national award-winning artists, gastronomical interests of India, and much more.
In the second phase, Mastercard cardholders will get a chance to partake in real-time experiences through curated packages available online. These packages have meticulously customised offerings to address the diverse tastes and preferences of travel enthusiasts.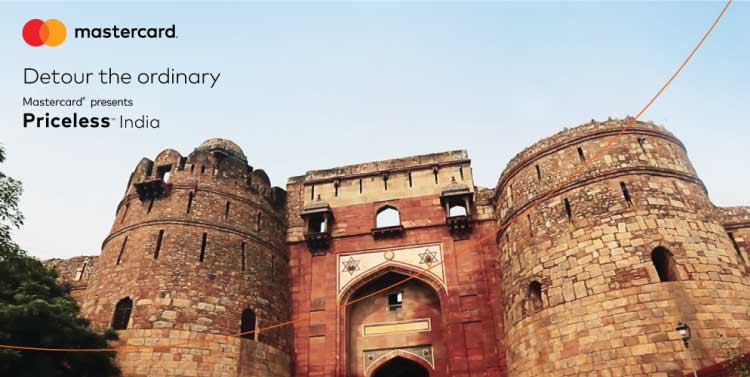 Q] What is the significance of India being included in this programme?
India is a land with vast history and cultural vibrancy. It is an emerging giant of the Asia Pacific travel market and Mastercard is delighted to introduce a unique experience centred on India to revive global tourism in the country. Each part has its own unique flavour and its cities reflect this in their own way. It is wonderful to witness an initiative that celebrates some of India's most famous cities and tourist destinations and takes it to the world. Through the series of films done by Live History India, people across the world will get a sense of how incredible India truly is, and they will come and spend time here.
Mastercard has partnered with the world's top travel researchers, historians, art curators and more to bring the choicest benefits to Mastercard cardholders who place a premium on experiences, be it untold stories, history, food, people, culture and more. We are also in talks with banking partners for more engagement opportunities.
Q] Can you share some insights on the consumer sentiment for travel in the current situation?
As per the topline findings of Mastercard APAC COVID-19 Consumer Sentiment Tracker, the desire to travel internationally remains strong despite COVID-19 and the subsequent restrictions of movement. However, as per recent Mastercard India consumer sentiment tracker: Consumers have started to settle for domestic leisure despite their desire to travel overseas. The millennials are expected to fuel domestic travel in 2021 with 72% intending to travel for leisure in 2021. 60% Indians are already planning to take a leisure trip domestically and another 11% (71% overall) are planning a leisure trip within 2021. The intent to travel internationally for leisure or business is relatively lower with 55% and 52% respectively.
The pandemic has forced people across the globe to cancel their travel plans but after a long time of being locked down and working from home, the study suggests that Indians want to travel for leisure and meet their acquaintances in 2021. The launch of Mastercard Priceless India comes at an opportune time to address the aspirations of Indian and global travellers, who seek much more from their trips. We are thrilled to bring out a unique experience built around India and put the country on the global tourism map once again.