Q] It's a big month for you, with Akasa Air just launching its first brand campaign, give us an insight into it, and your tagline- Spread your wings India, it is your sky.
We did a brand reveal for Akasa Air way back in December 2021 and from there it has been a pleasing organic journey on all our digital channels which has culminated into this campaign now. It's about a month since we flew our first aircraft commercially and once we did that we were confident about delivering on the promise to bring to fore a warm, reliable, efficient and affordable service. It was time for us to go out to the consumers and tell them who we are and why they should fly with us. It's a month-long campaign, but we will have an always-on extension, leveraging digital and social.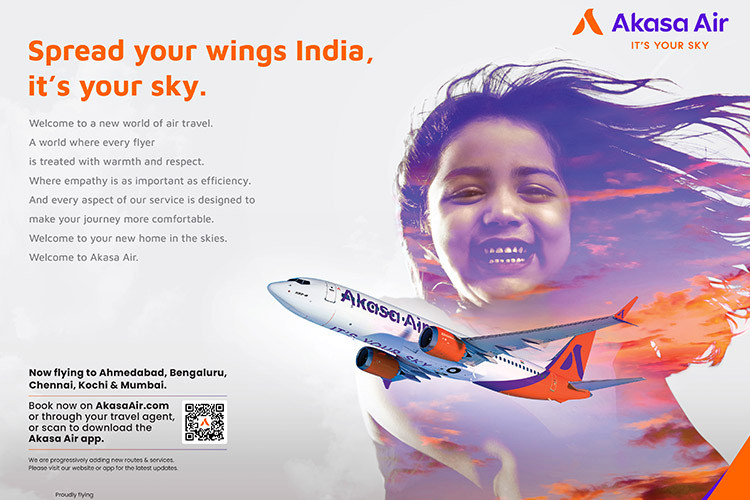 Travel in India can at times be intimidating, it's a bit transactional and that's where our softer side, a purpose of creating a warm, efficient, reliable airline comes into play. The sky doesn't discriminate, it embraces everybody and we at Akasa will do just that by creating an inclusive environment. That's how the powerful tagline has come about.
Q] As it's your first marketing campaign, are you dedicating a big portion of your revenue to advertising this year?
We have Print, Outdoors at select locations as well as at airports and then we are running this as a very powerful Social and Digitally led campaign. We want to achieve high visibility and engagement at this point.
Q] Why did you choose August for the launch of the airline, the industry is still recovering from the pandemic – plus we are seeing sharp rise in jet fuel prices and a weakening Indian rupee?
The timing was purely looking at what is the right moment for the business. We didn't choose to start operations looking at whether it's pre COVID or post COVID. It's just about how we built our business to move forward. We have a very structured plan and approach, right from the induction of our planes, to adding destinations. With the sort of growth that we are seeing after about a month of operations, we are confident that this was the right moment and timing for us.
Q] India is one of the world's fastest-growing air travel markets, the country of 1.4 billion people. What share of the market do you see Akasa Air enjoying by the end of 2023?
At this point, the single point focus for us today and in the year to come is purely to deliver on the promise that we've made. We want to set our fundamentals right as a business, create a well-capitalized and sustainable business and be a warm, efficient, reliable and affordable service. And if we can do that, we shall be able to create the repeat travel experience.
Q] While you have entered on a strong footing, there was of course the demise of your promoter, the late Mr Jhunjhunwala which was a jolt for you, what are the other challenges you faced and opportunities you foresee?
We've been extremely fortunate to have Mr Jhunjhunwala, be a part of our journey, and back us. We want to work even harder to live up to his commitment and expectation of creating an airline that is one of the best places to work at for our people and make it one of the best brands that focuses on customer centricity. We really want to make sure that the team across the board has that culture of listening and engaging consumers, which means feedback tracking, response management to consumers. We have to be best in class and not just in aviation but across all service brands. I think that's an opportunity. From a challenges point of view, we've built a very strong foundation. In aviation, there's tremendous amount of data. One has to use that data to take smart, informed decisions, and understand your consumers better.
Q] Talking about data, just after the launch of the airline, you suffered a data breach, do you think it has damaged the image of the brand because customer faith doesn't come easily?
Absolutely, but we've been quite transparent. The moment we realized that a data breach has taken place, fortunately it was at a very small scale, we took it extremely seriously and our teams reacted instantly to address that. We reached out to each and every one of our consumers. It was just a configuration issue which impacted some personal details, nothing transactional or payments related. We take our consumer's privacy and data very seriously and took care of it instantly.
Q] Within weeks of the launch of Akasa Air, there is a war between airlines to roll out cheaper fare, especially on the sectors that you operate in the fares have reduced by half. As a new brand is that a sustainable strategy for you in the longer run?
Fares are a factor of how market and competition play out. And with our promise to deliver warm, reliable, efficient and affordable services, we will always try to be competitive and live up to the promise of being an affordable airline. So, we are really not focusing on creating or starting any fare led differentiation, but will participate in the market that enables us to be competitive and to deliver the promise of being an affordable airline. Our cost structure and the way we have capitalized ourselves gives us the ability to run the business in a very sustainable manner.
Q] Akasa Air from the beginning has gone against the tide by opting for Boeing 737 Max Aircraft as opposed to Airbus… what more do you plan to do differently from the other players, now that you have entered the aviation market?
Yes, the Boeing Max aircraft is not just one of the most beautiful aircraft, but is also highly efficient, comfortable and environment friendly too. It is one of the quietest cabins that you'll find, carbon emissions are the lowest in its class, helping us to be one of the greenest airlines in the world. It is an extension of our promise of sustainability. It started with our cabin crew uniforms that we announced sometime back made out of sustainable material, the soles of the shoes they wear are made of recycled rubber. I must mention that, we are probably the only airline that didn't do a water gun salute when our first aircraft came, a traditional fanfare we avoided to save water.