The future of the consumer durables category lies in smart products, says NS Satish, Senior Vice President, Sales & Marketing at Haier Appliances India as he walks us through the company's endeavours to help consumers adapt to its portfolio of smart products. He also discusses the brand's increasing focus on Digital and its latest campaign featuring India's top women achievers
Q] Tell us the insights behind your recent campaign that celebrates India's outstanding women achievers.
If you see our tag line, 'Inspired Living', we keep looking for inspiring stories that may not be related to our product. If you see our last campaign for washing machines, where we featured Dipa Karmakar, Hima Das, and Simranjit Kaur –these people are silent performers, they don't get the recognition that is required. Our washing machine is also a silent machine, so we saw a synergy between them, and conceptualised the last campaign. All the four protagonists in the recent one too thought of something big in their life and performed silently. It also helps these people get recognition. A lot of brands run behind celebrities. We are in fact seeing appreciation for the campaign with comments like, 'Haier is thinking differently'. Most of the consumers appreciate a brand that tries to do something different from the regular clutter.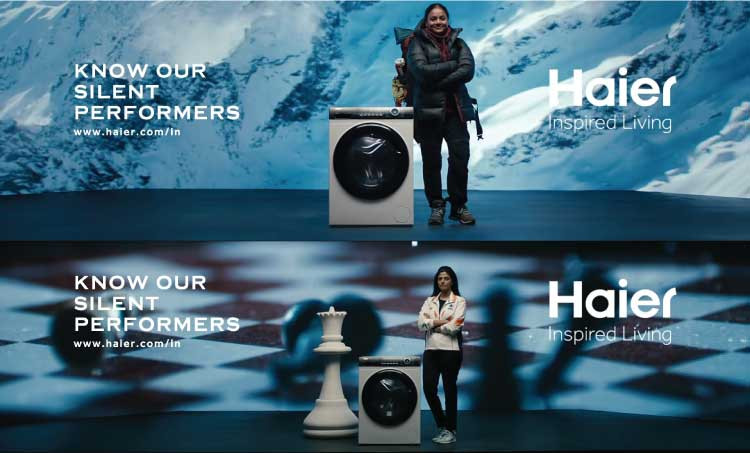 Q] What's the marketing mix for your campaign? Are there any changes you've made in your campaign strategy due to the pandemic?
We stopped looking at outdoor advertising due to the pandemic. 50% of our budget goes into TV, and 25% each goes into Print and digital advertising. Our spends on Digital before the pandemic were very small, probably just around 5%, and the rest of the money was being split, with 30-35% going towards Print and 55% towards TV. The shift towards Digital has not happened due to the pandemic. We were already on the journey to shift to Digital strategically, though the pandemic made that switch faster. We have probably just preponed the shift to Digital by about six months. Once the brand manages to generate a certain level of awareness among the consumers, then it's a question of being with the right consumer. Right now we need to build our consumer base – so that's why we are heavier on ATL advertising with TV. Once we reach a certain level in terms of our TOMA score, then it's just a question of being with the right relevant people who are looking for the product – that is where Digital can be very customised and personalised in terms of how we can target them. Every year, our shift towards Digital will keep increasing. About two years ago, our digital spend was around 2-3%. Last year, we spent 5-8% on digital advertising, and it has now gone up to 25% this year.
Q] What are the key challenges that you face in your campaigns?
One of the key challenges that we come across is in the RoI measurement. If our sales increase, we attribute it to the campaign, but there is no technical or professional measurement tool. However, we design our own methodology and arrive at a conclusion on how the sales could have happened because of this campaign. For example – when we do a digital campaign or targeted marketing, how do we measure the impact offline? That's a big grey area, and while there are a lot of new tools coming in, how many of them are accurate? Of course, as time progresses, I expect that more efficient tools will become available.
Q] The festive season is important for the consumer durables sector. What are your plans for this season?
We are completely on air. We started our festive campaign on TV last week. We are present in all the major dailies of India, and Digital has already started. In total, we are spending Rs 45-49 crore right now, and once again the marketing mix is the same (that is 50-25-25).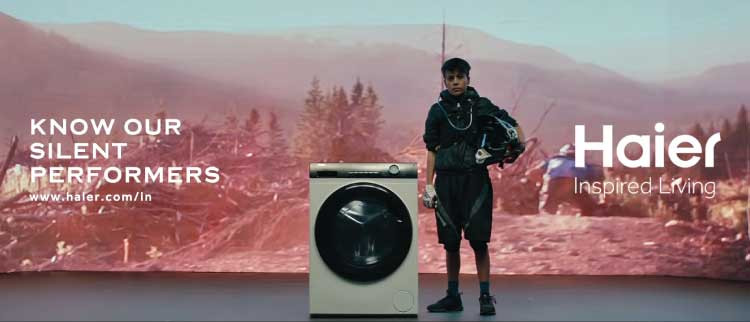 Q] You launched a large bouquet of smart products last year. What kind of consumer response have you seen towards these products so far?
The smart television concept has caught on with people. The challenges that we are facing are in the smart washing machine and refrigerator adoption. We conducted an exercise and found out that so many people who bought our smart air conditioner were not using that feature. We send our engineers to consumers' houses to demonstrate how to use these smart devices once they purchase them. That's how we are helping more and more customers adapt to our smart products. As time progresses, we expect to see adoption increasing. Our thrust is definitely on smart products. Smart products will play an important role in the future of the consumer durables' category. We have also upgraded our showroom in Delhi, which is reopening next week. We plan to even showcase those products that haven't been commercialised yet. Every brand will jump onto the bandwagon, but the brand that is able to demonstrate it best will take the customer. It is simply a question of how soon people will adapt to smart products.
Q] Do you have plans to generate consumer awareness for smart products, perhaps through some interesting and quirky campaigns?
We are conducting a study of our consumers who have purchased our smart products. Our plan is to understand how they are using them and what features are they using. If they're not using the smart features, what is preventing them from using them? Unless we don't meet 100-200 consumers personally, we wouldn't understand where the gap is. Once we know the gap, we'll be able to address it probably through digital channels. We used this opportunity during the lockdown to get this feedback, and probably by next year, we'll be ready. We are creating small digital videos to guide our customers. Whenever a customer purchases our smart product, we would send them the video and tell them to view it when they have the time. That is far more helpful than simply giving them a catalogue that only mentions features.