Sportswear brand HRX has announced its foray into a new category with its latest line-up of gym equipment in partnership with e-commerce brand, Flipkart. Afsar Zaidi, Co-founder, HRX talks about the brand's entry into the new segment as well as its partnership with Cult.Fit
Q] What is the insight behind venturing into a new category like gym equipment?
As a brand, we've always been focused upon touching every Indian. So eight years ago when we started, we got into research and various categories emerged during the research and we had made a whole plan that at the right time, when the brand starts gaining momentum, we will progress into each category with the right partner. So sports and fitness equipment had always been in our plans. What happened in 2020 was unfortunate. But as they say there's always a silver lining in all the tragedies that happen in our lives. So with the pandemic, health and fitness became a key element in all our lives and we decided that this would be the right time to focus on sports and fitness equipment because as we say there is an athlete in all of us. And if we are going to commit 30 minutes of our lives on a daily basis, then we become everyday athletes. We need equipment in our homes to engage in regular physical activity and exercise. That is what led us to launch this new range of sports and fitness equipment this year, though it was always in our plans.
Q] What marketing strategy have you planned to establish the brand and own a market share in the new segment?
Our marketing strategy is going to be quiet. We have a set of loyal HRX consumers, and we are partners with the largest online platform in the country, which is Flipkart. So, the objective is to use the might of the Flipkart platform and the strength of our loyal customers at HRX to gain as much traction as possible across the country. And we have a gentleman by the name of Hrithik Roshan also, the founder of the brand HRX. There is enough clout that he also brings on the table as a very well-known face in the country. The combination of all these factors will be part of the marketing strategy. We are one of those very future forward brands, which has taken onto the path of KOL (key opinion leaders) led marketing today.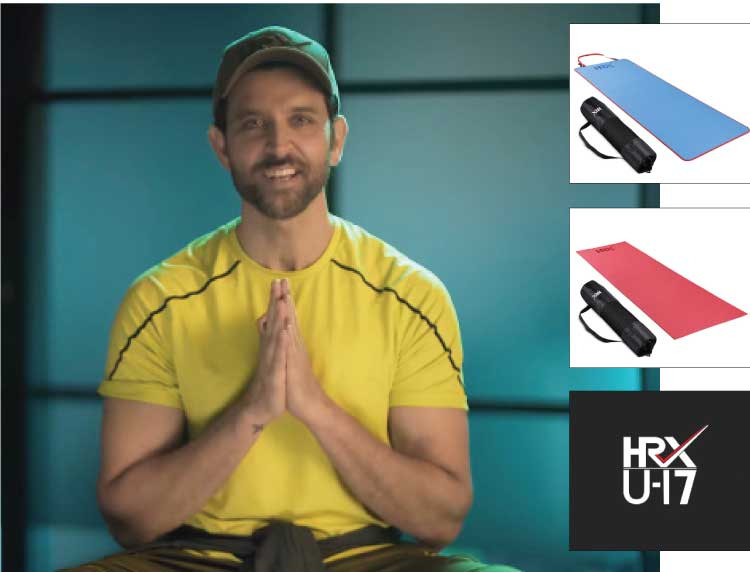 Q] Do you have any campaign in the pipeline too for this new category?
It's a very exciting time for us with the launch of this particular category. And there's a lot of enthusiasm. A lot of interesting shifts have been thought of, which we have already done, and at the right time, we will start releasing those campaign features as we progress, but the focus is going to be on the digital space itself and on social media within our community with Hrithik's loyal fan base and the KOL list that we have brought on board. This year, what we have decided is to sort of repurpose our marketing and focus purely on BTL and Digital. Our focus on Digital too is primarily because we need to drive more and more traffic and acquire customers wherever possible.
Q] Tell us a bit about HRX's partnership with Cult.fit. How has the association helped your brand till now?
The ideology and ambition with which Cult.fit was formed, fitted in very well with the philosophy of HRX. There were different areas where we focused. One was where we managed to bring a physical manifestation of the HRX philosophy. What it means is that we had a specific HRX workout that was conceived and developed by a set of trainers that was one of the offerings of Cult Fit. So the workouts really helped us in building that community. We always envisaged our relationship with Cult.Fit to be promising and it has actually resulted in a lot of tangible and intangible benefits for both the brands.
Q] What kind of growth has your brand seen over the years, especially in the last one year? What has been the strategy behind the consistency?
Last year, there was a huge focus on buying athleisure because all of us were cooped up in our homes. And yet there was a silver lining because there was immense focus on getting fitter and healthier. So that definitely helped us. We did two or three campaigns with user generated content. So last year, all our campaigns were around the uses of HRX. So that was one very interesting thing that we did and it definitely gave a great boost to the brand. This particular innovative strategy got more traction, because Hrithik (Roshan) too randomly started selecting certain users and reposting them on his social media handles. So that was the second part which really helped us build because he has a huge community and with him reposting random people across the country, their exercises and their photos wearing the HRX apparel was a great motivator for more and more consumers to showcase the HRX products they purchased, their physical ability and their exercises on their respective social media handles. And number three, the biggest support has been the way the Myntra team has worked with our HRX team, and ensured that we were at the forefront of anything innovative, that the group came up with.