With the festive season underway and with cinemas opening up in key markets like Karnataka and Maharashtra, Gautam Dutta, CEO, PVR Limited tells us why this could very well be the beginning of the film exhibition business' recovery
Q] What kind of resurgence have you seen in terms of cinema footfalls and revenue since the restrictions were gradually lifted in several parts of the country in July?
PVR reopened its cinemas on 30th July, 2021 post the second wave in states and UT's where multiplexes and theatres had been given the go-ahead to reopen. Currently out of the 17 states and four UTs where PVR operates, it is already open in 14 states and three UTs where permissions have been given (Maharashtra, Kerala, Assam and J&K are yet to give permissions to open). The footfalls have increased by 100% over two months. This clearly proves that people are willing to come out and explore the cinema experience when there are new movies to watch out for. The Marvel movie, 'Shang-Chi and the Legend of the Ten Rings' performed exceptionally well nationally. 'Chal Mera Putt' and 'Puaada' in Punjabi performed well in the Northern belt despite restrictions in seating capacity and operating hours.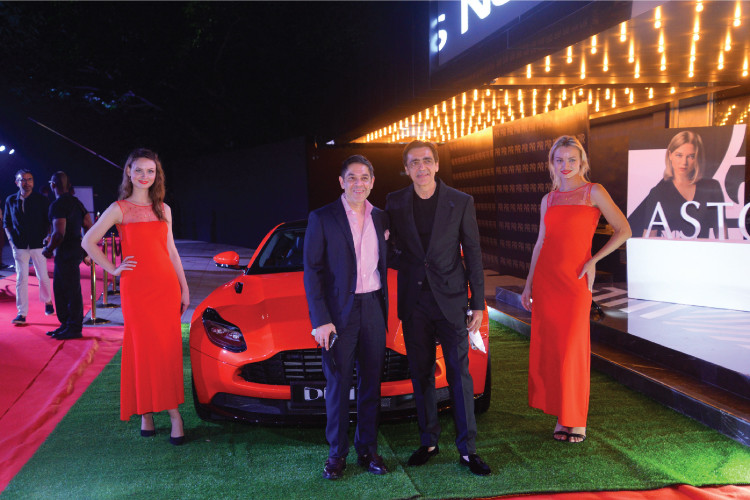 Ajay Bijli, Chairman and MD, PVR Ltd and Sanjeev Kumar Bijli, Joint Managing Director, PVR Ltd. at the re-opening of PVR Saket (erstwhile Anupam) last week. The re-opening was marked with a special screening of the newly released James Bond movie, No Time to Die.
Q] What are the steps you're taking for the Maharashtra market that is set to reopen cinemas in October? Given that it is an important market for PVR, what are your expectations in terms of recovery?
In Maharashtra, we have a screen presence of 151 in 37 properties, which are closed at the moment. Our screen presence in Maharashtra is 18% of our overall screen presence in the country, which is the highest in our portfolio and next only to Karnataka. Maharashtra contributes 20-25% of our overall revenues and is one of the largest markets for cinema theatres with a contribution of over 40% of box office revenues for Bollywood films. We had been eagerly waiting for Maharashtra to reopen as it plays a key role in the revival of the film exhibition business as the release of Hindi Content was held up by the producers.
Only a handful of Hindi films got released such as Bell Bottom, Chehre and Thalaivi as various states starting giving permissions for cinemas to reopen after the second wave. The Multiplex Association of India had appealed to the Maharashtra government to reopen theatres early in September citing a monthly loss of Rs400 crore and a cumulative loss of Rs 4800 crore incurred by the Maharashtra Cinema Exhibition Industry in various lockdowns since March, 2020. As a company, PVR played its part towards normalisation and revival by conducting free vaccination camps at its Juhu cinema for the marginalised daily wage workers such as spot-boys, light-men etc. registered with the Federation of Western India Cine Employees (FWICE).

Q] You've also forayed into the F&B space during these challenging times. How has that worked out for the brand?
This has done well for the brand in its endeavour to strengthen the F&B presence beyond cinemas.
Our food selection in cinemas was made available to people through V Café in food aggregator platforms.
We introduced PVR PopMagic microwave popcorn in four lip-smacking popular flavours curated by celebrity Chef Sarah as a takeaway from cinemas when we reopened in October 2020 and made available through home delivery from Swiggy and Zomato in select cities where PVR has a cinema presence. The success led us to listing the product on Amazon from July 8 this year to cater to a national market.
Q] With the festive season coming up, what are your plans to draw audiences and do you expect to see numbers return to the pre-COVID level?
November to January will become the busiest period for film business. With a huge line up of big Hindi movies set to be released in cinemas, this will be the beginning of the recovery of the film exhibition business. Once capacity restrictions and limitations of operating hours are lifted, we can see pre-COVID numbers returning very soon.
Q] Are you already seeing some degree of normalcy in markets that have little or no cases?
Some states have already started relaxing the restrictions. Telangana reopened with 100% capacity and with no restrictions in operating hours after second wave from the start itself. Rajasthan allowed cinemas to operate at 100% capacity from 20th September and Karnataka has announced 100% capacity from October 1st. The stupendous success of the Telugu movie, 'Love Story' as one of the top five movies and its occupancy levels are a clear testimony to the fact that we will witness glorious days once again in cinemas once restrictions are lifted and new content starts flowing in. We have already started seeing locking of release dates by the producers of big ticket Bollywood movies starting this festive season and beyond in view of the recent Maharashtra government announcement for reopening of cinemas.
Q] With the uncertainties surrounding the cinema business during COVID, what will some of your key focus areas be as you move ahead?
Due to deep urge towards social interaction and isolation during lockdown, we expect people to go out and entertain themselves when conditions ease. Watching movies in cinemas are the best and cheapest forms of out-of-home entertainment and the big screen experience cannot be replicated at home.
We have constantly communicated our readiness to reopen our cinemas through the PVR Care programme with our 11 million privilege loyal customer base. We have kept our followers, movie enthusiasts and audiences engaged, and at the same time ensure and reinforce that cinemas are a safe place to visit post COVID. There is a huge backlog of movies awaiting release and there's already great enthusiasm and engagement on our social media channels with some amazing movies coming our way. We will continue the usual way of enticing customers through movie based promotions, curated festivals, special day promotions, price promotions, format based promotions and social media contests.