Pet food company, Mars Petcare has unveiled a new campaign promoting the benefits of food tailor-made for small dogs as their requirements differ from those of large dogs. Ganesh Ramani, General Manager, Mars Petcare India, talks about the brand's new campaign for this product, the expansion of the Mars Petcare portfolio and tells us why there is tremendous scope for growth in the pet food space
Q] How did you conceptualise the 'Small dogs, Live large' campaign? What are some of the insights behind it?
Small dogs, as a population, have been growing significantly over the last few years. Many of the breeds like cocker spaniels or a bull terrier have big personalities. They think of themselves as big and they behave like it. The entire idea of this campaign is based on this insight. There is a difference in the nutritional requirements of small dogs. They need kibbles which are small and designed to help clean their teeth, protecting them for plaque and tartar build-up. Small dogs have a higher metabolic rate than large dogs. They require food containing a high density of nutrients. It's one of the things that we try to address through this product and the campaign.
Q] What is your marketing mix for this campaign? What was your brief to the agency?
The ad has been adapted from our global campaign. We have adapted it to Indian needs keeping in mind the voiceover, product claims, production backdrop and taglines. We will be driving this ad through Digital across YouTube, Facebook and Instagram and run it on e-commerce platforms.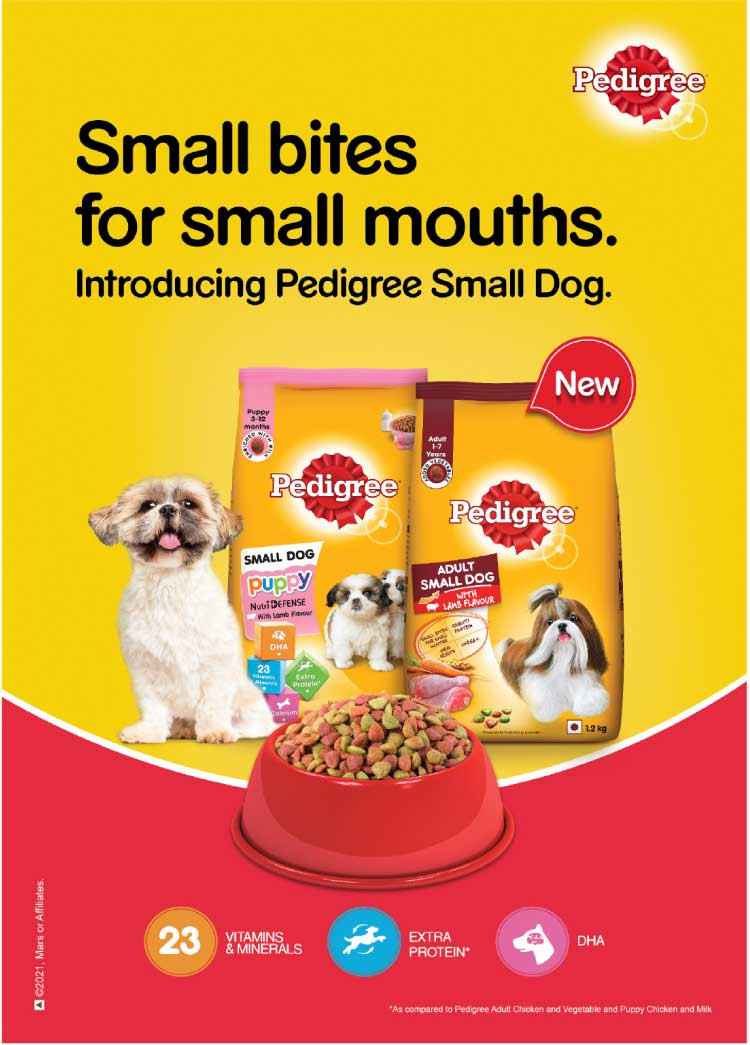 Q] What is the share of people using MPF (manufactured pet food) and home-cooked food for their pets' nutrition? How do you intend to bridge this gap?
Packaged pet food or manufactured pet food's contribution to the calorie requirement of pets in India is in single digits. 90% of the consumption happens through home-cooked food. 5% to 8% is what comes through packaged pet food so there's tremendous headroom for growth. The number could be higher as there are people who might have tried it once or twice or they are someone who feeds occasionally because not many people rely only on packaged pet food. There are a lot of people who use a mix of both. We are trying to raise awareness about the different needs of pets with respect to nutrition and the benefits that packaged food offers to pets. The awareness will lead to more people adopting packaged pet food.
Q] You have gone on record about the bulk of your business coming from the top 50 to 60 cities in the country but you're looking at ramping up distribution to 300-400 towns. What's the rationale behind this distribution strategy?
We are witnessing demand from small cities. We observed this phenomenon even on e-commerce platforms; and we see these small cities beginning to contribute to sales. Our kind of business has specialty trade adopters, which is a small group that is fairly tight-knit. We feel it is an appropriate time for us to get into these cities and establish our distribution footprint to create awareness in these cities.
Q] Chappi, the affordable dog food brand, was launched recently by the company. What was the response to the product like? What are your expectations from the product?
We are focusing on affordability definitely. We have expanded our portfolio aggressively in the last 12 to 18 months. While there are a large number of people who would want to feed their pets manufactured pet food, it's not affordable for them. There is space for us to create an affordable product and that's where Chappi comes in. It's a brand that we have had for a while. We only sold it in a 20-kg size. It was serving some of the breeders or people who had multiple dogs primarily. Now, we've introduced a puppy variant and smaller packs so that people find it easy and affordable to adopt it. The expanded range was launched in the beginning of this year and the initial response has been good; we are getting good volumes out of it.
Q] Given that there is great room for growth in the category, what are your plans on that front? Can you elaborate on your expansion plans?
Pet food as a category is at an inflection point in India where it is growing rapidly. It was growing fairly well at a healthy rate before the pandemic. This pandemic has triggered certain consumer behaviours and reinforced a few things because of which people are indulging their pets a lot more today. We launched IAMS in early 2020 when we didn't foresee a pandemic. We had seen a trend in premiumisation as people wanted to spend more so that's why we had launched it, and are now building on it. Cat food category is growing extremely fast, and in fact faster than dog food. We have launched a set of treats under the brand 'Temptations'. We've expanded our treats range under Pedigree because people are spending time at home and they want to indulge their pets. The pet food category itself is quite buoyant and the outlook for 2021 is that it is going to be bigger than 2020 in terms of growth and if I'm right, market growth rates would be anywhere between 25% and 30% this year.