Q] Tell us about your new Express Pickup service campaign? What was the insight and inspiration behind the brand film and the campaign?
Customers are increasingly pressed for time and expect products and services to be provided quickly. In the current scenario, consumers prefer off-premise consumption — like in their vehicle, at home or in an open area. The idea behind the Express Pickup service was to deliver to KFC fans their favourite dishes almost as soon as they crave for it while enabling them to consume KFC at the location of their choice. 'Think Chicken, Get Chicken' is the proposition we wanted to make, and with Express Pickup we made it possible with a 7-minute assured delivery of takeaway orders.
Consumers can now place their pickup or takeaway order on the KFC app, website or at the restaurant and their order will be ready and packed safely within 7 minutes; else they will get a piece of hot & crispy chicken for free. And, who better to depict all things speed than the legend, PT Usha, herself. We have built a concept that integrated her seamlessly with the concept of Express Pickup and, in the film, you see PT Usha doubling up as a high-speed chef in the KFC kitchen. With the Colonel by her side cheering her on, she is delivering on the promise of 'Mile Tez, Taste Amaze'.
Q] What are the synergies between KFC and PT Usha?
It has been our constant effort to provide great taste to our customers through convenient channels of accessibility. Therefore, for a service like Express Pickup, we were keen to partner with a personality who stands for all things speed. Therefore, partnering with her for a service with speed as its key feature was a privilege for us, and an obvious choice.
Q] Today, every brand is functionally a tech brand, how is KFC adapting to be a food-tech brand? Also, how have you leveraged technology in the past 18 months?
KFC has been known for disruptive tech innovations that fans have loved — whether it is 'Watt A Box'; a 5-in-1 meal box that allows you to charge your phone; KFO, Kentucky Flying Object (a DIY drone assembled from the packaging); or Gamer's Box, which again is a packaging innovation. We have also pioneered in enabling KFC ordering through Facebook Messenger and Alexa. We have always been a tech-first brand.
We have launched KFC ContactLess Delivery, KFC ContactLess Takeaway, KFC to your Car & Bike and the most recent Express Pickup — all of which allow customers to enjoy KFC platters in the location of their choice. As out-of-home eating gained precedence, we improved the consumer experience at our NextGen restaurants, introduced self-ordering kiosks inside restaurants and enabled QR code ordering to promote contactless ordering. We also built digital billboards and widescreen displays outside restaurants.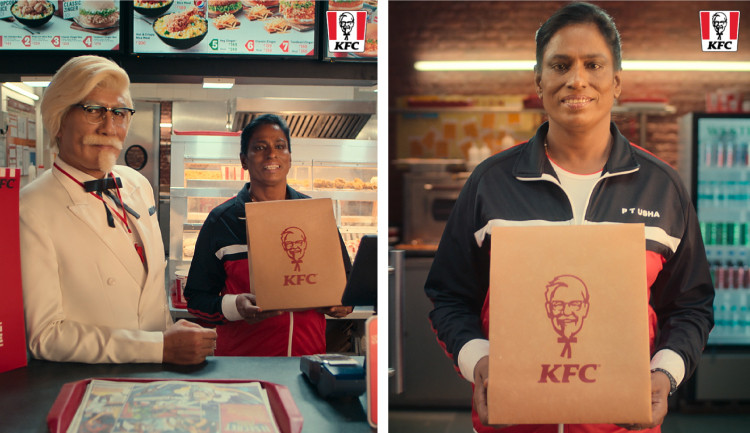 Q] In this changing consumer landscape, how are you communicating with customers? What is your core marketing strategy?
Our marketing approach is centred around building a culturally relevant, easily accessible and highly distinctive brand. The COVID-19 situation itself did not come with a playbook. This meant that everyone has had to show great agility in how they operate. Our actions encompassed safety, accessibility & community fuelled through digital & innovation. Keeping our restaurant teams safe was our first priority, which, in turn, ensured that the customers would be safe. We used the brand's unique offerings and distinctive assets to engage with our customers and the community in a fun way. It seemed everyone was revisiting their creativity like never before during the lockdown, and the user content had jumped multifold. We launched campaigns like 'Home Studios' for customers to share their creativity, and 'Home Kitchens' that reflected that everyone was having a 'kitchen moment'.
For us, the lens on marketing rightly shifted from conversion to commitment as we looked into our brand ethos to find ways in which we could make a positive difference. As part of our strong Social Purpose agenda, we strengthened our efforts with KFC Care & KFC's India Sahyog. As part of our Feed a Million pledge under KFC Care, we provided a million meals to migrant workers and daily wagers. Under our Sahyog programme, we helped local and small food businesses revive their commerce.
Q] What is your current media mix? How does this campaign help strengthen that base?
Our media mix includes traditional mediums like TV, outdoors and print along with digital & social. Digital & social forms a major part of our media strategy – we use it in three different ways. First, it is used for Reach Amplification of our key product and brand campaigns. Secondly, the medium's unique capability to create a two-way engagement is something we use through social media, influencer collaborations and content. Consumers increasingly prefer to order KFC digitally on the KFC App, which is the third primary pillar.
Q] From a retail point of view, how has the year been for KFC? Are your offline retail numbers back to pre-COVID levels?
A large percentage of our sales continues to come from delivery and takeaway services, with dine-in seeing a steady increase month-on- month. We're seeing steady growth of sales, and this is helping fuel our long-term plan for growth and expansion in the country.