Earlier this year for the occasion of World Environment Day, Blue Dart announced paperless transactions on its new digital portal for its vendor partners. Ketan Kulkarni, CMO & Head – Business Development, Blue Dart, speaks to us about the brand's push towards sustainability and its efforts to support relief during the pandemic
Q] Tell us about your latest initiative rolled out on World Environment Day. What are some of the things the brand is doing to ensure sustainability?
As part of the DPDHL Group, everything we do serves one purpose - 'connecting people, improving lives'. Blue Dart has always been an organisation that takes every necessary measure to ensure the safety and growth of the communities we reside and operate in. Our commitment till 2050, is our way of doing due diligence for our planet today so that by 2050, we can reap what we sow today. Blue Dart has championed a number of initiatives under our three pillars of corporate responsibility – GoGreen, GoTeach and GoHelp. Under each category, we ensure that our organisation is constantly giving back to society and protecting the environment. We take this responsibility seriously and this is why we have aligned ourselves with the Group's 'Strategy 2025 – delivering excellence in a digital world'. Our digital initiative to go paperless, launched on World Environment Day, a registered event with the United Nations Environment Programme, was a step forward in this direction.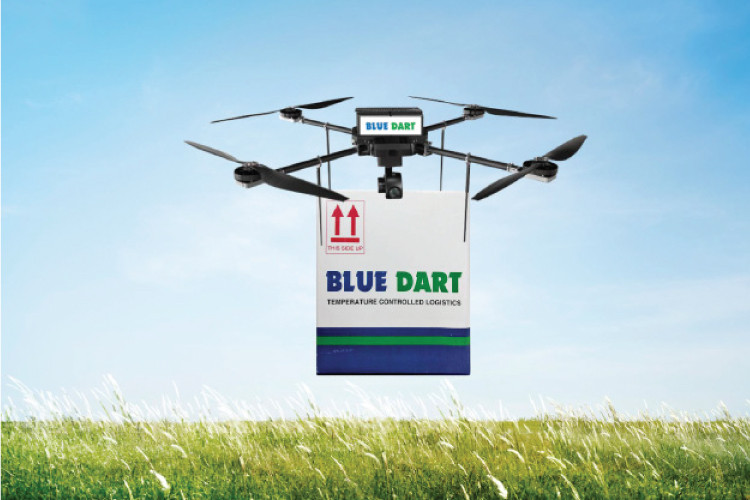 Q] Blue Dart has been flying charter aircraft internationally facilitating the transport of oxygen concentrators. What can you tell us about it? How important is purpose-driven marketing to Blue Dart?
Blue Dart is supporting the nation by helping move oxygen concentrators, oximeters, medical supplies, ventilators and our full range of temperature-controlled products that are delivered in a time-definite manner. Leveraging our fleet of Boeing 757-200 freighters and the resources we have at our disposal, we are keen to support the nation, especially as it prepares for its third wave, with our international charter flights and extensive ground network. The need of the hour is speed and time and Blue Dart has the capability to deliver excellence on both these parameters. Our charter aircraft are operating internationally, the most recent being flying multiple charters to Shanghai, China and receiving oxygen concentrators. We are affirmative that with our continued efforts and the contribution of India Inc., we will support the government's target of vaccinating 80% of the population by September, 2021.
Q] How feasible is it to use drones for the delivery of vaccines and medicines? Has there been a test run? What is the timeline for it?
Blue Dart's Med-Express model is curated keeping these factors in mind, especially given the pandemic situation we have all witnessed over the last year. Health and medical infrastructure have to be made available to all, and we are keen to support and aid this cause. This alternate route that we have curated, leveraging UAS/drone technology, to reach the remotest areas in India, will begin its trial run soon.
Q] Your recent collaboration with Dell was to enhance customer experience with help of technology; what can you tell us about this initiative?
With a sharp eye for detail, my colleague, Manoj Madhavan, CIO, Blue Dart evaluates Blue Dart's strengths and limitations periodically. While evaluating our IT systems, we understood that our operational costs are much higher with increased rack capacity and power consumption. In an effort to reduce costs while achieving system optimisation, we were in pursuit of a partner that would understand the brand and align themselves to propel Blue Dart's growth. We wanted to partner with an organisation that understood our core fundamentals, and Dell Technologies did just that. With the new deployments provided by Dell Technologies and design support from Hitachi System Micro Clinic, Blue Dart is now able to decrease the power and cooling needs of our data centre while also reducing rack space and achieving higher levels of utilisation. Given that we are the nation's trade facilitators, we were also able to leverage the new-age technology solutions, to accept numerous sales requests during peak periods at an optimised cost.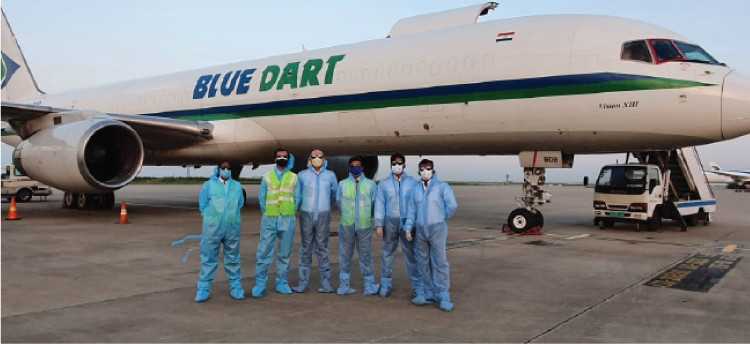 Q] You had discussed the spurt in your business the last time IMPACT spoke to Blue Dart. Now that things are slowly inching towards normalcy, will you be able to sustain the momentum?
We must understand that logistics was, is and will remain the backbone of every industry across verticals. Facilitating trade and commerce plays a significant role in the success of the economy and therefore, the demand for logistics services will always be present. With the GDP prediction leaning towards the positive next year, although by a few points, the sector is set to only see a higher growth rate and a lower logistics cost, making it more streamlined. Various logistics-centric policies devised and executed by the government will also help the sector take a step in the right direction and get it on par with other developed nations whose logistics cost is a mere 6%-7% of their GDP. As industries and the organisations within them begin to adapt to the new normal and improvise with it, we see a significant portion of our customer base coming back on to the growth track. While the focus has remained on pharma and e-commerce, other industries such as banking, auto, FMCG etc. are on their respective roads to recovery.