Q] Why did Tata Sky embark upon this path of crafting a new purpose statement?
Tata Sky has been in business for 15 years now. We started operations in 2006, and we've always had a strong set of values and culture that has led us to becoming the leading DTH provider in the country. We wanted to look back and see the reasons why the customer favoured us, and distil those learnings into a purpose statement so as to guide us in the future. It is the starting point of this purpose statement. It is about confirming the reason customers want to do business with us, engage with us, and recommit ourselves to the same for the future.
Q] What is your marketing mix for this new campaign? What is going to be the share of digital in the mix?
We started with Television, and will take the campaign soon to social media as well. We will have a very interesting campaign on Instagram Reels. We are going to be taking this campaign on the usual digital mediums such as YouTube and Facebook. We are also evaluating Print and Outdoor as a way to amplify the campaign further, though we have not finalised that yet. It might not happen immediately but it will happen in due course of time.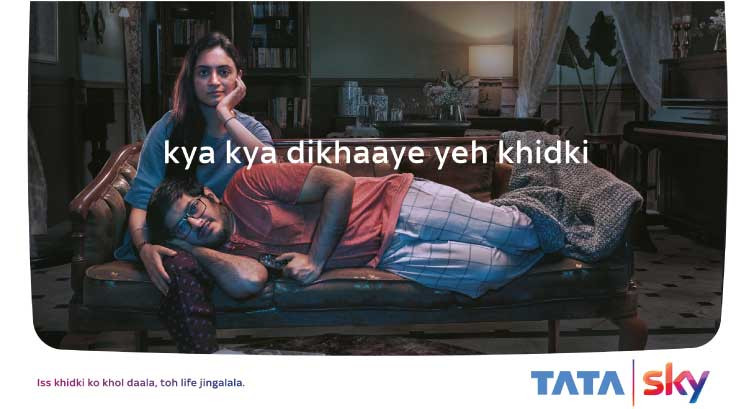 Q] Tata Sky has conceived hyperlocal campaigns for Kerala, West Bengal, and Punjab; how significant are these campaigns to the brand building overall? What kind of a role do you envisage for these campaigns in the future?
The way people consume advertising and look at decision-making, in a category like ours, it's an important decision. There is going to be a combination of national-level campaigns, and you also need to supplement that with very local messaging, which is very here and now, and relevant. They're focused on specific features. For instance, we've talked about the benefit of 24/7 customer care in the Bengal campaign, we talked about a particular type of pack where you get a lot of genres, which is relevant for the Punjab market. You can add and drop channels very easily in Kerala. These are the insights that are relevant to people there while taking a decision about coming on board. You can use all the cultural nuances of a particular region making the campaign much more relatable. We believe that marketing should be looked at as a combination of something which is broad-based, thematic and emotional in nature, and which is local, and about function and feature, which can help people make a decision about adopting the brand.
Q] What are the marketing challenges in the light of cord cutting?
From Tata Sky's product point of view, we have Tata Sky Binge on offer. And it is an OTT aggregator app where we have content from about 11 apps in a single user interface. The question at the back of our mind is: are we witnessing the reach of television falling because of cord cutting? We have not seen that at all. People are still watching Television. From a media planning point of view, we are supplementing our TV campaigns with Digital. We have not seen that TV viewership is falling. In fact, the BARC data is available and you will see that TV viewership is actually growing.
Q] What has been the response to Tata Sky Binge? What is its contribution to the portfolio overall?
Our view is that TV and OTT will coexist in the Indian market. We do not believe that OTT is going to grow at the cost of TV. OTT will grow faster than TV because it is starting from a lower base but TV is also going to grow. Therefore, the primary source of growth for Tata Sky will continue to come from people wanting to upgrade to a better viewing experience. Our purpose statement, 'make tomorrow better than today for homes and families' is a testament to the fact that we're trying to improve what people get when they opt for Tata Sky. We are fully aware that OTT is growing fast and therefore a product like Tata Sky Binge comes into play. It's a small part of the portfolio relative to TV, just like the OTT industry in India is a very small part of the overall viewership industry. It will become bigger as we go along.