Just like any other sector in the industry, Radio too, has not seen its best year. Although the ongoing COVID-19 has impacted specific categories of advertisers on the medium, Radio continues to act as a dispenser, giving its listeners relevant information about the Government's initiatives.

Keeping in mind the gloomy financial year faced by the sector in FY 2019-20, combined with the COVID-19 crisis, the Association of Radio Operators for India (AROI), comprising private FM channels, has sought a bailout package from the Government, requesting certain concessions it had asked for earlier in December, 2019.

Radio players have not been affected by the pandemic on the operational front, since technology has led to seamless functioning.
On the business side, the industry has not seen a complete halt as some brands want to come on board and advertise as Radio is considered to be the last mile to the consumer.

Even then, there has been a pull-out from advertising by brands that are at a complete halt in terms of sales. But though a few brands continue to advertise on Radio, the overall advertising is indeed much lower than what it would have been under normal circumstances.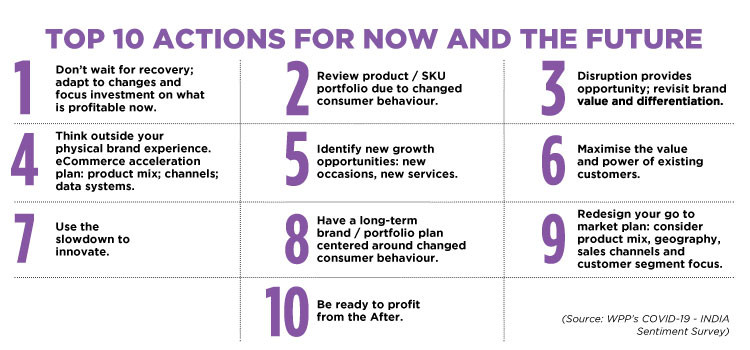 Apart from the work-from-home initiative, which is no longer sector specific, the stations have come up with innovative campaigns and initiatives to impress listeners.
Meanwhile, BIG FM claims to be unaffected by the crisis, thanks to its Disaster Management team's strategies.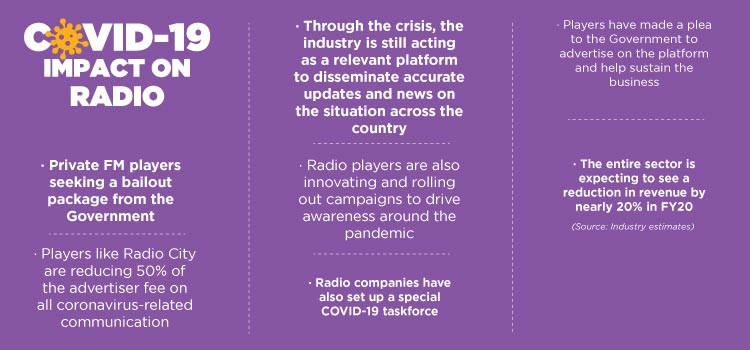 RED FM has come up with a campaign titled #CareKarona, urging people to stay home and also changed its logo, emphasizing the importance of social distancing. On the other hand, MY FM launched an initiative, as part of the umbrella campaign 'Bina Mile Saath Ladein', which started on the day the first case was reported in India. It is now a 21-day lock-down special across all MY FM stations in 30 cities. "Ever since the news of the global outbreak, we are on our toes spreading awareness through spots.



A lot of our RJs in Maharashtra were constantly going live through their social media handles," says Rahul Namjoshi, COO, MY FM.
Taking this one step ahead, Radio City rolled out an initiative, allowing brands to do positive messaging around coronavirus, by waiving off 50% of the advertising cost and thus reducing the advertiser's financial burden. "A lot of brands want to keep continuity of their business, but the situation doesn't let them.

There obviously is a financial implication but we are willing to walk 50% of the mile and allow brands to do whatever they can do. Smaller players have started taking advantage of this and I'm sure the bigger ones will too,"



says Ashit Kukian, CEO, Radio City.
Regional players too have been a catalyst in spreading awareness. Club FM, part of the Mathrubhumi group, aired stories about individuals from Kerala who have recovered from the virus and applauded efforts of people involved in treating affected individuals.


"We have started a unique social media campaign 'Hand Wash Challenge' and are also interviewing various Health Ministry officials in Kerala who update listeners about the situation,"



says M V Shreyams Kumar, Joint Managing Director, Mathrubhumi.
There is a special taskforce of the COVID-19 radio team, which is being put up across all radio stations working closely with the ministries to share the right information. "The Government has reached out to the radio industry and all of us are part of the initiative 'Radio for India', where we closely work with broadcasting and impart only relevant information which comes in the group,"



says Nisha Narayanan, Director & COO, RED FM & Magic FM.
Radio is a free-to-air medium and relies largely on advertising revenue, which at this point is at serious threat.
The industry has also been asking the Government to advertise on Radio again, since it employs local talent, and does not want to compromise on it, for lack of monetary help.
"The FM Radio business was already reeling under the effects of the cut in ad spends by advertisers, including Government, with most players expected to de-grow by 20% this fiscal.

The COVID-19 crisis has put additional pressure on us to invest for uninterrupted business continuity and services. Ads have completely dried up. Radio is a fixed cost business and directly or indirectly employs close to 20,000 people,"



says Abe Thomas, CEO, BIG FM.
If the Government grants the bail-out sought by Radio players, it will help the industry stay afloat.