The Dhar matriarch's birthday during the lockdown was a very different one from what one might have imagined. Despite her husband and two kids unable to make her day by dining out, things that day were just as eventful. But with an added twist. Their Sunday ritual of seeking blessings at the nearby temple was replaced by social media live-streaming the morning aarti. The day also saw the mom celebrate her big day with an online Zoom call of 'Moms of Silver Arch' WhatsApp group and then watch a short film via an OTT app that allows a group of people to watch and chat simultaneously.
As we enter the 10th week of lockdown, it's safe to say that its effect is changing content consumption patterns to a great extent. With many new 'normals' emerging in this lockdown era, we are not only adapting to the changing trends in content consumption but are also appreciating 'the new norm'. This goes for the audience as well as major players in the TV and OTT industry.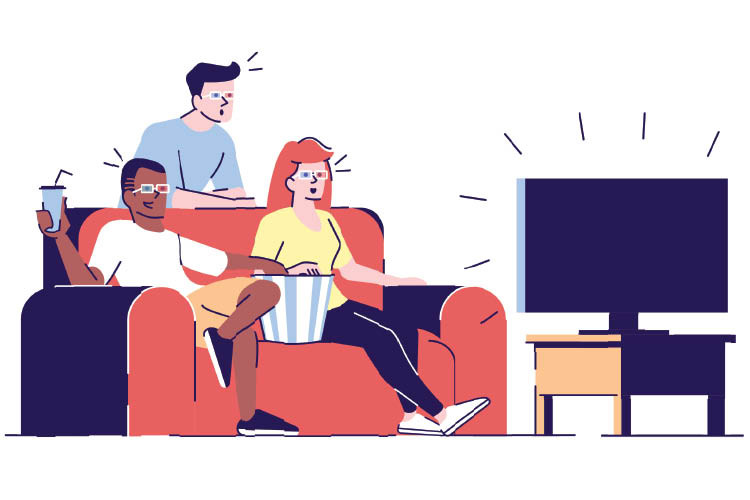 TAILORING CONTENT TO THE SITUATION
Realizing the current mood amongst viewers, leading content creators in the OTT and TV industry have adjusted their narrative to curate programming line-ups that are more amenable for family viewing; so that people can spend time together and be entertained in these testing times. Demand for at-home digital media has grown significantly, as habit-formation and ease of access emerge as drivers, however the anticipated trend is that work from home and social distancing will continue even once the lockdown is lifted, leading to further digital momentum.
HUGE UPTAKE IN OTT VIEWERSHIP
On the constant lookout for immersive and entertaining content as a form of recreation and distraction from the current situation, the OTT sector has witnessed unimaginable growth both in terms of subscribers and watch time. In fact, 43% of consumers are considering paying for a subscription service that they didn't have before the outbreak of COVID-19. Add to that the 20%-25% surge across parameters that the industry has witnessed - be it subscribers, watch time or overall viewership during the lockdown phase. Unusual stories with gripping narratives along with the convenience of pausing and watching are the major reasons why OTT is and would continue to be the preferred medium post lockdown for content consumption. With cinema halls closed, movie-makers too are leveraging the reach of these OTT platforms to premiere their movies directly to the audience.
TV PROVIDING OTT EXPERIENCE
Years back, it was the TV that was the binding glue that brought families together. This seems like deja vu as what we're witnessing here is the shared family viewing experience that is having both a unifying and an uplifting effect on the audience's morale. According to a recent report by Broadcast Audience Research Council (BARC), there has been an increase in viewership by 47% with the viewing time being now spread out through the day. In such a scenario, broadcasters are not only bringing old shows from the golden era of the '80s and 90s for their audience but have also taken a great step by making OTT exclusive shows available for the television audience. Interestingly, this new trend has led to a reverse cycle where we see the content made solely for OTT audiences now being aired on television. Having got a taste of the original digital content, this trend will most certainly continue post the lockdown phase and soon be accepted by the urban audience as well as the audience residing in Bharat.
LOOKING AHEAD TO A NEW NORMAL
Viewers today expect brands to shift their business priorities and resources to appropriately respond and adapt to current challenges and to further support the crisis efforts. Brands that understand this narrative and work with honesty, transparency and empathy during this phase will win the consumer trust.
Viewers are experiencing a major shift in perspective and have started to question if how they consume content today is going to be a core part of the 'new normal' and more importantly their lifestyle. With more viewers adding to the surge in consumption during the ongoing lockdown, the value that OTT and TV are known to deliver to their audience will be defined by the quality and frequency of fresh content in the weeks to come.