Q] What was the idea behind the 'Luxury By Design' campaign?
Jockey is known for its men's innerwear category, so the overall awareness of the brand, and as well as its association with men's innerwear as a category is pretty popular. We are largely popular for our 100% cotton-rich offering within our product portfolio. But there is a lot more that we have introduced over the last decade in the premium innerwear space, for which I believe the awareness is relatively low. These are essentially material innovation, construction, and craftsmanship. We have brought in some of the world's best fabrics and materials to provide the utmost comfort for our consumer; fabrics such as micro modal, microfiber, tactile and Lyocell, etc. So, this campaign is an attempt to increase awareness and to showcase this range within the men's innerwear category so that we are seen and known as a brand beyond just the basic cotton and cotton-rich products.
Q] What was the marketing mix of this campaign and how much spends have you allocated for this campaign?
In terms of the media mix, outdoor is going to be the primary medium, it is also going to be supported by social, digital and OTT platforms for our video format advertising. We have already gone live with our campaign on the social, Digital and OTT platforms. This is supported by the in-store presence of these products. This is both across multi-brand outlets and Exclusive Brand Outlets (EBOs) in the offline space as well as Jockey.in, and marketplaces in the online space. So, all things considered, I think there is an overall investment of close to Rs 8 to 9 crores in this campaign, just for the media space.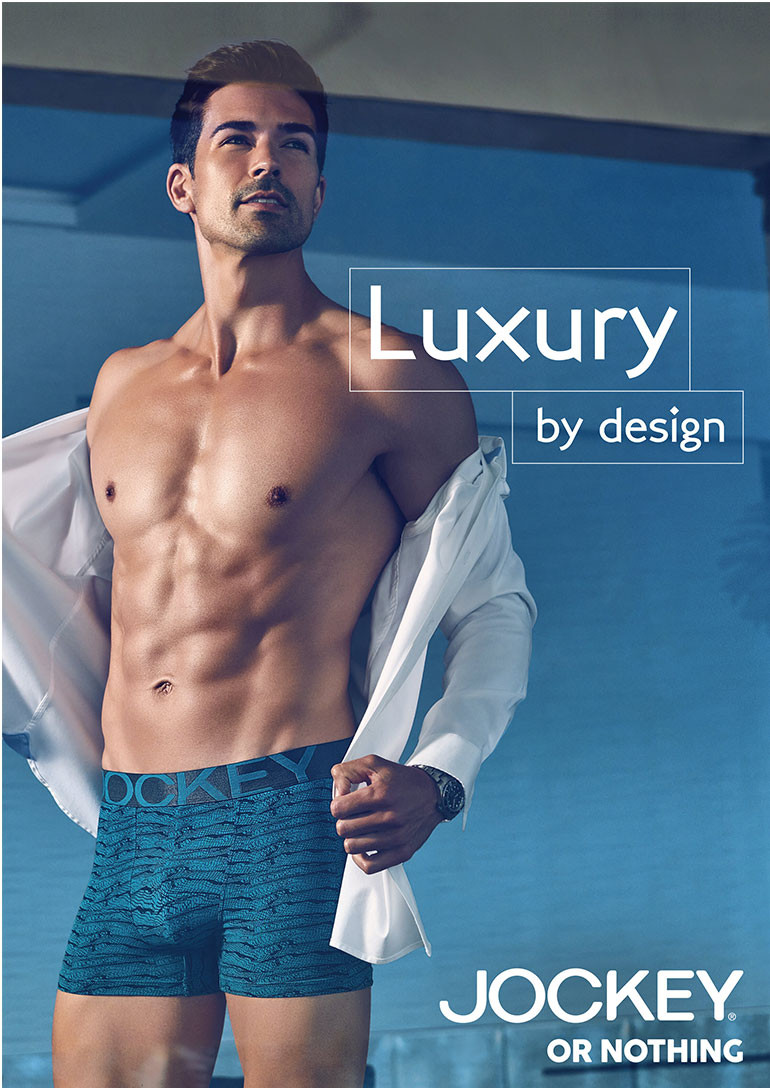 Q] Jockey India's sales grew by 35% in FY 22 over FY 21, how much growth is expected in the upcoming years?
We expect to sustain the growth rates in the coming year as well, and that is what we are aiming for. However, we'll see how the market pans out because it is not a fair comparison as in 21-22, large parts of the first quarter, May and June were under lockdown and hence the offline market was shut. The natural inclination to buy the products were in the online space, which benefited the overall e-commerce, and Jockey.in saw some benefits as well. But all things considered, we look to sustain the growth this year as well. Our sales ratio is 8% online and 92% is offline.
Q] When we talk about the consumer base for Jockey in India, how different is it abroad as compared to India?
Jockey operates as a brand in different ways in every region. There is a broad underlying brand ethos which Jockey has globally. A large part of Jockey's presence, including the positioning and design of products, all of which is a function of who we are targeting, these are all regionally developed. In Australia, New Zealand, South Africa or in the US, Jockey is positioned very differently, and also the kind of products they offer are very different.

For instance, In South Africa, Jockey can almost be equated to a fashion brand or a fast fashion brand, similar to a Zara or the likes. Whereas very clearly in India, our positioning is more on the core, more on the elevated essentials, comfort being the prime agenda. So, there is not one broad stroke that we can make across the globe in terms of how Jockey is perceived and who Jockey targets.
Q] Jockey is fairly popular in India for its men's innerwear category, any particular state that Jockey wants to enter and reach out to the consumers there?
We are kind of omnipresent if you look at our presence across the geography, in the North, South, East, West, our contributions are pretty good. It's not skewed towards one region or the other, but as a strategy, we are getting deeper into the country. Today, if I keep Metro tier I out, and then take into consideration what tier II, tier III, and tier IV contribute. It is close to anywhere between 40 to 45% of our business, which is very healthy for a brand like us, because one would imagine that Jockey is more popular in the urban markets and not so popular in the rural markets. But quite contrary to that opinion, close to 40% of our business actually comes from tier II and tier III. The good part is that our brand is very popular in these towns. Hence, the marketing effort involved in building awareness in these towns is very low. We don't need to actually put in too much effort because the brand is already very well known. Our efforts are more in terms of making the brand available through distribution and penetration. We are going to get deeper in terms of our store presence there both EBOs and MBOs in the next two to three years.
Q] How aggressively does Jockey promote its brand on Digital and what innovative strategies are utilized to reach the masses?
I would say that we are fairly aggressive in terms of our intent and our investments when it comes to our Digital presence. An influencer in specific, it's not a stated strategy for us. It is a strategy or more like a tactic that comes in based on the objective of the campaign. It typically comes in cases where we probably want to have a higher awareness in a very short time for lesser known categories, lesser known products or lesser-known concepts and positions of the brand. Only in such cases, we adopt influencer marketing as a strategy, but in other ways, the second part we would mention in terms of marketplace presence, I think is an all-year presence for us. There are dedicated budgets, dedicated investments and dedicated resources only to ensure that we are visible and present across all our marketplaces throughout the year and it's not just a campaign for us. It's almost like hygiene because that is a year-long running programme.