Leading APAC-based ad tech platform, Tyroo Technologies and global performance marketing company, CJ recently announced a multi-year global expansion partnership in the Asia-Pacific (APAC) region. With this partnership, advertisers and supply partners in APAC gain access to an enhanced advertising platform called Tyroo | CJ with a monthly reach of over 1 billion shoppers and 14+ billion shopping interactions annually.

The business will be headquartered in Singapore and India, and launched with expert teams in many locations across Asia.

Speaking at CJ's annual CJU client event on September 12, 2023, in Santa Barbara, where the partnership was first unveiled, Mayuresh Kshetramade, CEO of CJ said that the "Tyroo | CJ partnership marks a turning point for advertisers, agencies, publishers, and the 4.7 billion consumers across the region, providing an integrated solution to unlock the full scope and scale of commerce across Asia."

"With this alliance, we will aid advertisers in building performance-centric programmes with a tech-first approach by leveraging CJ's technology and methodology in concert with our legacy and deep knowledge of Asia," added Siddharth Puri, CEO of Tyroo Technologies.

IMPACT caught up with the two to understand the partnership and the business.
Q] Before we talk about the partnership, could you please tell us more about Tyroo and CJ so that we can better understand the motivation behind their coming together?
Mayuresh: As one of the largest affiliate or partnership-based performance marketing platforms, CJ is trusted by some of the world's biggest brands - be it the largest global fashion clients, the world's best-known tech platforms, telecom giants, financial services businesses, and others - to provide them with a healthy portfolio of publishers and a global audience that can allow them to drive profitable growth. We have the tracking and attribution methodology that is trusted to perform in every situation. Our value-driven data and analytics cater to the needs of marketers who are continuously looking to diversify their investment mix. For the right reasons, they want to avoid the massive concentration that is happening in the industry right now.

Siddharth: As a platform company, there are two communities we serve. On one end, we have Digital media publishers looking at more opportunities from a revenue and monetization standpoint. On the other hand, there are brands or advertisers with various business needs. As we build an ad tech platform for growth, fundamentally, we want to serve these two communities to be successful. We believe CJ will add immense value to the ecosystem.
Q] Where does this collaboration fit in the overall scheme of things for you?
Siddharth: From a market standpoint, we are trying to be the largest APAC market entry partner for global businesses. This explains our motive behind partnering with CJ. They are undoubtedly the leaders in their space, but the other and most important reason for us is to be present where the growth and momentum is. There are so many new media opportunities being created every day, and Asia is at the pinnacle of where this tech innovation is happening.

We look up to CJ for its core strength in technology. CJ also has a huge scale as well as strong relationships with advertisers and publishers in their core markets of the US and Europe. We want to extend such opportunities for them to monetize across Asia. So, that's where the synergy for this partnership is.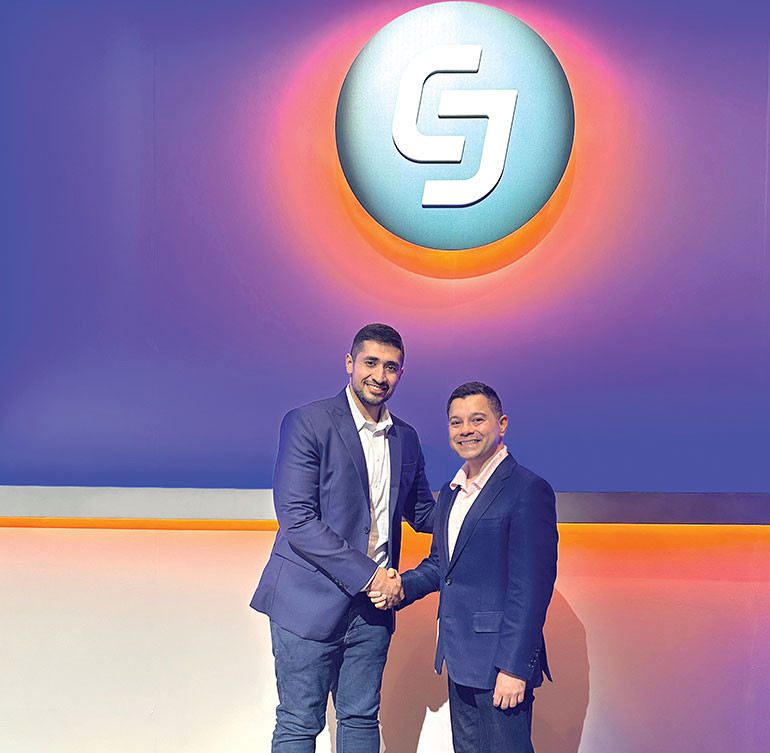 Q] What has forced CJ to focus on APAC, and subsequently, Tyroo?
Mayuresh: For CJ, it's about figuring out the most accelerated means to drive our APAC expansion, especially in markets like Southeast Asia, India, and China, where we have the technology that is best-in-class but not the expertise of the market itself - an understanding of the client base, their needs, what is the best way to grow the talent and drive growth. When you work with partners like Tyroo, who have a great track record of doing this for brands, it really makes the decision to partner much easier.

So, this was extremely straightforward for us. You cannot ignore APAC as a market for growth, and more importantly, you cannot do it as a hobby. Doing it well requires collaborating with people who have done it for other brands in India.
Q] Talking of APAC, could you tell us more about it as a Digital advertising market, compared to other global ones? What are the big opportunities, nuances and challenges here?
Mayuresh: Let us omit the mature markets such as Japan and South Korea here because when it comes to e-commerce and Digital advertising, they are very much like Europe and the U.S. in terms of growth rates, etc. But talking of China, India, and Southeast Asia, there are a couple of forces coming together. First, you have a significantly growing democratization of consumer propositions and plans where these markets, in their own way, are moving away from monopolistic grids to massive liberalization across all categories. This will lead to massive growth and opportunities, not only on the brand and publisher side but also on the consumption side. Second, there is a definite movement towards e-commerce, fuelled by high-performing marketplaces like Temu and Baidu in China, Amazon and Flipkart in India, and Lazada and Shopee in other markets. The third significant aspect is that a lot of brands selling their goods and propositions on these marketplaces are now wanting to have direct consumer relationships. This is already happening in the US, Europe, and Japan in a big way. So, with all these factors combined, I think we are at the right time in APAC.
Q] Are the direct channels a significant trend/movement in India yet?
Siddharth: As both an operator and an investor in this space who has access to a lot of real-time data, I will give you a fun fact – today in India, our estimate is that there's around $6 Bn. of GMV happening on brands.com. These could be very small fashion retailers like a boutique that has set up SKUs on a Shopify store or a big brand like a mobile phone company. India is a market of numbers and volumes. Because we're talking about a hundred or two hundred billion dollars in e-commerce GMV, 6 Bn. seems small. However, just 3-4 years back, large e-commerce brands were doing the same kind of numbers in India, if we leave out the GMV dominated by the top four or five mobile phone manufacturers. Speaking of the CAGR at which this $6 Bn D2C market is growing, our estimate is that it will double in under two years. So, that's the kind of momentum we are witnessing. It's not something which will happen in the future. It's happening already.
Q] How many of these are mid-sized businesses?
Siddharth: When you look at the mid-market, we are tracking approximately 5000 to 15,000 sellers who are contributing to that GMV just on their brand.com. Not all of these people are visible to us because they aren't funded, but they are running profitable businesses. These are people in cities like Jaipur, Surat, and Chennai who are solving first-world problems and building for Bharat. The mid-market is just opening up.
Q] How does Tyroo-CJ intend to help them and the bigger players in APAC? What are the localised or exclusive solutions that you plan to bring to the ecosystem here?
Mayuresh: From CJ's perspective, our offerings transcend all markets, and we have been delivering for our global clients in India and the region. We know what works here, but now with Tyroo in the mix, we want to deploy it with a lot more rigor so that we can tap into the opportunity that Siddharth was talking about. We do understand the unique needs and opportunities of this market. Unlike more established markets, it is massively mobile-skewed from the publisher, consumer, and advertising standpoint. We have to make sure that we address that uniqueness. The other thing we are excited about is the movement from marketplaces to D2C. So, all in all, it may not be a unique offering, but really fine-tuned or adapted for the unique needs of Asia.

Siddharth: Over more than a decade of building this business, in the last 5-6 years, I have come to realise that the ecosystem is broken. Advertisers categorise performance marketing in two distinct buckets - biddable media and everything else. They seem to have lost sight of the basics – the two capabilities that a brand must have. One is to go out and sell their product or value proposition, engage with the publisher, look at the environment and customize their offering accordingly, just the way it would work in offline retail. You have to negotiate a relationship with the person who's opening up that real estate for you so that you're able to get a profitable customer and he also gets to make his share of revenue.

The second thing is that investment in technology and data sciences has dwindled. People have forgotten the value of investing in deep tech that can enable them to look at the consumer journey at every touchpoint closely, as opposed to what is simply being reported by the attribution software of whatever platform they might be using. These are the two important problem statements that excite me and with this collaboration, I want to be able to deliver profitable growth for each and every business with the right set of advertising opportunities.

I would also like to add that apart from advertisers and publishers, agencies also play a crucial role in the larger ecosystem in Asia. CJ has globally been invested in working with several independent agencies, benefiting them and their customers significantly. That's something I definitely want to learn and apply on our side of the world so that we are able to give more power to the agencies in the system as well.

Mayuresh: I believe that as the partnership grows, it's actually going to have an incredibly positive effect on the industry in all markets in terms of elevating what is either underutilised or misunderstood. That's the most exciting part for me.