Mineral water brand Bisleri recently rolled out a 360-degree integrated campaign – Samajhdaar Bisleri Peete Hai' to create awareness about counterfeit products and to urge consumers to settle for nothing other than the original Bisleri water. Angelo George, CEO, Bisleri International talks about the brand's latest campaign, its recent foray into the hygiene category and the challenge of the counterfeit market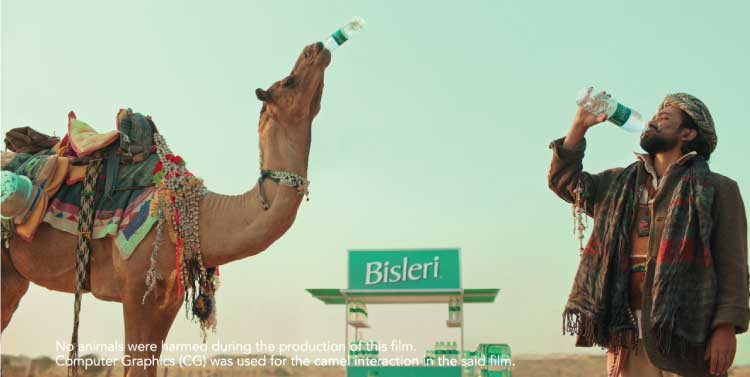 Q] You've brought back the Bisleri camel with your #SamajhdaarBisleriPeeteHai campaign. What are your expectations and objectives this summer?
We're very excited to bring back our enduring Bisleri camel with a new story. We continue with our unconventional brand ambassadors in this campaign too. If you go back to our old campaign, the key message was 'Samajhdaar Jaante Hain Har Paani Ki Bottle Bisleri Nahin.' So, the samajhdaar camel understands that every bottle of mineral water is not Bisleri. This time around through the campaign, we are showing consumers that humans can be careless in their choices, but the camels emphasise what makes Bisleri a far superior choice. In the mineral water segment, all bottles appear similar but there are clear reasons why Bisleri is the most preferred brand. And that is what this campaign unveils. So we appeal to the intelligence of consumers to be diligent and choose a trusted brand like Bisleri. Moreover, remember, they all end up paying the same price.
Q] How is Bisleri creating awareness among consumers about counterfeit products? What measures are you taking to deal with such issues?
So, there are many products in the market that imitate the colour, logo and design of Bisleri. These are actually disruptive and clear infringement on our trademarks. One thing is we do regular raids and legal actions against these counterfeit products. But more importantly we want to ensure consumers choose the genuine Bisleri bottle. We educate them about the things they should look for to be 100% sure. Apart from a digital campaign, which we had run for some time – 'Fake Ko Fenk Do,' we also incorporated measures like the genuine mark stickers on our products with a QR code. You can validate whether the product is genuine or not. We also launched a direct to home initiative called 'Bisleri @Doorstep' through our own online portal so that direct deliveries can happen to the home – that way people do not have to worry if the product is genuine or not.
Q] How did Bisleri's previous campaign – 'Samajhdaar jaante hain, har paani ki bottle Bisleri nahi' perform? What were some of the key takeaways from that campaign?
It was three years ago when we really launched it in 2018-19. So, the whole idea was about making sure that people ask for Bisleri and actually validate whether they're getting it. And we've taken a multimedia approach on the entire thing with out of home for the first campaign. In fact it was one of the most watched and most talked about in the market. Simplicity in communication is also a key thing if you ask me and about 31% of our investment has actually gone to regional markets as well to drive awareness. So, these camels overnight became one of the most popular Bisleri ambassadors. And the campaign also won us many awards, but the most important outcome if you ask me, was that that 86% of the consumers had seen the camel campaign, and could link it directly to Bisleri. We were able to shift the preference and top of mind recall was increased by 8%. Now, these are significant numbers.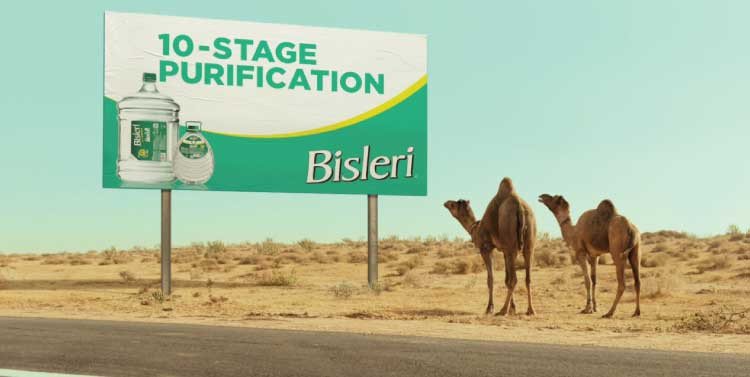 Q] You mentioned the Bisleri @Doorstep platform for home delivery earlier. What kind of traction and sales are you seeing from e-commerce and online platforms now?
We launched Bisleri @Doorstep as an extension of our commitment to offer convenience to our consumers. We ran a digital campaign – 'Ab Ghar Aaegi Bisleri' which was very well received last year on social media. The whole premise was we advised people to stay in the safety of their homes while we deliver the full range of Bisleri products to them at the doorstep. In fact, we were actually the first brand in the category to launch an e-commerce platform. So far we've had about 20 lakh users who have visited our website. Additionally, the entire portfolio is online. Our numbers are increasing at a steady rate. We are active in all the large cities in the country and are also expanding to a few more cities in the days to come. And it has now also helped us to integrate consumer data from various touch points into one data platform. So, we are able to profile consumers and target them through personalised communication in the media of their preference. I can't share specific numbers but we are witnessing almost 2 to 2.5 times the traction since the beginning of the new fiscal with our consumer engagement initiatives.
Q] Bisleri recently forayed into personal hygiene category with Bisleri Hand Purifiers; how has the product fared in the market since the launch?
We have just launched these products and one of the key issues which we have seen from the consumer feedback was that most of the hand purifiers in the market or sanitizers didn't have moisturisers, and they often tend to dry the skin on your hands. The other couple of aspects were about the packaging quality overall and the kind of fragrances being used. So, we actually crafted all this into our new formulation and just launched it in the market. We have three variants with three fragrances and they have been very well received by consumers.

Q] As a legacy brand, what efforts do you make to stay relevant in the market and how are you positioning your brand against competitors?
Bisleri is more than just a brand. It's a symbol of trust and purity and really a household name for the last 50 years. We are honoured that our consumers have made us one of the most trusted brands in this country. And for Bisleri, consumers have always been at the heart of our business and our promise of goodness comes in products from pack sizes that are actually appropriate for different consumption occasions. And our manufacturing strategy is of having brands and distribution networks closer to the markets. It has been about the theme of communication over the years and about the core proposition of trust and purity. In fact the current camel campaign actually underscores our quality and promise with contactless manufacturing, 10 stage purification, 114 quality tests and the fact that Bisleri was the first brand in India to have added minerals.
Q] What started off as a promising year has now taken a challenging turn with the second coronavirus wave… What are your expectations from this year?
I would put it simply that we are hopeful of the future. These are difficult times which we need to navigate as a corporate and as individuals. Hold, support and motivate each other. In fact, there is a lot of cross industry collaboration that is happening, and we've ourselves seen that in our e-commerce deliveries, working with partners actually improves your efficiencies significantly in logistics. And there is a lot of cross industry knowledge sharing which is happening in the current times. This is what benefiting the society at large. So, I am sure this time shall pass.