Over the past weekend, when the news of 9X Media's Managing Director Pradeep Guha's sudden demise broke, the media and advertising industry expressed collective grief at the loss of one of its biggest champions. Guha, better known by his friends in the industry as PG, was diagnosed with advanced liver cancer three weeks ago and was being treated by some of the top specialists in Mumbai in consultation with doctors in Sloan Kettering New York. Unfortunately, his condition deteriorated rapidly due to the aggressive nature of his illness, and he eventually breathed his last on August 21. His sudden death came as a shock to many, and resulted in an outpouring of tributes and grief from leaders across the industry and the many people whose lives he touched.
A LEGENDARY CAREER
An alumnus of St Xavier's College, Guha began his media career in 1976 with Bennett Coleman and Company Limited (BCCL), a company where he spent almost 29 years. By the time he left BCCL, Guha had built a reputation for himself and was prominent across the media and advertising circles for his tremendous achievements. At BCCL, he worked closely with Vice Chairman, Samir Jain and the two went on to create many business milestones that would cement BCCL's position in the Indian print media industry.
After a close to three-decade long association with BCCL, Guha was appointed by media baron Subhash Chandra as the CEO of Zee Telefilms (now ZEEL). The marketing whiz took over at a time when the broadcaster was facing tough competition in the market. Guha was instrumental in growing Zee TV's market share and making it a close second to market leader, Star Plus. He also played a pivotal role in launching DNA, a 50:50 JV between Zee and Bhaskar Group, taking on the might of his former company, BCCL.
Apart from his stints at BCCL and ZEEL, Guha has also produced films like the Hrithik Roshan and Karisma Kapoor-starrer, Fiza as well as the 2009 film, Phir Kabhi.
His next big move in the media industry was taking over as the MD of 9X Media, which was founded by former Star India CEO Peter Mukerjea and his wife, Indrani Mukerjea. Guha took over the reins of the company that was in losses for three years at the time, restructured it and brought it back on its feet through a series of strategic moves including selling 9X to ZEEL.
Guha remained at the helm of 9X Media as MD till he breathed his last. He spent more than 11 years at 9X Media, which is his second-biggest innings in a media company after BCCL. He was also a co-founder of Fountainhead MKTG, an experiential marketing agency that was launched in January 2010. The agency eventually got acquired by Dentsu in 2015 for reportedly Rs 300-400 crore.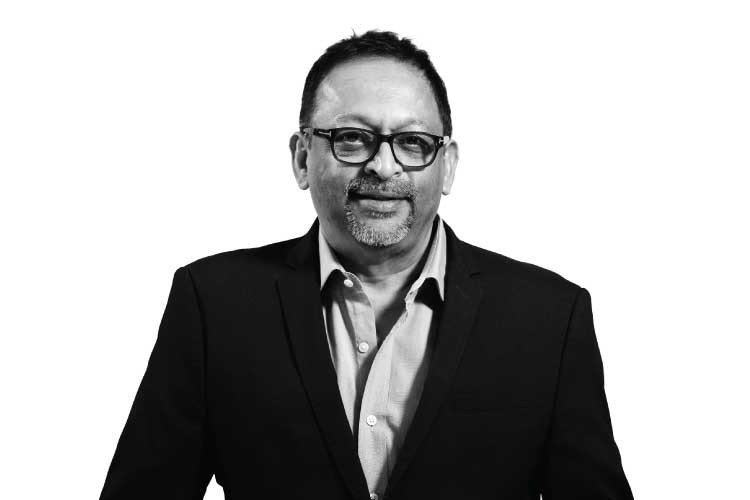 TAKING INDIAN CREATIVITY TO THE WORLD
Pradeep Guha had big dreams, which he brought to life, including taking Indian creativity to the global stage. His contribution to the world of advertising, marketing, print media, and cinema will be talked about for years on end, and will definitely show the way for emerging industry leaders. The doyen is credited with pushing Indian creativity to new heights, and also taking Indian advertising to the prestigious Cannes stage. It was in the mid-80s to early-90s that the Cannes Lions Festival of Creativity was in the process of expanding its footprint globally and getting more countries to participate. They decided to tie-up with leading media firms across the world and from India, the lead was taken by The Times Group and spearheaded by Pradeep Guha, who also became the national representative at the festival for a decade.
Highlighting his contribution to India's presence at Cannes Lions, Ashish Bhasin, Dentsu International CEO APAC and Chairman India told exchange4media, "Pradeep (Guha) and his team were the principal force in getting India to Cannes Lions. I remember, in the initial days, India's participation at Cannes was peripheral with only a few big agencies sending a handful of entries and PG really pushed us, as an industry, to send our works at the festival. He really marketed the festival well within the circuits. Then he and Times Group started hosting these Indian parties at the festival which really became a landmark. You can gauge the thickness of Times Group's partnership with Cannes by the fact that even after decades, they remain our link to the international festival of creativity."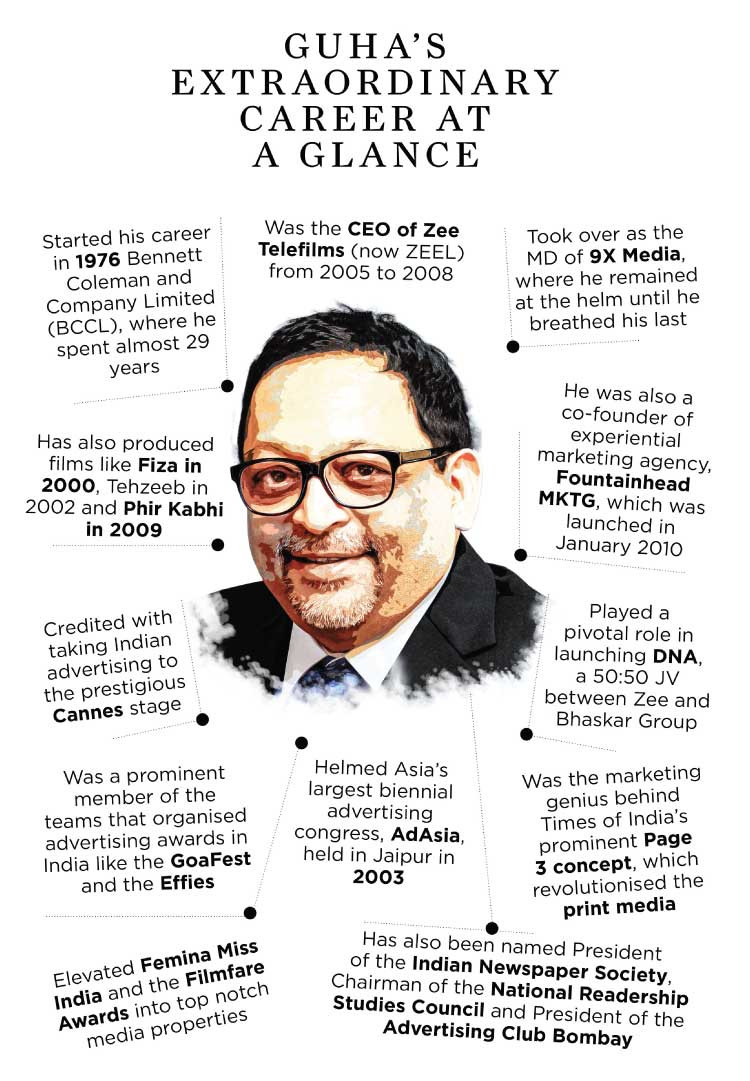 BRAIN BEHIND INDIA'S MARQUEE AWARD PLATFORMS
Guha was also a prominent member of the teams that organised advertising and marketing awards in India like the GoaFest and the Effies. He helmed Asia's largest biennial advertising congress, AdAsia, which was held in Jaipur in 2003, shining the spotlight on the immense creativity in the region. As chairman of the steering committee, Guha recently oversaw the organisation and execution of the World Congress of the International Advertising Association, which was held in India for the first time (in Kochi) in February 2019.
Industry veteran KV Sridhar (Pops) recounts the pioneer's major contributions to the industry. "He was a cheerful friend and an active marketer who was always brimming with ideas. He left a mark not just on Indian advertising but also on the sub-continent with his attempts to bring global recognition. He made Wednesdays a sacred day for the fraternity with his endeavours at Panache and the various A&M awards and seminars his team pulled off during his stint at Times," notes Pops.
Another ground-breaking initiative that Guha devised was the Page 3 concept that made The Times of India a cosmopolitan entity in early 2000s. Page 3 went on to become a model for many other publications in the years that followed. As the publisher of Femina and Filmfare, he is credited to have built Femina Miss India and Filmfare Awards into top-notch event properties as National Director of these events.
He was also associated with many media, marketing and advertising bodies. Guha has been the President of the Indian Newspaper Society, Chairman of the National Readership Studies Council, President of the Advertising Club Bombay and the first Chairman of the Broadcast Audience Research Council (BARC). Furthermore, he was also associated with International Advertising Association (IAA) and Asian Federation of Advertising Association (AFAA).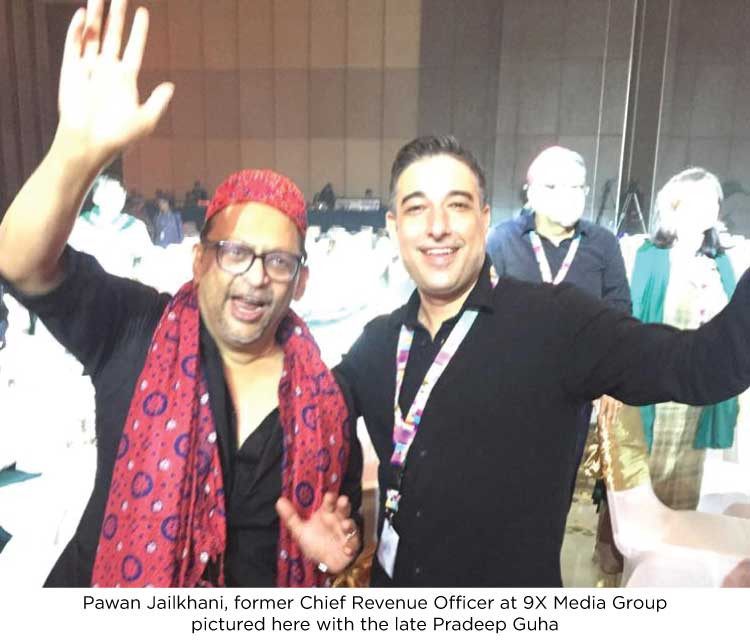 OUTPOURING OF INDUSTRY TRIBUTES
As the news broke, industry leaders took to Twitter and other social media platforms penning their tributes to Guha. Many leaders remember him for his work in taking BCCL to new heights, while also recognising the doyen's contribution in shaping their careers too. The exchange4media Group reached out to various industry leaders to share their thoughts on his illustrious career and achievements. Shashi Sinha, CEO of Mediabrands said, "From taking us to Cannes to putting Indian advertising on the world map, he was the person who really thought big and achieved things. I worked with him at Zee and was lucky enough to follow in his footsteps and become Ad Club's President a few years after him. And he was such a good help these days; would never say no to any meeting and would support us in getting even the most difficult things done. My condolences to the whole family and the industry. It feels like we have lost the Taj Mahal of the industry."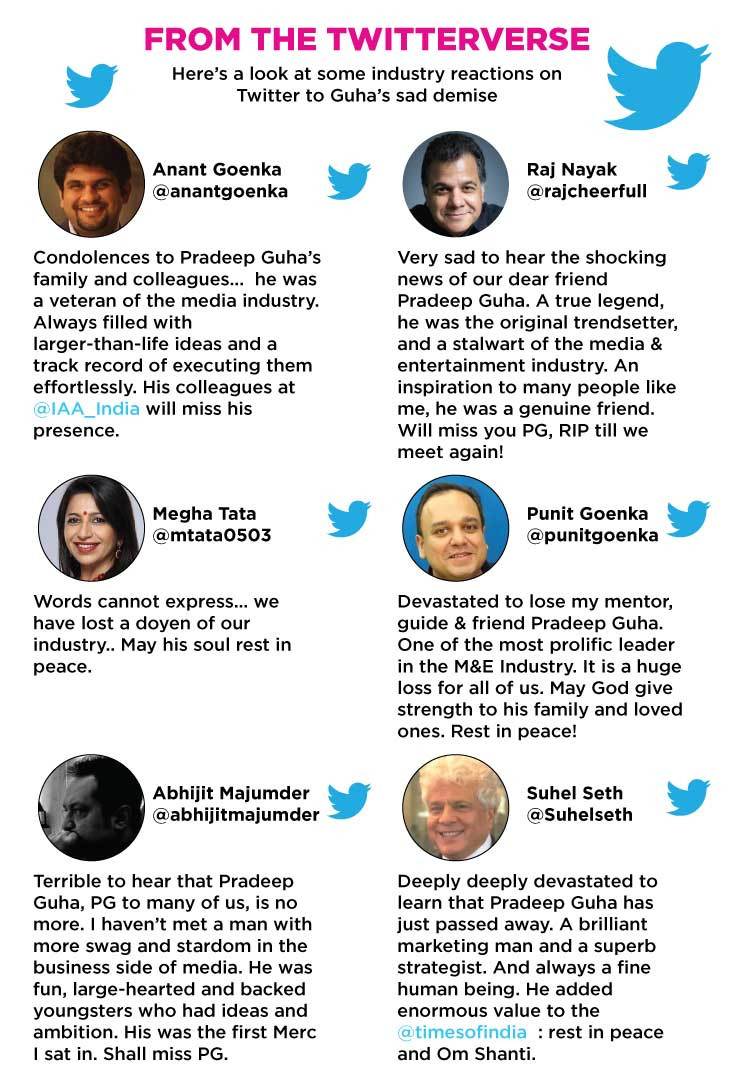 Sam Balsara, Chairman, Madison World, showered huge praise on Guha, whom he worked with closely for AdAsia Jaipur. "Pradeep was not just the Chairman of AdAsia Jaipur but the master strategist who had conceptualised the event in detail to put India on the global map. To him also goes the credit of revolutionising ad sales. He brought to ad sales glamour and oomph that made ad sales a career for hundreds of people and he taught media owners to treat their titles as brands that had to be built, nurtured, and respected. He leaves behind a rich legacy and a huge number of admirers and chelas, all who crossed his path. May God rest his soul in peace."
Prior to his elevation as the CEO of Zee Enterprises Limited, Punit Goenka used to work under Guha as the Network Operating Officer. Reacting to Guha's demise, Goenka had tweeted, "Devastated to lose my mentor, guide and friend, Pradeep Guha. One of the most prolific leaders in the M&E Industry. It is a huge loss for all of us. May God give strength to his family and loved ones. Rest in peace!"
Pawan Jailkhani, Founder & Director, Adtech Data Analytics Co., and former CRO, 9X Media, also spoke of his personal experience of having worked with Guha. "PG boss was indeed one of the best turnaround specialists in our media and entertainment world. He was and always will be, someone who loved and lived life, had a copious fondness for others, was a benevolent and ingenious leader. A soul that should be celebrated."