Q] How has 2020 panned out for JioSaavn? What communication strategies have worked best for your brand during the year?
Vinodh: When we look at 2020, especially with the second half of the year, the results were better than we all expected. And a lot of that is thanks to the resilience of the team, the collective leadership by our management team, and very fast and robust decisions that we made early on, whether it's like closing our office space, or defining our WFH protocol, or just like overall more communication with our staff. And the reason we were able to get through this is that it all really boils back down to a strong focus on our customer segments. There was absolutely no commute time between March to May, we saw that in our streaming volume. We realize that part of our role here is to be a source of comfort and to just provide all of that music available to just get their minds off of a very tough period that we're still coming out of. From the artists' perspective, a major part of their income stream was compromised i.e. live events. And so we kept on releasing new music and working with new artists. With advertisers, there was major disruption, so we packed a lot of consumer insights and just tried to help advertisers understand what was going on and how they could still continue to operate and engage consumers to drive their businesses.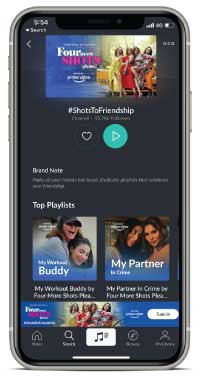 Q] In these new circumstances, what are the kind of brand collaborations you're exploring on JioSaavn?
Virginia: Our brand collaborations range from pure media buyers to audio and our display inventory. There are also content associations, and all of these collaborations are of course very much driven by their marketing objectives. And as we saw during the last six months, some brands actually really wanted to take advantage of the stay at home culture and introduce new products and services. And so we saw a lot of brands actually adopting our media strategies to announce new products. The other side of it was content associations. We saw brands like OnePlus come on with sponsoring our annual 'No Filter Neha' podcast series. And it was the at home edition, so she was recording at home. But then we've actually done some very interesting things that's been a combination of media and content. For Kit Kat, we did a one-of-a-kind strategic partnership, where we co-branded 25 million Kit Kats with JioSaavn's logo. And we really encouraged consumers to participate in a consumer benefit programme that gives them a chance to win a one month pro subscription for JioSaavn.
Q] What are your thoughts on the audio streaming industry in India currently? What are the key trends that will drive growth for the segment?
Vinodh: Music and audio OTT is the most exciting space to be in. There are a lot of eyes on video, no pun intended and there are a lot of players on video OTT as well. Audio is arguably a bigger category, because it's certainly a companion and almost like being like a soundtrack to people lives. It's always in the background. It may not always be on an OTT service, but our vision is that for every aspect of your life, JioSaavn will be there to be that soundtrack for you. So there's an interactive capability to it. And there's just an overall wider applicability to audio than video services, especially when people go to one to be able to meet all their needs. It's a space that is ripe for continued innovation.
We have to continue to raise our own bar to make sure that we're able to anticipate exactly what users want and need. There's still so much more growth ahead – there's still about one third of India that's still not really on data plans. So there's a lot of new users that are coming online. We're spending a lot of time on what I'll call very deep personalisation. And just making sure that the experience that users have is just exactly what they want at that moment in time. So it's almost like we're predicting what music and audio people would want to listen to before they even think of it.
Q] Are you seeing a substantial increase in your advertising revenue from brands after COVID-19? Which were the top categories to invest in your platform?
Virginia: After a brief blip in the early part of lockdown, we've seen growth through the summer. We had over 120 brands actually advertise with us over the summer i.e. from June through October. These were brands from a broad cross section of categories, including first time digital advertisers. With a lot of the other avenues closing down such as Radio, etc., they really were attracted to the idea of going Digital. We actually had almost 25% growth year on year in our revenue. So it really hasn't slowed down. We've had 33% more advertisers in 2020 than 2019. So it's been a good year.
The top categories of advertisers are FMCG, media and entertainment, health and fitness, gaming, BFSI, etc. But our largest advertisers tend to be in the media, entertainment and OTT space and that trend is growing even more and more. Netflix and Amazon Prime Video tend to have a lot of releases. So you'll see them come on board very frequently.
Q] How are you positioning your brand against other strong competitors like Spotify?
Virginia: We're intrinsically a people first company. And when you take a people first approach to design, you also take a people first approach to how you deliver ad experiences. So it's all about feeling like a service, not an interruption. And when you think about some of the other platforms, they take more of an advertising product point of view. What's more important is we have 100 million plus users that come and spend their precious time on our platform every day. To summarise it with our mission for the advertising business, it's really all about helping brands be relevant to the JioSaavn audience and help them reach audiences at scale, in a timely and actionable fashion through native ad experiences that do not feel like an interruption.
Q] What will be your key focus areas going forward?
Vinodh: In terms of our overall focus areas, the first thing that we're really laser focused on is just doing a lot of the simple things right. There's no one silver bullet or one feature that is going to vault a company into the next level. It's just the attention to the smallest details. No matter what type of environment the user is in, we want to make sure that we're delivering the absolute best experience, and that is something that's been consistent for us year-on-year and will never disappear from our focus in the years going forward. In 2021, you'll certainly see a lot more activity with artists.