Q] Bacardi has launched its first-ever localised India campaign after more than two decades of being in the country. Before we talk about the motivation behind it, could you briefly retrace the brand's journey in India?
We've been in India for about two decades. Originally, we had launched Bacardi Blast and 'Be What You Want To Be' in 1999. Now, 20 years later, we have a very similar positioning with 'Do What Moves You'. It's all about being yourself and not letting others' judgments cloud you. So, globally, the Bacardi brand has remained consistent.
Around 2018, when we relooked at our global strategy and decided to double the business globally, we identified four key emerging markets where most of that growth would come from, and Indian was at the top of that list. For 13 years we've had Bacardi NH7 Weekender, which is one of the most loved festivals in the country. And last year we also launched our Bacardi non-alcoholic mixers, Mojito and Long Island Tea. All of those things fell in place and it just seemed like the perfect time to launch an India-specific campaign.
Q] What were the challenges of adapting a global campaign for the India market?
If you want to win in India, you have to also understand that the country is one of the most dynamic and nuanced consumer markets in the world. So, we really needed to understand what those nuances are, and not just take a global or an all-Indian approach, but a localised Indian city approach that appreciated and understood them. Bacardi has also stood for Caribbean life and culture, and so in India, we've launched our 30 and 60-seconders with the Caribbean song 'Magalenha', but we've blended it with Indian instrumental using bansuri undertones. We have tried to portray the same thought visually, with scenes of the beaches in Goa, the streets of Kolkata, and the house parties in Mumbai.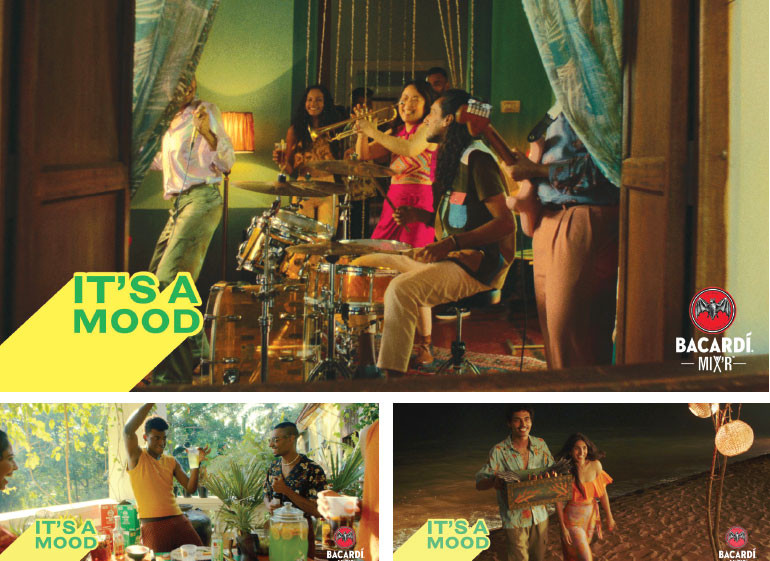 Q] Let's talk about the different elements of the campaign and the media mix. How have you allocated spends across mediums?
It's a 360 degree-year-long campaign that is going to be spread out across four phases. We've ATL, experiential, cinema, out-of-home, OTT, radio, influencers, digital, social, and some marketing tech that will be pushed throughout the year. We're launching with ATL, which is live now. As we move through, we'll be using influencers that we call 'mood setters' as the authentic voices of their respective cities. Additionally, we'll be using interesting out-of-home spots and stickers on social and digital that really bring the culture of that city to life. All this will be accentuated through our experiential, which is Casa Bacardi and NH7 Weekender, and then we will close it off with some really interesting marketing tech innovations.

Regarding spends, when we did our Connections Plan with our agency OMD, we realised that the Bacardi audience is on multiple platforms simultaneously. So our media mix represents 75% of our addressable audience, which is huge, and we've also increased our overall media investment. Though our relative spends on Bacardi have remained largely the same as last year, we've increased our media expenses by about 50% to drive the amplification through and achieve resonance on the platforms where our consumers are present.
Q] Have you also identified any key markets in India?
We have our 'battleground markets' in India – Maharashtra, Delhi, West Bengal, Karnataka, and so, the cities within that like Kolkata, Bengaluru, Mumbai, and Delhi. But there's also tier two cities like Bhubaneswar, Indore, and Dehradun. So it's a mix of about 20-plus cities that we have identified.
Q] When you talk of the 'experience economy', apart from BACARDÍ NH7 Weekender and Casa BACARDÍ, are there more elements to it?
So, 'experiences' is super interesting in India right now. The EY Future Consumer Index had put India second only to Thailand in the world where consumers are looking to spend 31% of their net income on experiences. That could be through dining, live events, music concerts, on-trade activations, or more, but there's massive optimism around the spending power of Indians in contrast to some of the other markets of the world. It's the fifth-largest economy now, and is looking to become the third largest by 2030. Consumers are hugely optimistic about their spending power, and they want to spend on experiences, building connections with the people that they care about the most. The structure of social institutions in India where people have large families, large friend and social circles is such that person-to-person connection is very important. We give them the opportunity to further build those connections through the 30-40,000 person Weekender festivals, the 5,000-person Casa Bacardi, through 500-person events and other smaller, more intimate on-trade gigs as well.
Q] What are the brand and marketing objectives of this campaign?
Bacardi is the number one rum in the market. We have the highest market share of white rum, and our premium rum portfolio also has the highest market share. So, whilst we are already the number one player, we do different activities to engage with the audience. Additionally, with #ItsAMood we also want to build relevance for our non-alcoholic mixers among young consumers.
Q] There has been a trend of young consumers, especially GenZ, moving towards non-alcoholic drinks, and moderate and sustainable consumption patterns lately. Was that the reason behind launching Bacardi Mix'R in India?
Yes, exactly. While Bacardi has always been a part of youth culture, we also wanted to be more inclusive. Because youth culture is about being more inclusive and making choices that you want to make, we wanted to tell them that whether you drink or not, you can still build those connections and have a great drinking experience. The Bacardi Mix'R – Mojito and Long Island Tea are two elevated drinking choices without alcohol. There is a market for that, and we're excited to be a part of it.