Talking about the new hybrid model of partnership, Per Pedersen, Founder and Creative of By The Network says, "It was liberating to break free from the shackles of the big networks. I honestly think that By The Network is a serious bid on a future model for our industry. We will see a flood of new independent shops popping up but the independents will have to work together in order to compete with the holding companies and the Accentures of the world. I'm optimistic that in a year or two we will see other networks following the example of By The Network." IMPACT caught up with Abhik Santara, Director and CEO, Atom and Per Pedersen to discuss what the future holds for their unique partnership.
Q] Less than one year after starting Atom as an independent agency, you have decided to be a part of a network, was that always the goal?
Abhik: It definitely was one, but not this soon. At the same time we were very clear not to compromise on our independence and creative thinking. Being a partner to By The Network allows Atom to offer our clients the scale, reach, modern tools and resources of a network agency minus the bureaucracy of archaic models. And therefore we can stay true to our core of being truly hybrid and operate in a nimble fashion.
Q] Why have you picked Atom to be your agency partner in India, what does it bring to the table?
Per: I was fortunate to work with Atom on a successful global pitch recently and was impressed by their high creative level and business understanding. Atom is a perfect match for By The Network as an ambitious and upcoming creative agency but more importantly we get along really well and that is key to building a strong network. Atom will be our exclusive partner in India. We really want to keep By The Network exclusive with maximum 30 agencies worldwide to ensure a strong and tight knit culture, so we are very careful while selecting agencies.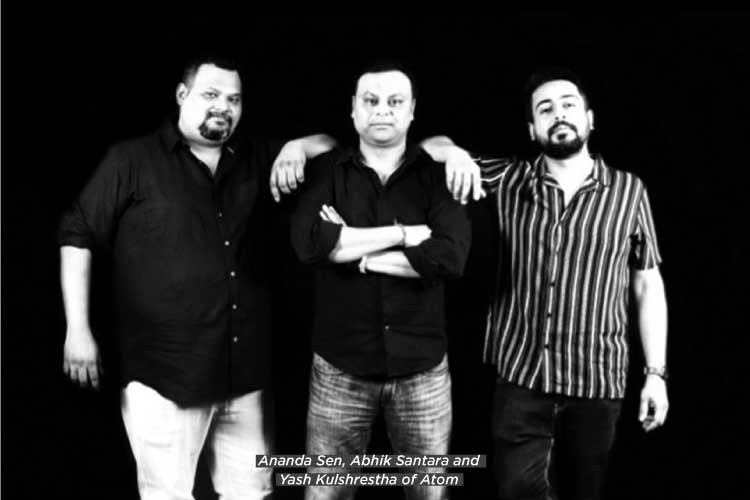 Key Pointers
By the Network is a global agency network with 16 agency partners covering 20+ markets.
Atom joins as the 17th and as the exclusive partner representing India and South Asia



Q] How will Atom benefit from being a part of -- By The Network and what kind of expertise will it bring to Atom?
Abhik: We can now tap into the best of global talent to supplement our current expertise. For example; we can deliver world class production, new age tech, UI/UX, AR/VR, which are hardly available to any Indian agencies and they have to rely on need based borrowing. Atom will now have the most modern tools and cross -cultural insights in the areas of data analytics & media. For global MNCs trying to dominate in India and Indian MNCs with global aspirations, this will be extremely beneficial too. They can have a borderless creative journey across markets, without diluting the core brand idea. We have already acquired two large Indian brands which we are taking global and three global brands which we are launching in India.
Q] How is By the Network going to be different from the other agency networks in the world?
Per: The most dramatic difference is in our ownership. By The Network is owned by the agencies - not vice versa, and that makes a huge difference compared to the conventional holding company structure. For our clients this means that we mix the best of two worlds: The creative edge of the independent hot shops and the reach and scale of a global network. This combination leads to better work and makes us stand out in an industry looking for new ways of working with the clients. We founded By The Network to do better work and to challenge the old ways of the creative industry so ultimately that is how we measure our success. Judge us on the creative quality of the work we do for our clients and on the impact we have on the industry.
Abhik: By The Network is different in more ways than one. It tackles all the problems of a classical network and marries that with the benefits of a new age independent set up. Let's look at the pain points the client and agencies face when dealing with age-old set ups. Layers of processes take endless days from client brief to creative output. In today's time, a brand cannot afford that. Agencies have to take care of the fat salaries for the executive floor who have minimal contribution to the actual business problem of clients. Agencies are not able to pay for the right talent because of the fixed revenue which has to be sent to regional HQs every month. During my tenure in network agencies, I had to get frugal in handing out increments to the people who are actually delivering on the business, but couldn't ever negotiate the fixed fees with the HQs. All these complexities prohibit network agencies to deliver nimble, quality and agile solutions to brands. The new model cuts through these practical issues and offers greater engagement in clients' actual business and not just the communication part. And at the same time, give them the access and scale through the finest creative and advertising minds in the world.



About Per Pedersen
Per Pedersen has been in the global agency business for over 25 years and has won 500+ awards including more than 150 Cannes Lions. He was the co-founder of creative hot-shop Uncle Grey - the highest ranking creative agency in Denmark. In 2017 he became the Global Creative Chairman of Grey Worldwide after which recently he launched By The Network, a new global network of creative independent agencies.