Q] What was the idea behind 'Swad ka Dhamaka' Campaign?
The campaign #SoundsOfTheKitchen' or 'Swad ka Dhamaka' was kicked off during Diwali because we prepare many delicacies, and burst fire crackers during the festival of lights. When we were brainstorming for the campaign, we realised that every food we cook makes a different sound during preparation. So, we accentuated the sound of the kitchen and integrated this with Diwali, developing the #SoundsOfTheKitchen' campaign. We invited consumers to share with us sounds of their kitchen while they cook their favourite food. We got many entries which culminated into a beautiful campaign. This campaign was also promoted through influencers on different digital platforms.
Q] What was the marketing mix of the campaign?
The campaign was primarily for Digital mediums. We are the market leader in edible oils and the number two player in the 'atta' business. We do many activities on different mediums but TV is still the biggest medium through which we promote our brand. However, for this campaign we concentrated only on the Digital medium because Digital penetration is growing by the day and being such a big brand, we wouldn't want to miss out on a good opportunity. We operate in the branded commodity business where margins are very thin, and therefore have to be very cautious about every rupee that we spend. We are very focussed on the return on investment. So, we keep reviewing our media mix strategies every six months and relook at how to allocate money.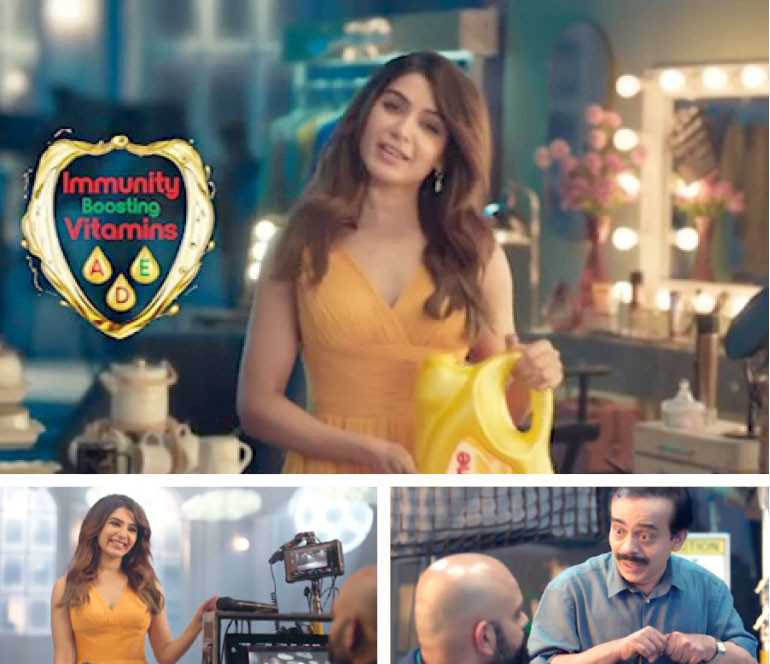 Q] In the Atta and Edible oil category, whom do you consider your closest competition?
In atta, our closest competitor would be Ashirwad Atta which is a national player. But when you go to a different geography, you'll have a different set of competitors there, because every market has some brand or the other in the category. But yes, there are only two big national brands in India, in the atta category i.e., Fortune and Ashirwad. In the edible oil category, you have various competitors, but at an overall level, Adani Wilmar is the number one player with 18.6% edible oil market share (Moving Annual Total (MAT) Oct, as per Nielsen Retail Index).
Q] Adani Wilmar recently engaged with actress Samantha for its campaigns, how has the association helped the brand?
We currently have three big celebrities endorsing our brand. The first one is Akshay Kumar, who is one of our brand ambassadors. We also have Sourav Ganguly, and Samantha. Samantha is very popular among the consumers in the south where we are trying to make inroads through different aggressive strategies going forward, and she will help us connect with the people there, better. So, all the campaigns with Samantha will be very specific to the South for the time being.
Q] Geopolitical issues affected the FMCG market in India, did Adani Wilmar take a hit during the crisis?
The Ukraine-Russia war definitely had an impact on our business because Russia and Ukraine are major suppliers of sunflower oil. When this war began, it impacted supplies. Most of our prices are governed by rising demand. The war impacted sunflower product prices in the country, it was not just us, but the entire industry which it touched. This affected our revenue because prices went up, we have seen a lot of volatility in oil prices. Prices went up by almost 30-40% for almost 18 months. Post that, the prices have actually come down with the intervention of the government. But now that you are seeing that the prices have lowered, going forward, we'll see high demand.