Q] Cult.Sport started its journey with sportswear, and gradually went into other categories such as home equipment, outdoor cycles, and nutrition, to name a few. Can you explain how newly acquired brands have helped you to expand your product portfolio and consumer base in recent years?
Equipment, cycles, and sportswear are three of our largest categories, but we also have businesses such as nutraceuticals, and smart watches. Cult.Sport has acquired a bunch of companies, primarily in the equipment space, and they have brought in the right expertise and expanded our portfolio.

We had acquired a company called OneFitPlus, which is primarily into manufacturing cardio machines like spin bikes and rowing machines. Ever since they came in with their capabilities, we have been seeing aggressive growth. Today we are the largest player online when it comes to outdoor cycles. In other categories as well, we are growing pretty fast, and now we are also looking to expand our portfolio to sporting goods, other sporting accessories, etc.
Q] You are primarily a D2C brand. What percentage of your annual sales and revenue can be attributed to the e-commerce channels, and how much to the walk-in stores?
We are a D2C brand, and as of today we do not have our own offline stores. That is something that we have planned for this year. Today, the majority of our business comes from our own D2C platform, and also from Amazon, Flipkart, Myntra, and Jio.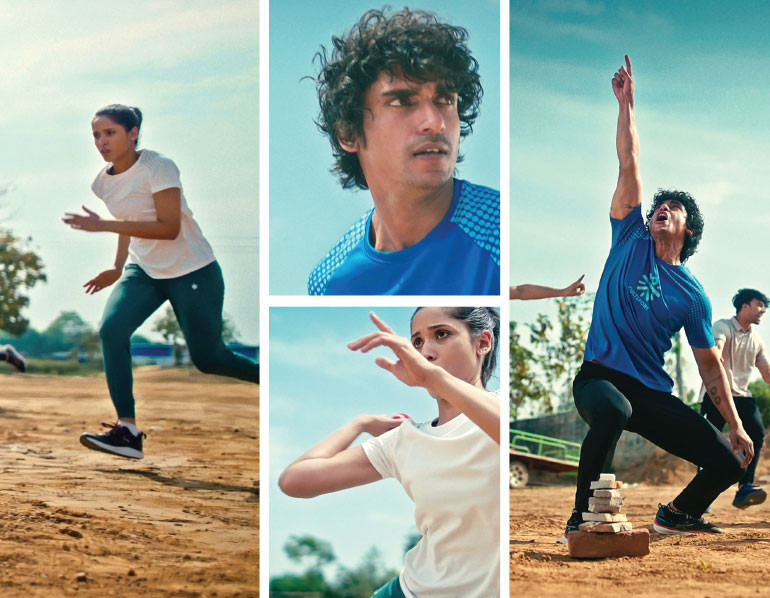 Q] How does your product stand out in a market full of big names? What is your USP?
Many international sports and fitness brands have always focused on Western concepts and brought them to India. We are focussed on building products for India, specifically for Indian consumers at affordable price ranges, and without compromising on the quality. Even though the scope of the Indian footwear market is large, international brands such as Nike, Puma, Adidas, among others, have a miniscule share. There's a huge space left for us, and so we are making sports shoes, sport apparel, and tights.

Similarly with cycles, there was an opportunity for a new brand. The market already has legacy brands like Hero, and VECTOR 91, but we are a new brand with newer designs, catering to consumers in both online and offline spaces.
Q] In the previous year, your campaign had a greater focus on the smart features of your fitness products and home equipment range. What is the objective behind this latest campaign, and what are your expectations from it?
Last year was all about introducing what we are building. But this year we are trying to focus on our primary consumer, the everyday athlete. When I say everyday athlete, it does not mean a professional athlete, I mean a regular person who has fitness needs in his or her daily life. It could be at an amateur level, or a non-professional level.
With this campaign, we wanted to focus on people who have everyday sporting and fitness needs, even for something like Pitthu or seven stones. It requires you to have the right gear and the right products. That is why we are trying to build affordable, high quality products. This is one of our first minor campaigns. There are a few major campaigns lined up for this year and the next.
Q] What are the major trends that are propelling the expansion of your portfolio, and shaping your marketing strategies?
I think the biggest trend in India right now is that sports adoption is really spiking. We have even opened up sports centres where you can play badminton, or swim, among other things. So, sports is seeing a big movement. The growth trajectory that Puma, Adidas, and specifically Decathlon have seen over the last couple of years is proof that the sports and athleisure market in India is growing. That's where we want to have a strong presence. These trends have been helpful for us to study each category.

This is why we are looking to expand the categories where we exist – cardio and cycles, and also enter new portfolios like smart watches, as we did last month. Next in line is sporting goods. So, we are looking at the entire sports and fitness market, which is a 5 billion-plus TAM(Total addressable market) overall in India.