Q] Today everyone is curious about what all AI can do. How exactly did you create Aaditya Iyer, how does he communicate etc., Please give us the complete picture along with the technical details of his existence.
Amit: Bhavesh Kosambia is the creative lead on this campaign, the idea came from him. Arjun wanted us to do something with ChatGPT, when we started the discussions we realised that ChatGPT is not real, no matter how perfect it is. The institution of marriage on the contrary is actually built on the philosophy of an imperfect person being perfect for you. This thought process, technology and the philosophy came together to give birth to Aaditya.

Arjun: The concept of marriage as an institution is changing, people have way more expectations which leads to problems later on, divorce rate has gone up. There should be clarity between what is a must have and what is good to have. So, this Valentine's Day we wanted to come up with a campaign which made it clear to people that 'No one is perfect'. Human beings have flaws and that's what makes them human. The day you start accepting that is the day when you can get into a relationship. And Bharat Matrimony is the platform to help you find real people.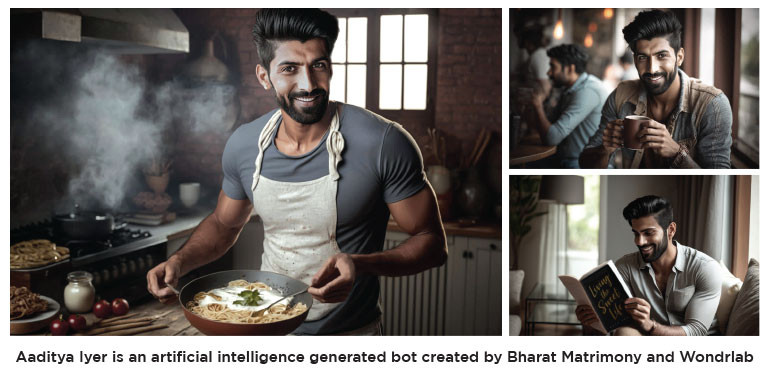 Q] But was there any reservation that the picture generated through AI may actually be similar to a real person somewhere in the world, we have seen AI messing up before, like how Google lost 100 billion dollars in market value because of a factual error by AI chatbot Bard.
Arjun: I was not that concerned about ChatGPT because even before we started the execution of the campaign, I had been experimenting a little with the chatbot and was pretty amazed with the output. On Midjourney, after I tried it for the first time, I had some concerns on whether we will be able to generate a similar face for different scenarios, because with my limited tech knowledge I was not able to derive such desired results. I raised this point with Amit and Bhavesh, and they came up with a solution. So if you ask me, the technology is still not flawless and we did face hiccups. We definitely needed human intervention when we went into the nitty gritty of executing the campaign.

Amit: Another problem was that AI sometimes looks like AI, for e.g. there are brown tones and a certain warmth or skin texture. So, Bhavesh and team studied a lot of AI work done by others and realized that some of it was not looking like AI, it was more natural. So, we brought in an expert who dealt with it very closely, sat with the team and made the output more human just by giving the right prompts. We created a lot of characters and then went with this one. When we took it to people one girl commented on social media that he looks like Rana Daggubati, but that was expected. When you work with AI, you realize that it's not as easy as creating a character and then saying, Aaditya Iyer on a bike, Aaditya Iyer cooking etc. You have to give the same prompts all over again. We used ChatGPT to draft every caption with his picture and every reply to comments on his post.
Q] There are other people on Iyer's profile represented as friends, old couples, etc. Were you not worried about receiving a call from somewhere saying 'Hey, that's me, where did you get my picture' considering Midjourney is being sued for copyright infringement in the US- it is obviously being trained on millions of original pictures.
Amit: No. We trusted AI. Everything including the puppies was created by AI.
Q] Once you revealed that Aaditya Iyer is not real did the follower count drop?
Arjun: In fact, the followers increased. The engagement and comments shot up too. People today are really fascinated with what AI can do.
Q] Now that you've created a decent following for Aaditya, what are the plans, will you leverage him as an influencer, perhaps go on to create videos of him?
Arjun: After seeing Aaditya Iyer, a friend messaged about a similar AI character in UK with 2.5 million followers who has been on Instagram as an influencer for a year or two now. Now that the IP has been created, Amit has to decide on the creative side as to what we need to do with Aaditya Iyer.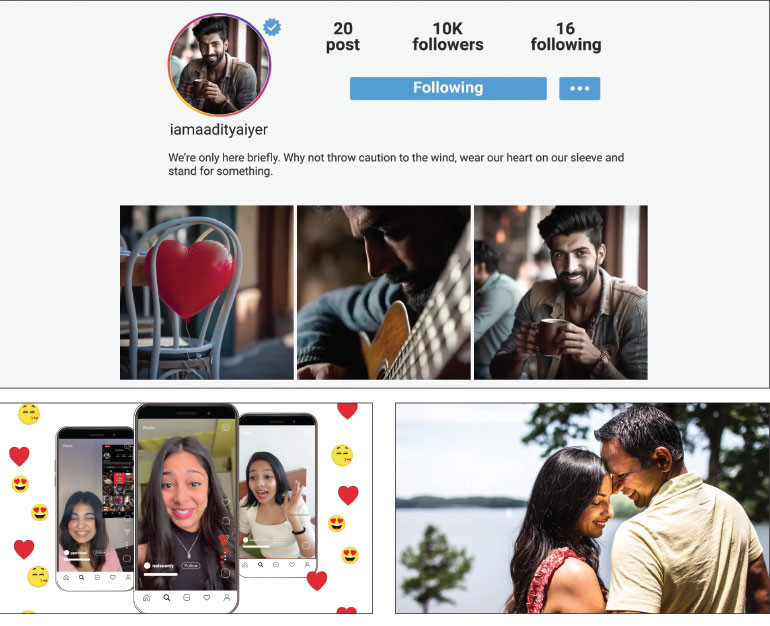 Q] It also throws up another possibility, that many of the influencers we follow in future may actually be bots and not flesh and blood?
Amit: There are AI influencers which are open about their real identity, people follow them for other reasons. It is like living in the metaverse. So, this world is going to evolve, both the real and virtual ones will be very interesting.

Arjun: We can't avoid that, with Web 3.0 on the horizon, we will have AI permeating all parts of our life. They will be more human than real humans, just the way this campaign has proved. Change is just around the corner.
Q] Also, there's this growing concern, that ChatGPT may replace creative jobs. Do you agree?
Amit: That concern was answered with this campaign. But AI will never replace creative people for two reasons — you would always need a creative mind to use AI in the right way for the brand. Even for this campaign, identifying ChatGPT as an appropriate tool, the philosophy of imperfection and the effort to make the character look less fake, are all human inputs which truly needed human expertise. Of course, it is a lovely tool, but at the end, creativity, insights, storytelling is what will make something out of AI.

Arjun: AI will only know what it has been taught. I can't speak about what happens 15- 20 years down the line but with regard to its current form, AI is an aggregation of metadata. It is good at analysing, billions of gigabytes of data and finding out patterns in a far quicker way than what a human brain can. In the immediate or near future it might start replacing human jobs, which are mundane and can be automated to a very high degree or high level. It'll remove errors, productivity will improve. So, there will be losses in that aspect. But when it comes to human creativity and ingenuity, be it thinking about patterns from your experience or those aspects which have not yet been experienced/ are not present in the world right now, AI will surely struggle. Right now, it's getting even more important that our future generations become a set of original thinkers, who do stuff which is more creative.
Q] We hear how ChatGPT is making day to day work easy for creative agencies, would you be okay with giving them the same remuneration if a freely available chatbot is helping agencies with the work, after all they are being paid for the number of people on the job, time taken, scope of work etc?
Arjun: Yes, that is an important point. And, to be honest, even I have tried ChatGPT for writing search ads and the output was not bad. It was as good as a person in my team who has two to three years of experience in copywriting. So yes, the contracts and the mix of deliverables with the marketing agencies or partners will change, the underlying productivity or enhancements that AI brings in will be part of the contract and what humans can bring in as the value add will be more talked about for sure. So, the efficiencies that these tools will bring in will be taken into consideration, probably as early as the next one or two years in the advertising and marketing field. The value will be what the agency or the person is delivering on top of what AI can do, which again comes back to that creative ingenuity.