Automobile brand Tata Motors recently unveiled a new campaign for its Ace Gold to showcase new opportunities to the Indian youth while also paying tribute to India's small business owners. UT Ramprasad, Head of Marketing Communications at Tata Motors takes us through the campaign, the Tata Ace journey and more…
Q] What was the insight behind Tata Motors' new TVC for Tata Ace Gold?
So 2-3 years ago, we launched Ace Gold as a sub brand. Over a period of time, we kept upping the product features like power steering, independent suspension or better comfort as a natural evolution. But because of that the price point which we had as a huge advantage from an affordability point of view was generally going out of reach for a lot of reasons. So we launched this Ace Gold and we took the original design of Ace which was discontinued when we launched the newer variant. We brought it back as a classic as some things never go out of fashion and are timeless. And we launched it at a price point which was Rs. 60,000 cheaper than our products at that time and even competition products. So again, we had a significant price advantage and thereby affordability. So more and more people now could afford it. With Ace Gold, after some research, we realised the father-son equation was a very important dynamic. And that's what we leveraged in the first Ace Gold commercial with Akshay Kumar, who is a graduate and unemployed. In the second phase, while even graduates are unemployed, we said, let's take it to the next level to the youth who are not even graduates, who are under qualified and tend to not be serious in life. So, that was the insight we used to develop our campaign for Ace Gold.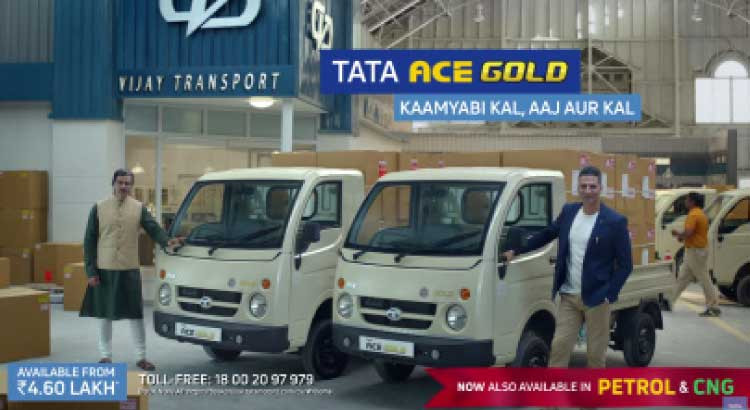 Q] What kind of spends and media mix have you devoted towards the campaign?
As a commercial vehicle category, we don't have too much of spends compared to a passenger vehicle. We're not a large spender. So, we take Television as a prime medium, because its reach is humongous and you can't compare it with any other medium. So TV is our lead medium, which is why we made this commercial. And then we supported it with Digital, which we have been doing for the past 3-4 years. So TV and Digital are our prime drivers, supported by a lot of BTL and activations. Besides, we sell an Ace every three minutes, so, that's the kind of popularity and success we have had with Ace.
Q] Tell us about Tata Ace's journey since its launch in 2005.
When we launched this product in 2005, it was in the below 1 ton segment (smaller load carrying vehicles). Post liberalisation, the last mile delivery segment boomed because FMCGs and consumer durables all needed transportation to the houses when most foreign brands came in. It was a huge boom, but below 1 ton was really being handled by the large three wheelers. We were not present in that segment. So we decided to be present. And we said, we will not come up with a three wheeler, which is a kind of backward technology. So we thought, why don't we delight the customers? Let's give them a four wheeler, but at the price of a three wheeler. So five years of product development happened, and finally we were able to launch this Ace or the 'Chota Hathi' at the price of a three wheeler. I think it's one of the greatest product innovations ever done.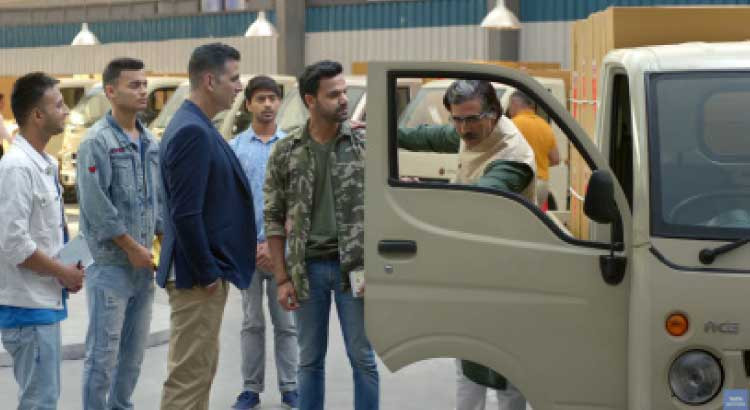 Q] Tell us a bit about the commercial vehicle category and how is Tata Motors positioning Ace Gold to maximise its brand value?
Commercial vehicles, whether it's a big truck or a medium or light truck or a pickup or an Ace, are in fact a means of earning a livelihood. Most people join the commercial vehicle category for the transportation of goods and business transportation. The largest booming segment was the below one ton, which was being serviced by the three wheelers. Many youths are coming into the market every day looking for a means of earning a livelihood but they didn't want to drive a three wheeler. They considered it a social stigma, because it's an auto. In fact, someone in one of the researches said, I don't get marriage proposals because I drive a rickshaw. So respect was something that we wanted to take an emotional hook on with the Ace, because it was a four wheeler. If you understand the emotional aspiration, it's clearly segmented in everybody's mind. So, we said status is going to be an important thing and thereby the brand position was a respectable means of earning a livelihood. And we layered it on entrepreneurship or self-employment.
Q] Going forward, what marketing initiatives have you planned for the brand? What will your key focus areas be in the future?
There are a huge number of activities going on. We have a Rozgaar Express Van campaign, which actually goes around to these unemployed in low income areas and we educate them about how you can get a Rozgaar with the Ace. So when we do this campaign, we will have a person who explains what the CV business is, what is an EMI or a bank loan, what are the documents you need for a bank loan? Are you eligible or not? How can you be eligible? So our marketing initiatives are always on and we are always finding new ways to support the consumer.