Q] What interests you about filmmaking?
I started my acting career with ads, and then I did TV soaps, and later films. So, I was always interested in the craft of filmmaking. The most difficult part, apart from telling the story in 30 seconds, is that there are so many stakeholders involved. There are a lot of people trying to achieve one goal, to communicate a thought that has to be clear, interesting, and entertaining. To do it all in 30 seconds is quite challenging, but it's a lot of fun. It's exciting to be in advertising, to sell a product, to create a story around it. One of the most difficult jobs is to make somebody spend money because a lot of people don't want to do that. Through our stories, we make consumers go to the market to check out that product or service.
Q] How was Lucifer Circus born and what has its journey been like over the years?
It was born four years ago out of unemployment and joblessness. I did a film with Preity Zinta, which unfortunately didn't do well. After that I didn't want to do the kind of jobs that I was offered. So, I tried different things but they did not work. I wanted to produce a film or maybe a TV show, but finally I ended up producing an ad, and it worked, it gave me confidence. God was kind, and I think Lucifer Circus chose me. We are a content house, and are getting into long format, we could be starting Lucifer Music soon. But advertising is the mainstay for us. These past four years we've worked with the biggest relevant brands in this country. We are registered vendors with most of the brands, and work with the best agencies, such as Ogilvy. We have won many awards, have our in-house directors, and are getting two more international in-house directors. So, it has been extremely good by God's grace.
Q] According to you, how has the ad film industry evolved over the years?
It has been changing lately, like everything else. The first change happened after GST and demonetization. The budgets became really small. Then it was moving towards Digital, but due to COVID budgets were cut further. Digital became more important, and now influencer marketing is becoming a mainstay. A lot of money has been spent on influencer marketing. Instead of just making an ad, people make a video, put it out there, and ask influencers to post it. So that they're just directly talking to customers through influencers and not using a TV or even YouTube. Infact it can be done through Instagram. However, I also feel that traditional marketing, through TV advertising will finally prevail because the strategy there is way more effective.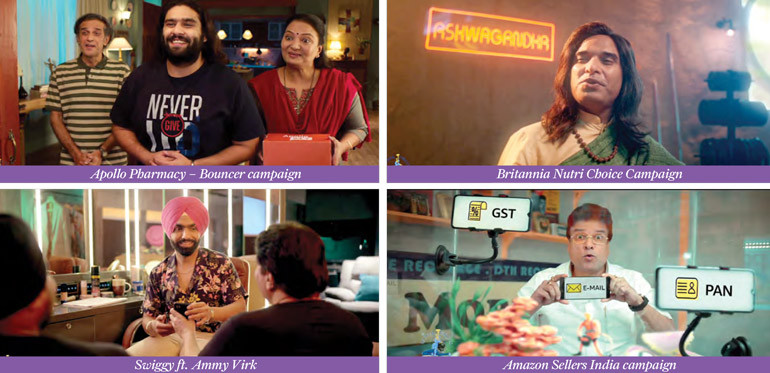 Q] What hurdles did you have to face while starting your production house?
The biggest difficulty in advertising is getting a job, because irrespective of whether it costs 30 lakh or 3 crores, for a brand it's an important piece of communication. For an agency, one bad film can mess up a relationship between a production house, and agency clients, and for brands with their customers. So, it hinges on trust, as you're handling somebody's baby. So, the challenge was to build that trust initially, but we were very lucky that we started working with the best of the agencies right from the very start, and did well. For brands, it was translating into numbers, for agencies, it was translating into good work and awards. So, it worked well for everyone, including us. But the most difficult part initially was not having an advertising background as I was an actor, not an advertising person. So, it was difficult to convince people as there are so many stakeholders involved.
Q] Out of your many award-winning ads, which one is closest to your heart, and why?
Amazon Karigar is very close to my heart because it was an impossible task. Everybody said that nobody can do it, but we did it. We won the national award for it. I had a great team, and a lot of support from the agency. The client was Amazon, the agency was Ogilvy, and we had very little time to complete it on a large scale. It had to come out on January 26, Republic Day, something that you can't change. The film was CGI-heavy, shot by Ravi Varman, and we worked with a miniature artist who had worked in Bahubali. Also, Gulzar sahab wrote and narrated the voiceover. So that's something very dear to me.
Q] Tell us about the 'swayam campaign'? How did you pull it off?
Sujoy from the creative agency called me and said that there is one small film that has to be made because but there was no money for it. I said, let's make it. He sent me the script and it was fantastic. We went to Kerala to shoot it, and had to create a lot of things. We got really good actors, it received many awards. Many well-known people like Anand Mahindra, Ajay Devgan, and Amitabh Bachchan tweeted about it. It was directed by Deepak Thomas, our in-house director.
Q] Tell us a little bit about the Britannia Nutri Choice campaign, and your Swiggy ad?
It's a crazy ad. It was fantastic of Talented to sell the idea to Britannia in the first place. I don't think any other person would've bought it. They came to us and we were wondering how to create that feeling of everything, the herbs and spices talking. How to make it entertaining while keeping the communication clear. So, that was quite amazing.

The Swiggy one has been well received. We shot it with Ammy Virk, and it did really well for us. In the industry too people really talked about it. So hopefully we will win something for it in the coming year. I am hoping that this will do what our ICICI ad did last year.
Q] What is the next big thing for Lucifer Circus?
We've just started. The idea is to create a lot of content and do some great work in terms of content and music. So, we want to be a content house, which produces content across the globe from India. As of now, we are just concentrating on entertainment. So, music, CG and content, we will make these three offerings available by Lucifer Circus one by one.