A year after experimenting with a virtual-only edition, BACARDI NH7 Weekender, one of India's biggest music festivals, is back in its live form. For the first time, the music festival will also have a touch of gaming for fans. While three mega cities will host the two-day live event with a limited capacity of 2,500 fully vaccinated people, eight cities will host pop-ups of the festival.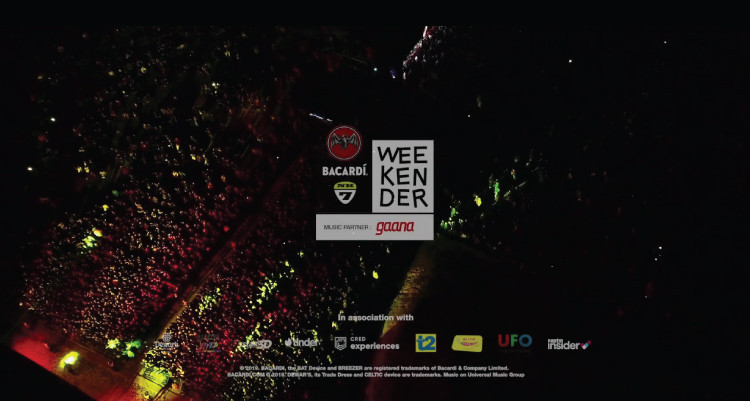 NODWIN Gaming has acquired NH7 Weekender property from OML Entertainment. Elaborating on integrating gaming with the musical event, Akshat Rathee - Co-founder and MD, NODWIN Gaming, says, "Gaming is all about fun. Partying, music and gaming integrate well. We want fans to enjoy the event, and gaming will bring smiles to their faces. I believe every youth has played some kind of video game. This suits our fan-first approach with the convergence of music, comedy and gaming."
During the event, organizers will provide a separate, full-fledged gaming zone for visitors where fans can indulge in gaming while listening to music.
"During the COVID era, we have noticed a huge jump in the number of active gamers in India. Due to lockdown and lack of physical activity, people, especially youth, started spending time and money on gaming. We are banking on the popularity of the event and also expect many gamers to participate ," said Rathee.
The live edition of BACARDI NH7 Weekender is expected to spread cheer among its fans. The event will be held in Pune (February 5, 6), Kolkata (February 12, 13), Delhi (February 19, 20). Eight cities — Mumbai, Bengaluru, Hyderabad, Chennai, Goa, Chandigarh, Jaipur and Guwahati — will be pop-up city takeovers for the event. NODWIN gaming has announced that fans will get a full refund of the amount they paid if events stand cancelled due to change in COVID protocols or government regulations.
Sameeksha Uniyal, Consumer Marketing Lead, Brand BACARDÍ, India and South East Asia, says, "We are very excited to organize the live edition of the music festival for our fans. Throughout the pandemic we have been in touch with our fans to maintain the connection."
She adds that during the pandemic, BACARDI stayed connected with the community virtually and continued to receive love and support. "We kept a close eye on consumer patterns and behaviour in India and globally. We are happy to receive positive feedback from fans. They kept asking on social media platforms when are we coming back on the ground with the festival?" says Uniyal.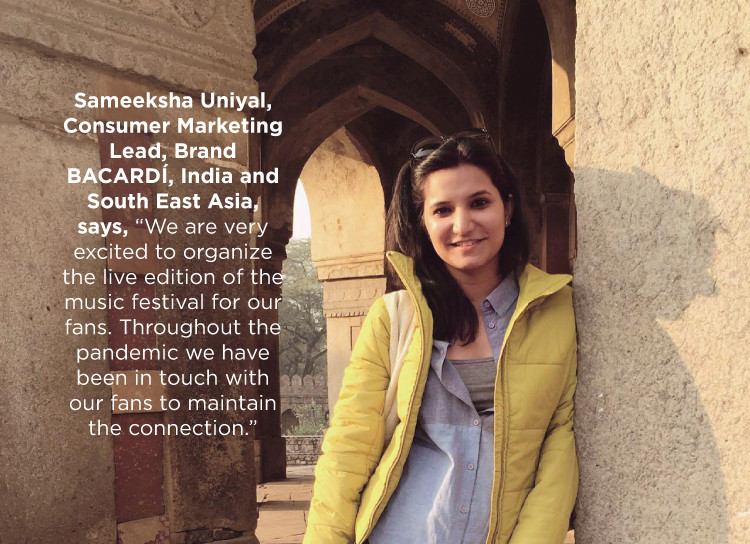 On NODWIN Gaming's connection with the music festival, Uniyal says, "We are looking forward to not only cater to our fans but also to the gaming community, which has been built by NODWIN for so many years. Our ultimate goal is to provide fun and enjoyment for the visitors."
On digital connect, Uniyal says, "We received massive love during the virtual event held last year. We will hold a virtual version of the event this year too. We believe the music and culture, which we have created for the past 11 years, must not be limited to geographical boundaries. If a fan is unable to attend the event physically, he/she can enjoy the festival while being at home."
The idea behind promoting the music festival, Uniyal says, "is not just about promoting the property but also providing experiences that they have been looking forward to this year. It's also the connect we have built with our fans through so many years."
Asked if the idea of live music festivals for the audiences has changed following the pandemic, Uniyal points out, "I think the first and foremost thing would be safety. We do not intend to curate the experience of our audiences but to ensure that all COVID protocols are maintained while creating a fantastic environment—though it is a limited-capacity event. We want to create a safe environment for the people involved in the event."