Home décor brand Bombay Dyeing has partnered with the Times of India to launch the #TakeBackSleep campaign, in order to drive awareness around the importance of sleep. Aloke Banerjee, CEO, Retail, Bombay Dyeing and Sanjeev Bhargava, Director, Brand TOI tell us about the insight behind the campaign
On the insight behind #TakeBackSleep
Speaking about the newly launched campaign, Banerjee says, "Bombay Dyeing, being a 140-year-old brand, needs no introduction. For this particular campaign, we thought it made sense to talk about something important that is connected with our brand as the market leader in our category. With a bit of research, we learned that sleep disorders are one of the biggest issues affecting the millennial consumer today. That is what basically led to our campaign #TakeBackSleep, which seeks to educate the millennials about the need to give greater importance to sleep. And who better to partner with than the Times of India Group? #TakeBackSleep is an endeavour towards building a fitter and healthier India, especially the urban Indian population," he states.
On associating with The Timesof India
Speaking about the brand's partnership with the Times of India, Sanjeev Bharagava says, "Every now and then, TOI does pick up issues that may not always be in the public discourse but they are of public importance. So when Bombay Dyeing approached us with this idea, we found that this issue definitely falls into that bucket of public importance." Bhargava explains that the first leg of the campaign will run for a period of three months across Print, Television, Radio and Digital. The subsequent phases of the initiative will be chalked out on the basis of the issues that emerge out of the initial leg.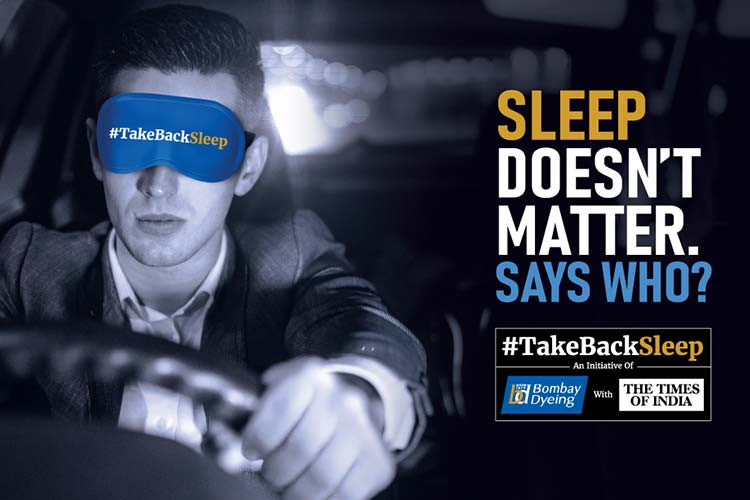 Greater emphasis on social media
Banerjee stresses that while the campaign will be across mediums, it will especially be big on social media platforms. "In addition to what we are doing with TOI, we are also going to do a great deal of social media for this campaign. We have three films, which will be amplified across our social media platforms. Our target audience largely includes people between the ages of 18 and 40 years. We are confident that we will engage with at least 1 million people through this campaign," states Banerjee.
The initiative is also supported by a panel of sleep experts that will share insights and advise on good sleep habits. As part of the initiative, an interactive sleep quiz has also been created and made available on www.takebacksleep.org.