What the past few months have done is accelerate the changes in a rapidly evolving media and marketing ecosystem, compelling marketers and media professionals to become more nimble in their communication. It is in this context that Meera Sharath Chandra, Founder CEO & CCO, Tigress Tigress has penned her innovatively and interestingly titled book, The Me Era. In a nutshell, the book explores marketing in an age when consumers are the real brands. And brands are the real consumers. The narrative is peppered with shout-outs to brand communication that Meera has found highly compelling. These are examples that have stood out for her either as award entries that she has judged or as case studies she has discovered in her annual advertising pilgrimage to Cannes Lions over the last 15 years. The book has been endorsed by Philip Thomas, Chairman, Cannes Lions International Festival of Creativity. It also has forewords by industry stalwarts such as Patrick Collister, Custodian of The Caples Awards, PJ Pereira, Creative Chairman & Co-Founder of Pereira O'Dell. The book has been designed by Chennai-based book design specialist, Malvika Mehra of Art Works. Available free and aimed at marketing and communication professionals, this is also Meera's way of giving back to the fraternity in these challenging times. It is available as both a flipbook and downloadable PDF online on tigresstigress.com.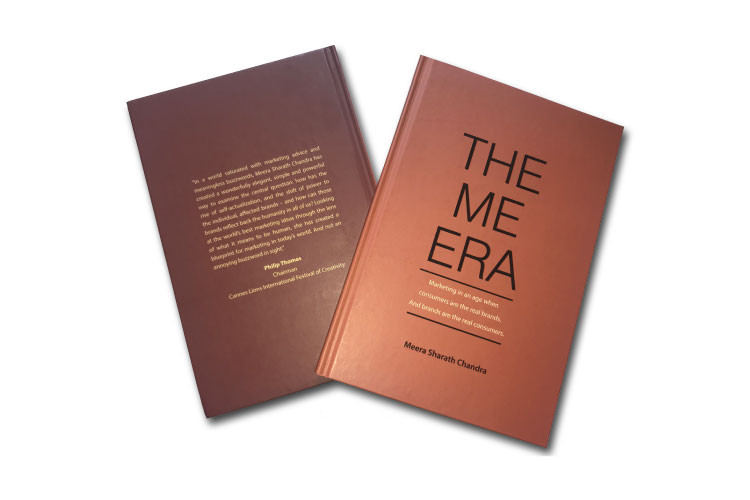 Here's an excerpt from the new book, The Me Era

I didn't set out to name the book after me.
Neither was it an afterthought.
I believe it is just happy synchronicity.
It is, after all, the story of the individual, the consumer.
A consumer whose every thought and action, every choice and affiliation, every love and hate says, "I am me". A consumer who is realising that he or she is unique and differentiated. A universe of one. A brand.
Equally, though, it is about the living, breathing brand.
A brand that is turning into discerning consumer. By investing in and buying into the delight, loyalty, advocacy and repeat engagement of its new-found franchise-of-one.
If the past few years have been all about consumers co-creating and co-parenting brands, marketers now realise that they must return the favour.
It's all about two things: resonance and relevance.
Products and people now share an intertwined future. As two symbiotic entities that recognise and respect each other.
If we have imbued brands with human values like DNA, personality, image, traits and purpose, it is time for marketers to create sharply-defined differentiators, well-honed propositions, unique codes and vision statements for us.
Time to flip things around.