Q] Let's begin with talking about the brand Center Fruit and what it stands for.
Center Fruit was launched back in 2005. Since then, the brand has been focused on children, and how to bring exciting experiences, flavours, textures for them. Therefore, 'playability,' has always been a big part of what the brand offers to its audiences on a regular basis. That's why our focus on innovation is centred on playability and creating new experiences for consumers.
Q] Your latest Digital campaign is with ace cricketer and captain of the Indian women's cricket team Harmanpreet Kaur, and digital influencer RJ Sukriti. How did these elements come together around the tennis ball-shaped Center Fruit gum?
Center Fruit is positioned as a gum focused on the school-going TG, therefore, playability becomes an important strategic choice for us. Center Fruit is one of the leading brands in the portfolio, and it has always been at the forefront of product and concept innovation. Taking that forward, we launched the unique tennis ball-shaped gum last year to add a new dimension of playability for consumers.

Associating the tennis ball with cricket was a natural fit for us. As we know, cricket is a popular sport in India, and a lot of us get inducted into it by playing gully cricket, which is the most democratized version of it. However, cricket has been done-to-death in India. So we were very clear that for a unique product like this, we want an unconventional way of approaching the cricket narrative. Women's cricket was gaining momentum and getting a lot of attention from both authorities as well as consumers. Therefore, we thought we would use this opportunity to shine a spotlight on it. By featuring Hamanpreet Kaur who embodies the dynamism of women's cricket, we hope to inspire a new wave of enthusiasm for women's cricket among fans.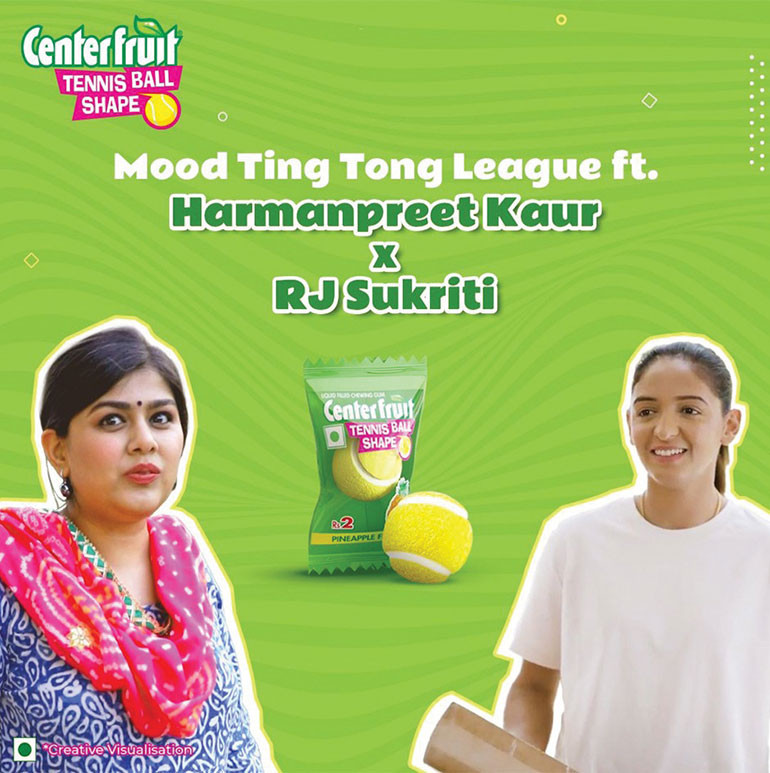 Q] We began the conversation with how Center Fruit is a brand targeted at children, but the imagery in this campaign is very Youth/GenZ like. Are you looking at a different TG or at expanding your TG with this particular campaign?
The brand TG still remains the same. When I say the brand TG, it's the core TG, and when I say kids, I don't mean two to eight, I mean 8 to 14/16, but the consumption happens across. So, it's not that I'm focusing on one core TG. For us, as you rightly pointed out, it has a very Gen Z feel, and we know that a lot of this audience is on digital and they are on Instagram. So, we wanted to pair a powerful Instagram influencer with a cricket icon, and create a humorous, tension-filled interaction that could help us drive the uniqueness and the unconventionality of this product.
Q] From TV actors to influencers and cricketers, how has the brand evolved in terms of its association with celebrities?
The brand Center Fruit plays in the space of 'Cheer Me Up'. So, we've always focused on mood transformations and the best form of mood transformation is using the human narrative. Keeping this in mind, the type of influencer we have selected is someone who can really pull off humour, and can also work with a celebrity to ensure that she's party to this entire drama that we create.
Q] How important is the Digital medium for you today?
Digital will continue to play a big role for brand Center Fruit, primarily because of the audience that we have, and more such audiences are spending increasing time on digital platforms. To that extent, we always look at opportunities to do stuff that engages people on this platform. In the past, for example, when we launched Cricket Ball, we did a gully cricket campaign with influencers. This is in the sequence of that activation.

We do TV, but TV is a cookie-cutter medium where you have an ad and you play it on a spool. With digital you have the opportunity to change the narrative and drive closer association and engagement with the brand. With that in mind, we decided to look at a popular influencer, and also a celebrity.
---
PROFILE
Gunjan Khetan is a marketing veteran with nearly two decades of industry experience in business strategy and brand building. At Perfetti Van Melle, Khetan leads the growth and marketing division of the brand's power-packed portfolio of Indian and International brands such as Center fresh, Center fruit, Mentos, Alpenliebe, Alpenliebe Juzt Jelly, Happydent, Chupa Chups, to name a few.
ABOUT THE BRAND
Perfetti Van Melle India is a leading manufacturer of confectionery in India. PVMI brands include Chupa Chups, Mentos, Center fresh, Center fruit, Juzt Jelly, Happydent, and Alpenliebe. Center Fruit, the liquid-filled-fruit-flavoured bubble gum, is one of the company's flagship brands in the gums category.
FACTS
Media Agency: Wavemaker
PR Agency: PR Pundit
Digital Agency: Schbang (Surround Creatives & UGC Mechanism)
Creative Agency: Ogilvy India (Core Creative Idea)