Polycab India recently rolled out a campaign, interestingly titled 'love at first light' for its LED product offerings. Nilesh Malani, President & CMO Polycab India shares insights about the latest campaign, its strategy in leveraging big cricket properties like the upcoming T20 World Cup and more
Q] What was the thought behind Polycab's latest 'love at first light' for its LED product line-up? What kind of response have you seen so far?
Consumer preferences are on an ever-evolving curve. The new normal world scheme of things has further precipitated the need for consumer-facing brands to match pace with this evolution. Our 'love at first light' campaign is in line with this trend and aims to draw home the benefits offered by Polycab LED lights. The engagement concept is innovative as through the romantic narrative of two characters (Roshan and Roshani), the campaign establishes consumer connect. The campaign mainly targets the millennial generation and in many ways is an attempt to get a head start in involving this young consumer segment who are also known as generation green, in the overall consideration of LED light purchasing decisions. With the value proposition of LED touching upon the green energy aspects by way of being energy efficient and having a long life, the messaging theme too is in sync with the preference of this generation green segment. The campaign has delivered on its intended objectives. Consumer feedback on social media platforms has been largely overwhelming and it is heartening to see the younger generation engaged through the campaign. All the levers of the campaign i.e. influencer channels and social media amplification achieved their respective goals.
Q] What does your media mix look like and what consumer demographics have you targeted through this campaign?
The media mix comprises social media platforms, influencers, OTT platforms and BTL to ensure holistic and integrated marketing outreach. As mentioned, generation green was a key focus and consumers in the 25-45 age group too formed a critical consideration. Apart from these, environment-conscious consumer segments were also a relevant demographic as part of the campaign.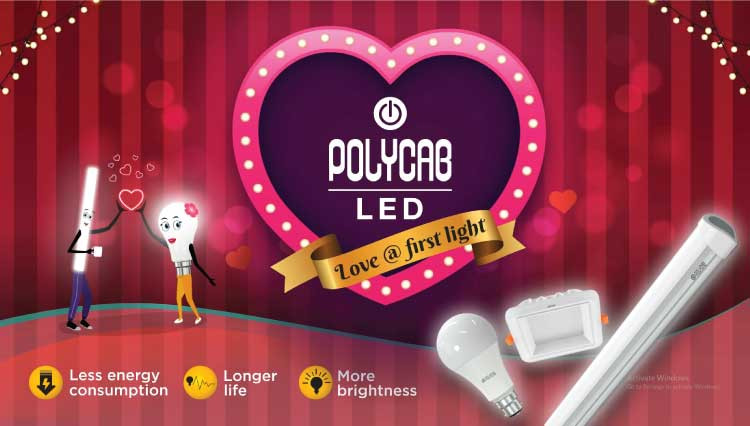 ABOUT THE BRAND
Polycab India Ltd. is an Indian electricals brand and manufacturer of wires and cables with a revenue of over Rs 89 billion. The brand manufactures and sells various types of cables, wires, electric fans, LED lighting and luminaires, switches and switchgears, solar products, pumps and conduits and accessories. It has a pan-India distribution network of over 4,100 authorised dealers and distributors, and has exported its products to over 55 countries over the past years.
Facts
Media Agency: RK Swamy
Creative Agency: RK Swamy
Social media Agency: Kinnect
Digital Agency: Mindshare
PR Agency: Adfactors PR
PROFILE
Nilesh Malani is the President and CMO at Polycab India Ltd. In a career that spans over two decades, Malani has worked for leading brands such as Castrol and JSW Steel and brings significant leadership experience from diverse categories in sales and marketing roles.
MARKETING TIP
In a connected world where the modern-day consumers are well-informed and conscious about brand values while considering purchase, the marketing approach rather needs to be pursued from the lens of the 4Es model i.e. enabling, education, environment-friendly and empowerment.



Q] What are some of the big shifts that the brand has made on the marketing front since the pandemic? How has your marketing approach changed?
As we speak, Polycab is celebrating a significant milestone of 25 years of being in service to consumers. As part of our journey of evolution, we are now geared up for an enhanced FMEG identity and accordingly we have realigned our marketing approach. In the recent months we have set-up multiple Polycab Galleria Knowledge Centers that aim to offer innovative touch point and engagement modes with key stakeholders – consumers, electricians, electric consultants, architects and builders. These are pure-play engagement outlets and do not offer sales of our products. This is a distinct marketing avenue conceptualised by Polycab. Further to this, we have an increased digital presence and complementing this is our physical world retail presence spanning over 165,000 retail outlets and over 4100+ authorized distributors and dealers. We are also leveraging influencer marketing mediums, and social media continues to be an important channel. Campaigns involving user-generated content are also shaping up very well for us and deliver high on engagement levels. Our association with Ayushmann Khurrana as a brand ambassador is also consistently delivering healthy results. Overall, our constant endeavour is to empower the consumer and stakeholders with the brand promise offered by Polycab of staying connected lifelong.
Q] What are some of the avenues you are using on Digital? What formats are you exploring?
There is still a lack of knowledge as far as wires and cables and home automation range is concerned. Educating the consumer is the most important task, andwe have been conducting a lot of webinars and fireside chats with different partners ranging on subjects like designing hospitals to futuristic spaces with automation. We have also been doing a lot of UGC campaigns for our brands like Polycab Purocoat 4-in-1 Fans and Polycab LED.
Q] Polycab also advertised during the IPL this year. Do you also have any campaigns lined up for the upcoming T20 World Cup?
Indeed, we are exploring potential campaign avenues around the same. We are hopeful of a concrete update closer to the tournament start date. As a brand, we have derived the targeted objectives while associating with such popular events and are confident that we'll do justice to our investments.