Q] What market opportunity/consumer need did you identify that led you to foray into the cooling oils category?
With the Indian hair oil market around INR 13000 Cr+, Dabur is present across all hair oil variants, except in the cooling category. The cooling oil category was an untapped market, which had no new innovations to break through it. We identified this need that called for long-lasting cooling effects and non-sticky solution with better fragrance.
Q] So how is Dabur Cool King Thanda Tel addressing this need?
Dabur Cool King Thanda Tel uses a unique cooling technology that helps to soothe and relax. The specially designed chill tube contains peppermint and cooling crystals that come together with eleven Ayurvedic herbs in the oil to provide a refreshing cooling experience for up to 8 hours.
In today's fast-paced world, it can be difficult to find time to relax. However, it is important to take some time out for yourself to unwind and de-stress. Dabur Cool King Thanda Tel can help you do just that, as the cooling sensation of the oil will aid in reducing stress and improving the overall mood.

Q] Tell us about the product SKUs and distribution strategy.
Dabur Cool King Oil is available in 6 SKUs with introductory offers across General Trade, Modern Trade and Ecommerce Platforms. A new 360-degree campaign encompassing Television, Print and Digital media, has been launched to communicate the product and its benefits.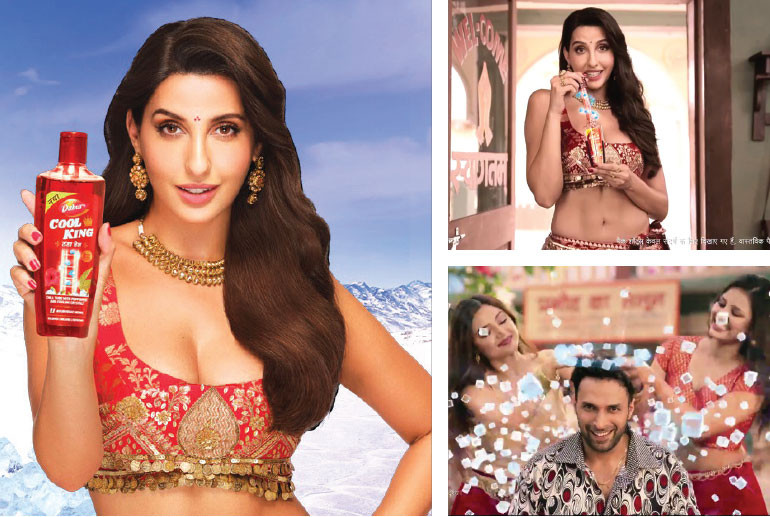 Q] Talking about the campaign, what was the idea behind onboarding Nora Fatehi as the brand ambassador?
Nora Fatehi is the epitome of cool energy and natural beauty. She is young, vibrant, stylish, and embodies the cool, refreshing feeling that Dabur Cool King delivers. Nora will be instrumental in deepening our consumer connect, particularly in the Hindi heartland, as we look to expand the brand's footprint.

Q] What was your brief to the agency? In what ways does the campaign highlight the product innovation and USPs?
The brief was to create a TVC that would be very engaging and immersive for the Hindi heartland target audience, and that is what has been delivered. The ad highlights how the chill tube contributes to the functional superiority of the oil and delivers up to 8 hours of cooling and relief from headache, fatigue, stress, and sleeplessness.

Q] What is the media mix and how have you allocated the budget across different mediums?
An integrated marketing campaign encompassing TV, Print, Digital and Outdoor activation has already begun across the North, Central, East, and West regions of India. We have also activated branding across different notable 'melas' like the Nauchandi Mela in UP, the Pandharpur Mela in Maharashtra, and the Puri Rath Yatra in Odisha.

Q] What are the key short to mid-term goals and milestones against which you will be assessing the success of this launch?
The launch of Cool King with innovative tech will help in further strengthening our foothold in the hair oil market, and enhance Dabur's hair oil portfolio. We'll be aiming to generate top-of-mind recall for the product by highlighting the chill tube innovation to increase awareness. This will help us cut across the category and build our market share.
---
PROFILE
Ankur Kumar, currently the Head of Marketing - Hair Care at Dabur India, is a seasoned business and marketing professional with over 19 years of professional experience in building and scaling up consumer facing businesses, building strategy and leading cross-functional teams. Prior to Dabur, he worked with Godrej Consumer Products (home care), Britannia, and Perfetti (food).
ABOUT THE BRAND
Dabur India Ltd. is one of India's leading FMCG companies. Its FMCG portfolio includes eight Power Brands - Dabur Chyawanprash, Dabur Honey, Dabur Honitus, Dabur Lal Tail and Dabur Pudin Hara in the healthcare space; Dabur Amla and Dabur Red Paste in personal care; and Réal in the foods & beverages category. In June, Dabur entered the cooling oil category with the launch of Dabur Cool King Thanda Tel.
FACTS
Media Agency: Starcom
PR agency: Bingo Media
Digital agency: Dentsu
BTL/ Activation: Mindwave media
Creative: Rediffusion