Q] Tell us about Diageo's foray into small format packs. What was the insight behind introducing this mini version of existing scotch brands?
Scotch whisky in India is significantly underpenetrated as compared to other Indian spirits. This is due to the higher price of scotch, which in turn restricts usage to older consumers and to more formal and special occasions.

Millennial Indian consumers are seeking premium lifestyle experiences that reflect their modern, active and evolving status.

Being pioneers in the liquor category, we wanted to introduce an innovation with the aim of positioning scotch whisky as a contemporary category for the new order of social occasions. The Scotch Hipster is a 180ml hip-flask-size pack to meet the changing millennial culture of buying a smaller pack before transitioning to a larger bottle.

However, it is now more relevant than ever and serves as an innovative and affordable alternative to full-sized bottles.
Q] What is your target market share and which are your strongest growth markets, as of today?
The Scotch Hipster 180ml range was first launched in May, 2019 in Chandigarh and is now available across 14 States in India, and will soon be available across all major markets (like Maharashtra) by October this year.

As far as consumer acceptance and growth performance is concerned, it is significantly over delivering versus our expectation helping us recruit new Legal Purchase Age (LPA+) consumers and existing consumers.
Q] Black and White, Black Dog and Vat 69 are placed in the premium category. Has your target market been expanded with this new version available in flasks?
The Scotch Hipster appeals to a wide audience and is aimed at providing an innovative format of consuming scotch. It appeals to LPA+ consumers who generally don't consider scotch whisky as a category in their more informal and lively get-togethers.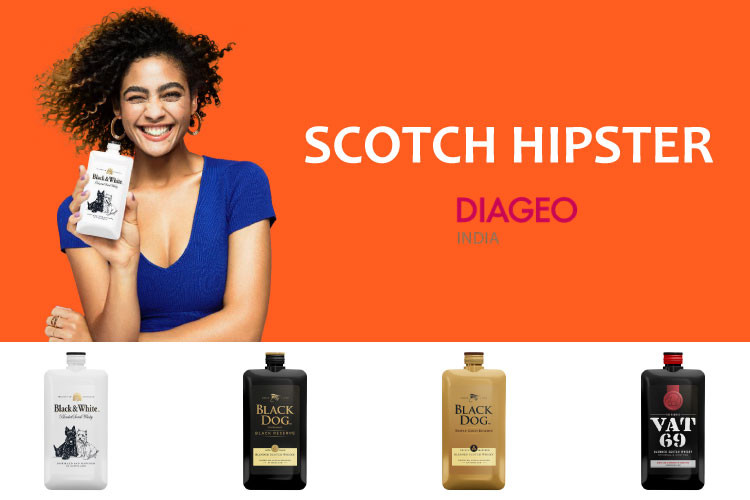 ABOUT THE BRAND
Diageo is a global manufacturer of beverage alcohol with a collection of brands including Johnnie Walker, Crown Royal, JεB, Buchanan's and Windsor whiskies, Smirnoff, Cîroc and Ketel One vodkas, Captain Morgan, Baileys, Don Julio, Tanqueray and Guinness. Diageo's products are sold in more than 180 countries around the world.

FACTS
Digital Agency: The Glitch
PR Agency: Genesis BCW
Media Agency: PHD India



Q] How is the company addressing the need for brand premiumisation at a time when the liquor industry is bearing the brunt of the pandemic?
The Scotch Hipster range has been able to target existing consumers that consume premium products as well as recruit new consumers and expand occasions for our scotch trademarks. Since its initial launch, as far as performance on Scotch Hipster is concerned, consumer acceptance and growth performance is significantly over delivering versus our expectation.
Q] What are some of the other things the brand is doing to adapt products to millennial culture and their lifestyle changes?
At Diageo, we are always looking for new ways for people to enjoy our award-winning scotches. It is this same spirit of experimentation and innovation that led us to create this compact new style that gives people a new way to share our scotch whiskies.

We find ourselves living in a dynamic ecosystem where the consumer is at the forefront, driving new trends every single day. The ever evolving and aware consumer coupled with rapidly increasing competition has given rise to a need for marketers to continue to innovate to satisfy their audience.
Q] The liquor industry must have had a significant impact on the revenue due to the COVID-induced lockdown, but has there been any impact on the demand for liquor?
During the lockdown, there wasn't much that we could do from a sales perspective as liquor stores were shut for a considerable period of time. Today almost every factory that we have in India is functioning close to pre-COVID capacity.

We are ready to service demand as it gets close to pre-COVID demand, but at this point of time, it would be difficult to say when everything will return to normalcy.
Q] How have the industry and Diageo been coping with the economic fallout since the COVID-19 outbreak?
The alcobev and liquor industry as a whole has been affected significantly. During the countrywide lockdown, consumers were unable to purchase products and this drastically impacted sales as business came to almost a complete standstill.

With the second and third waves of lockdown, we faced challenges with our supply chains and retail outlets, when it came to delivering the product to the consumer. We are now seeing a sequential improvement in sales, which is heavily dependent on varying state policies. The company has also been adapting to e-commerce models and home deliveries.
Q] What are some of the alcohol purchase trends you've observed during the pandemic?
The pandemic led to reduced shopper visits and an increase in purchase basket per visit. This inherently benefits spirits buying as it takes lesser space. Also, given that consumers are extra conscious around consuming their drinks cold, there is an additional benefit for spirits sales.



PROFILE
Nitesh Chhapru is the VP - Marketing & Business Innovation at Diageo India. He is currently driving inorganic revenue growth for the brand by leading cross-functional business teams. He is responsible for core brand re-launches and variant/line extension innovations on core brands. Prior to Diageo USL, Chhapru has worked across strategy and marketing roles with The Bennett & Coleman Group and Asian Paints.