Q] What were the insights behind the campaign No More Useless Kharcha?
This campaign has challenged the indifference of the youth as well as the entire Indian audience, who don't spend much on products like mattresses, but spend a lot on the other less important stuff. Almost 60% of consumers in India buy locally manufactured mattresses. So our first objective was to urge them to buy good and branded mattresses. Secondly, we request them to replace the worn-out or out-of-shape mattresses (with new ones) as those affect the users' overall well-being. It's been put out through Alia Bhatt, who is well connected with the youth. The young people will find the language and the lingo of the campaign relatable.
Q] What's the media mix you use for your campaigns?
Digital has scaled up for us and it's one of our key media mixes in our brand planning. For our large campaigns (such as the Diwali campaign) we rely both on Digital and Television. While Television is good for reaching out to the masses, Digital is effective for an always-on appeal. A large audience can be targeted by using both the mediums. For our routine strategies, Digital is our always-on medium.
Q] So, has the spending on digital exceeded the spending on traditional advertising?
Yes, definitely. If you see, a large section of the audience is spending a lot of time on digital. The number of hours being spent on digital is much more than the time required to understand the products and the brands' perspectives. Also the dedication of that much time is possible only though digital. Digital is simultaneously establishing content, context, ideas and research and it has worked very well for us.
Q] How do you personalize your product offering?
We have been doing that by focusing on the consumers' pain points. We are one of the first brands that has reorganized the mattress portfolio as per the consumers' needs. One of our fastest selling ranges –Duropedic - is a doctor-recommended orthopedic range. We have another range crafted from the best natural materials and it's called Natural Living. We have a value proposition range called Essential. Likewise, we have a range called Energize, which provides the consumers with energizing sleep. During the pandemic, we understood that the need of the consumers was beyond the mattresses. So, we launched an anti-viral mattress protector around a year ago. It's removable and can be washed and thus, it helps the consumers keep their beds bacteria-free. We also have roll-pack mattresses mainly for the young and online consumers, who opt for easy-to-install mattresses and quick delivery.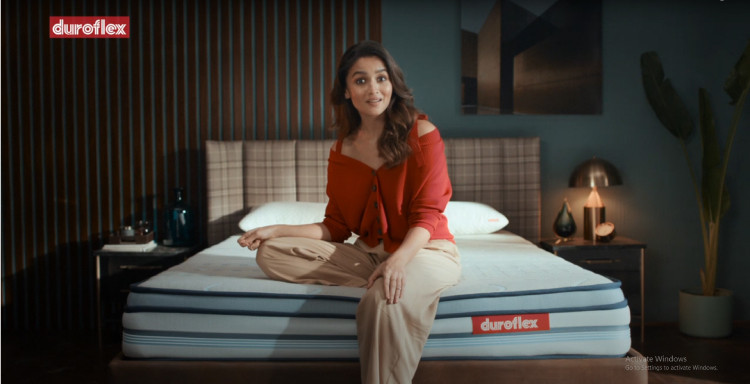 ABOUT THE BRAND
Duroflex is one of India's leading brands in the mattresses and sleep accessories category with over 55 years of expertise. Today the company has five manufacturing units located across India and a corporate head office in Bangalore. It is also the first mattress company to be ISO 9001 certified. Duroflex, as a brand, is well known for quality, innovation and comfort.
FACTS
Creative Agency: Creativeland Asia, Publisher Media
Media Agency: Prachar Communication, Lodestar
Digital Agency: In-house
PR Agency: Madison Public Relations
PROFILE
Smita Murarka is Chief Marketing Officer Duroflex Pvt Ltd. She leads the marketing and ecommerce function at the organization. With over 17 years of rich experience in Brand building, Business Strategy, E-commerce, Product Management, she was instrumental in building brands like Amante, Lifestyle, Bossini and many other consumer brands.


Q] What kind of ROI has Alia Bhatt ensured for the brand?
As a brand, our mission is to help India sleep better while staying connected with an evolved, digital audience. Alia Bhatt is a youth icon and she appeals to both the genders. She also appeals to a lot of young people who are decision-makers in their families. The impact that she has made is quite meaningful. Our business has doubled over the past two years, and our ROI is also huge. In short, we have seen tremendous growth.
Q] Can you talk about a few achievements of the brand after it roped in Alia Bhatt?
After we roped in Alia Bhatt, we became a national brand. Earlier we were only in South and West India, but now we have spread in the entire country. As I said, our business has doubled over the past two years. As for Digital engagement, it has increased by 20%. Earlier, most of our consumers were men. But the number of women consumers has increased in recent times and now on certain platforms the male and female ratio is 50:50. That's a huge difference.
Q] Has there been any change in the consumers' outlook about the need for good sleep?
I believe, the awareness on the importance of good sleep has increased ten-fold during the pandemic. When the pandemic broke out, the consumers started making changes in their lifestyles and food-habits to build immunity. One of our big campaigns during the first phase was 'sleep for immunity'. Now, when we say that a good mattress improves the quality of our sleep, people do believe it. We've also been able to improve the selling price of our products. So, we are selling a lot of premium products today.
Q] Is advertising the only way to create awareness on the importance of quality mattresses?
Awareness is one part of it. You also have to make good products and finally those are the proof of the pudding. At our innovation center, we keep on researching on how to improve the materials. We also hear our customers out both online and offline and that helps us in our efforts. So consumer reach is the other mechanism. But the consumers understand only when they themselves see the product and experience it.