Saregama Carvaan carved a niche among the elderly when it was launched a few years ago. The brand then moved to expand its portfolio to address several cohorts like the 25-40, kids and the family as a whole. It continues to position itself as a gifting product during specific calendar events of the year. Kumar Ajit, Senior Vice President - Sales & Marketing, Saregama India articulates the brand's journey, its philosophy and its future plans in this interview
Q] A pivot to gifting has worked out well for Saregama Carvaan. What other marketing strategies do you rely upon to drive brand recall and relevance for Carvaan?
Marketing is the core of everything at Saregama. It's not just limited to sales and the role of marketing is not only to drive sales. We try to establish a connection between the brand and the family. We wanted to position the product through gifting when we launched because many of us wanted to gift something to our parents but after gifting them clothes, ties, watches or wallets, there is nothing to give. All these insights stem from marketing. COVID has changed a lot of things for brands when it comes to marketing. All our buying and decision-making habits have changed now, so marketing also has to change and Digital is playing a big role in driving the change. The power of Digital is that we can measure it. You can measure your ROI at any time. Measuring ROI was challenging in the days before digital marketing became mainstream. The share of digital marketing for Saregama is increasing and it is only going to increase from here.
Q] What was the feedback for Carvaan Mini Kids? What insight made you venture into the segment?
Our endeavour is to not restrict ourselves only to the elderly. One of the biggest things we did during the lockdown was launching a Mini for kids based on the need of a few parents as their kids were always in front of a TV or a mobile. The product is a big hit today and is doing fantastically well. The core of this product is the philosophy of Carvaan. It's to understand the needs of the people. The biggest challenge facing our kids today lies in mobile phones and excessive time in front of screens. The lockdown has amplified it. Every parent has the same complaint. We can't send kids out. Parents understand that constant screen exposure is not good for eyes. It was a very simple insight, and a launch in response to a growing consumer requirement.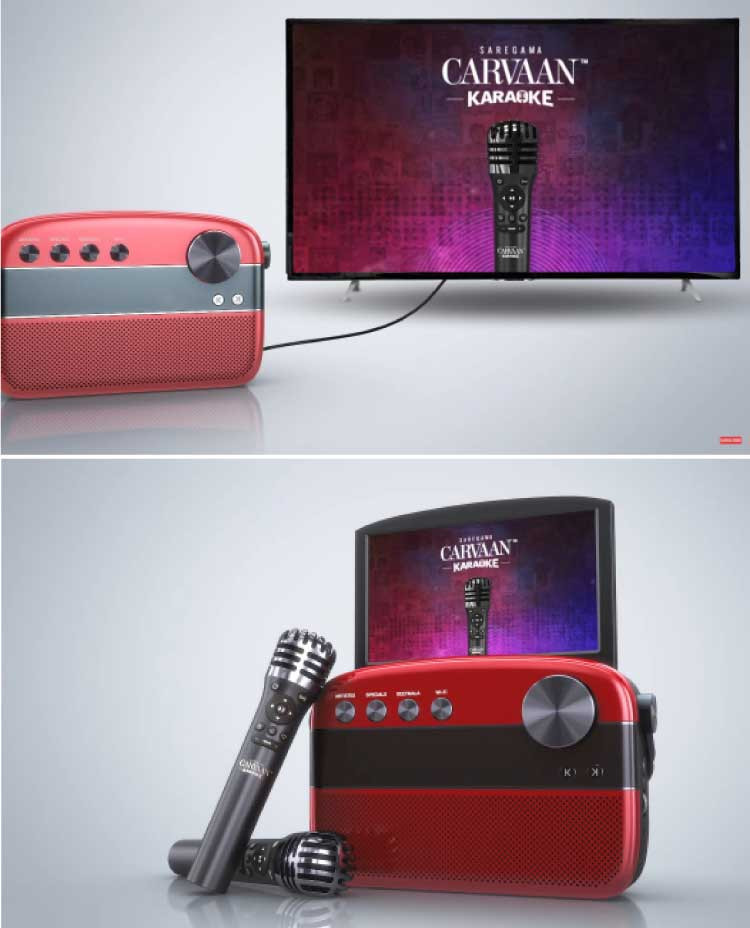 ABOUT THE BRAND
Saregama India Limited, formerly known as The Gramophone Company of India Ltd is an RPSG Group company owning the largest music archives in India. The ownership of nearly 50% of all the music ever recorded in India also makes Saregama the most authoritative repository of the country's musical heritage. Saregama has also expanded into other branches of entertainment - publishing, film production and digital content.
PROFILE
Kumar Ajit has been associated with Saregama India for five years, and is currently the Senior Vice President of Sales and Marketing for the brand. With over 20 years of experience, Ajit has worked with companies like Tata Sky, Onida & LG Electronics and has worked in all facets of sales, marketing, analytics, product, customer service, management, and revenue enhancement.



Q] How does the Carvaan Mini fare against the traditional Carvaan? What are your plans for it?
The age group of 25 to 40 years are a Bluetooth speaker generation primarily. They do not want 5000 songs. They want the best ones. It was the genesis of Mini. The product was targeted to a specific consumer group, which will appreciate the best hits while getting a speaker of their own so they can play their songs as well. It's doing really well because this TG was buying other unbranded speakers earlier. Now they get branded speakers at the same price with evergreen songs preloaded into easy-to-carry speakers.
Q] You also launched Carvaan Karaoke recently; can you expand on how Carvaan Karaoke was received?
Carvaan has become a household name. It aims to fulfil every demand of a family. People indulge in karaoke while hanging out with their friends and families usually. The dynamics of a family have changed with the wife watching one thing on a tab, and the kids glued to the TV. So in a way, quality family time has reduced. This product aims to revive family time and create special family bonding moments. Singing together is a great way to spend time as a family. Carvaan Karaoke has received a fantastic consumer response. In fact, we were able to ramp up supply only after 3-4 months of the launch because it was always in short supply.
Q] With a wide range of products, it is clear that Saregama is moving beyond its base of 40+ to attract new cohorts. What do you think you've not been able to cover?
You'll have to wait for a few more months and I can assure you that you will be surprised with what we come up with. There are simple things that we miss sometimes. You need to understand the pain points of a consumer, which they themselves do not realise on several occasions. We have to unearth them on our own. We, as marketers, have to figure out what can be the solution to a problem somebody is facing. You will see that our new offering is going to solve another problem and bring the whole family together. We will keep convenience at the core of what we do. It will reflect consistently in our offerings.