KFC India recently brought back its double down burger with a campaign featuring The Great Khali. Moksh Chopra, CMO, KFC India talks about the brand's association with the wrestling icon, the thought behind the campaign, expansion plans and its marketing approach during the pandemic.
Q] Tell us about KFC India's association with The Great Khali. What was the insight behind the campaign with him and what kind of response have you seen from consumers?
When we decided to re-launch the Double Down Burger - the all-chicken, no bun burger, we wanted to ensure that the campaign was as impactful and unique as the product itself. We knew the product pushes the boundaries of the very meaning and construct of a burger in the QSR space in India, and hence we sought to work with someone who was unique and loved, while being a true chicken lover. With its unique build of two massive chicken fillets, who better than The Great Khali to talk about the Great KFC Burger! Thus, we arrived at the core concept of #BurgersKaKhali and how it brought out a never-seen-before side of Khali.
The content with Khali was by itself so quirky and engaging, that his videos were organically shared extensively across social media and became quite the rage.
Q] What does your media mix look like and where does Digital stand in the mix?
Our media mix includes traditional mediums like TV, Outdoor and Print; along with Digital and Social. Digital and Social, as you would expect, form a major part of our media strategy – we use it in three different ways. Firstly, for reach amplification for our key products and brand campaigns. Secondly, its unique capability to create two-way engagement is something we use through social media, influencer collaborations and content. Consumers are also increasingly preferring to order KFC digitally on the KFC App, which is the third primary pillar.
For Double Down, it was easy to make it a purely social-led campaign, as Khali and KFC both enjoy massive reach and popularity on social media platforms. Additionally, the video garnered massive organic reach, with shares and positive comments being posted abundantly. Since this content is dedicatedly created for social media, we look for means to optimise it for Khali and KFC fans.
Q] How did you rewire your marketing and communication strategies between both the waves of the pandemic?
Our foremost priority has been to heighten and communicate to our consumers about our already stringent safety standards in response to the changing environment. For this we introduced the KFC 4X safety promise, which further upped our already stringent operational protocols pertaining to sanitisation, social distancing, temperature screening and contactless service.
KFC brings in global expertise and know-how on various aspects, especially on adapting agile business practices to overcome the impact of the pandemic. Menu offerings like the Wednesdays Specials Offer, the Ultimate Savings Bucket and the 'At Home Specials' made sure customers could find a KFC offering of their choice whether they are seeking a safe break from home food, a mid-week break or just a delicious accompaniment to their binge watching. We are also continuing to make it easier and simpler to access KFC through food aggregator partnerships, cashless payments and a seamless KFC app experience that's omnichannel, including new channel offerings like the 'KFC to your car/bike' service.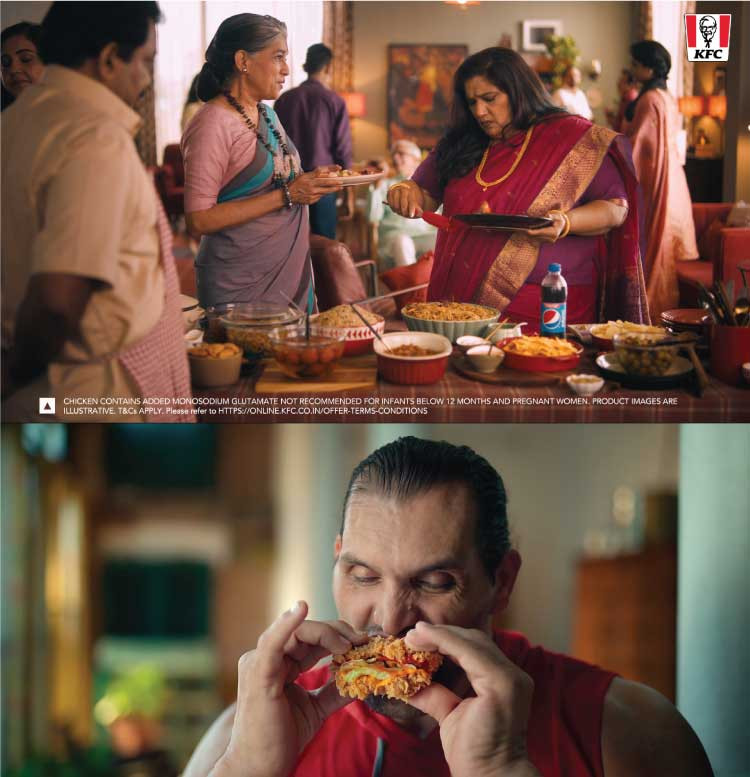 ABOUT THE BRAND
KFC, a subsidiary of Yum! Brands, Inc. (NYSE: YUM.), is a global QSR brand. The brand is established on the legacy of the famous Colonel Harland Sanders, whose recipe is diligently followed till today. The brand is present in more than 20,000 outlets in over 125 countries around the world.
FACTS
Creative Agency: Ogilvy India
PR Agency: Edelman
PROFILE
Moksh Chopra is the Chief Marketing Officer at KFC India. He has been associated with Yum! Brands since the past decade. With over 15 years of experience across FMCG and retail brands, Chopra joined the company as a Senior Brand Manager for KFC back in 2010. He has led the innovation team, as well as marketing activation, prior to his current role where he leads all marketing and brand campaigns.
MARKETING TIP
Be disruptive, push the boundaries but know your brand's playground (which is not a fixed, but an evolving space). Consumers can intuitively sense where a brand has a right to play, and where it's trying too hard.



Q] KFC has more outlets today across India than before the pandemic struck. Earlier this year you said you shall continue to expand your physical network of restaurants. What is the strategy behind that and what kind of footfalls have you seen in these restaurants in the last six months?
We are still deeply committed to India as a country and will continue to move ahead with our expansion plans and investments despite COVID-19 restrictions. Our intent is to keep growing the brand, as aggressively and holistically as possible. One of our biggest strategic pillars is what we call as access – and we must ensure that access to the brand continues to grow for the consumers, in both a physical and digital manner.
Q] What percentage of your sales are happening via food delivery platforms today?
We can all see that there has been a significant impact on all businesses in the restaurant sector because of COVID-19. But that's not the story here – the story is how to address a rapidly changing landscape and focus on the health and wellbeing of our team members and customers. We have tailored our services to meet customer expectations in a new world, through enhanced safety and hygiene, contactless delivery, and other measures to comply with social distancing.
Food delivery was already a fast-growing channel pre-COVID, and it's only accelerated further over the last 18 months. Our online food channels have grown at least by 50% from pre-COVID to post-COVID and that has also led to a larger shift in the way we are communicating with our consumers. A good proportion of our sales continues to come in from delivery, with takeaway booming and dine-in seeing a steady increase in the last couple of weeks, as we're open for dine-in across most restaurants.