Urban Company recently unveiled its latest campaign for the women's salon segment, 'Salon Classic', highlighting its affordable service offerings. Abhinav Tyagi, SVP – Marketing, Urban Company talks about the new campaign, the brand's marketing strategy post the pandemic and its increased focus on safety and hygiene
Q] What was the insight behind Urban Company's new campaign for 'Salon Classic' and what kind of consumer response have you seen so far?
Our new campaign, Surprisingly Affordable aims to inform consumers about the affordability of Urban Company's salon services. Through our consumer behaviour understanding, we realised that while women love the convenience, quality and service experience of Urban Company, their biggest concern was the perceived 'expensiveness'. Hence, the current campaign aims at breaking this perception barrier. The consumer reaction has been great, with an impressive repeat rate and NPS (net promoter score) value of 50+.
Q] What media mix and budget was allocated towards the overall campaign?
We are reaching our target audience through a mix of traditional and digital mediums. Our TVCs have been live for over a month now, and are being supported by digital campaigns on YouTube, Facebook and Instagram. Further, we have collaborated with leading influencers and well-known faces to create snackable content and obtain maximum visibility.
Q] What are some of the big shifts in marketing that you have made since the pandemic struck last year?
When the COVID-led lockdown was first implemented in March 2020, we reimagined our services and took the time to heavily invest in safety, hygiene and training to ensure well-being of both partners and consumers. Considering people were hesitant to let people enter their homes, we tweaked our strategy to communicate every day about the changes we introduced in our services and SOPs. Certain services such as threading and waxing went through a makeover to ensure low-contact with consumers. For example, our service partners now use a thread around their necks, instead of their mouths for threading. Hence, we launched campaigns to build communication on our safety protocols, new changes introduced and how the Urban Company experience has been reimagined for safe and hygienic services.
Our 'UC Safe Salon campaign' included TVCs featuring Neena Kulkarni and Shweta Tiwari aimed at communicating how safe UC's salon at home option is. Moving along the pandemic, we picked different types of challenges people were facing during the time and built communication around the same. With self-care gaining popularity, we offered DIY solutions to help consumers overcome challenges during the time. When pressures of managing home, work life and family peaked, we built campaigns to focus on time-management – how consumers could easily book a service from the convenience of their homes and save time. In terms of marketing channels, we have always focused on digital platforms for marketing campaigns, which has been constant throughout the pandemic as well.
Q] What kind of impact did you see on your business with the new marketing approach? What are some of the changes that will be maintained in the long run?
After the launch of marketing campaigns on Urban Company's safety measures, we started seeing recovery in demand across all categories. Consumer trust in the brand was re-built with repeated communications of safety protocols. Categories such as men's grooming grew six-fold since pre-COVID levels, and massage services grew by 250%. We believe the credentials on safety and hygiene that we have established will continue to be important and relevant to consumers – in many ways, they will become a minimum expectation. Further, the acceptability of at-home services has gotten a fillip, with many consumers who were hitherto on the fence now taking the plunge. Both of these are factors that will continue to supercharge our growth.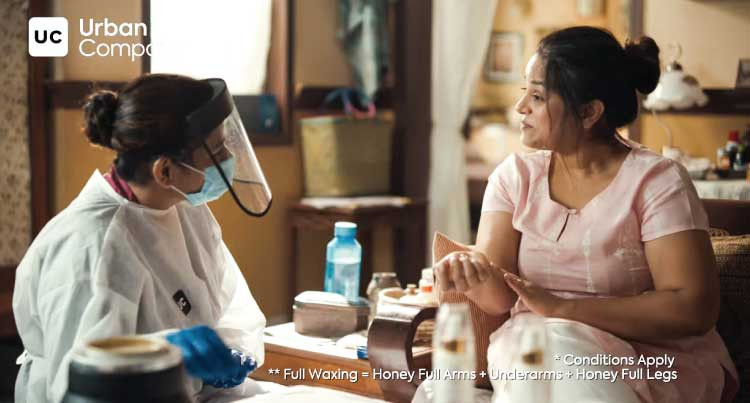 ABOUT THE BRAND
Founded in November 2014, Urban Company (formerly Urban Clap) is an established home services company across India and the UAE, with recent expansions into Australia and Singapore. Urban Company offers services such as beauty and spa at home, cleaning, plumbing, carpentry, appliance repair, painting, etc. through its mobile app and website. It operates in 18 metropolitan cities in India and four international cities (Dubai, Abu Dhabi, Sydney and Singapore).
PROFILE
An alumnus of the Delhi College of Engineering and Indian Institute of Management Ahmedabad, Abhinav Tyagi has over 17 years of experience in the sales and marketing function at Hindustan Unilever Ltd, donning many hats across functions, including customer development, skincare and homecare. He also brings deep, varied experience from working across countries and cultures.


Q] With Digital becoming a big part of marketing post COVID, what are some of the innovations and avenues you are using on Digital? What formats are you exploring?
Our marketing has always been heavy on Digital. We use all the new-age platforms to reach out to our audience – YouTube, Facebook, Instagram and OTT platforms. We continue to always look for new, meaningful and scalable mediums to interact with our consumers – and digital platforms provide a great avenue to experiment, interact and create dialogues.
Q] By how much have your marketing spends increased or decreased during this time?
We did reallocate our spends between categories depending on operating restrictions and consumer sentiment as the COVID-19 peak waxed and waned. At an overall level, however, our marketing spends have remained the same, more or less. We are a frugal company and we prefer to focus on consistent campaigns (rather than sudden spikes and troughs) that drive consumer acquisition, usership and brand love.
Q] What are your key learnings from the pandemic?
Our marketing efforts have always kept consumers at the centre and narrated how Urban Company makes their lives easier. Our learnings from the pandemic are the same --- address and solve the consumer pain points.