Q] Tell us about Rebel Foods' new campaign, 'Eat Sure'. What was the insight behind it and what consumer reactions have you received so far?
We did extensive consumer research and clearly, safety and hygiene of food became the key and single most important factor when it comes to food delivery. Also, there is a strong need for radical transparency of information around food, its handling, preparation and delivery. Hence, we introduced 'Eat Sure', which assures consumers of goodness across the brands that are basically 'Eat Sure' certified. There are four important pillars of Eat Sure - People, Process, Ingredients and Packaging. So we started doing daily checks and temperature logs are being maintained of every person handling the food. While processing, there are 200 plus checkpoints for quality, hygiene and safety across our kitchen networks. WHO standards & HSSE certified processes are being adhered to. We use the highest quality ingredients. Packaging has become even more important now. With every order, we are passing on this detailed set of information to our consumers through a consumer link or a QR code on the invoice.
Q] How would you describe Rebel Foods' journey over the years and what is the one USP that sets you apart from the other players in the market?
We started our journey about eight years back like a conventional QSR business with Faasos being our first brand. We came up with a great product offering which is a lot more Indianized - wraps, rolls, meals at scale. That is how we were trying to disrupt this space with a QSR model. In the food sector, the biggest challenge was to set up a good highly visible store in the best location. It was a time-consuming process to get a good walk-in store. In the physical restaurant business model, the rentals to your sales ratio are to the level of 17% to 20%. That in itself makes the business model very unviable until and unless you start churning a particular level of business on a daily basis. In 2014, we were the first one to pioneer this business model of cloud kitchen, which has now become the norm of the industry. Here you identify a particular catchment, you go into the heart of this catchment and pick up a good 1,000 square feet space without getting limited by the fact that it should be highly visible. Dining behaviour will certainly see a dip and that's where delivery business in food spaces will further grow, wherein a cloud kitchen business model becomes even more relevant. We have our own set of strengths for the cloud kitchen business model. With the level of disruption or the innovation that we had in 2016, we started churning out more brands from the same premises.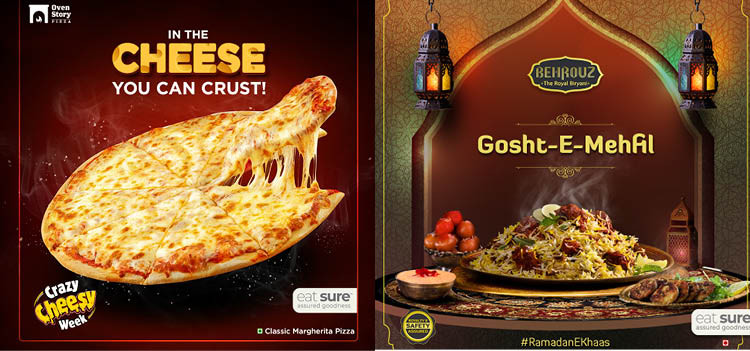 ABOUT THE BRAND
Rebel Foods (formerly Faasos) is one of the largest virtual restaurant chains globally. Having grown from 20 restaurants in 2011 to over 1,500 restaurants across the nation at present, Rebel Foods is revolutionizing the business of building and running restaurants. It houses multiple Rs150+ crore brands as a part of its portfolio and has brands like Behrouz Biryani, Mandarin Oak, Oven Story, Sweet Truth, Firangi Bake, Lunch Box, The Good Bowl and Kettle & Kegs.
FACTS
Media Agency: Carat (DAN)
Creative Agency: In house
Social media agency: In house
Digital Agency: In house
PR Agency: One Source
Q] Since many brands have come forward to fight COVID-19 with various campaigns and relief efforts, what initiatives has your brand taken during this testing time? Is there any other campaign in the pipeline?
In terms of the relief efforts, we launched an initiative called 'food for good' to provide free food to the needy citizens and migrants. It was completely driven by our on-ground staff who constantly put their hearts into feeding those thousands of needy citizens. The idea was to combine our existing strength of supply chain, spread off our kitchens and agility to operationalize at a moment's notice so as to feed as many people as possible in these times. Fortunately, we have been able to serve almost about a lakh needy citizens across different parts of the country, not just India but we replicated this very initiative even in Indonesia, where we have our operations live. So, all of that was done ensuring the basic mandate of social distancing. We activated a couple of TVC campaigns for Behrouz Biryani and Oven Story. We did a lot of digital campaigns and content with regard to what are the best practices for handling food.
Q] In the current scenario, metro cities like Mumbai and Delhi are worst hit by the virus with uncertainty about improvement in the situation. How will it affect the overall comeback of the food industry?
We should also look at the positive side - a lot of people are recovering from it. So I really hope we all come out of it very soon. However, in the long run, businesses which are willing to adopt a digital mode will recover and thrive. Suddenly, COVID-19 is going to be a turkey moment in history. I'm also sure it is definitely not a moment from which commerce will not be able to recover. All industries will have to adapt to this changing consumer behaviour and keep on evolving. A lot of people are getting involved in cooking at home, they have realized that it isn't a mammoth task actually, which they used to feel earlier. At Rebel Foods, we are also trying to adapt to this. I would say that all industries are getting impacted, but things are going to change for sure in a positive way. Businesses which basically adapt to these newer trends that are coming up are the ones which are going to come back faster.
Q] In the post lockdown phase, what kind of change do you anticipate from consumers towards ordering food from outside?
However long it takes, food services will certainly bounce back. Fundamentally, three things will surely change - firstly, people will become more conscious of what they are eating, where the ingredients are sourced from and who is making the food for them. It will be very important to be transparent to consumers in every aspect of the food, right from your farm to fork. Secondly, the emergence of delivery-only restaurants will be expedited because of the current crisis. People may be very selective in terms of which restaurants and crowded places they visit. Thirdly, trust will become a very important aspect more than price and variety.
Q] How are you planning to go forward with your marketing activities after the lockdown is lifted? Any specific area that you will focus on in the near future?
We are going to keep up the work on ensuring that our brand is looked up as the most trusted brand in their individual categories, like Behrouz in Biryani, Oven Story in pizza, Faasos in wraps & fast food, Mandarin Oak in Chinese, Sweet Truth in desserts and likewise. We'll continue harping on our 'Eat Sure' philosophy via ATL campaigns, communication and content pieces, we are also going to keep up the work on product innovation so that we keep on launching exciting products across the portfolio. At the end of the day, we are operating in the food business and unsatiated cravings will keep on calling us and our brands
PROFILE
As the Global Chief Marketing Officer at Rebel Foods, Sagar Kochhar is responsible for building brands ground up from scratch. He has also been the driving force in new product developments, from constantly reviewing existing product portfolios to enhancing consumer product experience and better product retention for all brands at Rebel Foods. Kochhar worked with companies such as Larsen & Toubro and Vodafone before joining Rebel Foods.
MARKETING TIP
Keep evolving and be agile enough to ensure that you are relevant and the
best in the category where you're operating, from the consumer lens.