Once a leader of photographic films, today Fujifilm's core business in India comprises medical imaging and diagnostic equipment. Haruto Iwata, Managing Director, Fujifilm India, talks about the brand's latest campaign and how he is driving the company to achieve double digit growth by next year
Q] Fujifilm's first mega brand campaign in India 'Never Stop' was launched last month. How has this particular campaign turned out for the brand across your various products?
With over 85 years of experience, Fujifilm has been a pioneer in imaging technology and has constantly displayed an innovative line-up of products and solutions. In India, our core business is medical imaging, which accounts for about 60% of our revenue. With our 'Never Stop' campaign, we wanted to create awareness about the brand's services across sectors and highlight its long-standing relationship with the Indian consumers. With the launch of our latest digital film this year, we have been able to represent Fujifilm's success in transitioning from a photographic film company to a holistic brand that provides value across different fields. The film launched last month has been able to emotionally build a strong connect with over 6 lakh viewers and encourage them to never stop believing, innovating, changing and challenging.
Q] What was your objective with the campaign? How much of it have you been able to achieve so far and how do you plan to sustain this momentum?
With our new campaign 'Never Stop', we wanted to communicate the company's diverse array of business operations along with our corporate mind-set that is committed to take on new challenges across sectors. This film highlights our long-standing relationship with the Indian consumers and the brand's constant focus towards revealing new technologies while cementing its position as a market disruptor. The film based on the lives of a regular Indian family who visit the hospital due to health issues builds an emotional connect with the audience. In line with our beliefs, the film emphasizes how one should never stop believing, innovating, changing and challenging.
Q] The campaign primarily focuses on healthcare solutions. However healthcare solutions are more institution based. How does a consumer campaign work for the brand?
The digital film, interestingly, focuses only on the healthcare solutions, making a case for early detection, even though Fujifilm's business spans many verticals — document solutions (through a partnership with Xerox), cosmetics, optical devices and digital cameras, besides graphic arts. At Fujifilm, we see healthcare as the biggest opportunity in India and we aim to offer solutions in hospital information systems to its medical imaging and information system, Synapse. Our latest Artificial Intelligence-powered diagnostic solution Reilli has been designed to help radiologists in India with their imaging work flow. With our latest film, we aim to target the new young India comprising of the medical diagnostic fraternity, doctors, photographers, printers and IT segment for data storage and so on.
Q] Fujifilm recently announced buying the medical equipment business of Hitachi, deepening its push in healthcare. How do you plan to take forward your brand in the Indian healthcare space?
Yes, our focus is on healthcare business globally. However, it is too early to talk about its impact in India. Our medical division has been the key contributor to the company's growth in India. In fact, 60% of our revenue comes from medical business. Fujifilm has a vast portfolio of products to choose from which includes mammography machines, endoscopy systems, digital radiography systems, retrofit detectors, mobile x-ray machines, local x-ray machines, healthcare IT synapse, etc.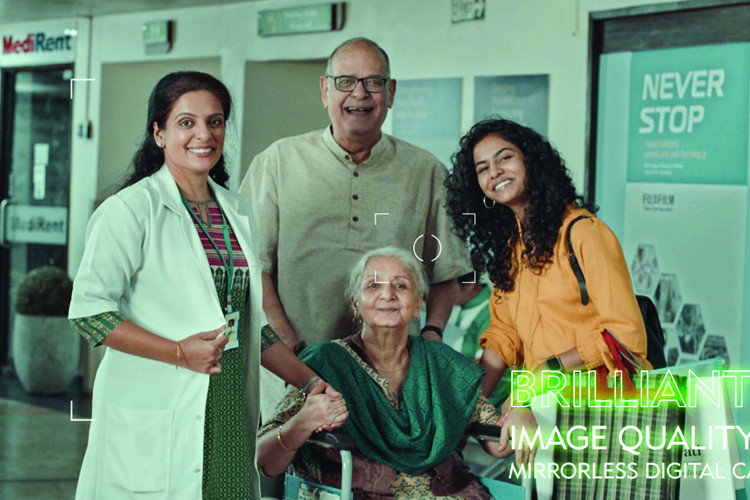 ABOUT THE BRAND
Japan's photographic film maker, Fujifilm has leveraged its imaging technology to become a global presence known for innovation in healthcare, graphic arts, optical devices, highly functional materials and other high-tech areas. Fujifilm India today has six offices across six cities with over 300 employees. Its product range includes digital cameras, photo book printers, photo book builders, 3D digital cameras and 3D Digital Viewer.
FACTS
Creative agency: Hammer Communications
Media Agency: GroupM
PR agency: 20:20 MSL
Digital Agency: Social Panga
Q] The year 2019 has been a busy one for the Fujifilm brand. You have signed couple of brand ambassadors for different range of cameras and launched the first ad campaign. How are you placed in the Indian market right now, and which category do you plan to focus going forward?
Our growth drivers are coming from new-age customers who are aware of what they want and are quality conscious. Our target is to achieve double-digit growth in the next year for which we need to focus on aggressive and strong top and bottom-line performance. This year, catering to camera professionals and enthusiasts, we announced celebrity and ace fashion photographer, Dabboo Ratnani as our brand ambassador for promoting our medium format GFX range of mirror-less cameras. As he holds a strong foothold in the photography industry, his success and personality in the industry makes him align perfectly with Fujifilm. Our association with him has helped us further enhance our positioning in the camera industry. Additionally, to garner traction from today's millennial generation, we collaborated with Bollywood superstar and youth icon Alia Bhatt for promoting our Instax range of cameras. An iconic symbol of the Indian entertainment industry, Alia embodies what Fujifilm Instax is all about – young, fun and 'kawaii' (cute in Japanese). Through these big celebrities, our end-goal is to promote the photography culture and build a stronger community. To meet the rising interest of photography among individuals in this digital era, we even organized a series of photo workshops with a group of professional photographers to endorse the innovative technology and impressive performance of Fujifilm cameras available in the market.
Q] With Alia Bhatt as brand ambassador, Fujifilm had launched a few digital campaigns for its Instax range. How is that working for the brand? Can you tell us more about how you are reaching out to your audiences on the digital platform?
Fujifilm's Instant Camera range has been a revelation for us in India; the selfie generation of the country resonates deeply with our range of Instax cameras. The fact that Fujifilm's instant camera range starts at a very affordable pricing in India, with the brightest and quirkiest designs, makes the Instax line a popular gift for tweens and teens. Last year, we announced a strategic partnership with Bollywood actor, Anushka Sharma. This year with Alia Bhatt on board, our sales have doubled and we are scaling newer heights in the imaging space. Fujifilm as a brand has its patrons in the photography community, who are actively participating on our social media handles. In addition, our strategic collaborations with renowned photographers and industry veterans has helped us develop strong community online and offline. Recently, we also organised the DIY Workshop for Underprivileged Kids at the 5th Smile International Film Festival. The workshop gave young minds a chance to explore their creativity on Fujifilm's Instax range. The campaign received a great response on social media
Q] Once a leader of photographic films, Fujifilm is a leading player in medical imaging and diagnostic equipment. How has this transition worked for the brand? As people rarely register the brand name of medical equipment, since it is not a business-to-consumer industry?
In the early 2000's, Fujifilm, led by Chairman Komori, reacted quickly to the steep decrease in demand for colour-film business and bought some fundamental reforms with the vision to thrive as a leading enterprise. The company reinvented itself by reimagining and chose six business – digital imaging, optical devices, highly functional material, graphic systems, document solutions and healthcare. Today, medical is one of our biggest divisions. We have evolved over the years and today we are agents of change. We don't respond to change, but rather predict and create change.
PROFILE
Haruto Iwata, Managing Director, Fujifilm India has been associated with Fujifilm since 1990. Prior to taking up the role in India, he worked in the same capacity at Fujifilm Hong Kong from 2016 to 2017. He was also heading the DSC and Optical Devices business at Fujifilm China from 2015 to 2017.
MARKETING TIP
Focus on creating change in the lives of consumers