Anurag Batra, Chairman and Editor-in-Chief of exchange4media and Businessworld, presents Byju Raveendran, Founder annd CEO of Byju's, with the IMPACT Person of the Year 2019 award.
(L-R) Neeraj Vyas of Sony SAB, Raj Nayak of House of Cheer, Anurag Batra, Byju Raveendran, Pradeep Guha of 9XM, Srabana Lahiri of IMPACT, Kranti Gada of Shemaroo and Nawal Ahuja of exchange4media Group

BYJU RAVEENDRAN IS IMPACT PERSON OF THE YEAR, 2019
Here are glimpses from the IPOY event on February 20, 2020 that not only celebrated winner Byju Raveendran, Founder and CEO of Byju's, but also all the super-achiever nominees for the award

"All I have done is create an ecosystem which gives intra-preneurs a platform where they can thrive. My name is around the app just because my name is around the brand. When I conducted classes initially, I didn't give the brand name, it just happened. Students started calling it 'Byju's classes', which then took the name Byju's –

The Learning App. I heard someone recently ask how I got the confidence to put my own name on the brand. It just happened."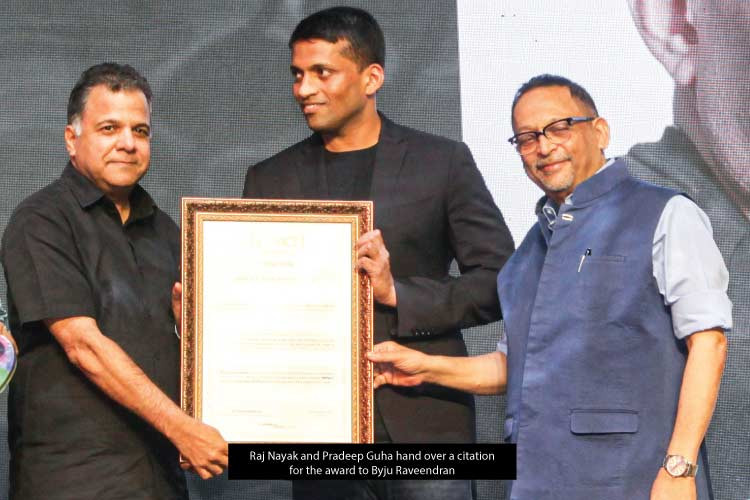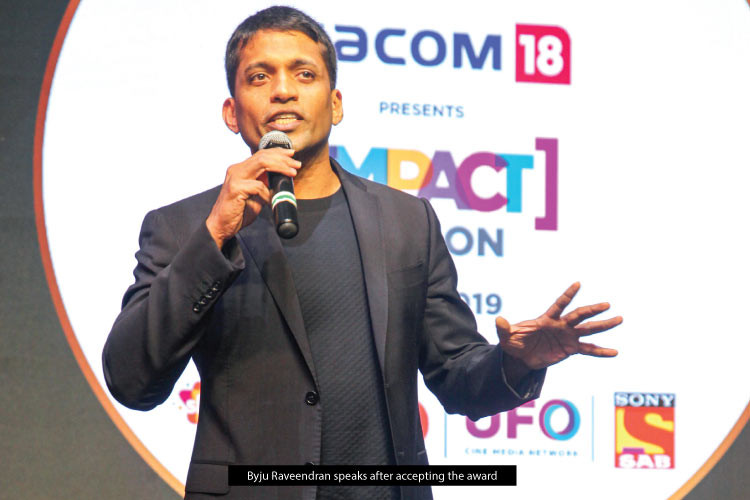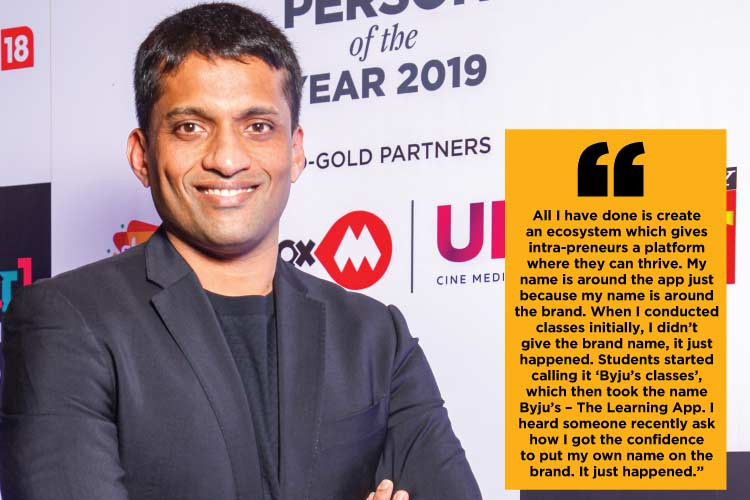 TOPPER
Byju Raveendran, founder and CEO of Byju's, is IMPACT Person of the Year, 2019 for revolutionising the way India learns, scripting unprecedented success story in edu-tech domain by building a billion-dollar business enterprise and a powerful brand

From teacher to billionaire educator-entrepreneur, Byju Raveendran, founder and CEO of Byju's, has come a long way. Raveendran founded the Bangalore-based ed-tech and online tutoring company in 2015 along with his wife, Divya Gokulnath, with the sole vision to 'help students fall in love with learning' and change the way India learns. Today, Byju's, its hallmark online learning application, has 42 million registered students.

It not only offers online learning programmes for students in Classes I-XII (K-12) but also helps older students prepare for competitive exams such as JEE, CAT, IAS, GRE and GMAT. It has revolutionized school-level learning by tying up with several State and Central boards to offer customised solutions for them, even launching the app in regional languages to widen its reach.

Raveendran has made great use of technology to take personalized learning to a new level in Byju's Learning app. The core strength of Byju's lies in creating high quality learning modules and interactive videos across grades. It leverages big data analytics to trace the learning fingerprint of every student and creates a personalized learning experience on the platform.

The app creates personalized learn journeys for individual students based on their proficiency levels and capabilities, which helps them learn at their own pace and style, and makes the experience engaging and effective. This is unprecedented in the Indian education sector.

CREATING VALUE
In January this year, New York-based hedge fund Tiger Global Management announced that it would invest $200 million in Think and Learn Private Limited, the parent company of Byju's, taking its valuation up to about $8 billion.

Earlier, Byju Raveendran's company had been backed by strong and prominent investors like Chan-Zuckerberg Initiative, Naspers, Canada's Pension Plan Investment Board (CPPIB), General Atlantic, Tencent, Sequoia Capital, Sofina, Verlinvest, IFC, Aarin Capital, Times Internet, Lightspeed Ventures, Owl Ventures & Qatar Investment Authority. Byju's is incidentally the first company in Asia to receive an investment from the Chan-Zuckerberg Initiative (co-founded by Facebook founder Mark Zuckerberg and his wife Priscilla Chan).

Now, Raveendran is looking to expand his operations abroad in countries like the USA, Canada and Australia, using the funds he has raised. Presently, he holds a 34% stake in Byju's, which he shares with his wife and brother Riju Raveendran. The firm is on track to double its revenue to Rs 3,000 crore in the current financial year, according to Raveendran.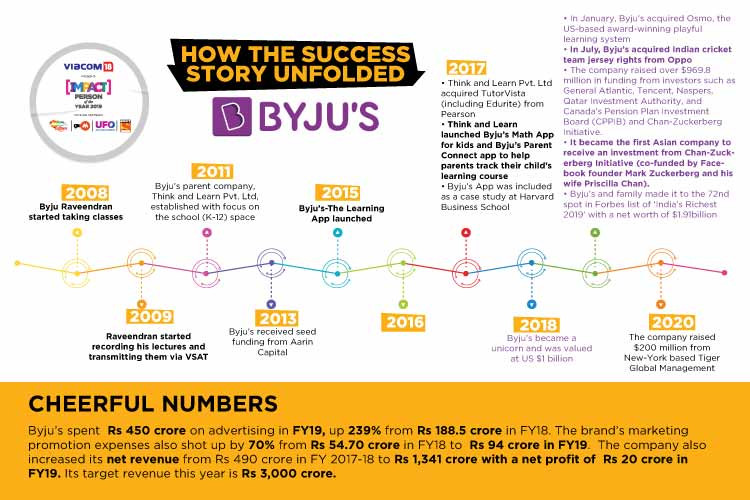 WIDENING VISTAS
In 2017, Think and Learn had acquired TutorVista (including Edurite) from Pearson, a multinational publishing and education company based in London, England. By 2019, the app had become so popular that it was being used by over 30 million students from Class I to XII in India.

In the same year, Raveendran announced the launch of the app in regional languages and his plans to launch an international version for English-speaking students from around the world. Besides, he unveiled Disney Byju's for kids from Class I to III by introducing Disney characters in the app. The company also launched Byju's Math App for kids and introduced the Byju's Parent Connect app to help parents track their children's progress.

Another milestone for Raveendran came when the app became a business case study at Harvard Business School. The company also acquired Osmo, a US-based award-winning playful learning system, with an aim to innovate, explore and set new benchmarks for learning solutions.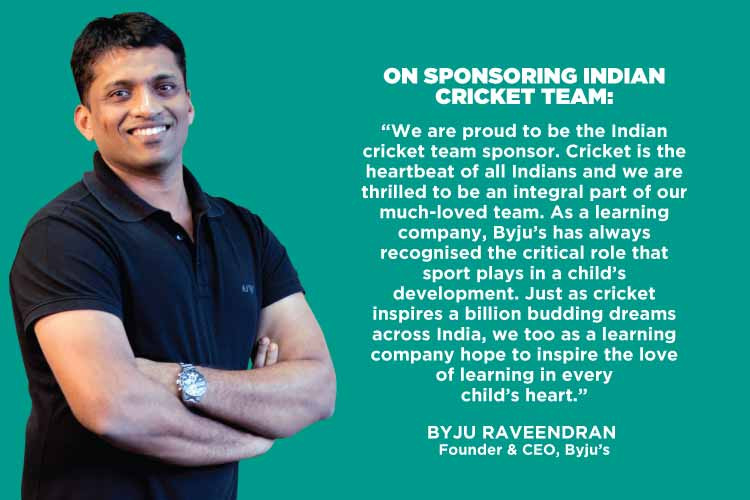 The Byju's TVC unveiling the new team jersey with the Byju's logo features the Indian cricket team walking onto the pitch while sharing what the jersey means to each of them and the inspiration they draw from it to continue learning and growing every day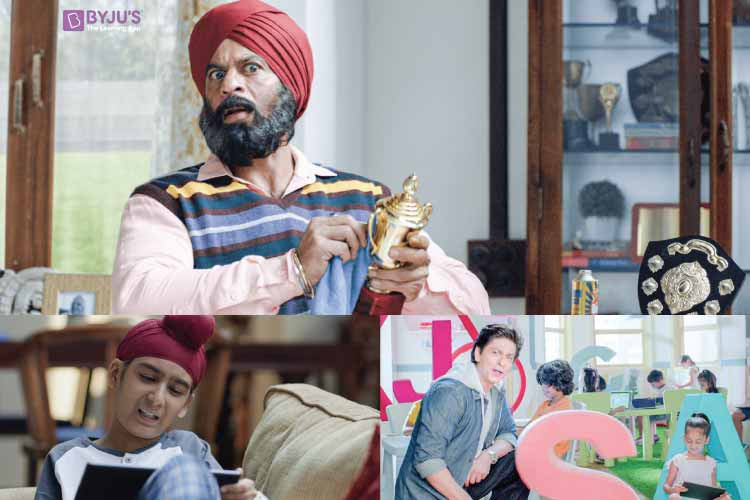 Byju's roped in actor Shah Rukh Khan as the brand ambassador to grab mass attention and push out information to every target household. It also got on board actor Mahesh Babu to target the Telangana and Andhra Pradesh market.

BYJU'S - THE LEARNING APP

The Byju's learning app makes use of original content, rich animations, interactive simulations and engaging video lessons from India's best teachers. It offers adaptive, engaging and effective learning programmes for students in Classes I-XII (K-12) and competitive exams like JEE, NEET, CAT and IAS.

Today, Byju's has over 42 million registered students. With an average time of 71 minutes being spent by a student on the app every day from 1700+ cities, the Byju's app is making learning enjoyable and effective – ensuring it is contextual and visual, not just theoretical. The app has been designed to adapt itself to the unique learning style of every student, as per the pace of learning, size of learning and style of learning.

The learning app is paving the way for new-age, geography-agnostic learning tools that sit at the cross-section of mobile, interactive content and personalised learning methodologies.

"The school and teaching in the classroom will remain important. Tools and apps like ours can help students become active learners. This is important because eventually the 21st century literates are not the ones who can't read and write, they are the ones who can learn, unlearn and then relearn."
Byju Raveendran

BYJU'S, THE BRAND
Raveendran has not only been a pioneer in the space of online learning, but has built a very powerful brand with Byju's. He roped in actor Shah Rukh Khan as the brand ambassador for Byju's to grab mass attention and push out information to every target household. He also got on board actor Mahesh Babu to target the Telangana and Andhra Pradesh market. Both associations worked very well for his brand.

Raveendran has been quite aggressive in terms of marketing Byju's and has touched the pulse of the Indian consumer by venturing into the domain of cricket. In July 2019, Byju's became the new official sponsor of the Indian cricket team, and acquired jersey rights and other associated sponsorship rights from Oppo Mobiles.

Until March 2022, Byju's will be seen emblazoned on the Indian Team jerseys and has already gained high visibility and recall value from this association. In fact, the company's advertisements with brand ambassador Shah Rukh Khan won the highest recall quotient among celebrity endorsements during the 2019 ICC World Cup Cricket.

Raveendran had reportedly bought the Team India sponsorship from Oppo for Rs 1,079 crore. While the jersey branding for Team India has always been with non-digital brands such as Oppo, Star, Sahara and others, Byju's became the biggest sponsorship investment that a digital-first brand had ever made in India.

With this association, Raveendran allocated a major portion of Byju's marketing budget for 2019 to cricket and has been capitalizing on cricket in a big way ever since.

On the advertising front, Raveendran has emerged as a big advertiser, with Byju's spending Rs 450 crore on advertising in FY19. The company leverages a combination of channels including display and banner, besides advertising on YouTube. It also uses TV in a big way to reach students and parents, apart from Print and Outdoor media, Print ads ensuring that parents from non-metro regions are made aware of the app.

MAKING MUSIC, BYJU'S STYLE
Byju's has an in-house band that creates the music for each and every video. The company has brought together some of the rockstars with gaming, educational and IT background to form the tech team. The organization has a strong 1,000+ R&D team with specialists from content, media and technology. The entire company, across all departments, has close to 4,000+ employees today.

BYJU RAVEENDRAN: THE STAR EDUCATOR

Byju Raveendran, son of a teacher couple, hails from Azhikode, a coastal village in Kerala. He did his Bachelor's in Mechanical Engineering in Kerala and took up a job as an engineer in a UK-based shipping company in Singapore.

It was during his trips back home that he ended up helping a few friends clear the entrance test to the Indian Institute of Management (IIM)s using unique shortcuts that were very useful. At the same time, he attempted the test himself for fun and ended up scoring 100 percentile.

He was so amazed that he could not believe the results. Hence, he attempted it for the second time, scoring 100 percentile again, but did not join any of the IIMs. In 2005, he quit his job to become a full-time teacher. He started teaching for various competitive exams from a terrace and as the number of students increased, he moved to a classroom and eventually to auditoriums and stadiums.

In 2008, he started Byju's classes which became a household brand because of the unique teaching techniques and focus on learning. At the same time, he was taking classes across different States including Delhi, Mumbai, Bangalore, Pune and Chennai.

Due to his growing popularity, he also started recording his lectures in 2009 and transmitted them via VSAT, which was available to students across the country. However, he later realized that most of the aspiring business students were struggling with Science and Maths and decided to strengthen their foundation.

Hence, Byju's parent company - Think and Learn Pvt Ltd - was incorporated in 2011 with a focus on the school (K-12) space.

The real breakthrough, however, was in 2015 with the launch of Byju's, The Learning App. Initially, it was released as a Maths and Science tutor app for students from Classes VI to XII, followed by the inclusion of Classes IV and V after two years. The app saw phenomenal engagement, and since then, there has been no looking back for Byju Raveendran.

He went on to receive the CNBC Young Turk of the Year (2017) and Express IT Newsmaker of the Year (2017); Ernst and Young Entrepreneur of the year award-Start-up (2018) and Manorama Newsmaker of the Year Award (2019), among other awards. Apart from these, he made it to the 72nd spot in Forbes' list of 'India's Richest 2019' with a net worth of $1.91 billion.

Originally from Kerala, Raveendran now lives with his family in Bangalore. Apart from being a passionate teacher, he likes travelling and experiencing new things. A big follower of football leagues, he is a hardcore FC Barcelona fan.

THE GAMIFICATION GAME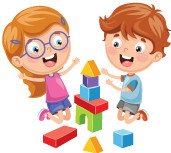 The Byju's Learning App relies on the proven theory that gamification drives students towards various goals and better learning outcomes, besides making the learning experience fun, engaging and effective. In the app, experiential learning is driven through games and a combination of gamification techniques keeps students motivated. In fact, gamification for younger audiences helps maintain high levels of engagement as they have difficulty retaining focus.

FOCUS: MACHINE VISION
The acquisition of Osmo, the US-based playful learning system, by Byju's is aimed at bolstering its plans to innovate and explore new learning solutions. The objective is to create a blended learning experience. Machine vision (or Computer vision) is the focus.

Computer vision is an interdisciplinary scientific field in which computers are trained to extract, analyse and understand digital images or videos, with the intent of replicating what humans can do. The innovation Osmo brings to the table can detect shapes, numbers, letters and even images of characters and objects in relatively real-time, but going forward this capability is expected to grow.

Imagine a biology classroom where students get step-by-step instructions on how to dissect a frog from a software that is watching and correcting their move!

ON WINNING THE IPOY, 2019 AWARD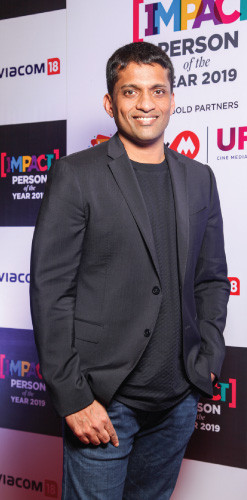 This is an honour for everyone who works behind the brand. I am collecting this award even though I always get undue credit for what I do.
This award completely belongs to the agency we have been working with since 2015… Arun… and Atit and a lot of other people who support us.

Although it's a risky strategy, we have always stayed true to our core focus of making students fall in love with learning in a world where everyone talks about creating purpose.

All our commercials and communication have always been based on building students' love for learning.

We believe in making them life-long learners and everything else will follow.

So, thanks a lot for this and it's for everyone who is involved."

BYJU RAVEENDRAN,
Founder and CEO, Byju's

ON USE OF BIG DATA AND ANALYTICS TO PERSONALIZE BYJU's LEARNING APP
"The biggest advantage of an online learning platform like this is that once we start getting data from students, which includes how they learn, how much they learn and when they learn, based on it we can actually personalize the way the content is offered to students.

It can be based on the formats which they respond to, like videos, with which some of them interact better. Students spending more time on the app enables us to make it more relevant for the user, not just based on what they like, but more importantly based on the proficiency level of the students.

The amount of data we get from millions of students makes the scope for personalization huge, and these are still early days," says Byju Raveendran.


The day you think you are successful, the game is over: Byju Raveendran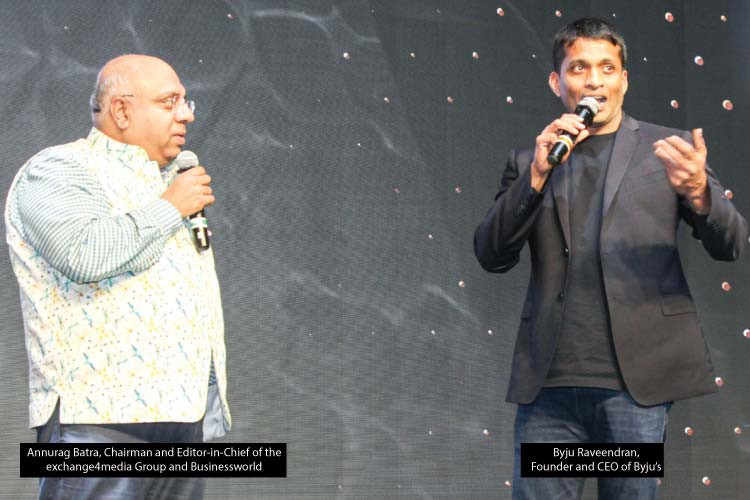 Byju Raveendran, Founder and CEO of Byju's, literally chose to 'walk the talk' at the IMPACT Person of the Year, 2019 award function last week, preferring to have a conversation with Annurag Batra, Chairman and Editor-in-Chief of the exchange4media Group and Businessworld, standing up rather than seated on stage! We present excerpts from the conversation covering the IPOY winner's definition of success, to Shah Rukh Khan as brand ambassador, plans for the global market and why he thinks everyone should have a dream…

Batra: What do the words 'iconic', 'game-changer' and 'disruptor' mean to you as founder of a unicorn company, though these terms are used loosely these days?
Byju Raveendran: For a company to be called iconic, it has to outlive the founders. We are just starting and I constantly tell myself that this is not success because the day you think you are successful, the game is over. The key is to continue that competition where it's you versus you. There is no scope for complacency and what we see is all relative success because that valuation is just a number at the end of the day. Even in today's scale, we only have 2% penetration. About 20-30 years down the line, if at least some of you think that we made a social impact, we can say that I made a difference. We have come a long way, but still have a long way to go.

AB: Tell me the name of a company or a person that you think is a disruptor?
BR: Most of the time, disruption happens on both sides. I don't want to talk about companies, but when you disrupt something, there is positivity, and there is someone else who is getting affected negatively too. There are very few segments in which you end up doing well. We are fortunately in one such segment, since education is still the only way to make it big for most of us.

I always say that the real fun is not in creating a million-dollar company, but in changing the way a million things can look. However, the responsibility is huge because everybody talks about India having such a young population, demographic dividend… but that's also a double-edged sword because an uneducated or less educated, under-employed youth is a recipe for disaster.

If we can capitalize on the drive and the aspiration in our small towns and villages, I am sure we can become one of the most powerful nations over the next 20-30 years. This is a huge responsibility and there is a long way to go before we can call ourselves remotely successful.

AB: When I met you in August, at your office in Bangalore, you told me that the top 10 guys who started the company with you and believed in you, have stood by you and gone on to play key roles at Byju's. Tell us what has kept them in the company and how they have evolved with the group and made themselves relevant to what they do now…
BR: Ours is a clear case of pursuing your passion, which luckily intersected with a clear need in the society.

We kept on making it bigger and better. It's easy to start a mission-driven company because we are in education, and all credit goes to the team. The ten people who started the company with me are all my students; so it was easy to attract them for the right reasons, because a company is never about individuals, though many new age founders get a lot of credit.

I am very proud of just one thing - that the ten people who started with me, stuck by me, whereas other companies struggle to even hold on to their co-founders. All ten of them are still playing a crucial role. The power of compounding relationships is most of the time underestimated.

If you have a team playing together for a long time, you almost always start a sentence and someone else can complete it for you. The same set of people will get the company from 1 to 10, though they alone cannot get you from 10 to 100.

However, they are important because they form the DNA of the team. Our expertise lay only in content five years back. Until 2015, we were 100% offline and 100% services and in 2016, we became 100% online and 100% product.

We positively disrupted our own segment. There is nothing called winning, it's about staying in the game as long as you can, which needs existential flexibility. Every success comes with several failures. On top of your game, you will make sure that those failures stay small and when you win, you win big.

AB: Why have you chosen Shah Rukh Khan as your brand ambassador? What different did you learn about the advertising, media and marketing industry? Give us an anecdote that you fondly remember…
BR: SRK is very appealing to all our messaging and also to students and parents as well. In our advertisements, Shah Rukh Khan plays different roles and kids are the stars in all our ads, which work really well for us. He plays a subtle role and not one that a typical brand ambassador would. All our brand ambassadors, including Shah Rukh Khan, Mohanlal and some new ones, have also had some hand in our branding success.

AB: What is your message to start-up founders? Also, what do you have to say to people who are entrepreneurial even as they work for companies?
BR: This is not just a message to entrepreneurs but to everyone who wants to pursue their dreams. No time is late enough to start and again, it's not a skill, but a mindset. That's why it's actually easy to become an entrepreneur.

If you are truly passionate about something and it intersects with a clear need, you can always find the product market fit and once that's done, you have to make sure that there is enough of the target audience and create a team that can execute it. You need a dream; it is equally important to have a life goal, but that's not enough. You need to have the discipline to break it down and a monthly, weekly and daily goal.

Finding the right balance between now, thinking long term, which is what dreams and visions are, and also doing what is important for today is mandatory. All of us can be entrepreneurs or intra-preneurs. There is not much difference between the two.

AB: What are your plans for the global market?
BR: There is a lot to be done in India itself. Today, we have created products that are 50% developed and we are figuring out how we can make a difference and solve the real challenge, which is access to good quality education… because if we can do that, I am sure we will make a much bigger impact. So we will stay focused on India.

There are some of these products having a large primary market and a fundamentally strong business model which allows you to explore opportunities in new markets, along with partners. We will soon launch some of the products in English-speaking markets to begin with, but India will remain our core focus.