Privacy in modern times is a fading concept. With our phones tracking our searches and location, targeted advertising becoming a norm, anything ever considered 'private' is certainly floating somewhere in the public domain. As Artificial Intelligence becomes the showstopper of the Digital world, there is a new problem that has cropped up with it. Somehow, some brands are living under the impression that using AI generated ad campaigns involving celebrities without their consent is 'okay'.

When we asked ChatGPT guidelines for use of celebs in GenAI-led ads' - it produced this result –

'When it comes to using AI in ad campaigns involving celebrities, obtaining informed consent is crucial. Obtaining informed consent from celebrities in AI ad campaigns requires transparent communication, detailed explanations, and collaborative decision-making. Respecting the rights and concerns of celebrities is essential in fostering a responsible and ethical approach to AI usage in advertising - (ChatGPT, accessed on 'AI Appreciation Day', July 16, 2023).

If only Zomtao and upGrad had sought guidance from 'Artificial Intelligence (AI) on how to use Artificial Intelligence' for their ads featuring celebrities, they would have been spared the public backlash on social media. The brands' recent campaigns featuring AI-generated likelinesses of Elon Musk, Lionel Messi, Leonardo Di Caprio and Google and Alphabet CEO, Sundar Pichai drew flak for violation of ethical standards and breach of privacy. Unfortunately, this stunt seems akin to the use of AI to generate explicit content, in both cases public figures are exploited in various degrees. This realisation must set in, before Generative AI turns into a nightmare at the hands of unscrupulous interests.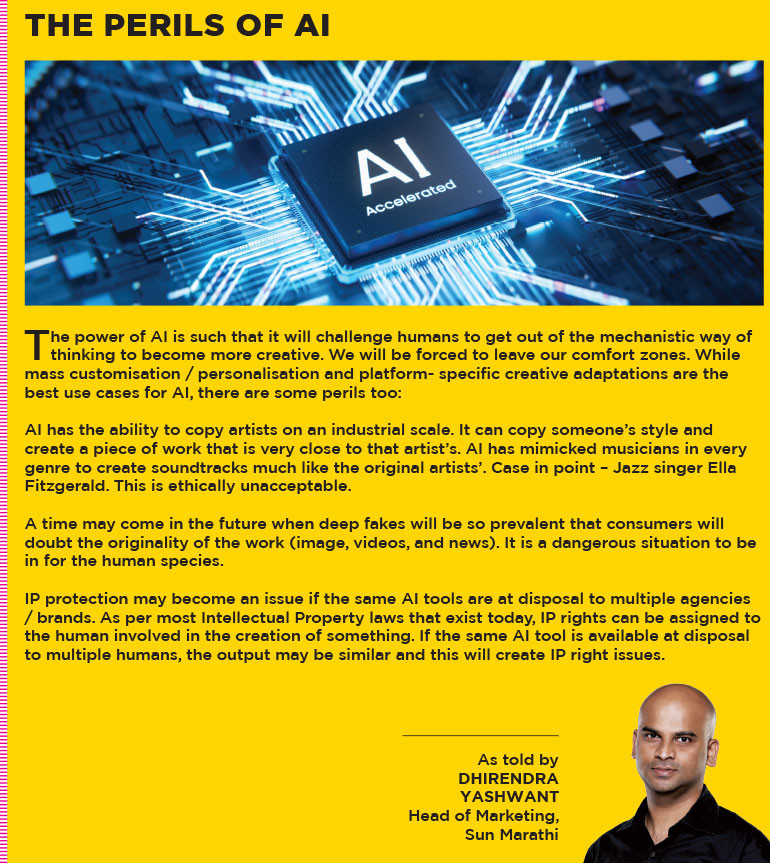 While upGrad, known for its tongue-in-cheek humour, may deserve the benefit of doubt as a relative new-comer in the field, Zomato on the other hand is an experienced player. The latter used deepfake and AI tech for its hyperlocalised ad campaign with Hrithik Roshan in July last year. But human creativity can be smug, and public opinion, often whimsical. While Zomato received a mixed reaction with many users joining the conversation with their own memes and suggestions, upGrad mostly faced criticism. However, both the brands took down their ads eventually; upGrad after attempting a brief disclaimer. Released around the same time, media brand Aaj Tak's campaign featuring AI-generated lookalikes of world leaders – American President Joe Biden, Australian PM Anthony Albanese, Italian PM Giorgia Meloni, Canadian PM Justin Trudeau, Chinese President Xi Jinping, Russian President Vladimir Putin, and Indian PM Narendra Modi, practicing Yoga, was also hailed initially.



In between these subjective rights and wrongs, sense prevailed with Advertising Standards Council of India (ASCI) CEO, Manisha Kapoor's Linkedin post, stating, "The ASCI code requires advertisers to not use names or references of individuals or institutions of repute without their express permission. Also, putting a disclaimer that essentially contradicts the representations made in the ad does not make it ok."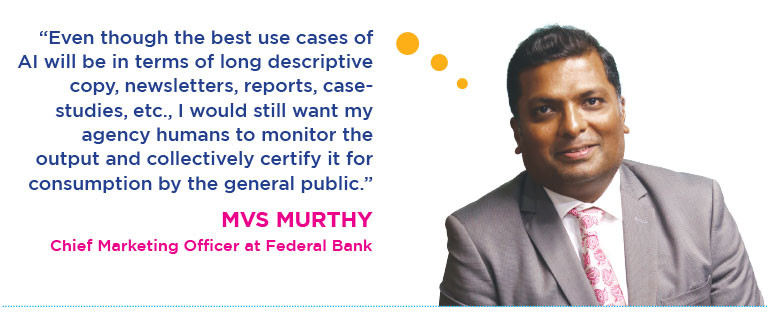 While ASCI has, as yet, no guidelines delimiting the use of AI in advertising, speaking to IMPACT, Kapoor clarifies, "From a purely consumer protection point of view, what matters is that the ad should not be misleading in any way, whether it's hand-drawn or AI-generated. AI is another very interesting and exciting new tech, but the intent of the ad and what it conveys is what concerns us. There are certainly other copyright-related implications which are a different set of issues."

There's no denying that every new technology must be deployed responsibly, but AI is still at a very nascent stage and evolving. There's going to be some degree of experimentation as brands familiarise themselves with it and figure out the possibilities and pitfalls. Whether or not ASCI will evolve an AI-specific set of guidelines, will depend on how things shape up, but at this point of time, says Kapoor, "the kind of use cases that we are seeing, are well covered even under our current guidelines. So we have no reason to look into it differently. Going ahead there could be other issues such as unfair competition or plagiarism that might create the need for such an intervention. The ASCI guidelines aimed at countering Dark Patterns in the Digital landscape were, for instance, framed after certain years of UI/UX development."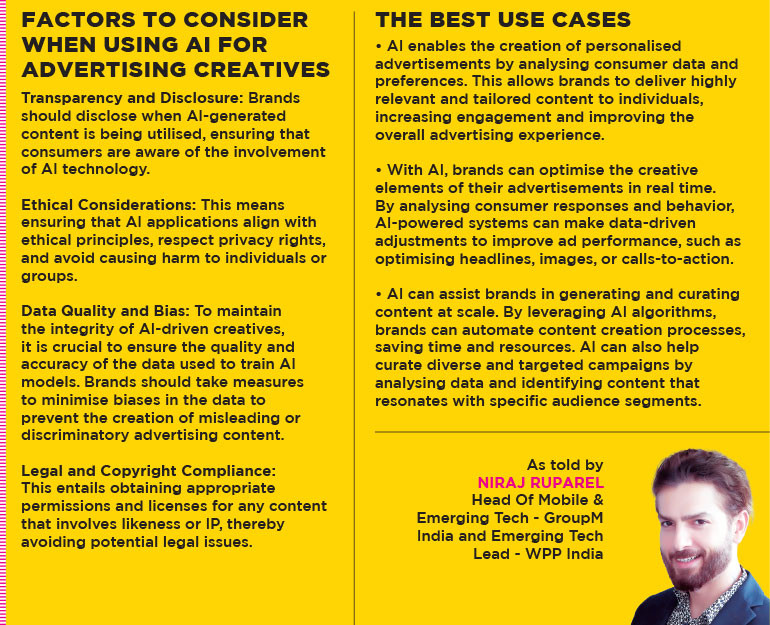 WHAT WENT WRONG?
It is rather telling that savvy netizens who enjoy and create those memes with random attributions to famous personalities called out these ads for ethical violations. One wonders if it was simply the inherent, subconscious bias against the 'job-snatcher AI'! But there's more.

Until the ethical usage of AI in advertising gets formalised, there will always be a grey area. Ashit Chakravarty, Managing Partner - Dentsu Creative West says, "Whatever we see right now is only because of the lack of copyright laws around the use of memes and other such forms of content, not because it's ethical. Ultimately, a brand can't use the face or voice of a celebrity without formally onboarding them. This accounts for non-consensual use, because it's the virtual identity of the person. In fact, this argument is the basis of the current Hollywood debate over how actors will get paid for the work done by their digital doubles. It's a recognisable face after all, and you can't use it for your benefit, without their permission."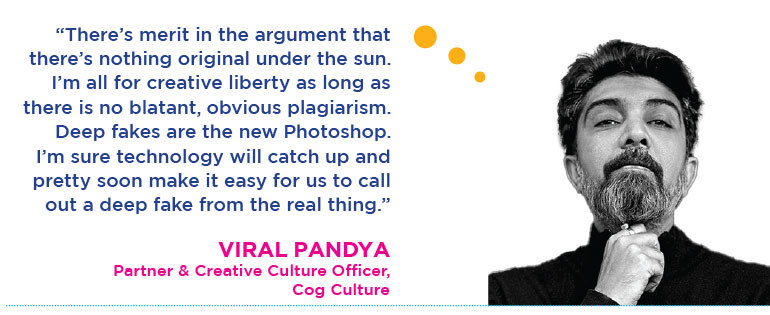 Speaking of payment, a basic factor to consider here is that the use of celebrities for brand promotion has historically been done in exchange for a fee. Without their consent, brands are bypassing this transaction. At its core, it is an unethical practice at various levels.



Talking in the same vein, Abhishek Razdan, Co-founder and CEO Avtr Meta Labs, a content-driven meta-influencer company adds, "Even if the celebrity is your brand ambassador, you still need to take prior consent specifically for any AI-led advertising. It's very easy to get carried away as AI tools help you create some magical things, which seemed impossible before. However, one needs to stay away from controversy, infringing upon copyrights and should totally avoid using faces of any personality or stars without their consent. "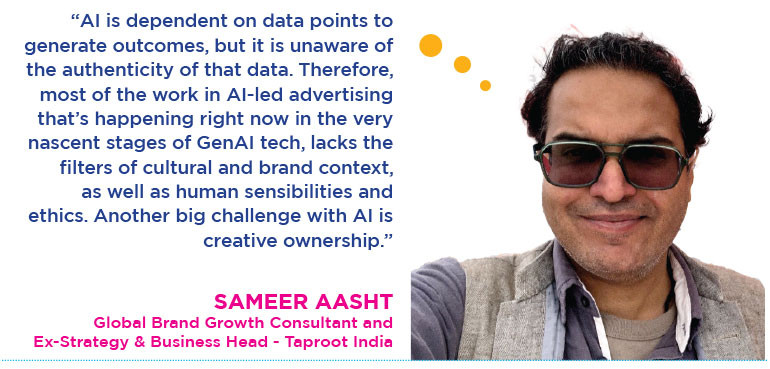 According to Praful Akali, Founder and MD, Medulla Communications both the ads had copyright issues in addition to being unethical. "Essentially, AI does not create anything new. It just compiles the information that is available online, and so, the biggest concern for advertising agencies using AI should be copyright. Even if you have licensed that particular AI tool, the creative it generates is not available for anyone to use as an advertisement. Brands cannot use the work of AI without further refinement or human validation."

The two major issues with the use of AI in advertising that Ayan Banik, SVP- Brand Planning, Wunderman Thompson Kolkata points out are distortion of reality and loss of brand exclusivity. "AI is an illusion; it's a distortion of reality. Brands cannot be made by distorting reality because brands are real tangible assets that consumers are interacting with and paying their hard-earned money for. Second, because AI creates a composite image from multiple image sources, this image has no ownership. It is a very dangerous thing for a brand to say it owns that image when it's not rightfully so. Moreover, there are multiple other brands, sometimes competing ones that could be seen claiming similar images. In that case, the brand exclusivity is lost."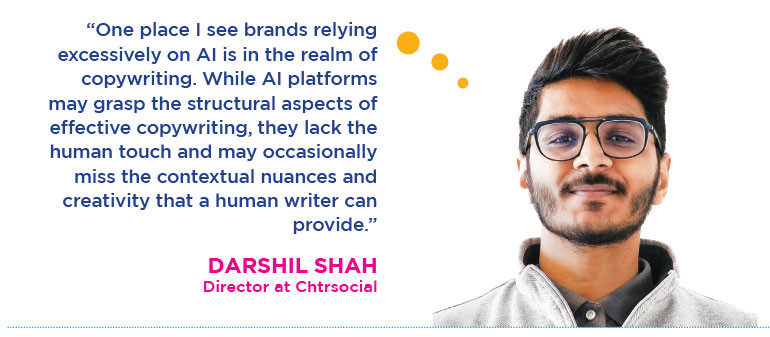 Raaghav Bagai, Co-founder of Sociowash, the full-service digital marketing agency that has very recently launched an AI Studio, offers some practical insights in this context. He tells us how brands, big and small, medium and large-budget, retainer and new, come to the (now designated) AI studio, sometimes with clearly defined objectives that AI can help them achieve more effectively or with just a vague idea, but a bubbling enthusiasm to simply 'do something with AI'.

"There are practical reasons for why the meme culture exists. Brands want to be a part of those conversations happening right at that moment, and with AI they can do it even more effectively and quickly. Much of our content is being generated through Midjourney, with a lot of retouching and reiterations happening. It has helped us in increasing our output, and moreover, it makes sense to use these tools for the Digital medium where the content life span is not more than 5-10 seconds, before you scroll once more. There's no point in spending hours on it. Our AI Studio offers end-to-end AI generated social content to all types of clients/brands, including those with budget constraints who can't afford content that is perfected by humans. But, this is certainly not the best approach for mainline communication/TVCs due to the obvious ethical and copyright issues, as well as the challenges around the accuracy of AI at present," states Bagai.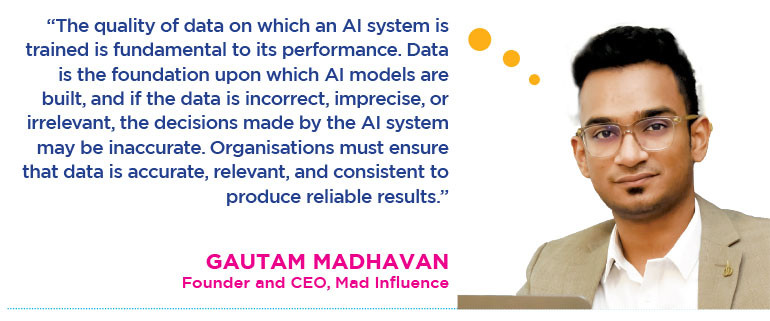 Angad Singh Manchanda, CEO & Co-founder, Chimp&z Inc shares a similar observation. "Automation and AI together will be the next big wave in advertising and we are witnessing it firsthand. I see that brands and agencies alike are equally excited to see the possibilities of AI in our marketing strategies, and more and more brands are willing to jump on the bandwagon, which is exactly what the AI and advertising fraternity needs. Any need for innovation is a way to create better campaigns. Blunders will need to be made by some so that we can work smarter, not harder, alongside AI."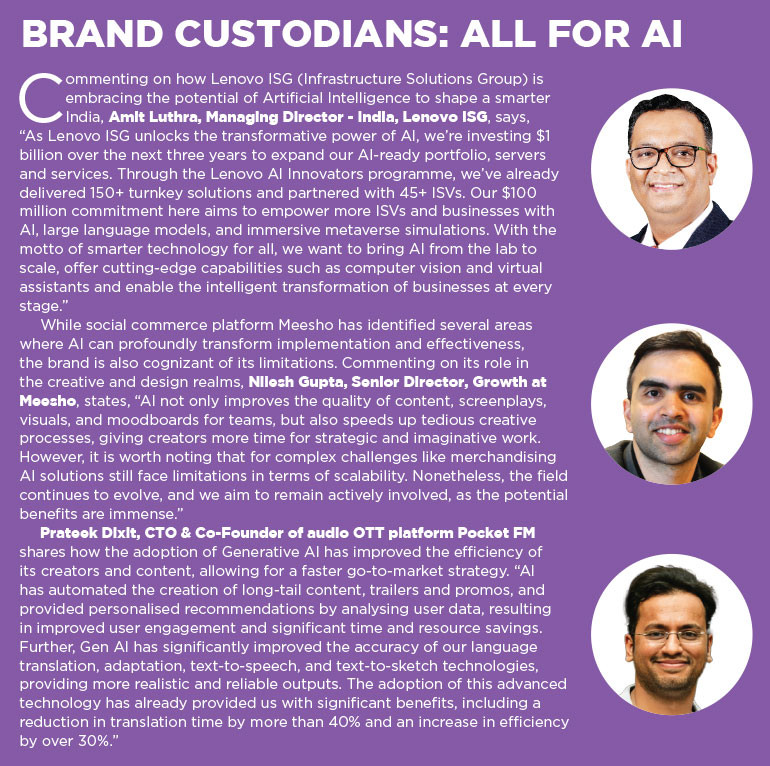 TREAD WITH CAUTION


While these were seemingly innocuous instances, the overzealous and unmindful use of AI can have far-reaching consequences for brands. "The Internet is full of options where you can even have top Hollywood actors wake you up in their voices each morning. Deep fakes do involve various risks that can even destroy a brand's reputation," says Yesudas S Pillai, Founder and CEO Y&A Transformation and Country Lead, Channel Factory.

Pillai reckons that because there are no governing laws for the use of AI in advertising, brands and agencies can self-regulate by creating their own ethical framework. Staying informed and contextually relevant is also important. "Staying informed is another very important element so that one doesn't fall in any trap. When we employ our AdTech platform Channel Factory to help brands optimise their YouTube ads, one of the things we tell brand owners is to get aligned to content that compliments/enhances their own brand values and not look at YouTube content in general. Similarly, the agencies and brand owners employing AI, must ensure the content they generate is contextually relevant and aligned to their own brand values."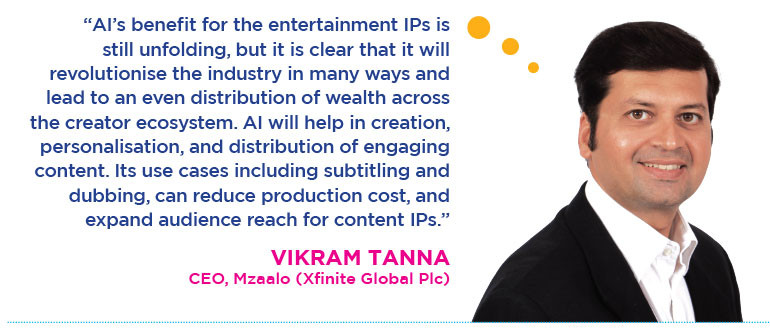 Viral Pandya, Partner & Creative Culture Officer, Cog Culture, agrees. He says, "Generative Artificial Intelligence is a minefield when it comes to intellectual property rights. It doesn't simply conjure texts and images from thin air, but uses millions, perhaps billions, of existing material to create something that appears new. It's entirely derivative, though it's not simple or easy to trace the source materials. As the technology is relatively new, there are no clear laws regarding its use yet, but be certain that they will come. Already there are lawsuits in the US about its use. Brands and agencies should be wary of the legal issues, even the ones that may happen in future. Better still, the industry should evolve its own set of guidelines."



Gauging the rising benefits of AI, experiential marketing has been riding the AI bandwagon ever since its introduction in the market. Arvind Balan, Co-Founder & CEO of experiential marketing agency Maxperience, says that AI now has significant application in bottom funnel and mid funnel marketing. According to him, "From assisting in product photoshoot to creating website content, working on data analytics, etc. AI caters to myriad requirements in the sphere of experiential marketing. Even in upper funnel marketing, Deepfake is deployed to streamline chat for elevating the customer experience. But here, it is important to identify the limitations of AI. It requires regular monitoring because if left to work on its own, AI can create content lacking any relevance to reality where it can give misleading information to the audience. Brands need to ensure that the prompt response given by AI is factually correct."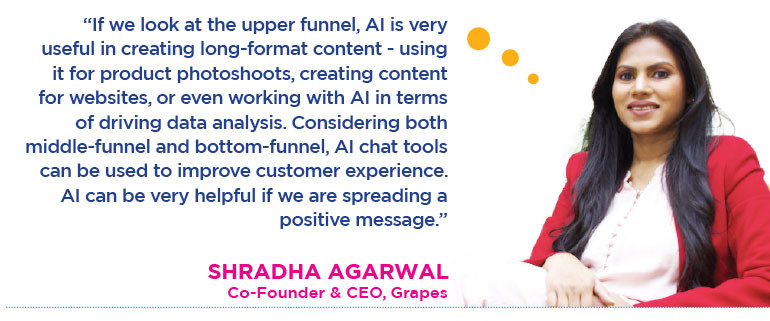 For MVS Murthy, Chief Marketing Officer at Federal Bank the discussion around AI is one about creative efficiency and not creative liberty. He believes that with AI, one can almost become a content factory. "Our creative supply chain will definitely get bolstered from a time to deploy and scale perspective. However, one can also end up becoming a self-fulfilling prophecy. We all know what happened to the brands that overplayed telecalling, spam mails, etc. In this case, even if we assume that a large play will be in the non 1-1 space, one can't be spewing. Every fake will get unmasked by smarter and diligent audiences. While it will look as good as it lasts, the unravelling will bring the value of the brand down to insurmountable levels," he states.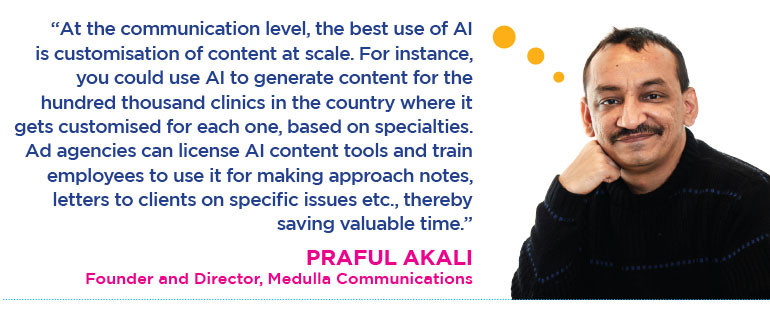 Vivek Kumar Anand, Chief Business Officer, DViO Digital is of the opinion that AI is the best thing to have happened in terms of creative ideation. He says, "Artificial intelligence has emerged as a desirable collaborator in creative creation, and it is the most preferred tool for ideation and getting from zero to one, where we used to invest a lot of time. Just think about a year ago when you had to send an idea to a client or explain a unique concept. It took a lot of work to find a reference image or video. But now, as you can imagine, provide a prompt, and even if the exact outcome isn't generated, an indicative reference is always available."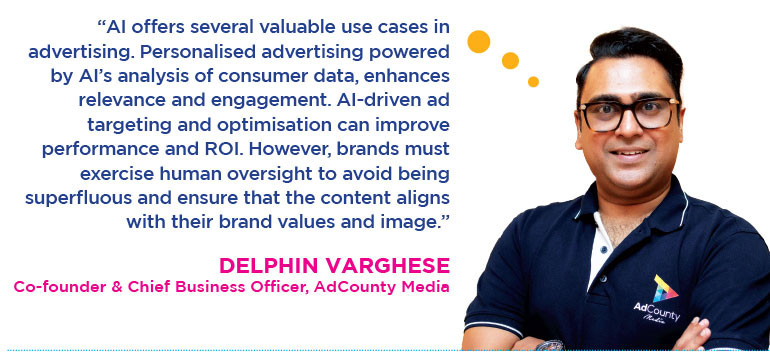 Anand, however, maintains that relying solely on AI for the final output is risky for brands. He warns, "Being original and distinctive is crucial to differentiate your brand from others with similar stories. If you rely solely on AI-generated prompts, you might create content similar to others, ultimately getting lost in the clutter of AI-generated content. Therefore, AI outcomes need to be assisted for efficient and effective results."



"In the universe of meme marketing, it is important to exercise caution. While AI can assist in generating memes, brands must be careful not to become superfluous and risk losing authenticity or make blunders," states Manish Solanki, COO & Co-founder, TheSmallBigIdea. Solanki draws attention to another major concern related to AI adoption - the widening gap in human talent. He says, "AI can greatly benefit established designers, boosting their efficiency and productivity. However, it also allows non-designers with access to resources to mimic design work. This creates a challenge for individuals without resources, making it difficult for them to stay relevant in a fast-paced world. This is an issue we may encounter in the near future."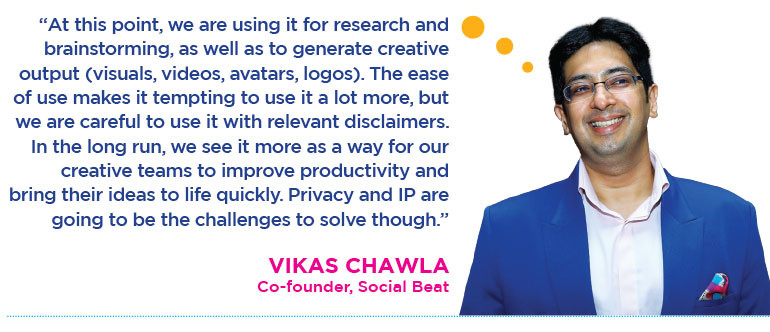 A report by Forbes mentions, "The global artificial intelligence market size is projected to expand at a compound annual growth rate (CAGR) of 37.3% from 2023 to 2030. It is projected to reach $1,811.8 billion by 2030." Clearly, we are heading towards a promising future of possibilities, but before becoming overzealous in our pursuit of 'creative content,' let's gauge if they are actually creative, or mediocre ideas in the garb of innovation.