What comes to mind when you think of cricket in India? The Indian Premier League or IPL? The religion of the masses? The kind of fan following and eyeballs an Indian cricket match or the IPL garners is something that marketers have cashed in on for years. Take a look at every season of the IPL and you will see a mad scramble of brands – on the playing field, on the players' uniforms and kits, on your TV screen and on your OTT app. However, over the past six to seven years, India has also begun to see the emergence of newer properties like the Pro-Kabaddi League (PKL) and the Indian Super League (ISL) that are offering viewers the opportunity to get hooked onto other sports. While popularity, eyeballs and economics are all stacked heavily in favour of cricket, and as uncertainty surrounds the IPL this year, what advantages do the smaller leagues offer brands looking to break the clutter and engage better with their target audience? And just how important is the growth of these leagues to the Indian sports marketing growth story?
THE
SCORE

BOARD

TV viewership of sports channels witnessed a 17% jump in overall viewing minutes in 2019, as per BARC India

The sports genre contributed to 3.2% of total TV viewership last year

PKL 2019 registered 9% growth in viewership with 1.2 billion impressions

According to BARC's data, ISL saw 96% growth in TV ratings and 97% viewership growth on Hotstar in 2019-20 season.

Both PKL and ISL saw a higher share of women viewers in 2019

Close to 80% of PKL viewership came from telecast on movie channels
HOW ADVERTISERS
CAN SCORE BIG WITH EMERGING LEAGUES

Growth potential of emerging leagues gives brands opportunities to invest right at the start and reap rich benefits in future

While cricket still rules the playing field in India, sports like football offer global appeal especially among younger consumers at a far lower cost

Home-grown sporting properties like kabaddi and wrestling offer brands opportunities to build stronger connect with focused consumer groups

Brands must invest with long-term vision, and look at building partnerships at grass-root level IN A LEAGUE OF THEIR OWN
LEAGUES IN NUMBERS
TV Reach in 000's

4,62,344

TV Reach in 000's

3,28,268

TV Reach in 000's

1,67,369

TV Ratings

3.26

TV Ratings

1.10

TV Ratings

0.26

Social Conversations
in 000's

6,700

Social Conversations
in 000's

1,300

Social Conversations
in 000's

753

Search Values
in 000's

1,42,405

Search Values
in 000's

10,346

Search Values
in 000's

19,488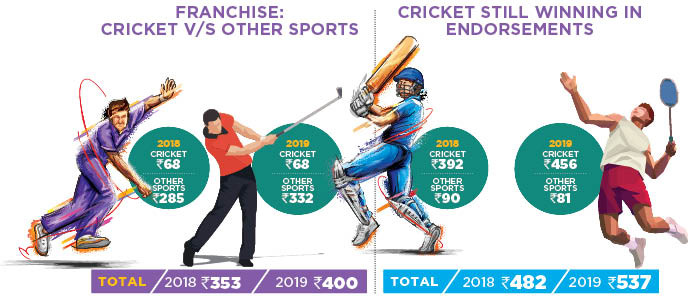 While the IPL took both Indian cricket fans and advertisers by storm, the smaller leagues are definitely making progress in terms of garnering viewers and advertiser interest. What has worked for the likes of ISL and PKL is a combination of factors such as the right marketing approach by the leagues, a growing interest in sports beyond cricket and celebrity endorsement. While the leagues have seen success over the past six or seven years, the past couple of years has seen some de-growth, according to the seventh edition of ESP Properties' 'Sporting Nation in the Making' report, that was released recently. Despite that, Vinit Karnik, Business Head, ESP Properties believes that it is not right to write off any of the new leagues yet. "Very clearly, these are not established leagues yet. Since they are emerging properties, there will obviously be a lot of experiments and even advertisers will try to see what works and what doesn't. You also need to recognise that the advertiser objectives are different for different sports – cricket, football, kabaddi or wrestling. From a numbers standpoint, these leagues are only there to grow and there is no problem of saturation since the base is also really low," Karnik explains.
As per the ESP Properties report, kabaddi did generate a CAGR of 8.5% over the past three years, which is definitely encouraging. And even though football saw a de-growth of 6% with a revenue delivery of Rs 140 crore, it was still in Number 2 position after cricket in 2019. The sport continues to have its following in India with Hero MotorCorp holding on to its title sponsor position for the ISL with an investment of Rs 50-60 crore. Other brands that contributed a cumulative amount of Rs 35 crore to central sponsorship for the ISL were Maruti, DHL, Bisleri, Apollo Tyres, Nivea and Dream11. Speaking about the brand's objective in partnering with the emerging leagues, Shashank Srivastava, Executive Director, Marketing and Sales, Maruti Suzuki India explains, "The sports landscape in India has been evolving. The football following in India has been on a constant growth path and ISL is now the third most watched/attended football league in the world and the biggest in Asia. Maruti Suzuki has been partnering with ISL since the very inception and has managed to build strong brand affinity among the core football audience in India. Although cricket continues to be the most dominant sport and IPL the biggest sporting league, India has now become more than just a single sport nation with leagues such as ISL, PKL and PBL (Pro Badminton League) moving up the popularity charts." He adds that each league caters to a different set of audience and sensibilities, thereby giving advertisers an opportunity to build brand affinity across a varied set of audiences. The potential for the emerging leagues in India also gives brands an opportunity to invest now, grow with the game and reap rich benefits in the future, notes Srivastava.
The Star network, which has taken the lead in bringing new sporting properties to Indian fans, is also pulling out all stops when it comes to driving consumption for all sporting content across markets. "The year 2019 was a defining year for sports in India as consumption grew by 60% driven by deep investments in local languages and taking cricket, kabaddi and football deeper into the country. The future looks even brighter with the Government of India investing in the Khelo India Games and athletes emerging from the grassroots across a variety of disciplines. Corporates are investing in women athletes who are doing well in a variety of sports – from PV Sindhu to 16-year-old Shafali Verma. Sports will continue to attract increased advertising investment as it is the only mass audience aggregator on Television and increasingly on the Digital medium. This is an exciting time to be in the business of sports," says a Star Sports spokesperson.
CATCHING 'EM YOUNG
While the numbers may not be in the league of an IPL, there is merit in the long term for advertisers who stay the course and invest in these emerging sports. Take for instance a property like PKL, which has seen brands like Tata Motors, Honda, Dream 11 and UltraTech continue to pledge sponsorship values of approximately Rs 40 crore (in 2019) as per ESP Properties' report. Meanwhile, Vivo holds the title rights for the league for five years starting 2017 for Rs 262 crore, which means an approximate value of Rs 50 crore for 2019. Speaking to IMPACT in an earlier interview, UT Ramprasad, Head, Marketing and Brand Communications, Commercial Vehicle Business Unit (CVBU), Tata Motors had observed that the media efficiencies of attaching the brand to another sport become much more lucrative in comparison with cricket, which has become expensive. "I call my audience 'middle India'. Kabaddi and wrestling are home-grown and also a right fit for my product attributes, being about strength and physical fitness," he had said in his interview. India's Pro Wrestling League (PWL), which has been in existence since 2015, has seen a great deal of success especially in audiences across North India. PWL has also partnered with brands like Paytm and Insider.in, while dairy brand Amul signed on as a co-sponsor during Season 4.
There is merit in advertisers following the 'catch them young and watch them grow' mantra when it comes to these properties. Karnik points out that this is best demonstrated in the Indian cricket success story. "For example, if a brand is looking to engage with a kabaddi or a football fan, when he or she is, say, in the ninth grade, over time it will build affinity and brand love that will continue to grow. That's what we saw with cricket from 1983 onwards – we saw cricket fans multiply and if cricket is a 35-year-old story, this is only a six- or seven-year-old story yet."
Another reason brands are looking beyond cricket is because while the sport is hugely popular in the Indian subcontinent, it doesn't quite have international appeal yet. Satish Sharma, President, Asia Pacific, Middle East & Africa (APMEA), Apollo Tyres Ltd explains, "For our marketing initiatives around sports, we have chosen football, as very few sports deliver a global profile and awareness like football. Our association with the sport has definitely helped the brand to be more visible among the younger generation and differentiate ourselves from others. Football also enables the brand to have a far deeper engagement platform than other sports as its participation numbers are very high and it is popular both in urban and rural markets." Sharma adds that ISL is just one of the sports properties that Apollo Tyres has partnered with. It has also partnered with the Manchester United Football Club, Chennaiyin FC and Punjab FC and with junior/ youth and social football leagues across the country.
Another league that is rapidly gaining popularity is the Pro Badminton League, which has gone on to become one of the top badminton leagues globally. Its playing field features the top Indian and international badminton talent in the world, including Olympic and World Championship medal winners. The PBL has reached more than 100 million badminton fans in India through TV, on-ground activities, various social media and other platforms over the past four seasons. The fact that badminton star PV Sindhu has made a mark internationally in this sport has also helped result in recognition for both her as well as the sport. This is evident from the fact that brands like Bridgestone and Visa have inked sponsorship deals with Sindhu, making her the leading non-cricketing sportsperson in terms of endorsements.
Although most existing sponsors are already seeing merit in partnering with emerging sports properties, Navin Khemka, CEO, MediaCom South Asia believes that the way to drive more advertiser interest is to partner with brands and present a long-term vision for the leagues. "The partnership should include association at the grass roots level, which will help sustain the sport at the school and State level. This will ensure that brands are able to build strong connect and leverage it in the long run. Just doing a league and getting some marquee players is short term and not sustainable. We have to build talent at home and sustain," he adds.

KEEPING SCORE: ENDORSEMENTS
Indian Cricket is a house of brands and Virat Kohli is currently its strongest brand. While the Indian skipper reached new heights as a batsman and a leader, Brand Virat dominated the endorsement space by crossing the Rs 200 Crore mark, adding more brands to his scorecard.
Of the 70 new brand deals signed by sports stars last year, 50 involved cricket players
As much as 63% of total brand endorsement value across all sports came from just two cricketing heroes, Virat Kohli and MS Dhoni
PV Sindhu was the leading non-cricketing athlete last year in terms of brand endorsements, adding four brands to her portfolio, the most notable one being VISA
Mary Kom was another prominent name in the list of brand endorsers
AN EMERGING GROWTH STORY
If Indian sports as an industry has to keep the growth momentum going, these emerging leagues are important to that growth story. Aside from the PKL and ISL, brands are also partnering with the other sporting tournaments like the Premier Badminton League and Pro Hockey League. The numbers already look promising, says Mohit Joshi, Managing Director, Havas Media Group. Brands are already looking for ways to be part of the emerging leagues before they become the next big thing. Joshi shares a few data points that are forcing brands to consider associations with the new properties. "PKL 2019 registered 9% growth in viewership with 1.2 billion impressions. It became the second-most searched tournament in India after Cricket World Cup in 2019, overcoming Wimbledon, as per Google's 'Year in Search 2019' report. The ISL thrives in the order that is pre-dominated by the heavyweight European football leagues and the legendary players associated with them. According to BARC's data, ISL saw 96% growth in TV ratings & 97% viewership growth on Hotstar in 2019-20 season. PKL and ISL have a higher contribution share from female viewers and lower NCCS viewers. Broadcasters could safely have more popular FMCG brands in these properties. Close to 80% of the Pro Kabaddi League viewership comes from telecast on movie channels, and this share is increasing," Joshi elaborates.
Vivo has been the title sponsor of PKL since 2017, and Nipun Marya, Director, Brand Strategy, Vivo India explains that there exists an advantage in being a home-grown game since it allows the brand to create a long-lasting impact with high recall. "The six successful seasons of PKL is testimony that the masses have yet again embraced a truly indigenous sport," states Marya. While cricket remains the most popular sport in the country, India's sporting culture has undergone a significant change. The country is rapidly moving away from being a one-sport nation and the fact that there is so much advertising clutter around cricket has enabled marketers to cash in on new but rapidly evolving sports properties. Sandeep Juneja, VP, Sales & Marketing, DHL explains that platforms like ISL allow brands to be a part of the football growth story and talent in India, as well as engage with a more focused target audience. "We have been associated with the league for the last five years and have amplified our engagement with fans and our customers through unique ways every year. ISL has given us an ROI of more than 30X, taking into consideration the brand visibility, uplift, affinity and other business matrices," he says, adding that the association has helped the brand engage with the exact target audience – young, dynamic and ambitious fans based in metros, Tier I, Tier II and Tier III towns.
Entities like National Basketball Association (NBA), which have made their entry recently into India, are also looking at India as a priority market. The games are currently broadcast on Sony Pictures Sports Network channels and streamed on SonyLIV. Speaking about its plans to drive up the NBA's popularity especially among the youth, Rajesh Sethi, Managing Director, NBA India says, "Our goal continues to be to make basketball one of the most popular sports in India and to build and maximize awareness of the NBA in the near future. This can be done by drawing more fans along the way through increasing touch-points for our existing and potential fan base across the country." Currently, the combination of NBA Academy India, Reliance Foundation Jr. NBA program, NBA Basketball Schools develops Indian talent, grows the sport and creates employment opportunities. The business side of the sport that includes broadcast, merchandising, fashion, on-ground fan engagement activities influences advertising, spot-buys, sponsorship and community-led programmes to build awareness for the sport, adds Sethi.
Whether it is the established IPL or emerging leagues like ISL, PBL and NBA, these properties today offer brands assured eyeballs in appointment viewing. One brand that is virtually inseparable from most sporting events, established or emerging, is Kingfisher, and Gurpreet Singh, Head (Marketing) of United Breweries Limited tells us why. "These leagues have created many additional opportunities to associate with players who are otherwise inaccessible due to their high cost and schedule. Kingfisher under its legendary campaign 'Divided by Teams and United by Kingfisher' has leveraged the association with the teams splendidly. Additionally, these leagues have created so many new stars, allowing a range of brands to associate with the next set of sporting superstars. These leagues also ensure the congregation of a large number of people at the venues of these sporting events, which offer many experiential opportunities for brands and services," explains Singh.
Interestingly, there is talk of a Pro Panja League (PPL) in the works this year, providing a platform for India's arm-wrestling tradition. Headed by Bollywood couple Parvin Dabas and Preeti Jhangiani, it will be interesting to see how that takes off!
Overall, given the limitless possibilities for growth, it is imperative for newer leagues and sports to find new ways to market themselves and win support from advertisers. They need to go beyond selling air-time and offering brand logo visibility so as to create a new generation of varied marketing solutions encompassing different platforms and touch-points. That is when both marketers and sporting leagues will achieve a win-win result.
2019: A GREAT INNINGS FOR INDIAN SPORTS
Indian sports sponsorship grew by 17% to cross Rs 9,000 crore in 2019, according to ESP Properties' annual report. In a year where the economic slowdown posed a challenge to numerous sectors, Indian sports saw a surge with on-ground sponsorship crossing the Rs 2,000 crore mark for the first time and media spends growing at 18% to Rs 5,232 crore
If there was one sector that had reason to cheer in 2019, it had to be Indian sports. According to the seventh edition of 'Sporting Nation in the Making', the report from GroupM India's entertainment and sports division, ESP Properties, sports sponsorship grew by a healthy 17% during 2019 to cross Rs 9,000 crore. The report reveals that cricket continued to rule the roost, and that on-ground sponsorship recorded a 25% growth to cross Rs 2000 crore for the first time. The industry saw a rise of Rs 1,347 crore, of which media spends contributed Rs 800 crore, recording a growth of 18%.

INDIAN SPORTS: SCORING BIG
Noting that the industry has doubled its size over the past five years, Vinit Karnik, Business Head, ESP Properties says, "The 17% growth is a very, very healthy growth from a sector standpoint. In addition to digital growth, sport is a unique platform where advertisers are seeing value and are hence spending with a positive outlook." Pointing out the role that cricket has played in driving this growth, he adds, "Paytm has renewed their India Cricket title sponsorship for another four years with 58% incremental value over the last cycle, and we are calling that out in the report too. The other associate sponsors like Dream11 have given an offset of 73%. These data very clearly show the importance and relevance of cricket for the masses." While India has not quite achieved 'sporting nation' status yet, Karnik believes that initiatives such as Khelo India and Fit India are definitely helping the sector move in that direction.
On the media spends front, digital media spends grew by a whopping 84% to Rs 875 crore while TV continued to show growth as the biggest medium for ad spends in sports. OTT platforms like Hotstar saw a lot of advertising innovation in 2019, as brands sought new ways to woo sports fans. "On Hotstar, we are already seeing brands engage with consumers, asking questions and getting them to respond in real time while they are watching the games. So, digital spends are definitely growing because of the engagement the platform offers," Karnik notes. The year 2019 also saw fantasy sports grow, a trend that is expected to continue over the next couple of years.
CRICKET STILL ACES ENDORSEMENT GAME
The endorsement industry grew by 11%, and once again cricket stars were the biggest winners here with 50 out of 70 endorsement deals being awarded to cricketers. A total of 329 endorsement deals took place, out of which 228 brands signed up with cricketers. While 85% of total brand endorsements have come from cricket stars, Virat Kohli and MS Dhoni account for 63% of the total brand endorsements. One noteworthy point, however, is that non-cricketing sports endorsements have been dominated largely by women athletes such as PV Sindhu and Mary Kom. Track and field athlete Hima Das and Olympic medallist Sakshi Malik too picked up some endorsements, resulting in a total of 11 new brands for women athletes. PV Sindhu was the top non-cricketing athlete last year in terms of brand endorsements with four brands to her portfolio. The most noteworthy of these was her Visa tie-up, which made her the first Indian athlete to endorse the financial services brand. On the discrepancy between male sporting events and endorsements and women-led ones, Karnik believes that over time, as the industry builds value for women's sporting events, there will be more brands lining up to sign on female athletes. The industry is already moving in that direction, going by the response to the women's Indian cricket team during the World Cup earlier this year.
THE UNCERTAINTY OVER IPL 2020
AND ITS IMPACT
Speculation over the annual Indian Premier League (IPL) is rife with concerns over fallout of the unprecedented coronavirus outbreak. While the league has been deferred until April 15 for now, there is talk of it being cancelled altogether. According to media reports, the cancellation could cost the BCCI Rs 3,869.5 crore, which would include Rs 3,269.5 crore of broadcast and streaming revenue and Rs 200 crore and Rs 400 crore of central sponsorship and title sponsorship revenues respectively. The broadcaster Star India is said to have sold over 75% of its IPL inventory nearly two months before the proposed start of the tournament, and is eyeing a revenue of Rs 3,300 crore of broadcast and digital ad revenue this year. If the tournament gets cancelled, that could result in huge losses for Star India too.
There are talks of holding the IPL games without spectators, something that has already been done for a few European football league matches. If that happens, it would mean that the broadcast and streaming revenue of both BCCI and franchisees would remain intact. What would get impacted is the gate revenue and the F&B revenues of the franchisees. Other options being considered include hosting the tournament in an overseas location between July and September. There are also plans to hold a shortened version of the league, which could mean fewer matches. The next few weeks will be crucial for all IPL stakeholders as they explore ways to keep the tournament on track and minimise losses.
SPORTS INDUSTRY DATA: 2018 V/S 2019