To say that 'there is no such thing as bad publicity,' is to invalidate responsibility. Imagine this, an advertisement that changes multiple hands, goes through the expected higher sensibilities of ad persons and company executives, ends up being an exercise in sexism. So, does this mean that the stakeholders of such an ad film were delirious of the fact, or simply too naïve to understand its implications? At the very least, it is a deliberate attempt to garner publicity, well, in this case, bad publicity. But we go back to that old adage, and it seems as if it is a masterstroke.
In 2022, fragrance brand Layer'r Shot managed to produce a sexist advertisement that is equal part violent. Much like the unnecessary apostrophe and the confused loneliness of the R that does not belong in the spelling of Layer, the public were left petrified. How on earth does this happen? Instead of conveying the brand message, advertisements often become a topic of debate. But is that the end goal? To create a buzz, and a dialogue. If so, then at what cost? The two ads from the brand which have now been taken down, allegedly promoted sexual violence against women while using rape as a joke. While such incidents keep happening, it raises some important questions, but most importantly, the question is, what action should be taken against such brands, ad agencies?
For now it seems as though something as little as taking the advertising down is the extent of the punishment. All it takes is a click of a few buttons, a couple of hurried emails, and such advertisements become history. But not before they have created enough buzz, enough tweets, enough conversations that has inadvertently given the brand its returns on the ad, and even more.


"There is nothing wrong in doing brave work that stands for a greater purpose. But thinking of gaining quick fame by immoral, unethical work isn't the same. Everyone who is a part of branded communication, must know that difference," says Azazul Haque, Chief Content Officer, Media.Monks.
Brand guru Harish Bijoor, Founder, Harish Bijoor Consults Inc calls controversies like the Layer'r shot ad, a classic piece of spit and run advertising. "In this genre, the brand creates a controversy, gets huge attention among those who watch it on television or print, and even among those who would never ever have heard of the brand otherwise. These brands revel in the noise they make and the social outrage pot they churn. Once that is done, they literally expect the ad to be banned. When that happens, the brand achieves a viral status online and off it. Brand salience scores go high through the roof. Task done, the brand withdraws. In any case it would not have enough money power to continue advertising to achieve the kind of salience without controversy in the minds of potential consumers."
"Ads like the Layer'r Shot one have nothing to do with gender sensitivity or creativity. This kind of advertising is deliberate - designed to stir up controversy and get the brand noticed," says Dr. Sandeep Goyal, MD, Rediffusion. "I had never heard of this brand before this controversy erupted. The brand set out to create a controversy. They have managed to do that - made an unknown brand known to all - even if for the wrong reasons. I am told the brand's sales team is actually out in the market showing the ads with bravado to the trade - and getting some cheap laughs."
Controversies: Planned Publicity Stunt or Brave Advertising?
Time and again, we see advertisements coming under fire, especially with the advent of social media, the fire doesn't die down easily. This fire is in fact a bonfire around which marketers, ad agencies, and brands concerned dance around in a celebration of their vulgarism. The fact that they can wake up and continue working without any repercussions is the cherry on their cake.

It is true that often we see brands and agencies pushing the envelope to bring out unconventional ideas to life, but true creative talent is never unappreciated. Then there are a few rare brands who use controversy as a tool for gaining publicity with an unfortunate misplaced creative understanding. Let's hear what the creative industry has to say.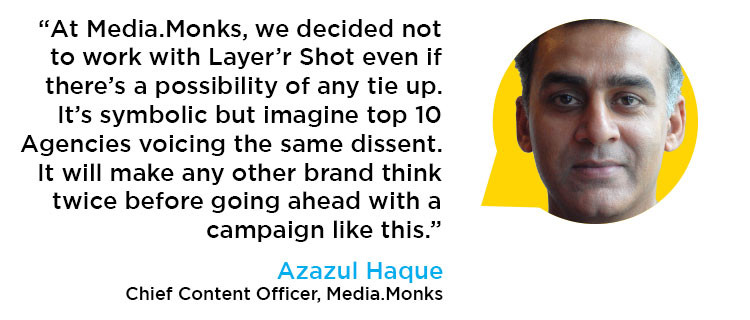 "We try our best to make sure that our ads don't land into controversy and there is not only agency, but brand partners too, there are many stakeholders who are involved to make sure that we don't land up in a controversy. At times it goes through a legal department, even they have to tick the box. But, at other times, unfortunately, some ads end up in a mess. I don't think it's a good sign for a brand or an agency, especially for brands. But having said that, today the world has become a little sensitive. For example, the Tanishq ad, I think that was a beautiful campaign but people just pushed it too hard unnecessarily. And if brands and creative communities are pushed to such a corner then I don't think we'll have an edge. I don't think there'll be a narrative that consumers will appreciate. I always kind of raise this concern." states Santosh Padhi, Chief Creative Officer, India, Wieden + Kennedy, while adding that the industry should come together and protect its rights, rather than somebody else deciding what is good and bad.

In today's time brands are quite happy to take a shot in the dark with controversial advertisements, because any outrage leads to publicity. With little or no action against such brands/agencies, the vulgarism of a few bad eggs continues in advertising.

Haque explains that the process of cracking ad campaigns already has a lot of checks and mostly those checks are determined by the brand team. "Advertising Agencies mostly abide by whatever the brand tells them to do. Rarely does an ad agency say no to clients. Here lies the problem. Sometimes even when the client says they want a controversial idea as it might give the brand quick fame, agencies happily agree when they should not. It is extremely important to check if any controversial idea isn't hurting any sentiments and isn't crossing moral limits. So an advertising agency must do the check and stop the client or the brand team from executing an idea that crosses the limits of morality. And even then if the client pushes them to execute it then the advertising agency must cut its ties with such a piece of work. But most agencies are scared of saying no to a client and that's why checks aren't always applied. While if an agency suggests a controversial idea, and the client bombs it, the idea dies there. But then there is a third possibility, the client or the brand's internal team cracking an idea and executing it. In that case, it's almost impossible to keep a check on such work. And there will always be some anonymous freelance writer or director to execute that controversial idea. As organizations get questioned, individuals don't."
"Generally speaking I don't think advertising and marketing need any external checks and balances. The current system is fairly robust with layers of approvals in the agency and counter approvals from the client's side making sure that an individual doesn't run away with some ill-conceived fantasy," opines Ashish Khazanchi, Managing Partner, Enormous. "While we don't want to put more censorship and strictures than already exist, there must be measures to ensure proportionate damage on firms and individuals that willfully flout the norms. In an age when something that you've put online forever stays on, the damage can be longer lasting than a withdrawal would ensure."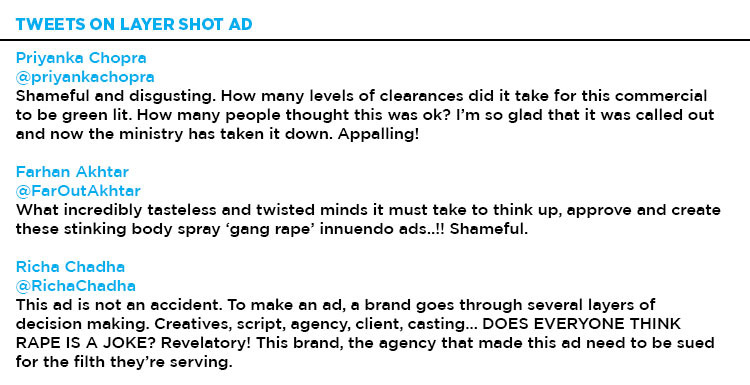 The damage is palpable. It only reinforces such sexist dialogues, eggs on regressive ideas. One would imagine that an agency has the moral ground to say no to such ideas. If ad agencies can nip it in the bud, brands will think twice before coming up with such ideas.

Suraja Kishore, CEO, BBDO India opines that in creative business the work is a reflection of culture and purpose. Honing the right culture is paramount, as it should be. Without a focus on the culture, a brand will be unable to bring out the right conversations. That is if only they are at all interested in creating the right kind of dialogue. CSR responsibilities today is manifolds, not just pumping money into a cause in which the brand may not even believe in. Everything eventually becomes a publicity stunt. As a corporation, it is also the responsibility of the brand to create a positive impact through ads. If there is a need to be witty or humours or sarcastic, then there should be a good amount of wit, humour, and sarcasm involved in such projects. The fact is that advertisements that bank on controversy often lack intelligence, and is a futile creative exercise.

"In creative business your work is a reflection of your culture and purpose. And culture manifests in the conversations that we have, insights we discover, content we create, and the stories we tell through brands. For instance we believe at BBDO that brands have the power to influence social change. #ShareTheLoad for Ariel is a reflection of this belief. It is very important to align everyone to the culture so that we create work that's progressive and on purpose," shares Kishore.
"There are moments of cringe and there are moments of extreme bigotry. Unfortunately the Layer Shot campaign falls in the latter. I think the fault lies with the entire advertising industry. In a 'let's create anything that makes us talked about' syndrome there is irresponsible and demeaning work that is created all for the wrong reasons," explains Tista Sen, Regional Creative Director, Wunderman Thompson, South Asia while further elaborating that patriarchy, regressive thinking, misogyny is not a fault, it is ingrained in our culture and that is what needs to be addressed. "The onus of creating a communication idea rests on everybody. Just like success belongs to the entire team behind it, so does abject failure. I'm not sure if this was a stunt alone. I think it was genuinely created because the team thought it was a good idea. And that is the tragedy."

"When something wrong is happening, you can prevent those things a lot of times. I think this was just too many bad judgments at the same time going out. I think it was a rare case scenario that such distasteful things go out. Honestly, the bigger narrative is how can you keep a check and balance in everything that we do? And how do we shape our culture?" questions Aalap Desai, CCO, Isobar India and Taproot Dentsu.
What measures can be taken against such ads?
It is a little disconcerting when brands and agencies go scot free after pulling such stunts. We aren't hungry for blood, but we do need to set a precedent. With social media empowering consumers to voice their opinions, brands have often faced the consequences for their misadventures with netizens calling out for a complete boycott of the brand or demanding ban on the controversial ad. But that is not enough, not by a long shot. To suggest that the punishment for a sexist, morally twisted advertisement is just the removal of that said advertisement is a blatant disregard for accountability. Advertisements play out all the time, all around us. It plays when you hand over your phone to your child for him or her to watch a cartoon on YouTube, it plays in your drawing room when a teenager is sitting unsupervised. Are we really that frail in our decision-making?

"I do believe banning an ad is a mild step and one that is completely predictable. I think we must think of getting these brands that do the nasty to get deregistered altogether. Get the brand withdrawn by the manufacturer. This is the best deterrent to such misadventures. If there is a third step, I think the brand must be made to invest in rectification advertising where positive social messages are beamed out of the brand that took the route of misadventure," suggests Bijoor.
"There is no one organization or entity on whom the blame rests when a controversy happens. It's a collective lack of conscience, clearly. Surely someone along the line would have thought this was wrong. But they chose to let it slide," says Pallavi Chakravarti, Creative Head - West, DDB Mudra Group. "I feel legal action or monetary penalties are the only forms of punishment that such companies will fear. Boycotts on Twitter, the industry's collective rage and the brouhaha in the press may be well-intentioned, but is no skin off their backs. Punitive action that actually pinches is the need of the hour."

The truth is that our attention span is extremely short in today's hyper internet usage era. Issues come and go, netizens move on. Just see how we have stopped protesting against the Ukraine war, or the Taliban governance of Afghanistan. How long can a furore over an advertisement really last?

"HyperMart brands and e-Commerce brands should stop selling that product or brand for a certain time period just to convey to that brand that such irresponsible and immoral communication can impact sales directly. Various communication agencies, big production houses and other vendors should cut their ties with that brand for a certain time period. Most importantly people must boycott such a brand. At Media.Monks, we had decided not to work with Layer'r Shot even if there's a possibility of any tie up. It's symbolic but imagine top 10 Agencies voicing the same dissent. It will make any other brand think twice before going ahead with a campaign like this," opines Haque.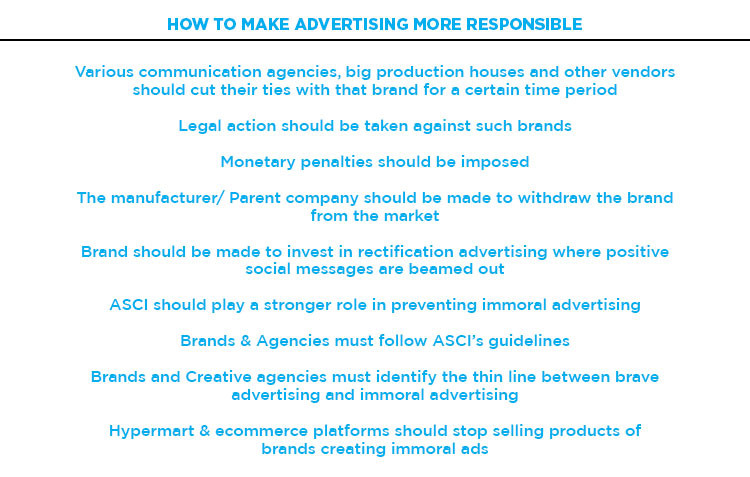 "Responsible advertising unfortunately is a code that rests solely on the marketing team and the agency involved. In recent times ASCI has done a fantastic job in reinforcing gender sensitive content and honestly clients and agencies should study it, memorize it and then create work that is worthy," highlights Sen.
A Shot in the Dark
Desai explains that if someone is in the driving seat, and wants to hit people on the road, then they will. If they start driving the car with the intention of hitting anyone on the road, then one can't really change the intention. "As an industry you will not be able to stop it. And that's precisely why ASCI is there to stop them from doing so. I feel ASCI needs to play a really strong part in such cases."

It's a shot in the dark because you never know what the response for it is going to be like. A shot in the dark because brands can afford to do so, without the fear of any consequences. A shot so terribly distasteful that consumers are aghast by its content. When will this end?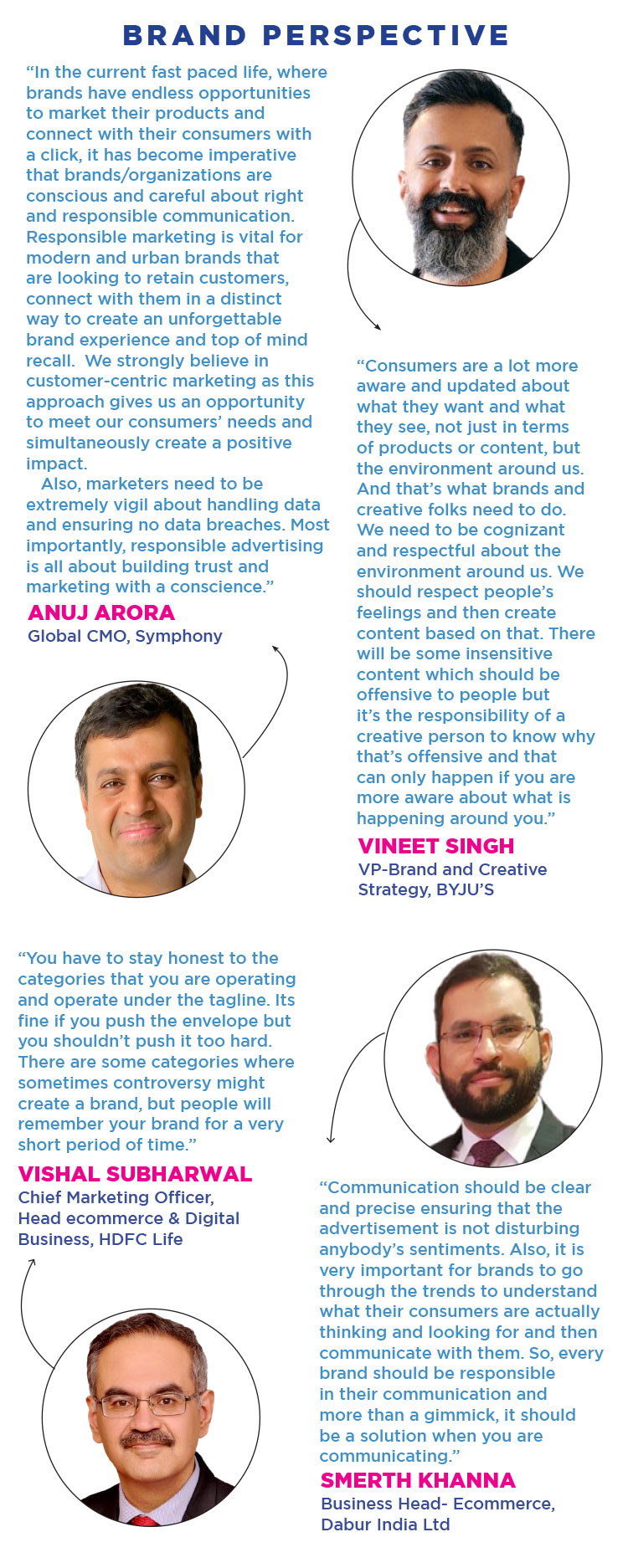 Statement of Clarification
This is with reference to our recent two advertisments of Layer'r Shot on various broadcasting platforms. We, the brand Layer'r Shot would like to inform one and all that only after due and mandatory approvals, we have aired the advertisements, wherein, we never intended to hurt anyone's sentiments or feelings or outrage any women's modesty or promote any sort of culture, as wrongly perceived by some.
However, we sincerely apologise for the advertisements that consequentially caused rage amongst individuals & several communities and beg their pardon.
Most importantly, we have voluntarily informed all our media partners to stop the telecast/broadcasting of both the TV advertisements from 4th June with immediate effect.
The Layer'r Shot Controversy

• Perfume brand Layer'r Shot released two advertisements on 3rd June. In one of the ads, a group of men is seen entering a room that had a young couple and seemingly advancing toward the woman which makes her panic, before picking up the Shot deodorant bottle. The other ad showed almost a similar scenario in a supermarket.
• The ads were launched during the first Test match between England versus New Zealand on Sony LIV.
• Both the ads were accused of promoting rape culture and being distasteful by netizens, receiving heavy backlash on Twitter, with many questioning who approved such disgusting content.
• Several actors and celebrities including Priyanka Chopra, Hrithik Roshan and Farhan Akhtar criticized the ads.
• The Ministry of Information and Broadcasting ordered suspension of the ad, directed TV channels to remove the ads and asked Twitter & YouTube to immediately pull down all instances of it.

• After seeing the ad, ASCI immediately invoked a special process called "Suspended Pending Investigation" (SPI) to suspend the advertisements.
• DCW Chief Swati Maliwal said that such ads are promoting the 'gangrape mindset' and wrote to police to register an FIR against the company.
• Triton Communications, which was wrongly named as the creative agency for the campaign in some media reports, issued a statement denying any association with the creatives.
• Later, the brand issued a clarification stating that only after due & mandatory approvals, it aired the ads and never intended to hurt anyone's sentiments or outrage any women's modesty.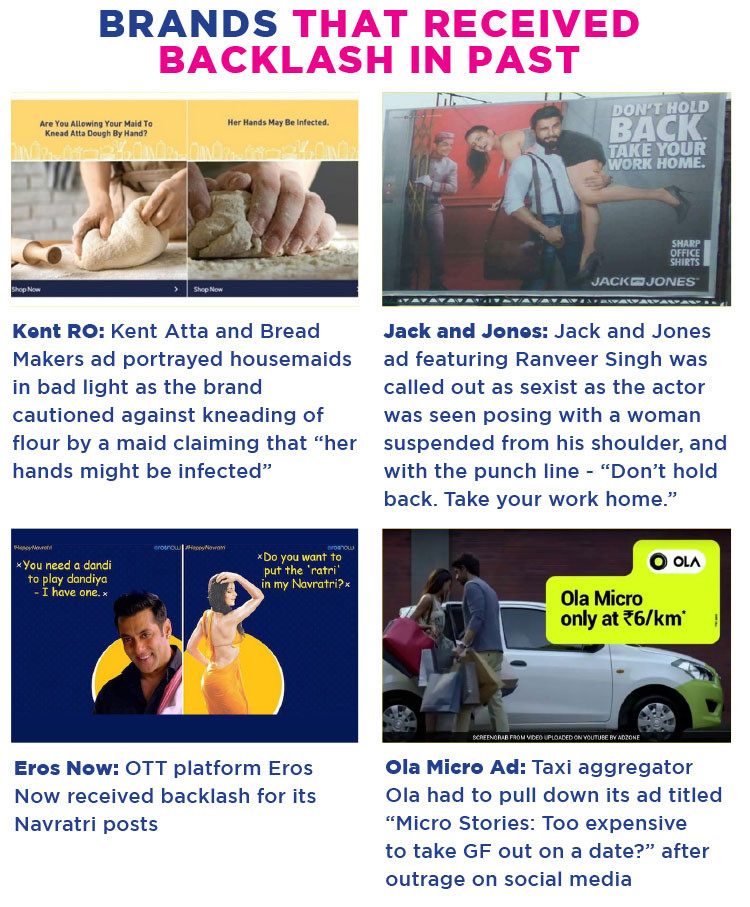 ASCI's Take on Controversial Ads
• The Advertising Standards Council of India (ASCI), a voluntary self-regulatory organization of the advertising industry in India recently invoked a special process, Suspended Pending Investigation (SPI) to suspend the Layer'r Shot's advertisement after being alerted.
• "Every controversial occurrence makes us more vigilant. We have robust tracking systems in place, which is how we are able to react so quickly to such ads. We will continue to strengthen our systems to ensure nothing falls through the gaps. While there is no legal requirement for ads to go through censorship during the production process, voluntary due diligence needs to be done to avoid loss of name and brand reputation. Advertisers and brands can choose to avail ASCI's Advertising Advice service. ASCI has intervened several times when advertisers got out of hand. The ASCI complaints department observed 967 cases of violations from the healthcare sector in 2020-2021. Many of these misleading ads promoted COVID-19 cures/immunity and played on consumers' fears. In fact, during the pandemic year, only 12 of 332 ads related to COVID-19 were found to be scientifically correct," shares Manisha Kapoor, CEO & Secretary General, ASCI.