As we welcome the New Year with a lot of hope and cheer, we look back at 2020, which saw uncertainty and disruption in equal measure as far as advertising is concerned. The creative industry saw the worst kind of cost cutting, slowdown in pitches in the early part of the year and complete blackout from certain sectors which were traditionally prominent advertisers. But with Q3 came a ray of hope, IPL and festive season adding that dash of light and positivity as far as ad spends were concerned, campaigns were made, pitch activity was back, work picked up pace-- more so on a project basis and possessing digital expertise became a necessity even for the legacy creative agencies.
In a year when caution was the keyword and meeting revenue targets became challenging, many businesses even went on to shut shop, but interestingly we happened to see a bunch of start ups in the Creative industry-- be it Abhik Santara's Atom or Deepak Singh's Vitamin D, Shweta Iyer and Heetal Dattani's Nine Yards, Kaizad Pardiwalla and Harshad Hardikar's Spring Brand Solutions or Saurabh Varma's martech firm Wondrlab which went on to acquire an established mid-sized independent agency, What's Your Problem. The year has been full of surprises. But mostly it was also a year of path-breaking work, clips for some of which were crowd-sourced, some shot on a mobile phone and edited not from a high tech studio but the confines of one's home owing to the lockdown restrictions. The creative industry showed exemplary resilience and adapted to the new normal in style.
Here we salute some of that work which shone light in rather dark times, ad makers who made socially relevant advertising which was on point in the new world; and some others which attacked a societal problem head on or simply just stood out for its sheer ingenuity. As we ring in the new year with hopes of a better tomorrow, here's bringing to you IMPACT's pick of 10 best socially relevant ads of 2020 and the faces behind it-- the creative heroes who didn't just solve their client's problems, but also gave us the most touching films that made a rather depressing year creatively uplifting, while attempting to make the world a better place to live in.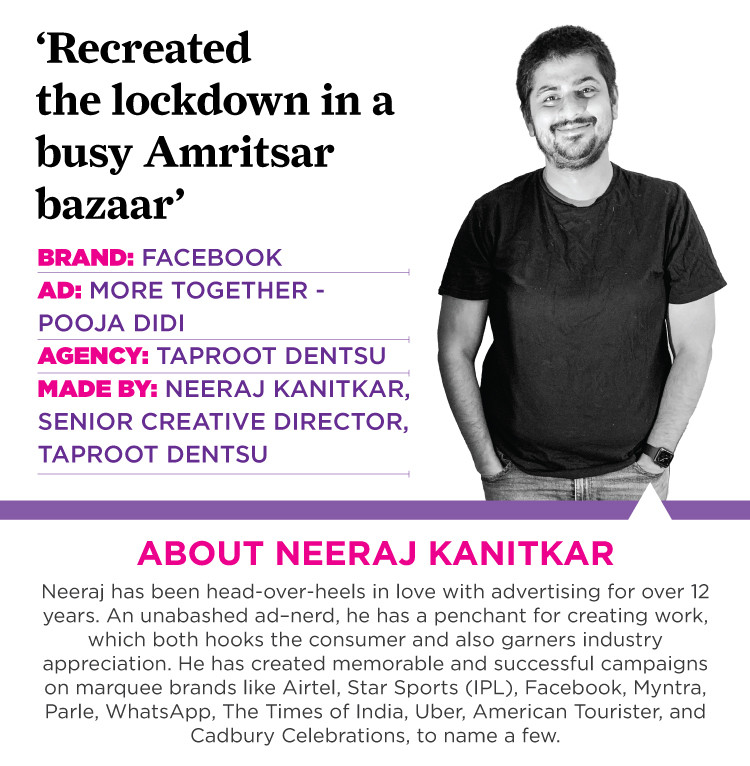 "Honestly, I can't really remember how the thought first came about. Now when I look back at the notes on my laptop, there are about five or six other fully fleshed out plots sitting there. And one line in the middle of all those that says – "Pooja hires recently unemployed people during the lockdown, sells her car to keep paying their salaries and phir kya?" Well, what came next were many, many, many drafts, Amit Sharma's incredible magic, and a constant nagging worry because everyone who heard the script, had only great things to say. It really felt like it was all leading up to being a little too good to be true. We presented the idea to the Facebook team at the end of September, took a lot of time to do pre-production and we were, of course, on-air in time for Diwali.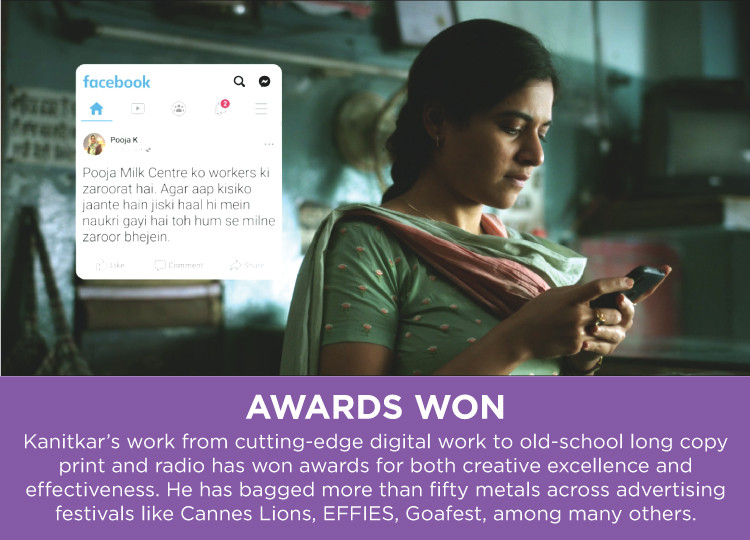 There was no storyboard for the film, ever. The shots, the dialogues and even entire situations, Amit and I kept chiseling and changing until the very last minute. We also had to recreate the lockdown bang in the middle of one of Amritsar's busiest – and by the time we were shooting – fully open bazaars. That was some undertaking.
Taproot Dentsu and Facebook together have really always felt like one single team, rather than a client-agency relationship. They were as excited by the idea and probably believed in it even more than we did. A lot of the magic in the finished film is really owing to the faith they had in us and the confidence that flows from that. Besides the truly outstanding numbers, it's the messages from colleagues, friends and rank strangers (who tracked down the credits and got in touch) that were so incredibly uplifting. Besides the compliments, a lot of people had one strikingly similar thing to say, which, I'm paraphrasing – 'I have been going the extra mile for my people at great personal cost and was constantly worried if I was just being an emotional fool. Pooja is my story and thank you for reaffirming my faith in continuing to do the right thing.' Few things get better than that, don't they? Everything that makes advertising one of the best businesses to work in, came true during the making of this ad. What more can a copywriter ask for, except here's to many more."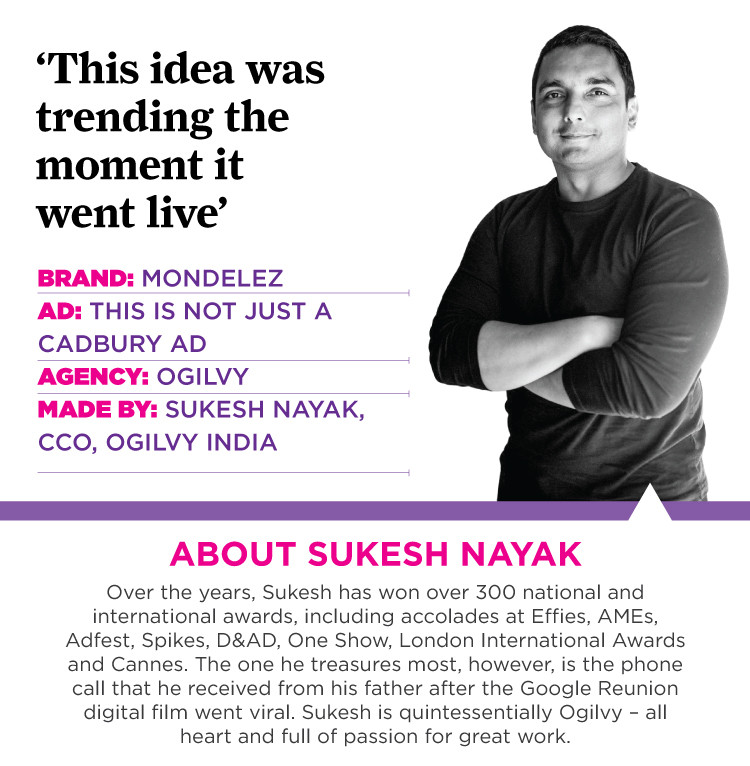 "When we were working on this brief, a super bright team member of ours shared this idea which just stood out for me. I was blown away by the thought and post that so was everyone else at Ogilvy and Mondelez. We all knew we had to do this. But the biggest question on the table was how to do it. We had multiple discussions with many people. Then Facebook connected us with DeltaX and rest as they say is history. Using technology, they put together a seamless plan that just made the whole thing come alive. So really the credit goes to them and to our partner, Wavemaker, for coming together to bring this idea alive. I think this is one of the fastest new age ideas which we have executed in the recent times. From concept to execution, it took all under seven to eight weeks.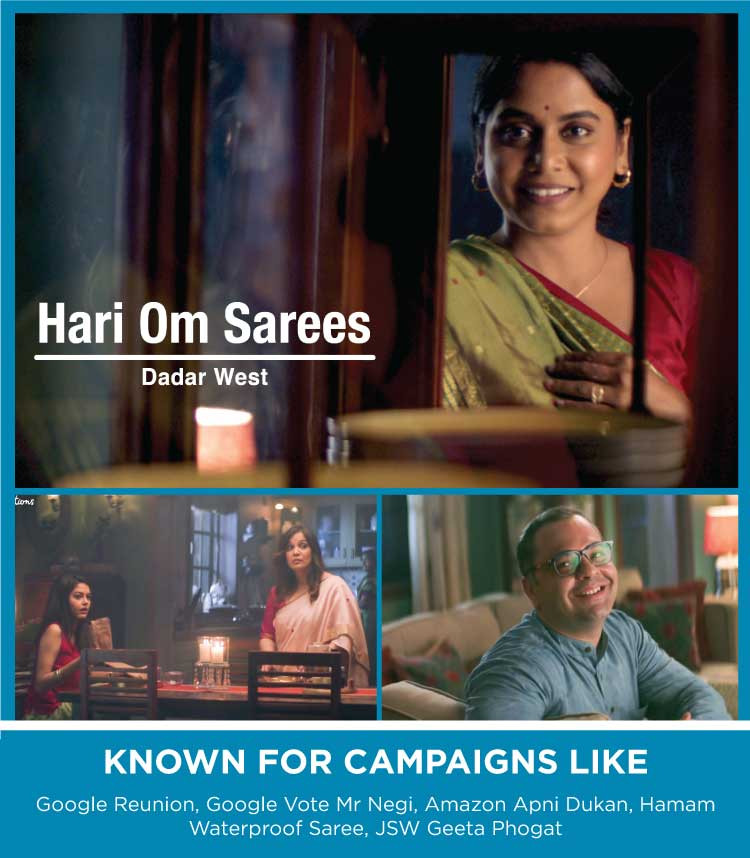 Mondelez is not just a client, they are our thinking partners. I have thoroughly enjoyed the journey with them. Working with them has been a great learning. So as always when we shared this idea with them, they were as excited as us. They backed the idea with all their heart. And it shows. This idea was trending the moment it went live. We had people from different walks of life taking about this. It was shared in our building, colony, school, and every other group. This is a piece that will always remain special for me because it demonstrates what I believe-- technology has heart too.
But all in all, for me, nothing beats a Cadbury seller proudly saying, 'Mere bagal wala dukan, mere ad main hai.' This truly covers the real meaning of this gesture."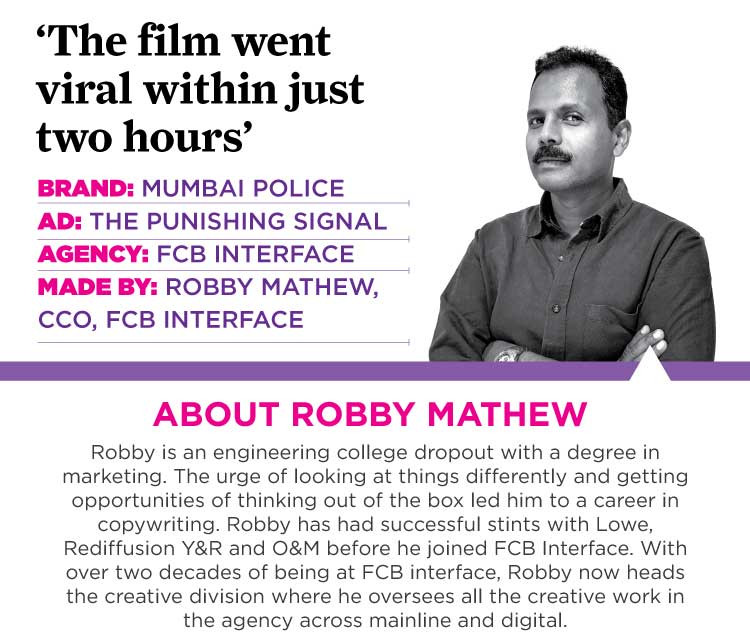 "Indiscriminate honking is really a bane of the civic fabric of Mumbai. Over the years the Mumbai Police had put out countless messages to educate Mumbaikars on the same, with varying degrees of success. But the issue wasn't showing signs of abating. The initial brief was to create an outdoor creative but we felt this innovative social intervention was the strong push needed to tackle the problem. The idea came up during brainstorming from a 'what if' scenario, really. What if we took away the satisfaction one may derive from honking indiscriminately, and simply made it counter-productive. Once we decided to go ahead, it took about six months to execute it in conjunction with the Mumbai Police.
A few hours after the film of the activation was released, I got a Whatsapp forward of the same film from a friend in Singapore, telling me to check out 'this smart and funny thing done by traffic cops in Mumbai'. It had travelled and how. FCB India's relationship with the Mumbai Police has been going strong for the past 25 years. Once we presented the idea to them, they were instantly on board.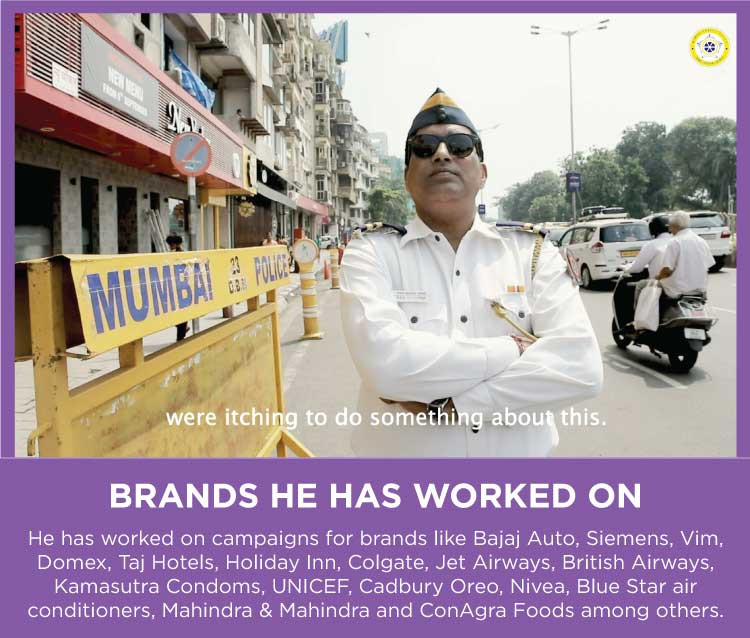 After execution, when we finally released the campaign as a tweet from the Mumbai Police, which also contained the aforementioned film, it went viral within just two hours. A great impetus to the campaign's life out there, as it were. People took over the conversation on social media; even tweeting to the cops with suggestions on where else to do the activity in the city. Even the administration and police departments from the other parts of the country were showing interest in replicating the same. The client team was happy with the response and coverage the campaign got, not just in India but the world over, so much that they wished to extend The Punishing Signal to more signals in Mumbai; but then, the lockdown happened. We hope to do it once things get back to normal.
Personally, I work in a place called Sakinaka – one of the noisiest traffic bottlenecks in Mumbai. It just underscores the fact that excessive honking, especially at signals, is a real-world problem. That's why The Punishing Signal is special, it's a creative answer to a real-world problem."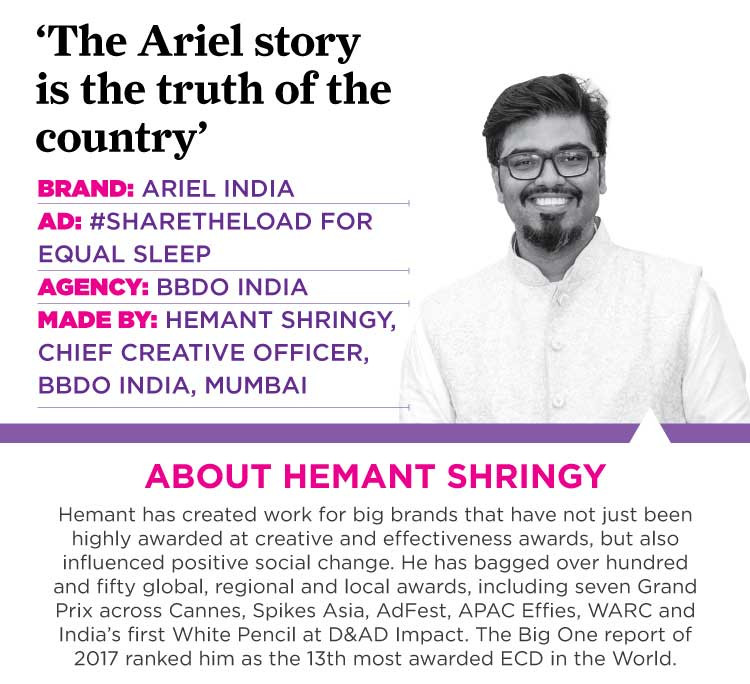 "Ariel as a brand is committed to the cause of gender equality at home. And each year we try and unearth an observational truth that reflects the current state and attempts to trigger a new motivation to bring about change. And these observational truths come by through these immersive sessions that we at BBDO call 'Creative Therapy' sessions. It's a free-flowing conversation with members of the target group that are known to us and are comfortable enough to take conversations to a deeper level and not just scratch the surface. In one such conversation we all agreed on the truth that in most cases the woman of the house is the first one to wake up and the last to go to bed. And sometimes doesn't even sleep well because of the mental load that she carries before going to bed as she plans for the next day. And while it was truth that seemed to resonate with everyone in the room, we wanted to ensure that this in fact was the larger truth of the country. And finally research did show that over 70% women sleep lesser than their husbands due to household chores. We do take some time to gather data and pick up nuances because in Share The Load empathy is key, and we strive for as much authenticity as possible.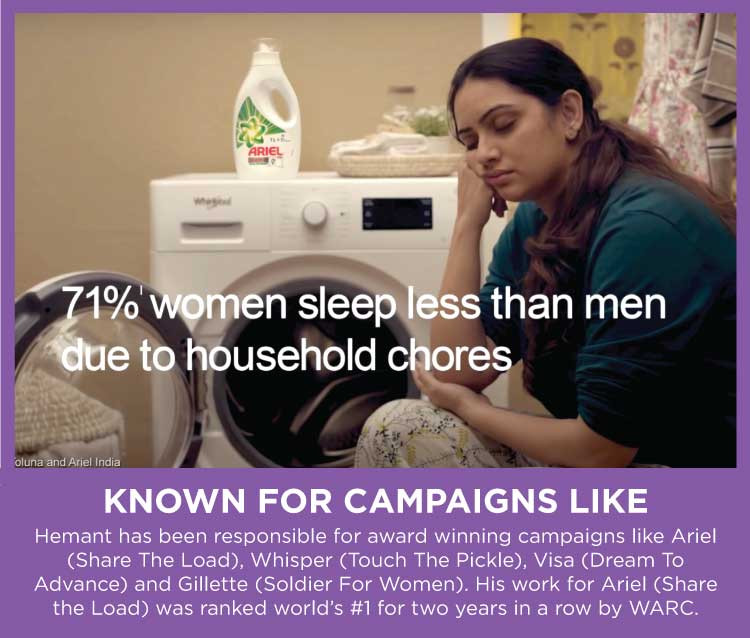 An interesting thing that I remember is that in one of the sessions we mentioned that if sleep is a genuine problem that women face, and as we urge and encourage men to share the load, can we also do something that helps women fall asleep faster and better. And we discussed the idea of creating a unique ASRM (Autonomous Sensory Meridian Response) video using the whirring of a washing machine. And in a lot of cases these ideas live in conference rooms and die in PowerPoint presentations, but in case of Share The Load our clients totally back these ideas and our amazing agency partners make these ideas happen. We tied up with one of the world's best ASMR artists and created an ASMR video with the two sounds that could really help women relax – the sound of their partner sharing the load and whirring of a washing machine."



"The idea of #CountThemIn came when Amit (Director of the film) told me that Phool Versha, where he is also a founding member, is helping the Transgender Community meet basic necessities as they were very badly hit by the pandemic. Most importantly, they were not getting enough supplies because many of them are not even counted in the various lists made by multiple civic bodies and others. That sparked the idea of making a film that is an appeal from this community to the effect of – ab toh kar lo insaano main humari ginti (count transgenders as humans as well). We needed something that shakes the conscience of people and this looked like a piece of communication which could achieve that.
The voice over of the film was initially supposed to be in a man's voice. And we were debating whether it should be a male VO or a female VO. That is when Amit suggested that it should be a voice from this community. And we got Laxmi Narayan Tripathi, who is actually a renowned transgender activist and really the voice of this community, to do the voiceover for the film.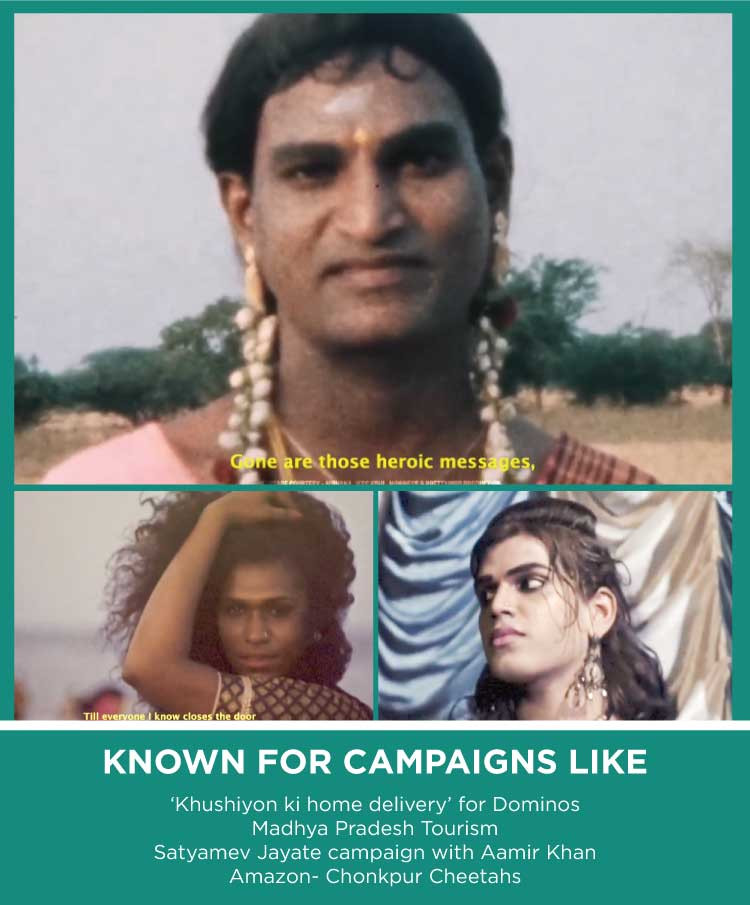 Since it was a film made to generate funding for a cause, convincing the client wasn't a problem we faced. And the impact we got was unexpected. When Amitabh Bachchan shares a film on his Instagram account, you know the kind of reach the film will get. Post that, many more celebrities and influential voices went on to share the film and there were many million organic views and shares of the film across various digital channels."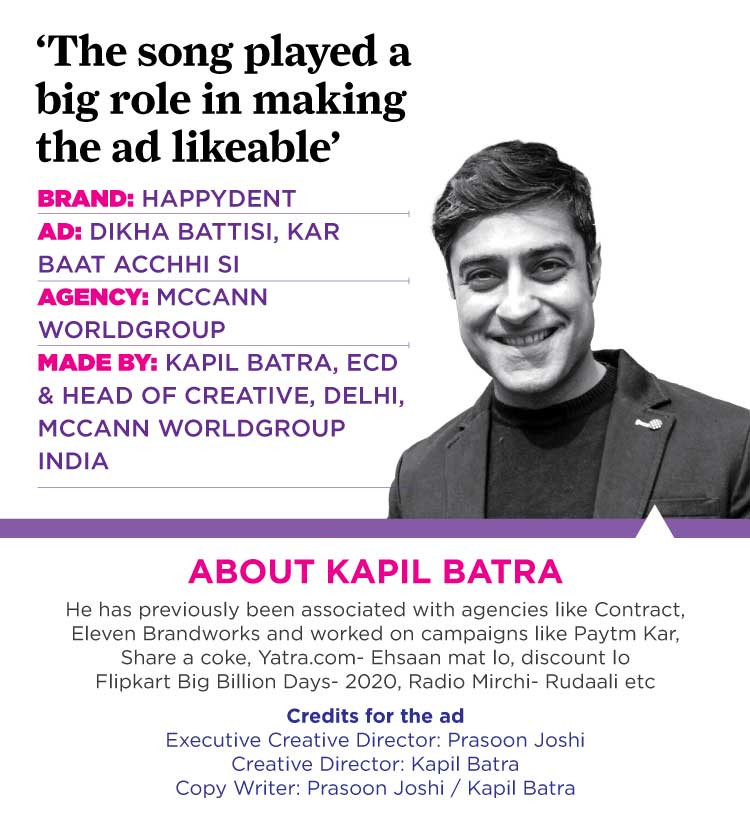 "Happydent has always been known for its exaggerated and charming humour. After almost 13 years of building into that equity, we decided to give it a more meaningful role. Once we decided on the way forward for brand Happydent, the creative team, guided by Prasoon, started brainstorming on the creative routes. And after a few sessions, we had something we were all happy with. The space, the story, the expression, (dikha battissi, kar baat achhi si) everything worked.
Now, with a solid script at hand we were looking for a director partner who could take it to the next level. Next stop was Prakash Verma of Nirvana Films. He loved the idea and the script. We had some really productive discussions where we discussed the finer things, the nuances. We spent a lot of time in casting, referencing etc. But now when we have the finished product, I feel it's absolutely worth it.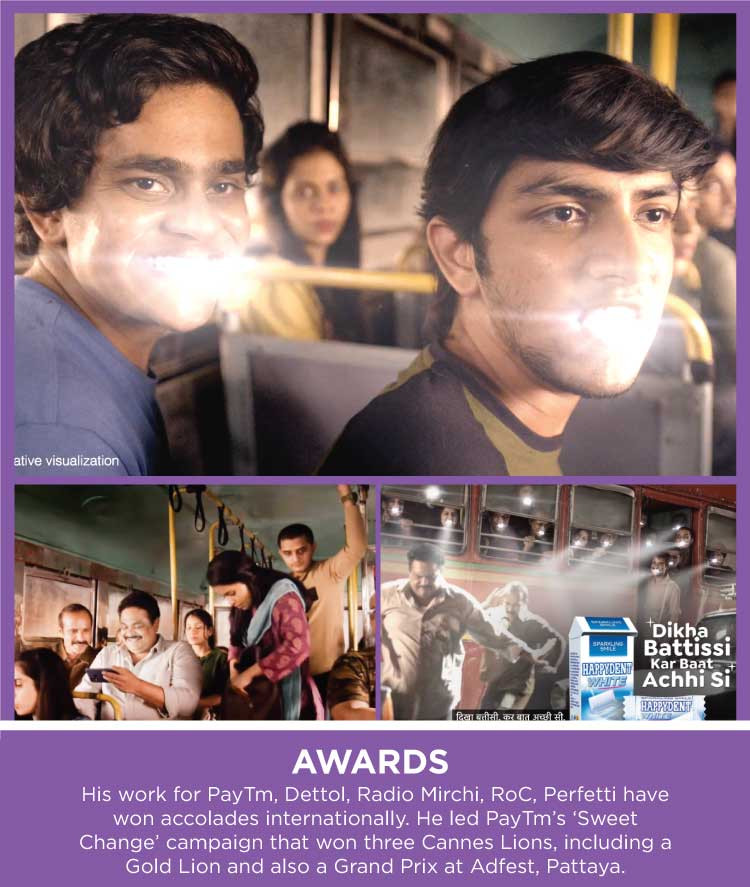 The song has played a significant role in making the film so likeable. But interestingly, we had not thought of having a song when we shot the film. It was only when we had the offline edit in front of us that Prasoon suggested we have a song. And he penned the lyrics, 'laaton ke bhoot jab kabu na aaye…'.
The team at Perfetti absolutely loved the output. A complete 360 campaign is getting built around this thought. And very soon you are going to see more executions across other mediums. The response for the ad has been really good. Within minutes of the launch of the ad during the India vs. Australia match, viewers were tweeting about the ad, creating memes."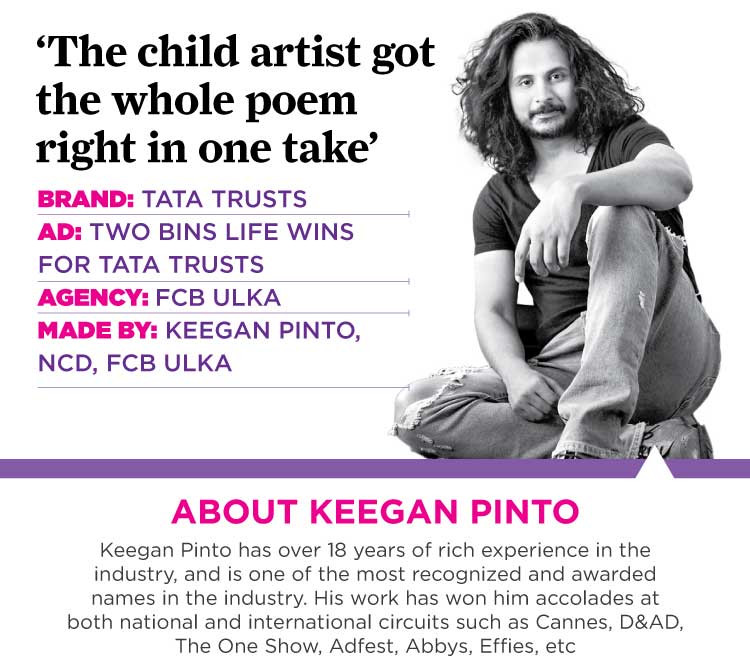 "FCB won the multi-agency pitch for Mission Garima which was an initiative of Tata Trusts, to create safe, hygiene and humane working conditions for sanitation workers. The client brief was to create a compelling campaign that not only led to dignity for the sanitation workers but also moved the citizens to segregate their waste. The core thought for the film - Mera baba desh chalata hai came from me. The film opens with the child reciting a poem in his class about his father and how 'he runs the country'. Because if the sanitation workers stop working, even for a day, everything will come to a standstill. So, through his poem, the child is urging everyone to not let him run the country alone and to 'do their bit and in the bargain, save his father'. I love irony and rattled out the poem in a matter of 30 minutes, and then the team did the detailing. The child artist got the whole poem in one shot, I've never seen this in my career. Where artists struggle to read scripts and deliver at times, the child was a one take artist.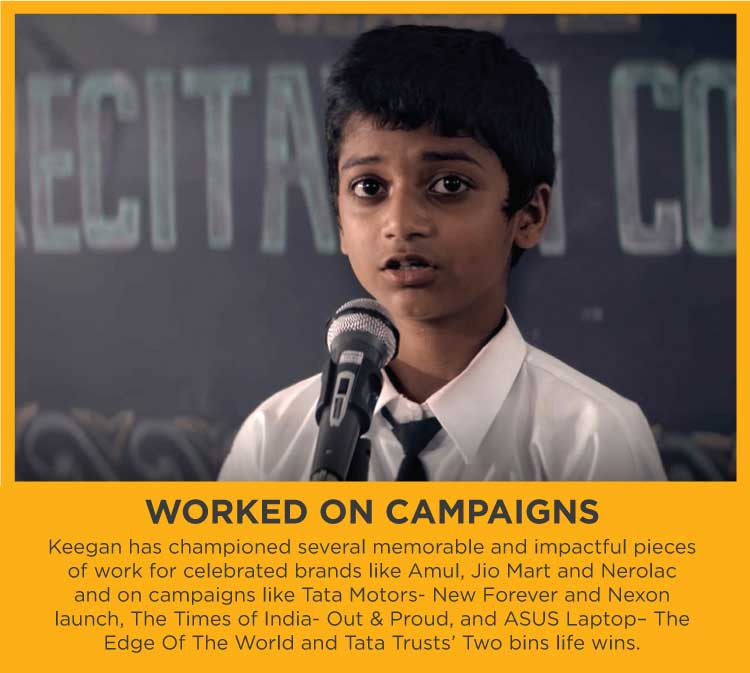 The whole film came into being in two years' time. We presented the idea to the client, wrote it and then the project went into market research. We have put a lot of heart and hard work into this film. To showcase it to the client, we booked a huge viewing room. I knew it from the moment I saw the film that it was going to go places. I don't have a blue tick account on Facebook but when I shared the film on my personal FB it got 14,500 + shares, it was bizarre. God was in the algorithm. Ratan Tata himself shared the film on social media. And the message spread beautifully amongst the masses. Public figures, such as Sachin Tendulkar, Boman Irani, Vidya Balan and Riteish Deshmukh shared the film on their social media handles.
The term manual scavengers as the world calls them, should be completely abolished. They die at an average age of 55 years because of exposure to toxic gases in manholes and drains. The PMO said they will be putting aside a large amount of money for the rehabilitation of the sanitation workers to largely rid people of this hard job by mechanisation."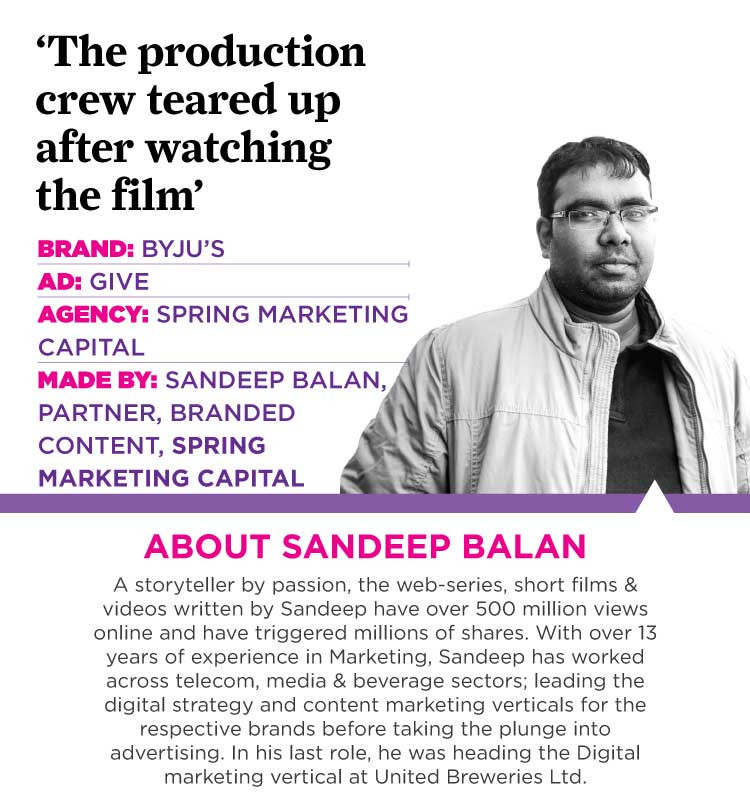 "We had this thought brewing when we realised that most of us had been approached by our domestic help, driver etc. checking for spare smart devices for their kid's online classes. The switch to this new mode of education wasn't that simple for a lot of people because of the lack of access to smart devices that we take for granted. And when our team at Spring was chatting with the Byju's team, we were told about this 'Give' initiative that their team, led by Divya Gokulnath, was working on. So our thoughts and their initiative synced. The idea of refurbishing the donated devices and pre-loading them with the whole curriculum free of cost before handing over to the needy kids by Byju's team was commendable and deserved a film that captures the sentiment. And the idea of a kid realising this divide and donating her old device to the cause made it all the more powerful. Everyone was aligned to the thought and it hardly took a week from idea to execution.
Night shoots are quite fun when you have the cast and crew for company on the film set, but it gets a bit frustrating when you are trying to remotely oversee the project. Especially when you are the only one awake at home at that hour of the night. Given the setting of this film we were shooting well into the night and at a remote location with a very patchy internet. So, every couple of minutes I would end up pestering the crew to send videos of the takes and keep waiting for the next set of videos the whole night. And this went on for two straight nights.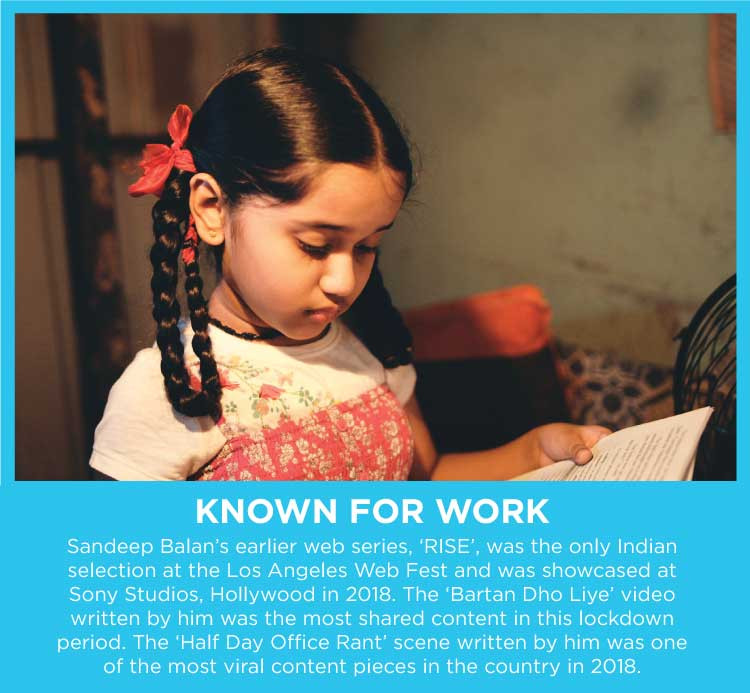 When the production team saw the edit for the first time with the music; I was told that quite a few people present in the room teared up. Post release, a friend reached out from the US mentioning that a lot of her friends told her that their kids value their devices a lot more after watching the video and that felt really special. We knew it then that we had made a film that evokes the right emotions and has the potential to push people to take the necessary action."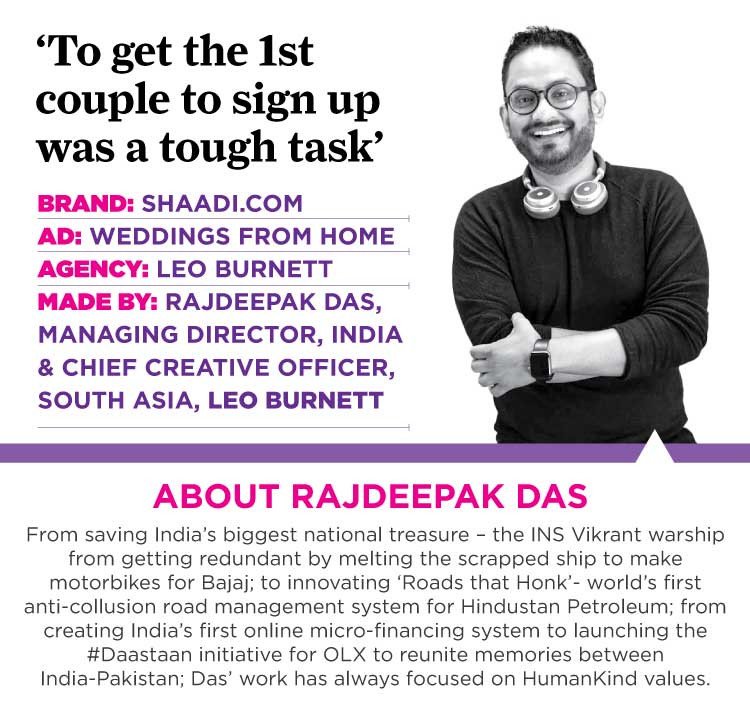 "As you know, in India, when one is planning their wedding, the first thing that is fixed are the dates for the ceremonies according to the auspicious mahurat – that bodes well for a long sustaining relationship. It's not only about which year and month is favourable but literally comes down to minutes and seconds on a particular date that one should get married on. And missing this window may even result in months, in some cases years of delay before another favourable 'mahurat' comes up. Because of one of the biggest lockdowns in the history of the world a lot of weddings were cancelled. When you are in the business of weddings it is the last thing you want. So we took this up as a HumanKind challenge and that is how we came up with the solution of the world's 1st online wedding.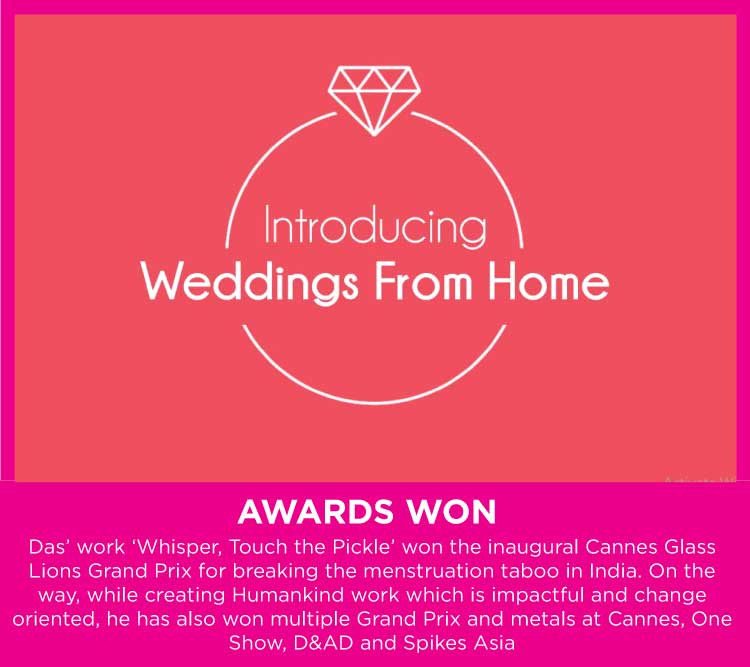 But all said and done, we Indians love our Big Fat Indian wedding – from our sangeets to mehendi to the receptions and the after parties, our weddings are a non-stop party. And our idea was to create all this in the virtual world as well. To get the 1st couple to sign up was a tough task, but we managed to find a couple which was ready to embrace the concept of an online wedding. The next challenge was the mahurat, which was only 14 days away. The couple had only one wish – they wanted to have their Big Fat Indian wedding experience. And as we say at Leo Burnett 'Karna toh padega', the entire team came together and planned this couple's wedding as their own family wedding from mehendi to make-up artists, from sangeet practices to dhol-walas, from the pandit to the DJ to organizing a virtual after party, we went all out! The wedding was a big success. Post that we had more couples signing up to conduct their weddings online. Infact in one of the weddings we conducted, the couple was in two different cities – the boy in Mumbai and the girl in Bareilly.
The initiative is now turning out to be a service that the brand is planning to offer, it was an idea which solves for the current times and sets up a new revenue stream for the future."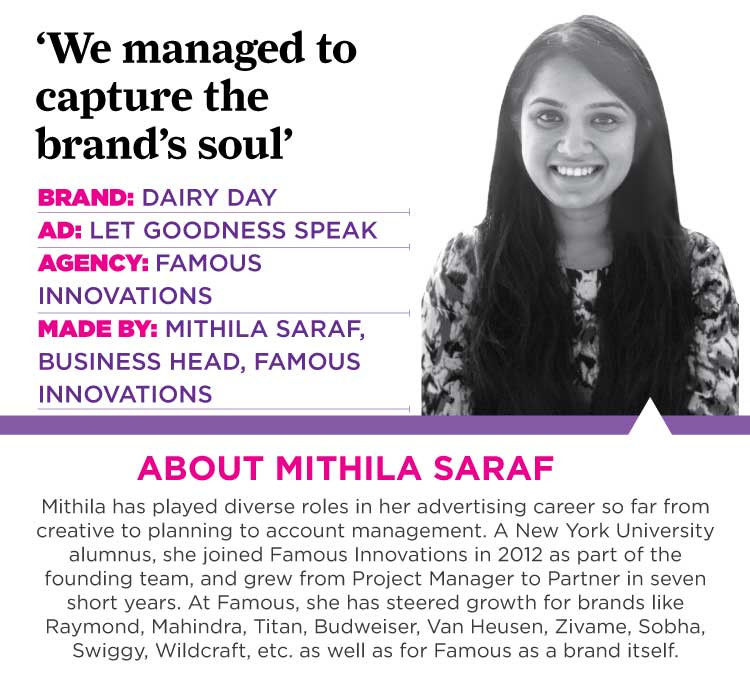 "When Dairy Day approached us, we were struggling with how we're going to differentiate the product in a cluttered category. But, upon getting to know them better, we discovered a value inherent to the products, brand and company - goodness. Goodness was oozing through every ingredient in the ice cream and every person we met at Dairy Day, there was great emphasis on being kind and helping people in the right way. Thus, we chose the plank of 'Goodness' for the brand, with a painfully simple articulation, 'Goodness is Good.' And then we started hunting for stories of goodness & kindness. Amidst all the craziness going on in the world, we thought these everyday acts of compassion could bring a smile to anyone's face.
The insight from this particular story came from many families around us. Today, it has become so important for children to learn multiple languages in their schools and popular picks for these are French, Spanish, Mandarin, etc. which when you really think about, aren't going to be all that useful to them in life later. Instead, why don't we encourage our children to learn Sign Language as a second or third language, and progress towards a more inclusive society? This was the question we wanted to raise and create a conversation around. This was done not only through the film, but also through a petition to Karnataka Government to add sign language as an optional language in schools, which got over three lakh signatures.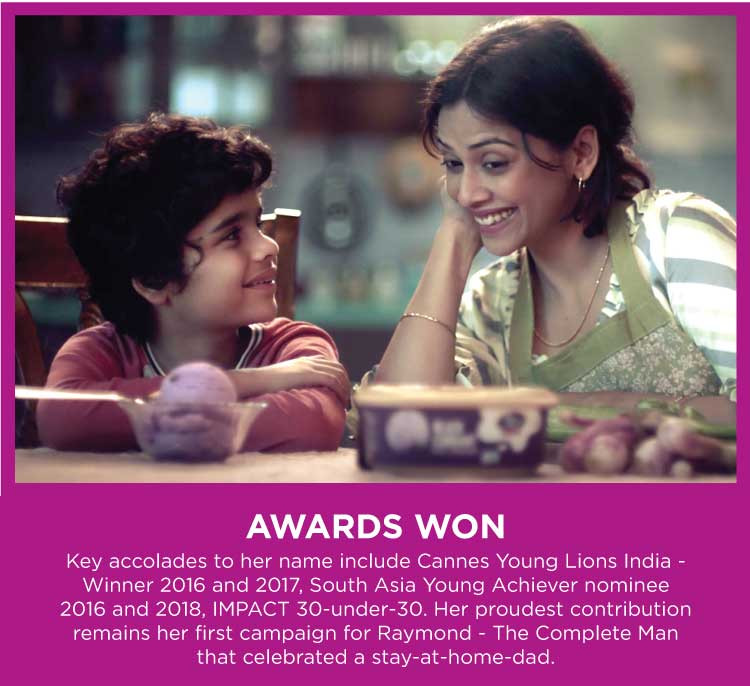 From idea to completion for this film took about 3-4 weeks and the whole process of training the actors in ISL was very interesting and actually motivated me to learn it myself. As far as the client's reaction is concerned, they were so touched that they were in tears, no exaggeration there. People were applauding, congratulating and hugging each other. I think we managed to capture the soul of the brand and put it on reel. The film got over a million views (organic) within hours of release."



"The ad I absolutely love is that by Facebook - More Together, the Pooja Didi one. I like the performances and the complete authenticity of not just the ad or the way it has been shot but because it's also so true of Facebook. All through the pandemic, these Facebook stories of hope have kept us all going."
Swati Bhattacharya
CCO, FCB Ulka


"In these cynical times, the Facebook – More Together story about human kindness is in itself refreshing. And then there's the note-perfect storytelling that captures how the pandemic and all its attendant consequences can be surmounted with the most potent vaccine of all: human empathy. What could be more moving and inspiring in a year like this."
Kartik Smetacek
NCD, L&K Saatchi and Saatchi


"I really like Savlon's campaign-- the Artist for global hand washing day. And another one I loved is the Facebook – Pooja didi ad. In a year where we have mostly heard words like hopeless, pathetic and tragic, along comes a piece of communication that warms your heart, makes you believe in the goodness of people, and helps you shed tears of joy. It's beautifully written and masterfully executed."
Arun Iyer
Founder & Creative Partner, Spring Marketing Capital


"I love the -This is not just a Cadbury ad because it was not only, "not just a Cadbury's ad", but also not just an ad. It was much more. It was sweet of Cadbury's to think of local businesses. I am sure they must have benefitted."
Emmanuel Upputuru
CCO, Cheil India