In what could be dubbed as an iconic moment of the Indian television history, homegrown Zee Entertainment Enterprises (ZEEL) and Japanese conglomerate Sony's Indian arm Sony Pictures Networks India (SPNI) have signed a definitive agreement to merge, creating an Indian entertainment giant. The merger is expected to be a win-win for both companies with regards to the strengthening of the content portfolio and channel offerings as both have complementary fortes, for example, Sony has substantial presence in sports broadcasting while Zee has an edge in regional content. This is the second big move of this scale in the Indian broadcasting industry after The Walt Disney Company's acquisition of 21st Century Fox for $52.4 billion, which included Star India.
ZEEL and SPNI are the second and third-largest TV broadcasting companies in the country by revenue. Their merger will soon create a media behemoth that will transcend linear channels, video streaming, and film production; while challenging Disney-owned Star India, which had risen to become the top M&E company in India, thanks in part due to its acquisition of Indian Premier League (IPL) media rights and a profitable TV entertainment business.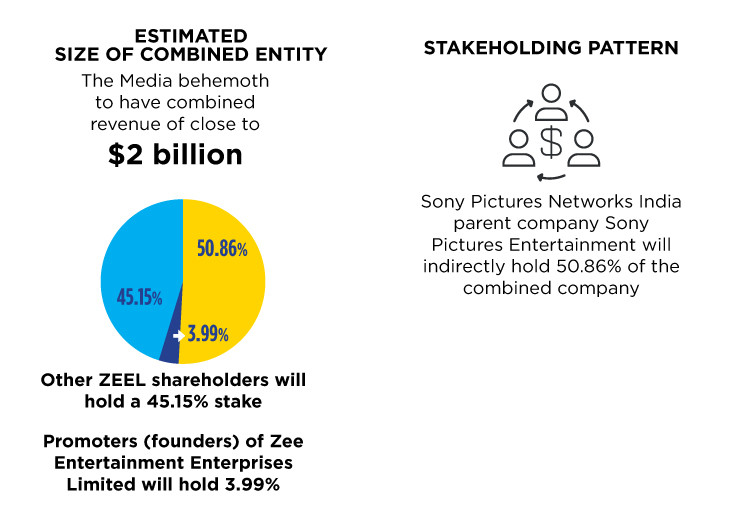 Better bargaining power?
The biggest impact of Zee-Sony merger, according to industry sources, will be on the Hindi GEC and movie genres, which collectively control Rs 6,000-7,500 crore of total TV ad spends. Both ZEEL and SPNI have mainline Hindi GECs including Zee TV, &TV, Sony Entertainment Television (SET) and Sony Sab besides Sony Pal and Zee Anmol, which offer re-run content. According to industry sources, Sony and Zee will have over 50% share in Hindi GEC and movie genres with channels like Zee TV, Sony Entertainment Television (SET), Sony Sab and &TV. In the Hindi movie genre, their market share will go even higher with leading channels like Zee Cinema, Sony Max, &TV, Sony Max 2, and Zee Bollywood.
To give an idea of its size, the merged entity will have 75 TV channels in India across general entertainment, sports, movies, regional, kids, infotainment and niche genres. The combined entity will be the biggest broadcasting company with viewership market share of 27-28%. It will have a content library of over 300,000 hours.
As a result the joint entity is expected to have a better bargaining power when it comes to increasing ad revenues by the sheer virtue of its scale. And at the same time through the combined strengths of SonyLIV sand Zee5, it will be better placed to challenge the supremacy of Disney-Hotstar in India in addition to Netflix, Amazon Prime etc on the digital front.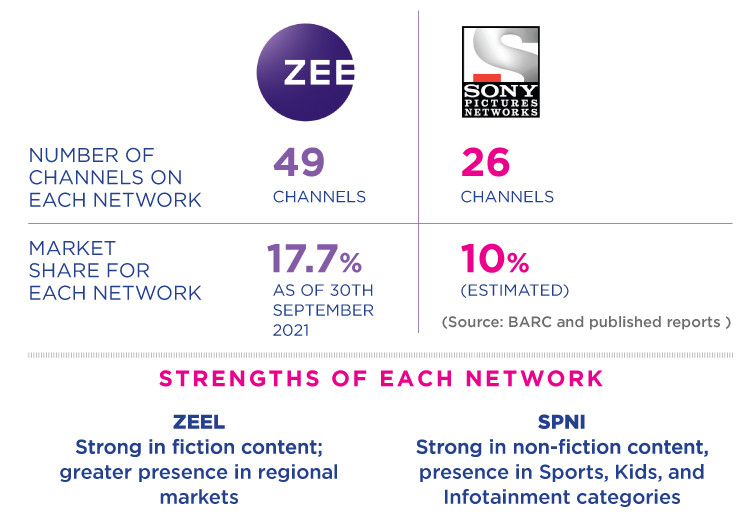 Complementary strengths
The merger allows both ZEEL and SPNI to fill in the white spaces in their respective portfolios. ZEEL doesn't have a presence in sports and kids genres, whereas SPNI is the second-biggest sports broadcaster in the country and has a kids channel called Sony Yay!. Likewise, SPNI doesn't have a presence in regional TV markets barring Marathi whereas ZEEL is among the top three players in markets like Marathi, Bangla, Tamil, Telugu, Malayalam, and Kannada. ZEEL is also a dominant player in Odia, Bhojpuri, and Punjabi markets, which are comparatively smaller but are significant markets, say experts.
Also, what makes the Zee-Sony deal lucrative is the fact that the two entities have minimum overlap in terms of audience, channels and viewership. ZEEL's strength is its wider pan-India footprint, particularly in rural India, whereas SPNI derives its strength from the urban market.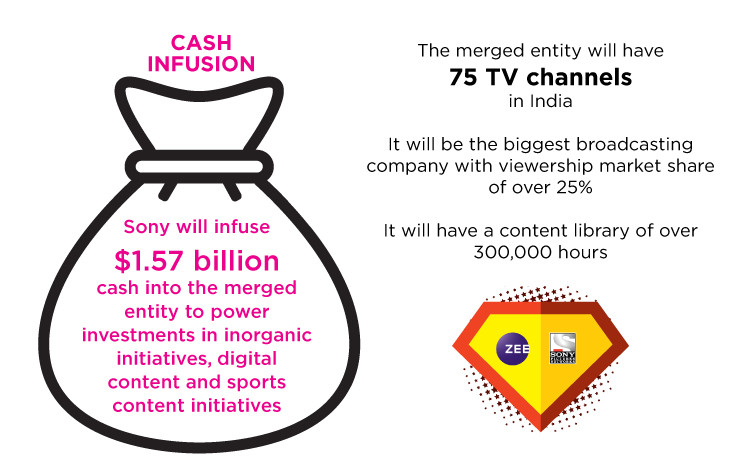 The OTT battle
The merged entity will have two video streaming platforms SonyLIV and ZEE5. Industry sources say that SonyLIV and ZEE5 will have a combined paid subscriber base of close to 10 million and annual revenues of Rs 800-1000 crore from advertising and subscription.
ZEE5's global monthly active users (MAUs) increased to 80.2 million in June, compared to 72.6 million global MAUs in March. While SonyLIV's MAUs jumped from 130 million to 200 million+ in FY21. The two platforms are distinct in their content offering as well. ZEE5 has a strong focus on original content in Hindi plus regional languages, while SonyLIV's unique content offering includes Hindi originals, kids, sports, and Hollywood content. ZEE5 is strong in regional content, while SonyLIV doesn't have much of regional content. Similarly, SonyLIV has live sports and Hollywood, both areas where ZEE5 is virtually absent.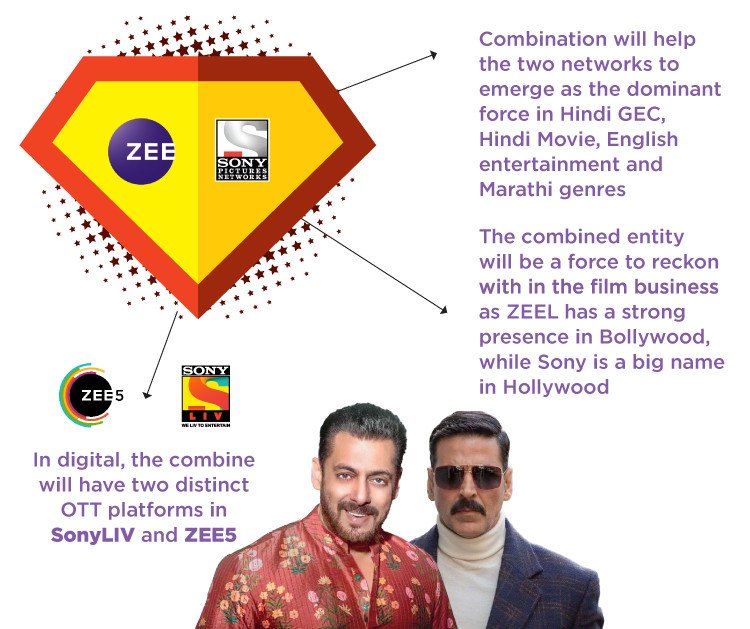 Content production
Film and content production is another area where the merger will bring synergistic value. ZEEL has a separate movie division called Zee Studios, while SPNI has Sony Pictures Films India. ZEEL has been aggressively investing in movies to feed into its TV, OTT, and music businesses. SPNI has not been as aggressive in producing Hindi films, but it has a strong slate of international movies for distribution in India. Sony Pictures Films India is all set to premiere around 20 releases over the next one year.
The leadership
Punit Goenka will lead the combined entity as its Managing Director & CEO. The majority of the board of directors of the combined company will be nominated by the Sony Group and will include the current SPNI Managing Director and CEO, N.P. Singh. Singh will later assume a broader executive position at SPE as Chairman, Sony Pictures India (a division of SPE) reporting to Ravi Ahuja, SPE's Chairman of Global Television Studios and SPE Corporate Development.
Setting the benchmark
The mega merger of Zee Entertainment Enterprises (ZEEL) and Sony Pictures Networks India (SPNI) has set a benchmark in the Indian television history. The two giants are all set to grab huge market share together. The merger will bring synergies of 6-8% on both the revenue and the cost side as per Punit Goenka, MD & CEO, ZEE Entertainment Enterprises Ltd, who also added that the deal will take at least 8-10 months to conclude. In the interim, both the companies will continue to function as standalone entities.



He also said that ZEEL will look at acquiring sports properties independently as well as jointly. The company recently re-entered the sports broadcasting business by acquiring UAE T20 League rights for 10 years for an estimated $150 million.
N.P. Singh, MD & CEO, SPNI said, "This merger will create a company that's best in class and will redefine the contours of the media and entertainment industry. As a representative of SPE on the Board of the new merged company, it will be my endeavour to provide strategic guidance and support to the company's operating team in achieving our vision. I am also excited at the opportunity of being appointed, Chairman, Sony Pictures India, to oversee SPE's investments and craft a wider footprint for Sony in India."
The Future
As per SEBI records, Zee shares are held by public shareholders (96%), Invesco (18%) and promoters (3.99%). The merger will require approvals from Competition Commission of India (CCI), National Company Law Tribunal (NCLT), shareholders, the stock exchange and the Ministry of Information and Broadcasting (MIB). While talking with the analysts on the future of Zee-Sony merger, Punit Goenka, said, "We cannot come together for any coordination until the merger process is completed. We will be considering bidding for sports, whether it is IPL or any other rights, as we have taken a conscious decision to enter back into the sports business."
On the $1.57 billion cash coming into the merged entity, Goenka said that this growth capital will be used for M&A, digital and sports acquisition. "The cash that is coming into the company will be utilised for multiple reasons which could mean further M&A opportunities in the digital space, it could mean bidding for premium content like sports, it could also accelerate our investment in the digital business."
Goenka also stated that the value of film rights will not see a deceleration due to the Zee-Sony merger. "Bidding for film rights will not soften up because of one consolidation, but we will try to bring some rationality there within our control," he added.
On the continuation of the two brands, Goenka said that the board of the merged entity will take a call. He also stated that both brands are equally strong in the marketplace. "With the merger, the brand Zee also gets merged into the new entity and will belong to the MergeCo. The board of MergeCo will have to decide which brands to keep and for how long. From my own intuition, both the brands are equally strong and with loyalty attached to themselves. The board will take a prudent call at the right time."